Top Switch detects 4th gear AND neutral (whereas the Neutral Switch doesn't detect top gear). It is located on right side of gearbox. It is used by the TCVAS system.
Also see:
* Reverse Switch
* Neutral Switch

Overview
Top switch (emission controlled models)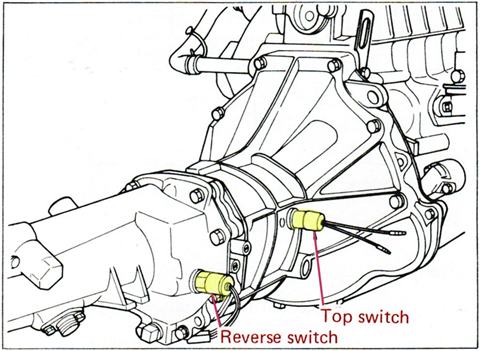 Album click to view
Top switch is for emission control (timing is modified differently in top gear). Not all 56 gearboxes have a Top Switch, but different years do. E.g:
* 1972-up USA
* 1989-up JDM

Top switch is same part number as the Reverse Switch.
Location
56-series Gearbox
Top switch on 4-speed 56-Series Transmission
on the front case, midway down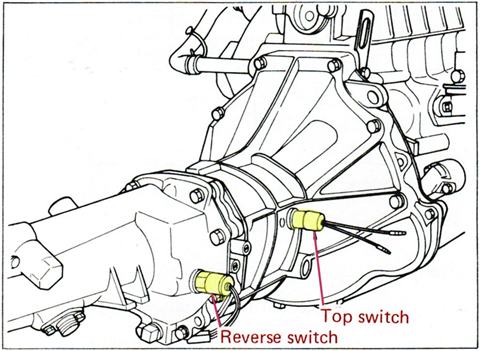 Album click to view
60-series Gearbox
Top Switch is of 60-Series Transmission
on the front case, midway down

Album click to view
63-series Gearbox
Top Switch is on Tail Housing of 63-Series Transmission
between (R)everse and (N)eutral switches

Album click to view
Part Numbers
32006-H6000 $22 USD
(F4W46L + F4W56A)
* COMP-SWITCH,NEUTRAL + COMP-SWITCH 4TH 
* supercedes 32006-H3900
* F4W56L+F4W56A
* 1972-1973 B110 USA

32006-H6502/32006-H6500 $22 USD
(F4W56A+F4W60L) 
* 1974-1976 B210 USA

32006-K2464 supercedes 32006-K2400/32006-K2401 $27 USD
(FS5W60A+F4W60)
BLADE TERMINALS
* 5-speed B210 USA 0476-0776
* 4-speed CAN 0876-0777
* 720 4-spd+5-spd TOP+NEUTRAL
* S110 1981-1982 TOP
* S130 Turbo
32006-K2400 COMP-SWITCH,4TH MANUAL 
* F4W71B
* 620 CAL 0877-
* 620 CAMP CAL 0178-

32006-K2004 superceds 32006-K2000
(FSW471B + FS5W71B + FS5W63A + F4W60L + F4W56A) 
BLADE TERMINALS
SWITCH COMP-4TH/SWITCH COMP-TOP
* 4-speed B210 USA 0876-0777
* 4-speed B210 USA+CAN 0877-
* 5-speed B210 USA+CAN 0876-
* 4-speed B310 USA
* 5-speed B310 USA
* 720
32006-K2000 COMP SWITCH TOP AND OVER DRIVE 
* FS5W71B
* 620 5-SPEED USA 0778-

32006-D0164 supercedes 32006-D0120/32006-D0102 $24 USD
  B11 USA CD17
  720 USA L20B+Z20/Z22
  M20 EUR CA18S+E15S
  B11 EUR E13S/E15S/E16S

RockAuto.com
Standard Motor Products NS197
* 32006-K2400/32006-K2401/32006-K2464
RockAuto.com
Standard Motor Products NS195 
* 32006-K2000/32006-K2004

K20
K24
B110
JAPAN - not used

USA
32006-H3900 COMP.-SWITCH,NEUTRAL 4 SPEED 0172-0673
32006-H6000 COMP-SWITCH,NEUTRAL 4 SPEED 0773- <> 32006-H3900 F4W56L
32006-H6000 COMP-SWITCH 4TH LAMP 4 SPEED 0473- F4W56A

B210
B210 NORTH AMERICA
COMP-SWITCH TOP

4-speed F4W56A -0874 A13
32006-H6500 COMP-SWITCH 4TH

4-speed F4W60 0974- A14
32006-H6500 0974-0776
32006-K2000 USA 0876-0777
32006-K2400 CAN 0876-0777
32006-K2000 0877-

5-speed FS5W63A COUPE ONLY
32006-K2400 0476-0776
32006-K2000 0876-

B310
B310 USA
A12 56-series 4-speed
* 32006-K2000 SWITCH COMP-4TH <> 32006-D0120 <> 32006-D0102
A14/A15 60-series 4-speed
* SWITCH COMP-TOP (0879-) - same as 56-series
  FED, CAN 
A14/A15 FS5W60L & FS5W60A
 32006-D0102 SWITCH COMP-TOP <> 32006-D0120
 32006-K2000 SWITCH COMP-TOP
 32130-H9000
 32130-H9010
 32130-H9705