The 63A 5-speed transmission is a large strong gearbox, and was made in a version to fit the A14 engine.
Overview
For an overview of 5-speeds in general, see:
5-Speeds Comparisons, Ratio info, etc.

Album click to view
Album click to view
The 63A was adapted by Nissan to fill a marketing need in USA for a 5-speed (to compete with the Corolla SR-5) and so the existing 63A for the L-series L14 was modified to fit the small A-series A14 engine. This has two special significances:
It is strong, suitable for overbored, supercharged or turbocharged A-series engines
Its successor, the 60-Series Transmission 5-speed is much lighter and so a better fit for A14 and A15 naturally aspirated engines. The 60 is also smaller than 63 and so a better fit in Datsun 1200s.
Datsun gearboxes are numbered by the distance between the centres of the countershaft and the main shaft. The 63-series has 63 mm between the shaft centres, so can fit larger, stronger gears than the smaller 60-series and 56-series boxes.
Top: 63-series 'big boy' transmission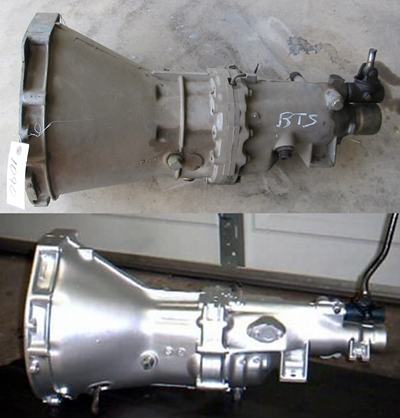 Album click to view
Bottom: smaller diameter 60-series 5-speed
63A
Dogleg shift-pattern 5 speed 
overdrive 5th gear 0.86:1
Slave cylinder is on the left side
Uses AT prop shaft


This is the FS5W63A "dogleg" trans. Note the casting line around the center section on the otherwise smooth housing.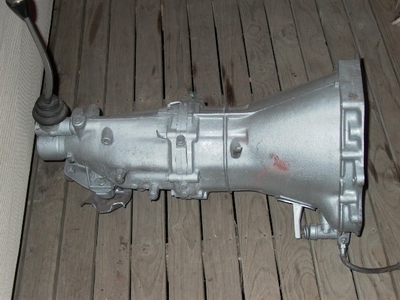 Album click to view
Album click to view
Debut dates for The 63A 5-speed variants:
1973 for L14 PB210 JDM
02 1976 for L14 B211 JDM
02 1976 for A14 B211 JDM
04 1976 for A14 B210 USA
The 63 transmission came with A14-powered B210 (HB210 and HLB210). It was not used by Nissan Competition for racing. Instead the 56-series was recommended for the small cars, and the 71 for the larger cars.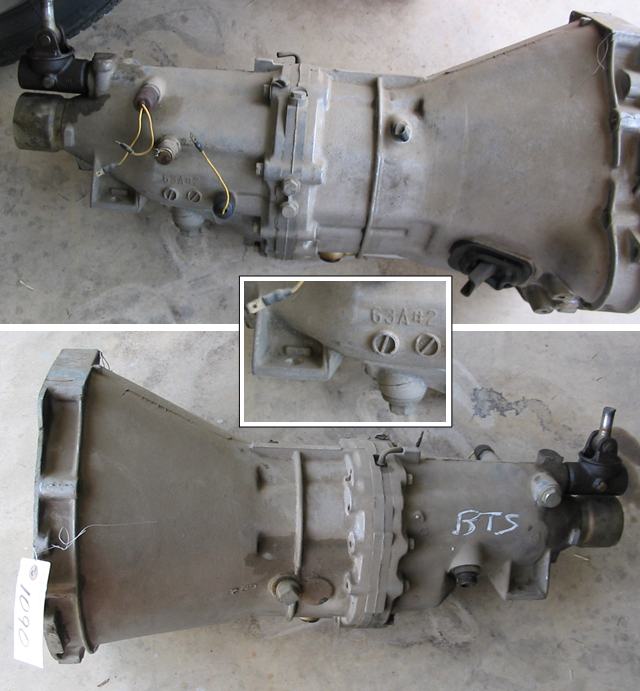 Album click to view
HB211 Gearbox Crossmember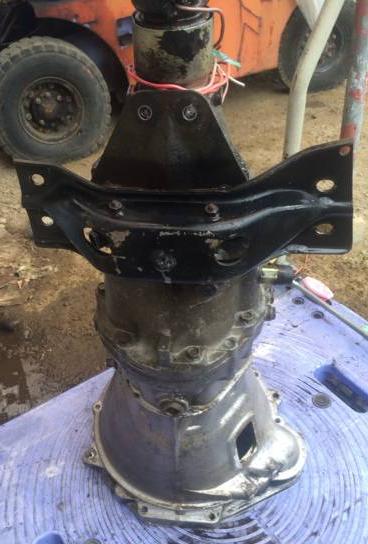 Album click to view
HB211

Album click to view
Dogleg Shifter
Like most A-series 5-Speeds, the 63A is uses a "dogleg" shift-pattern (aka 'reverse shift').
Documentation
The 1976.5-1978 USA got B210 Coupes with factory 5-speed transmissions. Here's an advertisement for one - MPG Champion - Datsun B210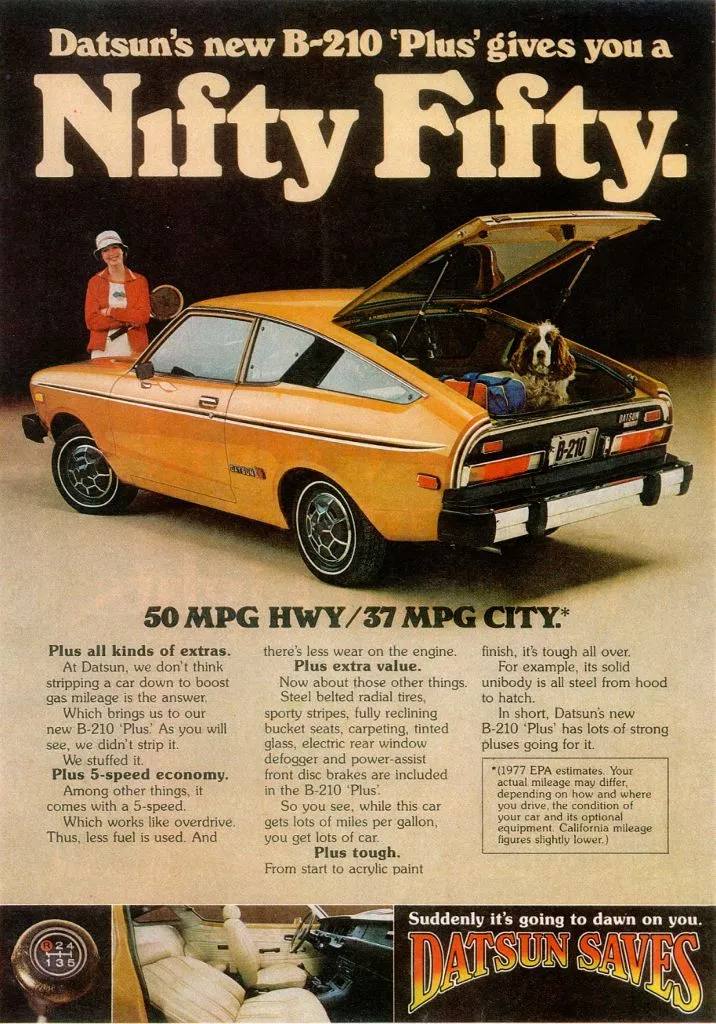 Album click to view
The rebuild manual is the 1977 or 1978 B210 Service Manual (north america). It has specs, photos, diagrams and procedures.
When the 63A first appeard 1976-1/2, they put out a supplement, which was rolled into the next service manual (1977). 63A is also covered by 1977-1979 S10 "200SX" manual and 1977-1978 A10 "510" manual.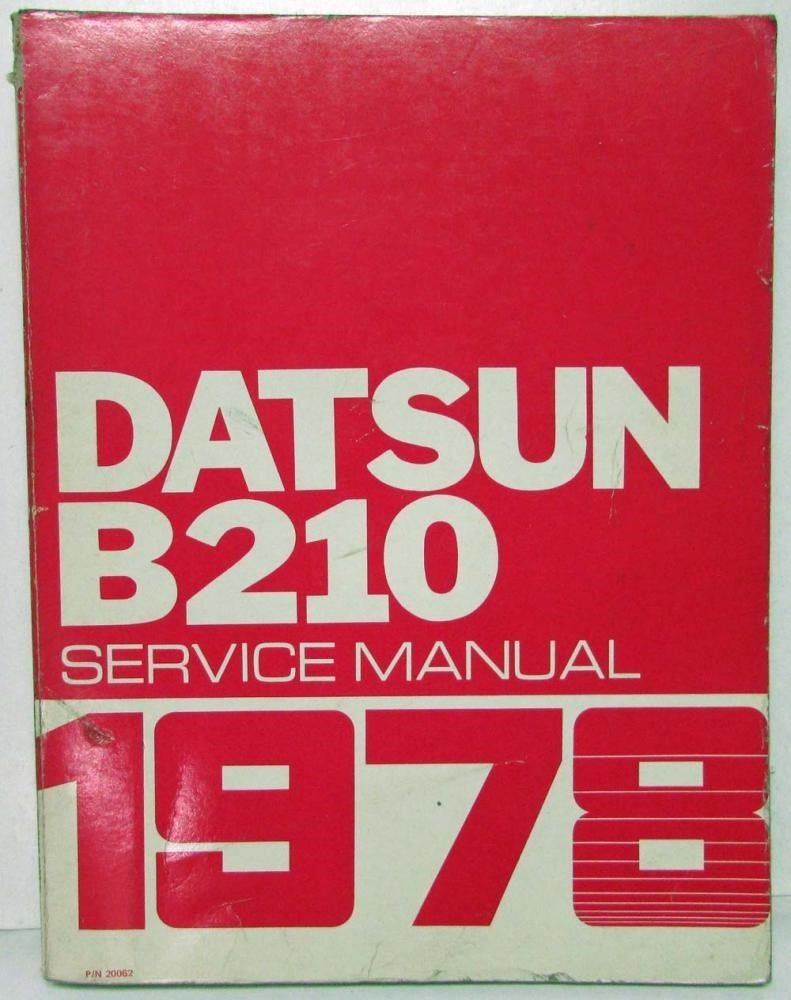 Post click for topic
Post click for topic
Factory Service Manual DATSUN model 1976 B210 series Chassis and Body Supplement 1 [63A transmission supplement]

Post click for topic
Post click for topic
Sources
The 63-series 5-speed for Nissan A Engine came in 1976-1/2 to 1978 Datsun B210 with A14 engine. USA and Japan markets had such cars.
63A for A-series Engine
* 1976-1977 JPN HB211 with A14 engine
* 1976-1978 USA HB210 with A14 engine

63A for L-series Engine & Z-series Engine
* 1973-1975 PB210 L14 JDM
* 1976-1977 GB211 L16S JDM
* 1977-1979 S10 L20B USA
* S110 Z18 JDM 
* PA10 Stanza L16 AUS
* A10 "Datsun 510" L20B/Z20S OPTION North America

Album click to view
Identification
Check the casting mark on the transmission. '63' identifies the series.
63 has a ring round the middle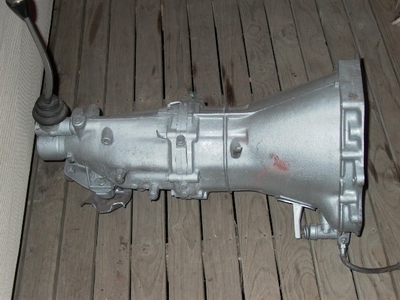 Album click to view
56 has a ring around the middle AND lateral ribs

Album click to view
63A has it on the lower right side of the extension housing

Album click to view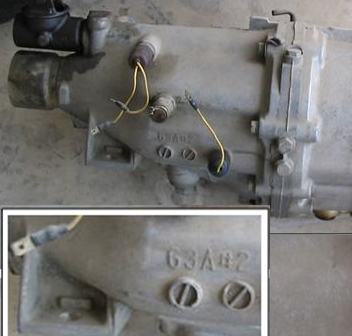 Album click to view
The "A" indicates the transmission casting, not the engine type it fits. 63A was made for L-series engines as well as A-series engines.
63A #1
63A #2
63A #3

63A #1 tail housing

Album click to view
63 series L-engine vs A-engine
The 63A came in two versions:
63A to fit L-series engine
63A to fit A-series engine
So check the bellhousing bolt pattern.
Easiest way to do this is measure the hole center spacing of the top 2 holes in the bellhousing on the flat section.
A-series - ~106mm
L-series - ~117mm
63 series gearboxes speeds were available for A14 engines and for L-series engines, Z-series engines and J-series engine. So be careful to match the bell pattern and make sure the one you buy fits the A-series.
A-series has starter at about 8:00 O'Clock position
L-series has starter at about 9:00 O'Clock position

Album click to view
Album click to view
Album click to view
A-series bell pattern from rear of engine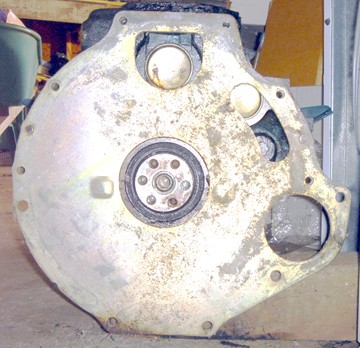 Album click to view
4-speed vs 5-speed
Old 63-series 4-speeds have a bottom pan - like an automatic transmission - and are used with L-series, Z-series, and J-series engines.
Was used in JDM PB210 with L14 as standard fitment (5-speed optional)
4-speed F4W63L

Album click to view
4-speeds come with bottom pan (old style) or without bottom pan (new style). If you see the bottom pan, it's a 4-speed
NEWER 4-speed are 71B series and look very much like the 5-speed.
L-series application included:
* 1975-1979 620 USA
* 1980 720 USA
Z-series application included 
* 1980-1981 A10 USA Z20S engine
* 1978-1981 A11 JAPAN Z18/Z16 engine

Clutch
63-series take the L-series type input shaft, but small-diameter (180 mm) A-series size clutch disk.
63A clutch
* USA B210 1976-1978 COUPE.5-speed
* JAP B210 1975-1977 A14.5-speed
* EUR 710 Violet L14.5-speed

30100-K0500 ASSY-DISC,CLUTCH 5-SPEED(COUPE) B210 USA, JDM $66.07 USD > 30100-H5801
30210-N1600 ASSY-COVER,CLUTCH 5-SPEED(COUPE) B210

Specifications:
* 180mm Diameter (7-1/8") -- same as smaller transmissions
  fits standard A12 or A14 flywheels
* 24 Splines [56-series and 60-series use 18 splines]
* 13/16" input shaft diameter [same as all A-series]

Album click to view
63-Series 5-speed Swap Notes
In addition to the information in this section, see: 

* Transmission Interchange

Driveshaft
You'll need a propeller shaft with the larger input yoke than other A-series manual transmissions. The B210 63A shaft was designed for this transmission and is the right length for B110, however it uses the larger H150 diff flange.
Solution: use a driveshaft from an AT equipped 1971-1973 B110 or 1974 B210 as it uses the same output shaft and the H145 diff flange.
The 63A is the same length as the B110/B210 automatic (it is a different length than the B310 automatic)
Only the 1974 B210 shaft fits a 1200 due to the diff flange
B110 Auto shaft: 1349 mm (53-1/8")
B210 Auto shaft: 1345 mm (end-to-end)

The B210 or B310 automatic gearboxes are 3N71B (the same model gearbox as the B110), BUT some years/version use a different size output shaft with a different spline count. Other B310 auto driveshafts fit L-series gearboxes.
B120s have a larger diff so cannot use the B110 driveshaft. So use the B210 63A manual driveshaft, which is designed for the 63A and has the H150 flange which bolts to the B120's H165 diff.
Or perhaps get an L-series 63A, pull both boxes apart, and mix'n'match the parts to make a box with A-series front half and L-series rear half so you have the MUCH much more common L-series output shaft pattern found in millions of cars.
Automatic Car
It's easy to get the 63 in if your 1200 was originally an automatic - it will have the wider transmission tunnel. Use the automatic Gearbox Mount and make an adapter plate that will move the mounts to the right spot. Some say you can simply reverse the auto mount as-is.
Manual Car
For manual 1200 car, use a bracket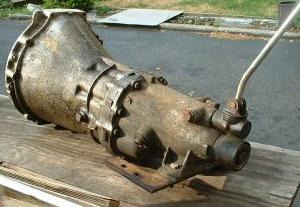 Album click to view
OR, remove the factory mounting bosses from the tunnel, and fabricate new ones: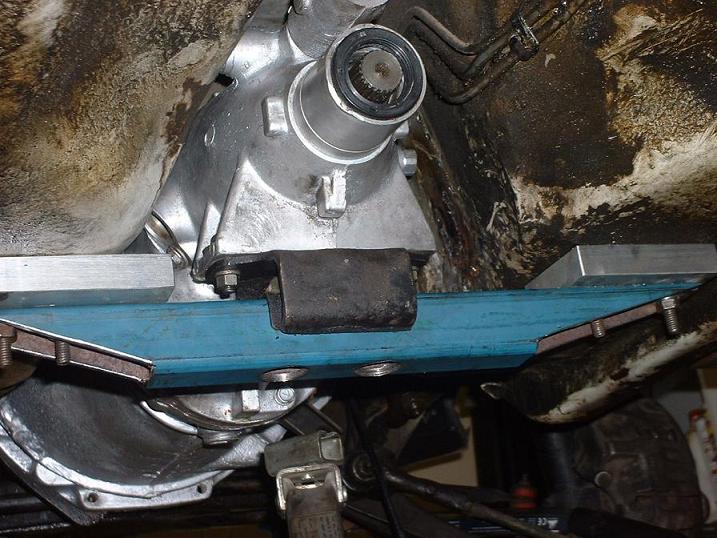 Album click to view
Note that the factory crossmember mounting brackets have been removed from inside the tunnel. This custom crossmember bolts to the floor.
63-series 4-speed (for L-series or J-series engines)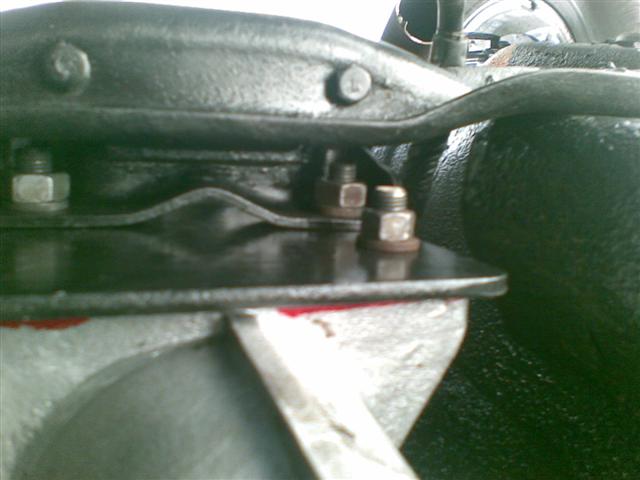 Album click to view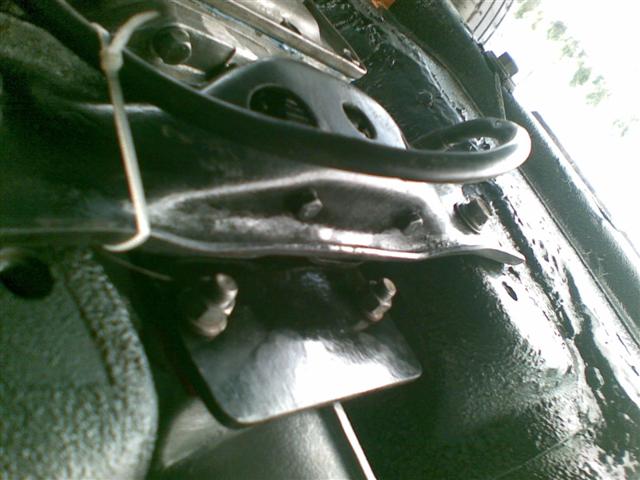 Album click to view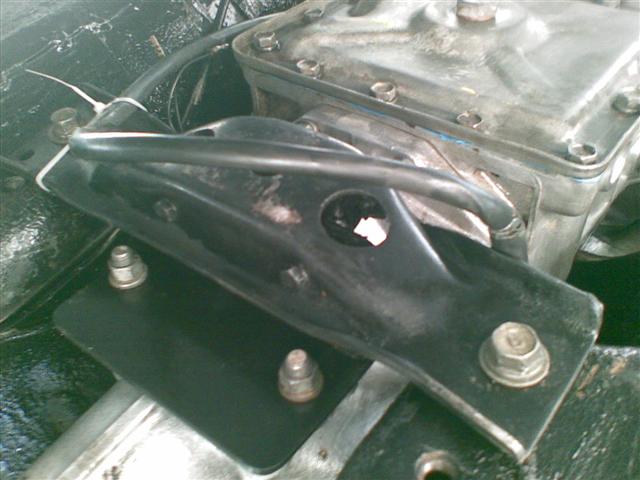 Album click to view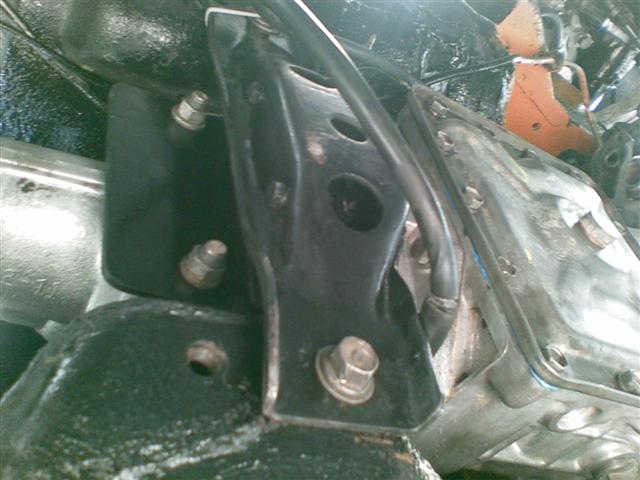 Album click to view
Tunnel Mounts Removal
Discussion: Tunnel mount removal?
The rear engine mount (gearbox mount) brackets are spot-welded on. Don't drill them right out. There is a special spot weld removal drill bit. Go to Mitre 10 or a decent Hardware they will have them. Grab a wire wheel or coarse sand paper sand around the mounts so you expose the spot welds a bit better and then carefully drill with the bit it will leave little lumps and you can file or coarse sand them down smooth. The last thing i would want is more holes in the body and floor -- they are thin enough already. The only problem is that the spot weld drill bit insanely high-priced.
Speedometer Cable
For RHD 1200s with the short cable, use a Datsun 810 speedometer cable, it's about 150 mm longer.

Album click to view
Gear Ratios
FS5W63A A14
* also used by USA S10.L20B and A10.L20B
  A10.Z20S uses different gears (ratios ?)
1st 3.382
2nd 2.013
3rd 1.312
4th 1
5th 0.854
REV 3.57

| Gear | F5C56A GX5 | F5C56A Opt. 1 | F5C56A Opt.2 | Overdrive 5 | Overdrive 5 | FS5W60A A14 | FS5W60A A15 | FS5W63A A14 |
| --- | --- | --- | --- | --- | --- | --- | --- | --- |
| 1st | 3.757 | 3.757 | 2.676 | 3.513 | 3.513 | 3.513 | 3.513 | 3.382 |
| 2nd | 2.374 | 2.374 | 1.691 | 2.17 | 2.17 | 2.17 | 2.17 | 2.013 |
| 3rd | 1.659 | 1.659 | 1.398 | 1.378 | 1.378 | 1.378 | 1.32 | 1.312 |
| 4th | 1.254 | 1.291 | 1.181 | 1 | 1 | 1 | 1 | 1 |
| 5th | 1 | 1 | 1 | 0.875 | 0.825 | 0.821 | 0.821 | 0.854 |
| Rev | 4.04 | 4.04 | 2.877 | 3.764 | 3.764 | 3.764 | 3.764 | 3.57 |
| Note | Stock B110 & B210 GX-5 | wide ratio PN 32010-H7251P | close ratio PN 32010-H7220N | ? | ? | 1980 NA shop manual | 1980 NA Shop manual | 1978 NA Shop manual |
Also see: 4-speed gear ratios at end of article 5-Speeds
GEARS B210 + S10 + A10
* 32200-N6700 22T main drive gear 
  32200-21101 <> 32200-W1001/W1101 (22T)
* 32210-N9000 31-33-29-21T counter
       -W8900 ?   A10.Z20
* 32250-N9000 30T 2nd gear <> 32250-W1300
       -W8900 ?   A10.Z20

Switches
Album click to view
Reverse Switch: 32005-K1000, 32005-K102A $36 USD
Neutral Switch: 32006-N5800, 32006-N5810, 32006-N5814 $20 USD
Top Switch: 32006-K2000, 32006-K2004 $21 USD
Top Switch: 32006-K2400, 32006-K2464 $24 USD

Top-detecting switch is used for cutting spark advance. It was used on some, but not all models.
Part Numbers
¤