The grille is the JDM Facelift version from mid '72 & I think it was used on Sedans, & possibly Wagons, [unsure] but not Coupes or Utes.
I think that ZA [South Africa] 1200's used this grille from about '73 onwards untill the end of 1200 passenger model production in 1975.
The bonnet is also a facelift model, but restricted to GL & GX Sedans & Coupe's I believe. I do not think that Wagons were made as a GL model, & most certainly not as a GX, so I suspect that, like that other commercial model, the Ute, they originally used the standard bonnet for all their production life.
Since the Sedan was made as a GX, then this grile & the GX emblem are a kosher combination.
The mirrors are the real deal GX item & the GX emblems on the front guards are from the 'C' pillar of a Sedan.
Nice Wagon.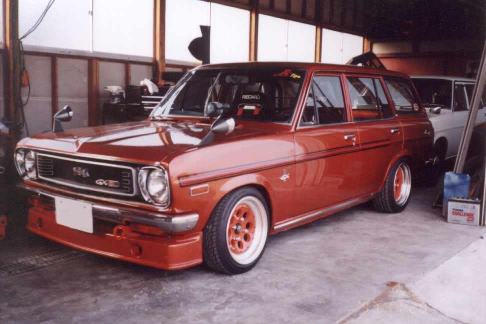 The picture kindly provided by
www.shoeys.com.
[see link in Shoey's post, writen earlier]