I had the day off today to play datsuns and got my s13 brake conversion practically done.
Firstly a good mate of mine got a few brackets lazer cut for the conversion as he wanted to do the same so i just used that. Very simple bracket.
He used the disk brake strut and disk hub and i used disk brake strut and drum hub.
I took a few measurements and had a play so as to not push out the wheelbase and heres what i came up with:
KB110 Struts
VB110/B110 hubs ( from drum brakes )
S13 4 stud rotors (ventilated)
S13 calipers
12mm thick caliper bracket
Basically the rotor doesnt fit over the disk hub but does the drum hub. Disk hub is 52mm wide and drum hub is 47mm wide so thats 5mm less its pushing out track

All the innards of the hubs are identical and use the same wheel bearing so no mods there.
Take everything off strut so its just the stub axle showing,even brake lines up to flexy line, keep backing plate on.
Attach bracket to s13 caliper.
attempt to fit to caliper mounting ears.
Mark backing plate where cutting is neccesary.
Remove backing plate and remove material with angle grinder where neccesary.
Attach backing plate.
Place on drum hub.
Fit wheel bearing.
Place rotor over top of hub.
Secure rotor with wheel nut, temporary.
Attach caliper with bracket.
Check for rotor centre with caliper.
Make up new piece of brake line to flexy hose on strut.
Bleed brakes.
Booom
Actually i didnt get up to the boom part. i need new drum wheel studs as mine got cut in hald a while ago when i was still using them for bolt on spacers. So have to wait till monday to get em.
For the record drum studs are different to disk studs. The facing has a cut out on the drum ones.
13 INCH WHEEL DOOOO FIT!!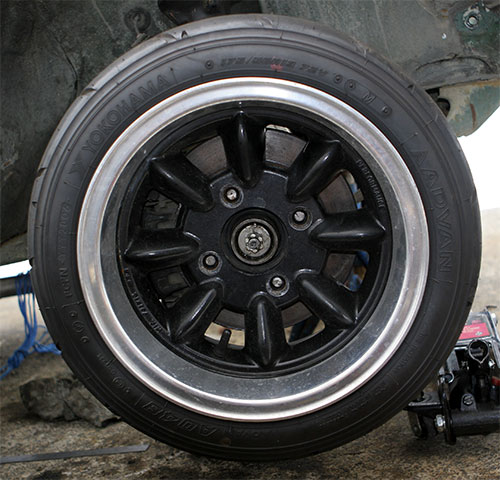 heaps of clearance for sure.
Because i used drum hubs, making the mounting face on them move towards the strut compared to the disk hubs, my rotor was no longer centred in the caliper like they would be if i used disk hubs. Which is a pain but atleast im not pushing out track. SO i had to space the caliper out of the bracket (push caliper towards struts). All is well.
Pretty dam easy conversion really.
Just gotta sit down and do it. Mind you i already had the bracket

Might be convinced to make more if there was enough interest.
4 stud brakes from s13's are cheaps as chips as everyone wants to go 5 stud.
NOTE: 180sx's also came with 4 stud brakes same as s13's but type x 180sx's have larger 4 stud rotors