Early Datsun 620 for North America used used a relay. Later 620 was made more reliable to discarding the relay. 620 does not use the switched-earth headlight wiring system of the Datsun 510.
4-headlight system
High - 4 lamps light up (high filaments)
Low - 2 lamps light up (low filaments)

So the low beams go OFF when the high beams come on. All four headlamps with light, but only on the high circuits.
Non-relay Type
Power for the headlamps comes via the Fuse Box, specifically the 'L' (lamp) fuse. The headlight switch provides power OUT when pulled to the 3rd position. From there power goes to the Dimmer Switch on the steering column. Depending on the lever position power is switched to the High Beams or the Low Beams.
lighting diagram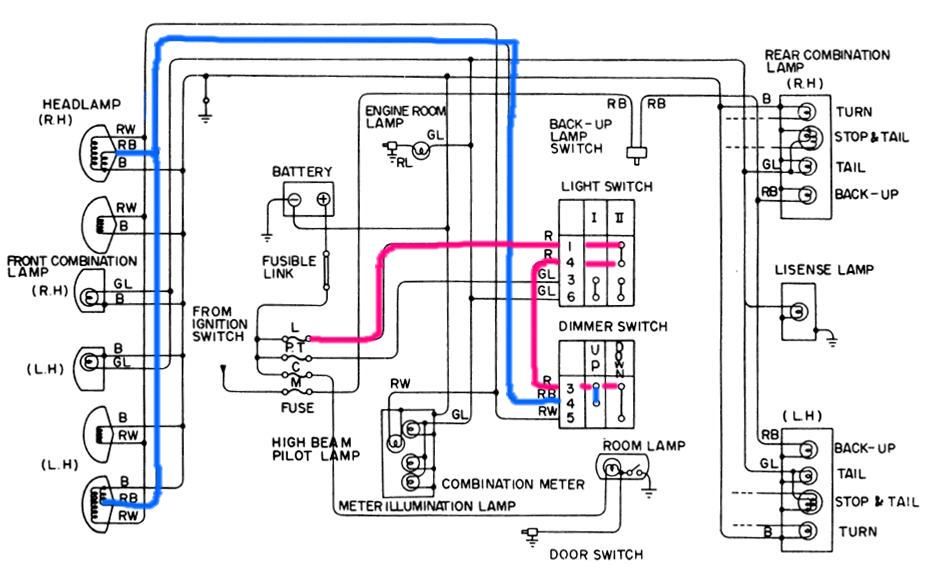 LOW  - RB wire (Red wire with Black stripe)
HIGH - RW wire (Red wire with White stripe)
GROUND - headlight sockets are grounded at earth point
         in engine room via engine room wiring harness

Relay Type
Used in North America 1972-1977. Later 1978-1979 models did not use a relay.
The same Lighting Switch is used. Power OUT is sent to the relay instead of the Dimmer Switch.
The Dimmer Switch differs - it is much simpler. Power is not routed through the Dimmer Switch. When in High Beam position, it grounds the Relay coil to switch the beams. The Relay is located in the engine compartment.
1974 620 North America lighting diagram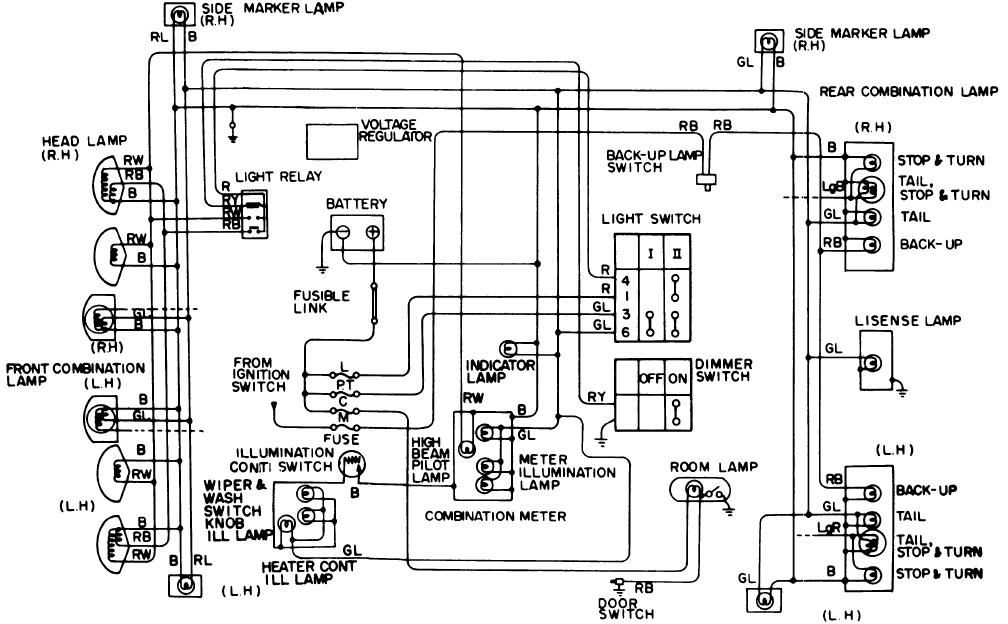 Relay
1972-1977 used a relay on for North America models. 1978-1979 model year did not use a relay.
1972-1974 B5230-28000 > 25230-28000 ASSY RELAY,LIGHT -0874 $18 USD
1975      25230-B8000 ASSY RELAY,LIGHT 0974-
1976-1977 B5230-H6185 ASSY RELAY,LIGHT 0876-0777 <> 25230-89965 $48 USD
1978-1979 not applicable

Early
1972-1974 Datsun 620
B5230-28000 new number LOW BEAM RELAY $18 USD
25230-28000 ASSY RELAY,LIGHT -0874 
* alternate manufacture: 25230-10600 Matsushita 

25230-28000 JIDECO 4-blade terminals

* SR311/SP311 Headlight Relay (Datsun Roadster)
* 521 with L16 Headlight Relay 
* 620 Pickup Headlight Relay 1972-1974
* Can use updated plug-in replacement
  25230-28000 replacement
  

Mid-model
1975
25230-B8000 ASSY RELAY,LIGHT 0974-

Late
1976-1977 Datsun 620
B5230-H6185 new number $48 USD
25230-89965 ASSY RELAY,LIGHT 0876-0777 

25230-89965
* headlight relay
* floor sensor relay
* cat warning relay

Similar
25230-H1604 RELAY-INHIBIT -0973
25230-B7911 RELAY-INHIBIT 0974-

25230-20500 COMP-RELAY.LIGHTING 
* 521.J13 
* 520.J13
* alternate 25230-89905 JIDECO
  
  * 510 horn relay
  * 510 headlight relay (some models)

Alternate Relays
You can use many different relays. For example Nissan 25230-C9900 is only $2 at Pick-n-pull and used by hundreds of Nissan. Or $10 new at RockAuto.com.
25230-C9900/25230-C9905/25230-C9907 25A 25230-W1300 25230-C9963

Album click to view
Relay   Harness
D com   R   light switch +
A NC    RB  low beam power
B NO    RW  high beam power
C coil  R   (connect both C & D to R)
E coil  RY  dimmer switch ground

Fuses
Power for the headlamps comes via the Fuse Box, specifically the 'L' (lamp) fuse in the Fuse Box.
'L' 15A head Lamp fuse
* High beams
* Low beams
* high beam pilot lamp in dash cluster

The Parking lights are on their own fuse. But still goes through the Lighting Switch. Headlight fuse can be burned out and P light work fine.
'PT' 10 AMP Park lights, Tail lights
* Meter illumination lamps in dash (except T/S and high beam lamps)
* Parking lamps
* Taillights
* License plate lamp
* Engine room lamp (only works with light switch pulled out)
* For North America
  Wiper knob illumination
  Heater control illumination

Stop lights and Hazards on yet another fuse.
'H' 15 AMP Horn, Stop lights, Hazard lights 
* Hazard lamps (North America)
* Stop lamps

Reverse lamps on a different fuse.
'M' 10 AMP Meter, Reverse Lights, Alternator Regulator 
* Reverse light
* Turn Signal lights

The Room Lamp is independent of headlight circuit. It doesnt go through the Lighting Switch. It has its own fuse.
'C' 15 AMP Radio, Clock, Cigarette lighter, Room lamp 

¤