For the A-series 1000cc Engine see: A10 Engine
Nissan A10 chassis was marketed as Datsun Violet/510/Auster/Stanza/160J (1977-1981). Violet was Nissan's C-class (compact) "budget" model family. It differed from the Bluebird family notably by not using IRS. With the 810, Bluebird moved upscale (luxury sedan) while A10 Violet continued as the lesser compact sedan. The A10 is nearly identical to Sunny B310, except for trim including different grille and rear lights. In North America the A10 was badged as a Datsun 510.
Overview
-7906: Round headlights
7907-: Square headlights
Chassis ID Plate of WHLA10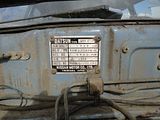 Models:
S: 4-dr sedan. The S being the default model, does not appear in the chassis code
-R suffix: 2-dr Sedan
U: Hatchback (5-door sedan/wagon hybrid)
K: Coupe (Hardtop type) "Open Back" or "Multi-Coupe"
V: Van (square-back wagon)
W: Wagon
P#: Passenger System (S,K,HB)
North America
1978: Remote ignitor (D4F) distributor used in USA and Canada
* Swaybar: 19mm sedan,coupe
* Swaybar: 21mm wagon

4-1/2J-13 +30 offset
Cross Rod: 566 mm between outside joints
Steering Gearbox: RB47L (16.5:1) 
Engine crossmember: 714mm between chassis holes. 467mm between mount holes
Axle: H165B with 23-spline axles, 24mm x 682.3 length
Brakes: N20 Disc 245mm (same as 710), 9-inch rear drums

To June 1979, Coupe/HT, Wagon and both 2-dr and 4-dr sedans
* L20B engine used exclusively, with front-sump oil pan

July 1979-June 1980
* no coupes
* 4-dr sedan replaced by 4-dr Hatch (code F)
* L20B in canada (suffix -N)
* Z20S for USA (suffix -U and -V)

July 1980- 
* Z20s engine used exclusively

A10
The A10 featured
A14 engine
F4W60 4-speed transmission
A10 fitted with H150 diff
VA10 (Van/wagon) fitted with H165 diff

PA10 featured:
L16 engine
H165 diff
F4W63L 4-speed or 3N71B automatic
HLA10/WHLA10 featured (North America):
L20B engine to June 1980
Z20S engine from July 1980
H165 diff
F4W63L 4-speed, FS5W63 5-speed or 3N71B Automatic
A11 Minor Facelift
A11 debuted 7804.
New models 1400 GL/GLL featured FS5W60 5-speed

PA11 was the bigger-engined model
New models KPA10HE/KPA10HAE and PA10HE/PA10HAE featured EGI fuel-injected L16 engine and H165 diff
PA11 from 7804 with Z16 engine replacing L16 engine. E models are EGI fuel injected. New models 1600 GX/GXEL/SGXE, GL, GLL/GLEL, SGL featured FS5W63A 5-speed
RA11 with biggest engine (Z18 engine)
5-Speed
In North America, with A10 "Datsun 510" with L20B engine, the FS5W63 5-speed was an option. It is fairly rare and a long tail so won't fit the classic model series 510 (1967-1972). Available only on:
-7906 Coupe (K, Open back) aka HT, but not in Canada
7907-8006 on 2dr. sedan (-R), 4 dr. hatchback (F) and wagon (W)
8007- 4-dr hatchback (F) only.
Engine Mounts
mount rubber Isolators
11220-W5301 INSULATOR ASSY-ENGINE MOUNTING L20E, L20B S110, A10 $41 USD
11220-U7402 INSULATOR ASSY-ENGINE MOUNTING A10 $54 USD

supercedes 11220-W5300, 11220-U7401

11320-32F01 INSULATOR ASSY-ENGINE MOUNTING REAR [transmission mount] $129 USD

supercedes 11320-W5900
A10, S12 CA18ET.MT + CA20E.MT + VG30E.MT
For L20B RockAuto.com
engine mount $5 at RockAuto.com

alternate type $10 to $17 at RockAuto.com

Rear engine mount (transmission mount) Beck/Arnley 1040853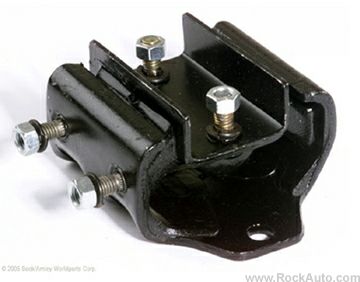 11220-U7401 INSULATOR ASSY-ENGINE MOUNTING FRO 2 -0978
11220-U7402 INSULATOR ASSY-ENGINE MOUNTING FRO 2 -0680
11220-W5900 INSULATOR ASSY-ENGINE MOUNTING FRO 1 1078-0680 2 11220-U7401
11220-W5301 INSULATOR ASSY-ENGINE MOUNTING FRO 1 0780- 0 11220-W5900
11220-U7401 INSULATOR ASSY-ENGINE MOUNTING FRO 1 1078-0680 0
11220-W5301 INSULATOR ASSY-ENGINE MOUNTING FRO 1 0780- 0 11220-U7401
11220-W5300 INSULATOR ASSY-ENGINE MOUNTING FRO 2 SEDAN(L16) HARDTOP,WAGON
11232-W5800 BRACKET-ENGINE MOUNTING FRONT,RH 1 L20B 0779-
11232-N8400 BRACKET-ENGINE MOUNTING FRONT,RH 1 Z20S 0779-0680 0 11232-W5800
11232-W5800 BRACKET-ENGINE MOUNTING FRONT,RH 1 -0679
11232-W8900 BRACKET-ENGINE MOUNTING FRONT,RH 1 Z20S 0780- 0 11232-N8400
11233-W5800 BRACKET-ENGINE MOUNTING FRONT,LH 1 -0679
11233-W5800 BRACKET-ENGINE MOUNTING FRONT,LH 1 L20B 0779-
11233-N8400 BRACKET-ENGINE MOUNTING FRONT,LH 1 Z20S 0779-0680 0011233-W5800
11233-W8900 BRACKET-ENGINE MOUNTING FRONT,LH 1 Z20S 0780- 0 11233-N8400
08121-02525 BOLT-HEX,W/WASHER (BLOCK TO BR 4 SEDAN(L16) HARDTOP,WAGON -0678
08121-02562 BOLT-HEX,W/WASHER (BLOCK TO BR 4 SEDAN(L16) HARDTOP,WAGON 4-DOOR HB(L16) 0778- 2 08121-02525
08911-64010 NUT-HEX,M10X1.25 (INSULATOR T 4 SEDAN(L16) HARDTOP,WAGON 4-DOOR HB(L16)
08915-14010 WASHER-SPRING (INSULATOR T 4 SEDAN(L16) HARDTOP,WAGON 4-DOOR HB(L16)
08915-54010 WASHER-PLAIN (INSULATOR T 4 SEDAN(L16) HARDTOP,WAGON 4-DOOR HB(L16)
11320-W5900 INSULATOR ASSY-ENGINE MOUNTING REA 1 -1077
11320-W5901 INSULATOR ASSY-ENGINE MOUNTING REA 1 1177- 2 11320-W5900
11341-W5900 MEMBER-MOUNTING REAR 1 5-SPEED,AUTO (FED,CAN) -0680
11341-W5500 MEMBER-MOUNTING REAR 1 5-SPEED,AUTO (FED,CAN) 0780- 11341-W5900
11341-W5500 MEMBER-MOUNTING REAR 1 5-SPEED,AUTO(CAL)
11341-W5300 MEMBER-MOUNTING REAR 1 4-SPEED(FED,CAN) 0780- 0 11341-W5800
11341-W5800 MEMBER-MOUNTING REAR 1 4-SPEED(FED,CAN) -0680
11341-W5300 MEMBER-MOUNTING REAR 1 4-SPEED(CAL)
11390-K2500 BOLT-ENGINE MOUNTING REAR (INSULATOR T 2
08911-10810 NUT-HEX,M8X1.25 (INSULATOR T 2
08915-13810 WASHER-SPRING,M8 (INSULATOR T 2
08911-10810 NUT-HEX,M8 (INSULATOR T 2
08915-13810 WASHER-SPRING,M8 (INSULATOR T 2
01115-00121 BOLT-HEX,M10X1.25 (MEMBER TO B 4
08915-14010 WASHER-SPRING (MEMBER TO B 4
08915-54010 WASHER-PLAIN (MEMBER TO B 4 2 08915-44010
08915-44010 WASHER-PLAIN (MEMBER TO B 4

Photo Index