A14T unique parts. From the 1976 B210 JDM parts catalog. Parts that are the same as a regular B210 engine are not listed here.
Also see: Hitachi Twin Carb (A12GX, A12T and A14T engines)

Engine
Pistons, rods and crankshaft are the same as a standard A14 engine. Camshaft is same as A12T (high speed}.
10101-H8425 GASKET KIT-ENGINE REPAIR
10102-H8400 ENGINE ASS'Y-BARE [long block]
10103-H8400 ENGINE ASS'Y-SHORT
11010-H8400 BLOCK ASS'Y-CYLINDER
21045-H8400 PIPE-SUCTION WATER PUMP
13001-H5700 CAMSHAFT 6800 RPM

Water pump Suction Pipe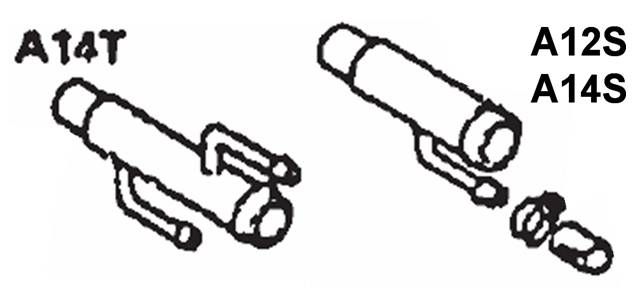 Cylinder Head and Valve Cover
A14T uses standard A14 head gasket, intake valves and exhaust valves. A14 standard valves (37/30) are larger than A12/A12GX valves (35/29).
11041-M2460 HEAD ASSY-CYLINDER A14T B210, F10
13264-H8400 COVER ASSY-VALVE ROCKER 
13203-H2300 SPRING-VALVE OUTER
13204-H2301 SPRING-VALVE INNER
13205-H2300 SEAT-VALVE SPRING

 A14/A14T standard valves
 13201-H6200 VALVE-INTAKE
 13202-H6200 VALVE-EXHAUST

Manifold
* 4-bolt carb flanges
* Two-piece Heat Shield
* Single-outlet exhaust manifold
* Thermostat on small hose at front

14003-M2450 MANIFOLD-INTAKE
14065-M2400 STUD [carb mounting] (8)
14004-H8400 MANIFOLD-EXHAUST
14013-M2400 PLATE-HEAT SHIELD FRONT
14014-M2400 PLATE-HEAT SHIELD REAR
14035-M2401 GASKET-MANIFOLD TO CYLINDER HEAD
14055-M2400 HOSE-WATER [intake to water pipe]
14100-M2400 THERMOSTAT ASSY-MANIFOLD WATER
14330-M2461 PLATE-HEAT SHIELD CARBURETOR front
14331-M2460 PLATE-HEAT SHIELD CARBURETOR rear
14875-M2400 CONNECTOR-VACUUM HOSE

The A14T inlet manifold is easily ID'd by the 4-bolt carburetor flanges. A12 twin-carb engines had 2-bolt flanges.


Album click to view
Emission Control
14120-M2460 TUBE ASSY-EGR
14711-M2460 PASSAGE-EGR
14791-M2401 CONNECTOR-INLET ELBOW
14791-H2461 CONNECTOR-VACUUM STRAIGHT
14720-M2400 GASKET-EGR PASSAGE
14741-Q1100 VALVE ASSY-BPT
14745-M2461 BRACKET-BPT VALVE
14751-M2461 TUBE ASSY-BPT
14755-H8200 TUBE-PASSAGE TO BPT
14792-M2462 CONNECTOR-PIPE
14826-M2200 BRACKET ASSY-EAI PIPE
14835-U7500 VALVE ASSY-AB with 4-speed
14860-H8400 HOSE-AIR
14823-H8400 PIPE ASSY-EAI
14861-H8400 HOSE AIR
14862-M2400 HOSE-AIR CLEANER TO AB VALVE
14863-H8400 HOSE-AB VALVE TO INLET CONNECTOR
14869-H8401 CLAMP-HOSE
14889-H7200 ORIFICE-AB VALVE
14896-M2400 CLIP-HARNESS
14956-U6700 VALVE ASSY-SOLENOID EGR-CUT
14957-H8400 BRACKET-VACUUM SWITCH
02141-67400 HOSE-EVAPO
02141-358Y0 HOSE-VACUUM E.A.R. TO CONNECTOR

Exhaust Piping
A14T used standard A14 exhaust piping, albeit with a special single-outlet exhaust manifold.
Radiator
This radiator uses the same shroud and top hose as A14 automatic radiator. Possibly it is the same size.
 21400-H7210 RADIATOR ASS'Y

Accelerator Pedal
18010-H5801 PEDAL ASSY-ACCELERATOR [same as L16 MT B210] 
18215-H5800 SPRING-PEDAL ROD [same as L16 MT B210]
18200-H7510 WIRE ASSY-ACCELERATOR 

Fuel
11826-M2460 HOSE-ROCKER COVER TO AIR CLEANER to 7612
11826-M2461 HOSE-ROCKER COVER TO AIR CLEANER from 7701
11828-M2460 HOSE-PIPE CONNECTOR TO VALVE 
11830-M2460 CONNECTOR-PIPE
16587-N0901 CONNECTOR-3 WAY
14920-M2401 VALVE ASSY-CONTROL
22472-B8000 CLAMP-VACUUM TUBE
14896-M2400 BAND-HOSE
16335-M2460 ORIFICE-NO 2
16290-K0500 CLAMP-VACUUM HOSE
22319-M2462 CLAMP-VACUUM HOSE
22472-G0302 CLAMP-VACUUM HOSE [same as VB210]
22339-M2400 HOSE-VACUUM CONTROL PASSAGE CONN TO A/C
22340-M2400 HOSE-VACUUM CONTROL P/M OPENER TO DASH POT
22312-H7202 HOSE-VACUUM CONTROL L=120 S/B2318-73002
22318-N8610 HOSE-VACUUM CONTROL L=80 S/B2318-73002
22320-N4214 HOSE-VACUUM CONTROL L=50 S/B2318-73002
22320-Y4002 HOSE-VACUUM CONTROL L=155 S/B2318-N3300
22312-M2460 HOSE-VACUUM CONTROL BPT TO TVV

Carburetor
A14T carbs can be identified by the triangular bolt pattern and 38mm bore.
NOTE: 260Z carbs also look like this but are 46mm bore.

Album click to view
Album click to view
16010-H8430 CARBURETOR ASSY FRONT
16010-H8450 CARBURETOR ASSY REAR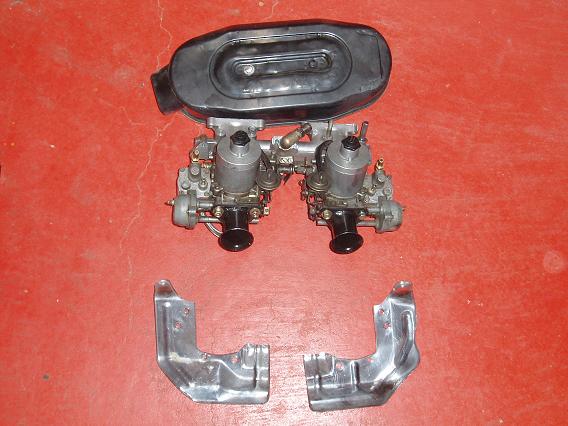 Album click to view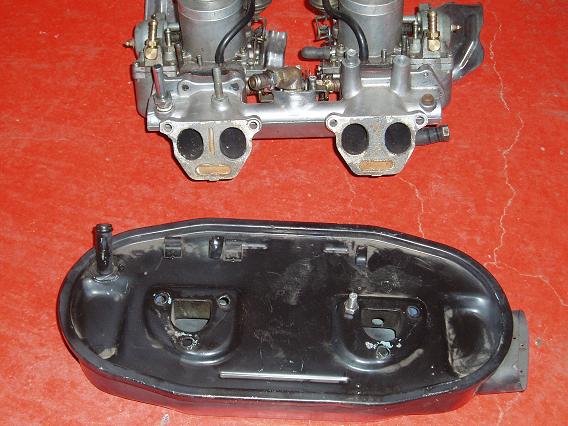 Album click to view
Fuel
A14T uses stock A14 fuel pump.
17522-H8401 TUBE ASSY-FUEL [steel fuel rail]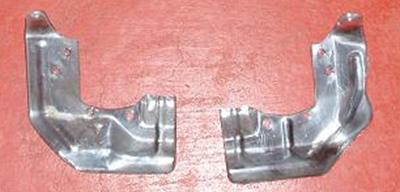 Album click to view
Air Cleaner
The A14T air cleaner has triangular bolt-pattern on the carburetor side.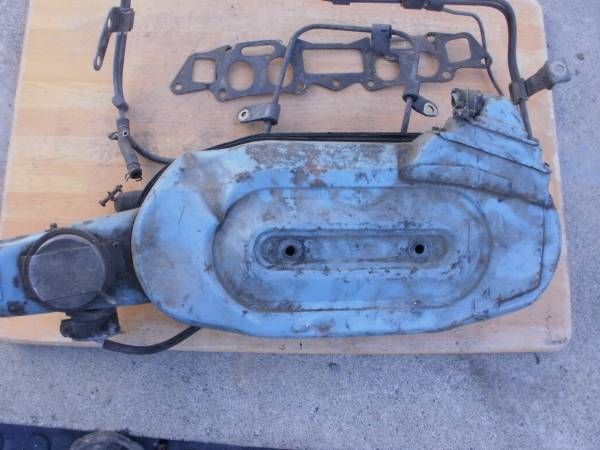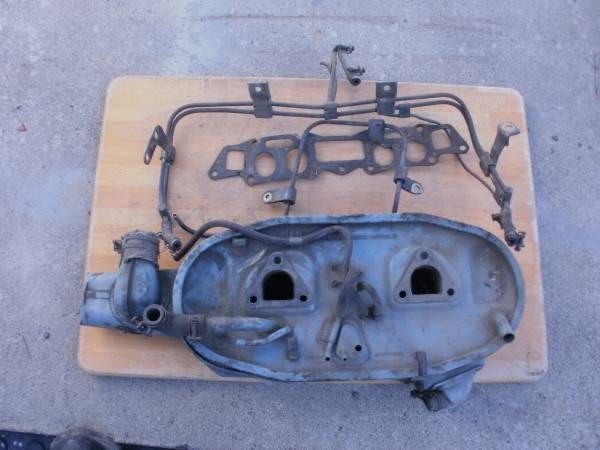 16500-H8400 CLEANER ASSY-AIR
* 08110-61662 BOLT
16530-U6001 DUCT-AIR
* 08772-14400 (2)
16590-H8400 COVER ASSY-EXHAUST MANIFOLD
* 08915-43610 WASHER
* 08110-61010 BOLT
16546-H2300 ELEMENT ASSY
16565-M2400 FILTER [small]

Album click to view
Also see: Hitachi Twin Carb Air Cleaner

Propeller Shaft
Also see: Propeller Shaft Swaps

37000-H7510 SHAFT ASSY-PROPELLER A14T F4 [4-Speed] AMPCO 3 JOINT (440+742) x 63.5 x 1.6

Brakes
47474-H7500 HOSE-MASTERVAC
47476-H7510 CONNECTOR ASSY-MASTERVAC HOSE to 7608
47476-H7511 CONNECTOR ASSY-MASTERVAC HOSE from 7609 

¤