Some Datsuns were fitted with sidedraft carburetors right from the factory. Usually fitted with twin Hitachi variable venturi carburetors which are very similar to S.U. (Skinners Union) carburettors from Britain. The Datsun 1200 GX models were fitted with twin Hitachi HJE38W 38 mm carburetors. Some Japan-market B210s were fitted with A12T or A14T engines which also used twin-Hitachi carbs. Many Datsun fans refer to the Hitachis sidedraughts as "SUs", so keep that in mind when you read information. It may be about the factory Hitachi sidedrafts, or it may be about the (non-Datsun) British SU sidedrafts.
Overview
ヒタチ ツイン キャブレター
Reportedly, Hitachi licensed the SU design, but I have yet to see a reference for that (Nissan manual, etc).
Datsun twin-carb setups used two basic Hitachi sizes:
38 mm (1-1/2 inch bore) on most cars
46 mm (1-7/8 inch bore) on Z-cars. These are too big for Nissan A engines (even if you use one) and reportedly the late model flat top 46s are a bad design.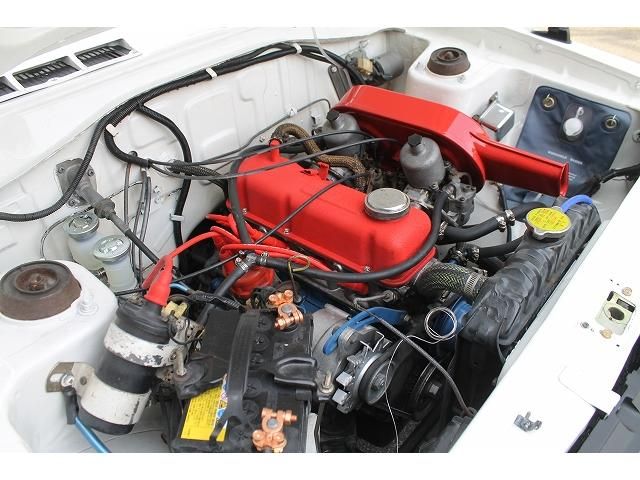 full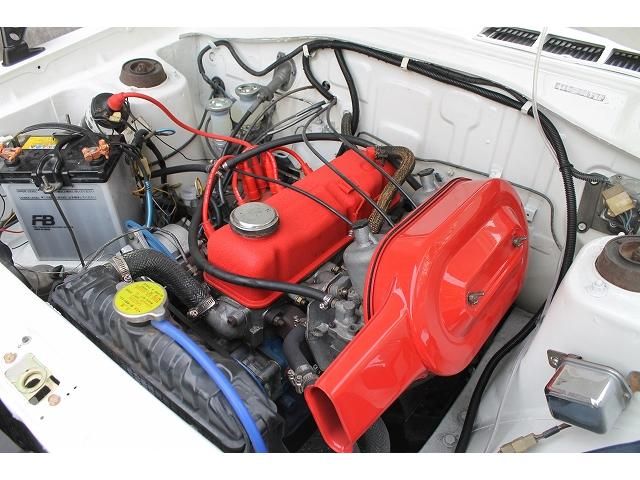 full
full
Identification
Hitachi Twin Carbs can be broadly broken down by:
* Dome-tops (1973 and older cars)
* Flat-tops (1974 and newer cars)
* Triangular-inlet Choked-carbs (A14.B210 & 260Z)

And by two sizes:
* 38mm bore size
* 46mm bore size (six-cylinder Datsuns)

A12 GX carbs are dome-tops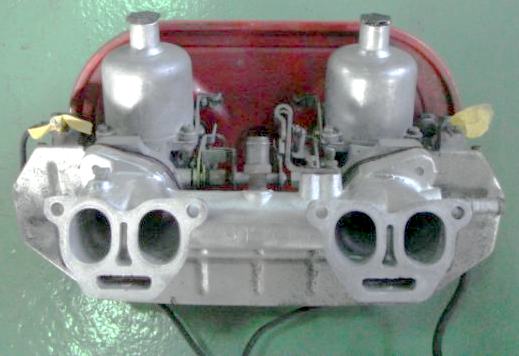 full-size photo
A12T have flat-top carbs with IMS hoses connecting them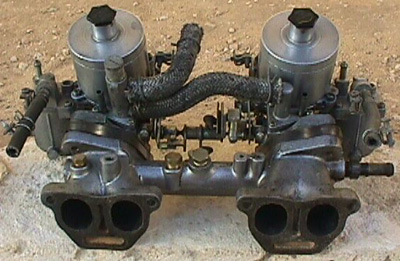 Nissan Competition carbs are flat-top carbs without IMS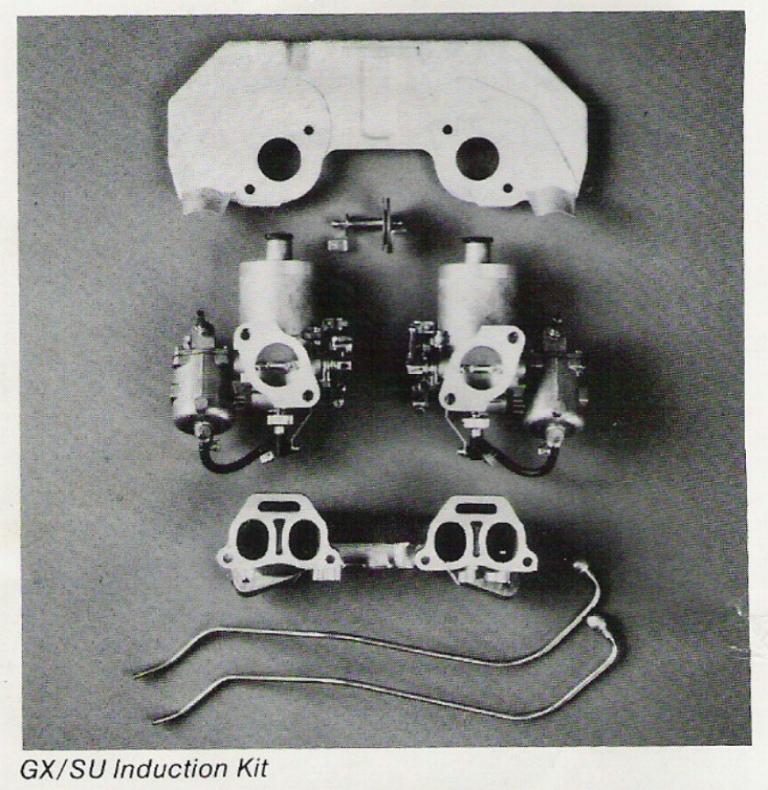 full-size pic
A14T carbs can be identified by the triangular bolt pattern and 38mm bore.
NOTE: 260Z carbs also look like this but are 46mm bore.


full-size photo
Hitachi ID markings are inked (not stamped) onto the float bowl housing.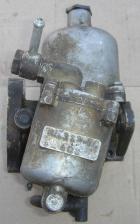 Other identifying features include shape of tops, type of fittings, etc.
Three Different Designs
Factory Hitachi setups for A-series engine include the A12GX, A12T and A14T types. These were fitted to JDM B110, B210 and Datsun Cherry vehicles. South Africa also sold many Twin-Carb B110s.
A12GX for B110 (1971-1973) - Extra Large Oval Ports (30 x 34.5 mm)
A12T for B210 (1974-1975) - Extra Large Oval Ports
A14T for B210 (1976-1978) - Standard Oval Ports (28 x 34 mm)
A12 GX Engine
The Datsun 1200 GX (Grand Luxe Twin-carb) models were always fitted with the A12 GX Engine. This engine featured a matched pair of left- and right- hand Hitachi HJE38W sidedraft carbs. These are the true "dome-top" Hitachis, already setup for performance. They can use standard SU needles so tuning it quite easy.
11041-H2300 HEAD ASSY-CYLINDER A12 GX B110

See main article A12GX Engine

Note: A12GX was not fitted with flat-top carburetors.
A12T Engine
See main article: Hitachi Twin Carb A12T
JDM 1973-1975 B210 GX models cam with A12S single-carb engines or the A12T twin-carb engine. While very similar to the A12 GX Engine, the A12T engine used flat-top Hitachis and a slightly different intake manifold with a few more fittings. These are decent carburetors and contrary to talk are not watered-down "emission carbs".
Flat-tops from A12T.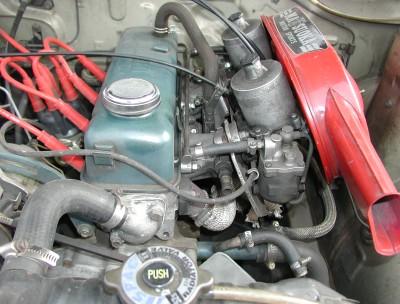 NOTE: B210 "GX" (Grand Luxury) refers to the car and does not necessarily mean the car included a twin-carb engine as the B110 GX did. While some 1973-1975 Japan-market B210 GX models did include the A12T engine, most were fitted with a single-carb (A12S) engine.
JDM Datsun Cherry (E10) models also used the A12T engine, including the famous Cherry X1-R vehicle.
A14T Engine
Starting in July 1976, the B120's A12T was replaced by the A14T. This corresponded with the B211 model change (B210 minor facelift).
These carburetors can readily be identified because they have round automatic chokes on the sides, just like a downdraft carburetor. A14T engines used flat-top carbs, heavily modified from the A12 type Hitachis apparently to manage emission control.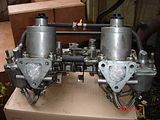 Some (but not all) GX models used the Twin-carb engine; even in Japan other 1976-1978 GX models used a single carb engine. Unlike the A12GX and A12T engines with their monster intake ports, the A14T used standard A14 oval ports (28x34 mm), which are smaller than A12GX ports (30x35mm).
A14T Manifold matches standard A14 gasket
One improvement over the A12GX engine is that the A14T uses a small thermostat where the water goes into the manifold
Nissan B211 Parts catalog showing some GX models were fitted with single-carb (A14S) engine:

A14T Features:
A lot of emission controls
EGR port on top of manifold
Throttle servo
Automatic chokes (electric)
Vacuum ports on each end, top of manifold
No PCV valve fitting
Carb side:
SU manifold is different: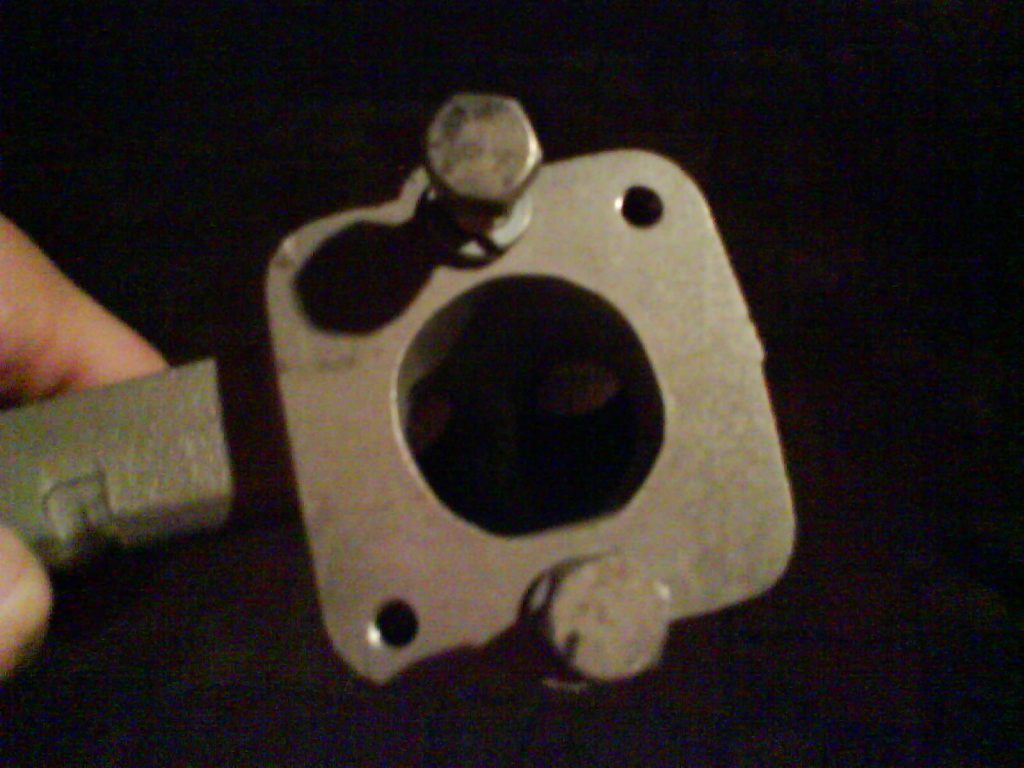 Retro-fitting
For true bolt on experience, you will need a complete setup:
Intake manifold
Exhaust manifold (twin down-pipe cast headers). The clearance differently than regular manifolds
Two carbs
Fuel lines
Accelerator cable & linkage
Choke cables
In general on a given manifold you can use SU, Zenith-Stromberg (ZS) or Hitachi sidedrafts, but note that the linkage, hose locations and air cleaner attachment will vary.
NOTE: The Hitachi sidedraught carbs are on the left side of the A-series engine. On a RHD car there is clearance aplenty, but on a LHD car fitting an air cleaner it a bit tricky. But this is more easily fitted to LHD than a twin-Weber setup.
Variations
For a list of Part Numbers, see Hitachi Twin Carb Part Numbers
Parts Donors
* A-series import engines from Japan
* Datsun Competition setups
* Datsun 411 SSS (circa 1966)
* Datsun 510 (1600) SSS
* Datsun 610 (180B) SSS
* Datsun 710 (160J) SSS
* Datsun Roadsters

Reportedly, all Roadsters were fitted with Hitachis except the 2000 Roadster (2-liter engine) which came with Mikuni/Solex carbs.
Damper Oil
The damper (aka dashpot) is oil-filled. Nissan recommended 20W or 10W30 Elephant Oil, but any brand of motor oil will work. Others have reported success with ATF (automatic transmission fluid), sewing machine oil (generally 10W), or motorcyle oil. The lighter oils tend to run the carb on the lean side.
Tuning
See main article: Hitachi Twin Carb Adjustment
Troubleshooting
Go here for lots of information: The Hitachi-SU Tech Pages - Troubleshooting.
References
* Nissan Motorsports catalog (#99996-CAT98 and other years)
* Nissan Schematic catalog (#99996-M8015)
* Nissan Datsun 1200 Model B110 parts catalogs

Parts Suppliers
Nissan sells quite a few parts for the Hitachis
Z-Therapy sells parts and complete setups http://www.ztherapy.com

Get the 510 SSS carb setup. The jetting is slightly different but otherwise they are the same

craigslist and other local sources (from time to time)
eBay from time to time
The parts although not common, are not rare in USA. Quite a few twin setups were found on import engines in the 1980s, and quite a few were purchased from Datsun Competition, so they can be found.
ZTherapy is in the USA, and always has them on hand.
Part Numbers
See:
Nissan Competition
Datsun Competition (Nissan Competition) sold a open-vented, non-IMS, system. From the 1984 Nissan Competition catalog.
GX/SU INDUCTION SYSTEM
The GX/SU induction system was a production line option on non-USA versions of the 1200 and B210. Requires use of GX cylinder head. The GX system can be adapted to virtually any A-series engine.
16010-H2336 38MM SU CARB (FRONT)
16010-H2337 38MM SU CARB (REAR)
14003-H2330 GX INTAKE MANIFOLD
11826-H2300 BLOCK TO MANIFOLD HOSE
14035-H2300 MANIFOLD GASKET
14330-H2303 GX HEAT SHIELD (1)
16031-H2300 OVERFLOW TUBE/FRONT
16031-H2301 OVERFLOW TUBE/REAR
16174-H2300 INSULATOR (2)
16175-A5100 INSULATOR GASKET (2)
16361-H2300 THROTTLE SHAFT ASSY
16376-H2300 ACCELERATOR CABLE BRACKET
17523-H2302 FUEL TUBE (1)
18410-H2302 CHOKE CABLE (1)

Supplied with simple vent tubes (production A12T vents the carburetors to the air cleaner)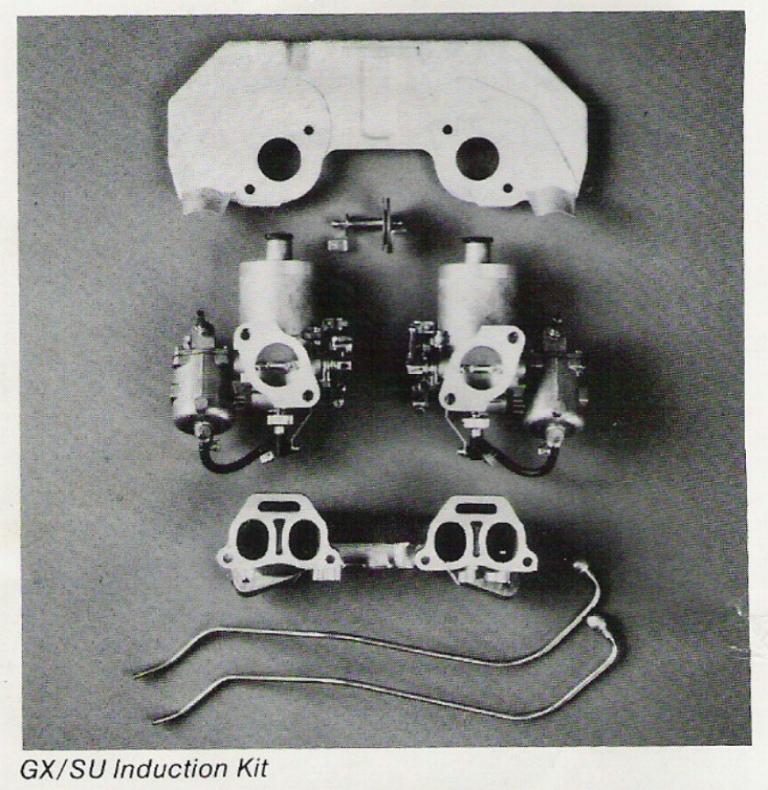 album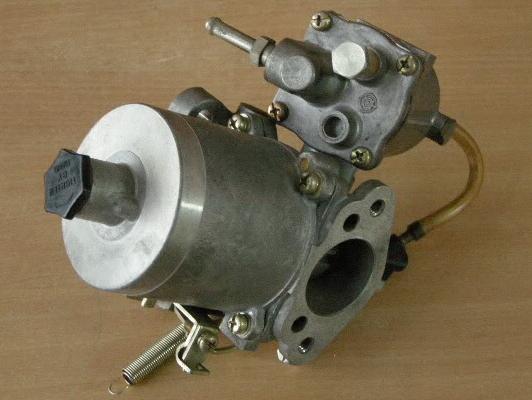 album
Links