Look at this part of the Nissan Part Number: 00000-xxx00 The xxx part tells which car it was designed for.
Also see:
* Applied Model Codes list
* Applied Model Codes list 2
* Applied Model codes list for A-engined vehicles
* Nissan Part Number Overview
* Nissan hardware part number (N.E.S.) for bolts, nuts, etc.

Overview
Applied model is defined by Nissan as: "the part is originally designed for this model. However, it may be used widely over our models. Therefore, it does not always signify the applied model". In other words, a part may be used on several models, but the part number will only refer to the original model.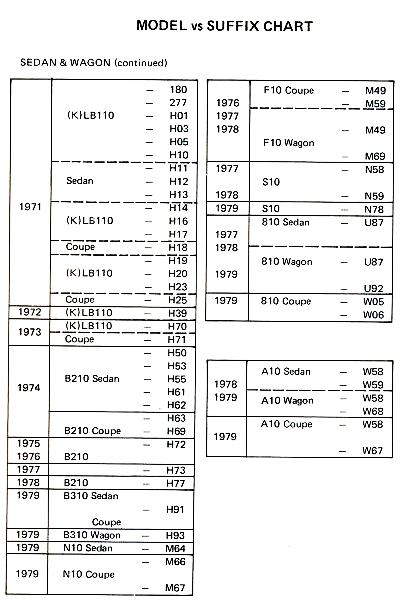 Applied Model codes (for A-engined vehicles)
| | |
| --- | --- |
| Type | Model of Origin (chassis code explanation) |
| 180 | B10 |
| 181 | VB10 |
| 182 | B10-D |
| 183 | VB10-D |
| 203 | B10-DA |
| 248 | B10SF |
| 258 | KB10 |
| 277 | B10 ('68) |
| 278 | VB10 ('68) |
| 277 | B10 ('68) |
| G01 | TB20S |
| G02 | LTB20STU ('69) |
| G03 | C20 ('70) C20S |
| G04 | C20H ('70) C20HS |
| G05 | VC20 VC20S VC20VS |
| G06 | KC20 |
| G07 | C20 ('72) |
| G08 | C20 |
| G09 | VC20 |
| G10 | B120S ('71) |
| G11 | B120ST ('71) |
| G12 | B120STU ('71) |
| G13 | LB120ST ('71) |
| G14 | GB120S |
| G15 | VC20JS |
| G16 | B120T GB120T B121T GB121T |
| G19 | B122T GB122T (8110-) |
| G20 | VC20JS |
| G28 | C120 Vanette |
| G51 | C22 Vanette |
| H01 | B10 ('69) |
| H02 | B10F ('69) |
| H03 | KB10 ('69) |
| H04 | VB10 ('69) |
| H05 | LB10U ('69) |
| H06 | LB10FU ('69) |
| H07 | VLB10U ('69) |
| H10 | B110S ('70.5) (S = Standard) |
| H11 | B110 ('70.5) |
| H12 | B110SR ('70.5) (R = 2-dr sedan) |
| H13 | B110R VB110S (V = Van/Wagon) |
| H14 | B110R ('70.5) VB110P (P = deluxe van) |
| H15 | VB110 |
| H16 | LB110ST ('70.5) |
| H17 | LB110T ('70.5) |
| H18 | KB110 (K prefix = Coupe) |
| H19 | B110U (USA), B110N (Canada) |
| H20 | B110G (G = GL) |
| H21 | B110GR |
| H22 | KB110G |
| H23 | B110GTK (K suffix = Twin Carb) |
| H24 | B110GK (GX Sedan) |
| H25 | KPB110 ('71) |
| H26 | KPB110G ('71) |
| H27 | KPB110GR ('71) |
| H28 | PB110T ('71) |
| H29 | PB110GT ('71) |
| H30 | B110GTK ('71) |
| H31 | B110S ('72) |
| H32 | B110 |
| H33 | B110GT |
| H34 | B110GTR |
| H35 | LB110 |
| H36 | B110SR |
| H37 | B110R |
| H38 | B110GTR |
| H39 | LB110TRU |
| H40 | KB110 |
| H41 | KB110G |
| H42 | KB110GR |
| H43 | VB110S |
| H44 | VB110 |
| H45 | VB110SR |
| H46 | LB110TRU |
| H47 | KLB110U |
| H48 | B110 |
| H50 | B210STKU |
| H51 | B210GT |
| H52 | B210GTK |
| H53 | B210R |
| H54 | B210GTR |
| H55 | KB210 |
| H56 | KB210G |
| H57 | KB210GK |
| H58 | PB210T |
| H59 | PB210GT |
| H60 | PB210GTK |
| H61 | LB210T |
| H62 | LB210TRU A13 engine |
| H63 | KLB210 |
| H64 | B210 |
| H65 | VB210S |
| H66 | VB210 |
| H67 | VB210SR |
| H68 | VLB210ST |
| H69 | KLB210U |
| H70 | LB110TRU ('73) |
| H71 | KLB110U ('73) |
| H72 | H B210 (A14 engine) |
| H74 | B210 Coupe A12 engine |
| H75 | B210 Coupe A14 engine |
| H77 | B210 North America? A14 engine |
| H78 | VB210 Super-DX or H |
| H79 | GB211 (L16) |
| H85 | B310 4-dr sedan 1200 & 1300 CT & DX |
| H856 | B310 4-dr sedan 1200 & 1300 GL trims N |
| H89 | B310 4-dr sedan 1400 & 1500 (except GXE & SGXE) |
| H92 | B310 4-dr sedan A15E (GXE & SGXE) |
| H86 | B310 2-dr sedans |
| H866 | B310 2-dr sedan 1300 GL |
| H87 | KB310 Coupe 1200 DX & 1200 SPT |
| H876 | KB310 Coupe other 1200 and 1300 |
| H90 | B310 Coupe 1400 & 1500 carbureted & A15E |
| H92 | B310 Coupe A14E |
| H98 | WHB310 & WPB310 ??????? (California) except GXE & SGXE |
| H08 | WHB310 & WPB310 ??????? (California) A15E GXE & SGXE |
| H94 | VB310 & VB311 & VB312 4-dr wagon |
| H942 | VB310P & VB311P & VB312P |
| H96 | VHB310 & VHB311 & VHB312 1400 DX & SPDX wagons |
| H946 | VB310R & VB312R 2-dr wagon |
| H09 | VB312RJ & VHB312RJ 2-dr wagon DXA |
| Mxx | E-body (Cherry, Pulsar) |
| M01 | E10 ('71) |
| M02 | E10RT |
| M03 | E10T |
| M04 | E10SR |
| M05 | VE10SR |
| M06 | VE10R |
| M07 | VE10RT |
| M08 | PE10T |
| M09 | E10TU |
| M10 | LE10T |
| M11 | KPE10TK |
| M12 | E10HRT |
| M14 | KE10T |
| M15 | KPE10HT |
| M16 | 51ZVLE10 |
| M17 | 52ZLE10 |
| M18 | 53ZVLE10 |
| M19 | 54VLE10 |
| M20 | KPE10UT ('73) |
| M21 | LKPE10T |
| M22 | KPE10ST |
| W50 | A10 Sedan A14 DX |
| W51 | A10S Sedan A14 STD |
| W52 | A10H Sedan A14 GL |
| W53 | PA10, PA10A Sedan L16 DX |
| W54 | PA10H, PA10HA Sedan L16 GL |
| W55 | PA10HE, PA10HAE Sedan L16E GL-EL |
| W60 | KA10 Open Back A14 DX |
| W61 | KA10H Open Back A14 GL |
| W62 | KPA10H,KPA10HA Open Back L16 GL,GL-L |
| W63 | KPA10HE,KPA10HAE Open Back L16E GL-EL |
| W65 | VA10,VA10S,VA10H Van A14 STD,DX,GL |
| W70 | PA11G,PA11GF Z16 |
| W71 | PA11G-E Sedan Z16E |
| W75 | PA11 Sedan Z16 |
| W76 | PA11P,RA11 Auster Z16, Z18 |
| W77 | KA11 Open Back |
| W78 | KPA11G Auster Hatch Back/Multi Back |
| W90 | UPA11 Hatch Back |