Datsun 1200s were locally assembled in Australia in 1971 by Nissan Motor Co. (Australia) Pty. Ltd. (NMCA). Sedans were locally assembled from "Complete Knock Down" kits (CKD).
Overview
Models locally assembled from "Complete Knock Down" (CKD) kits include these 4-door sedans:
B110STUL [T=4-speed]
B110SAUL [A=automatic]
Model Breakdown:
B110 - Datsun 1200
S - Standard model
T - 4-speed transmission or A - Automatic
U - Export
L - Locally assembled (?). This is a guess, never having encountered it before
Note that U is used by LHD exports, and by RHD exports.
B110-STUL

Album click to view
B110-SAUL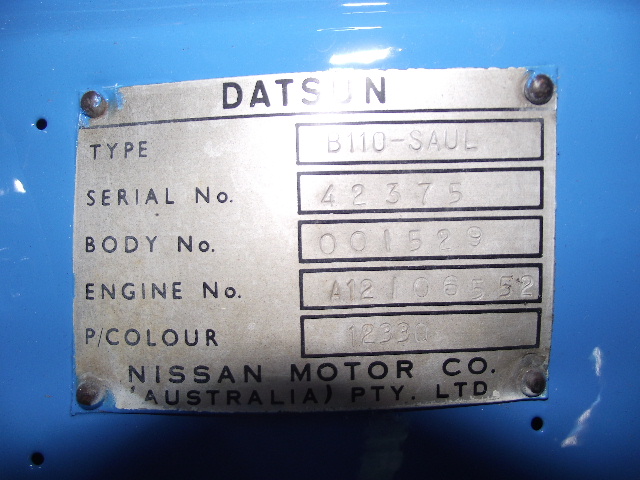 Album click to view
Australia Chassis ID plates: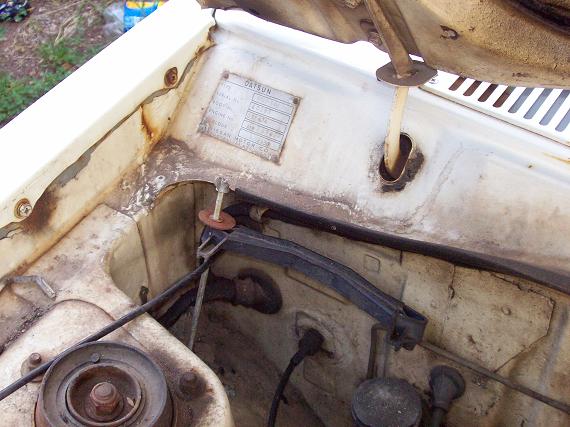 Album click to view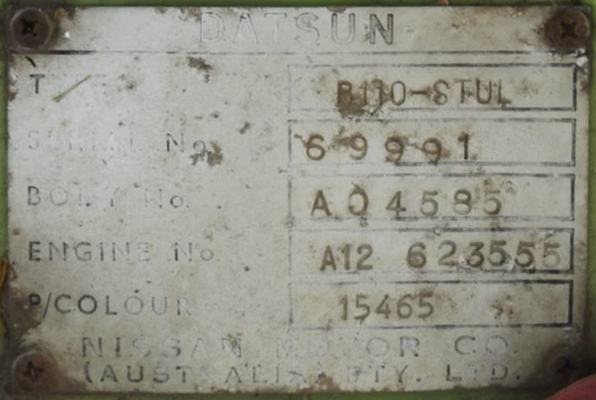 Album click to view
Nissan Australia P/L Manufacturer's Plate, which certifies that the vehicle meets various Australia Design Rules in effect the year of manufacture.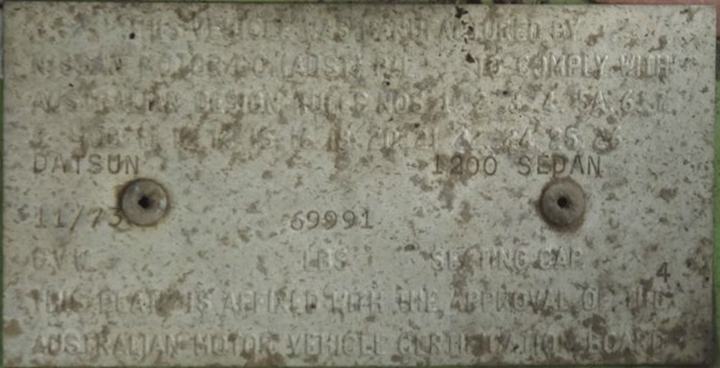 Album click to view
Differences
Differences from Japan-built B110s include:
Nissan Motor Co Pty build plate instead of Nissan Motor Co., Ltd plate
Compliance plate says "manufactured by Nissan Motor co (Aust)"
Borg Warner 60 differential starting September 1971 (smaller than the kind used in B210s)
Reportedly, light blue tailshafts are the ones manufactured in Australia.
Nissan heater by Smiths with several differences from Japan-made units - see Heater#Australia Assembled
B210
Nissan Pty. assembled some 120Y sedans from CKD, using some local parts like seats & interiors and brake components. NOTE: all coupes were imports from Japan. Plus a BW68 rear axle which is larger than the BW used with B110.
B210 C.K.D. ID Plate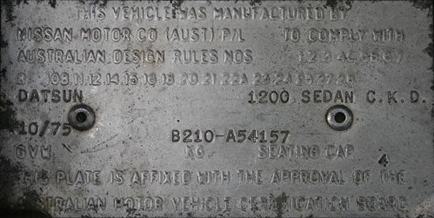 Album click to view
¤