Modifying a car in Australia for road use is subject to Australia Design Rules which cover safety and emission control standards. Your car from new should have an ADR compliance plate on the firewall & the build date should be stamped into that. When swapping engines, brakes or other major parts, an engineer will oversea the work and supply a new compliance plate (aka mod plate) to prove the changes have been approved.
Overview
While ADR is nation-wide, each individual state has further requirements.
Run any changes by an Engineer before you start!

Additionally, aftermarket parts like lamp lenses, seat belts and glovebox doors must be approved.
Be sure *any* aftermarket parts you buy are approved!

Pay an engineer to design any modifications so that you will be sure to pass inspection.
NOTE: ADR started in 1969, which means that anything pre-1969 doesnt have to comply to ADRs. For example, it is 100% legal to have no seatbelts in a pre-1969 car.
Compliance Plate
Attached to the cowl:
click

---

This vehicle was manufactured by Nissan Motor Co. (Aust) P/L. To comply with Australian Design Rules Nos 1. 2. 3. 4. 5A. 6. 7. 8. 10B. 11. 12. 14. 15. 16. 18. 20. 21. 22. 24. 25. 26.


Datsun 1200 Sedan
8/73 67889
GVW. Lbs. Seating Cap 4


This plate is affixed with the approval of the Australian Motor Vehicle Certification Board

---
The Australian compliance plate affirms that the vehicle was built by Nissan to comply with Australian Design Rules. It lists all of the design rule numbers that are being complied with. ADR 27A, 27B, 27C, etc. have to do with polution controls. The more letters, the later the model it is.
State Rules for Engineering
In addition, your state may implement vehicle safety rules. For example, automobile customization regulations differ between Queensland, SA and WA.

See discussion about engineering: Engineers
New South Wales
Refer to RTA document VSI 06 "Light Vehicle Modifications" from the RTA (NSW Roads and Traffic Authority, aka the registration authority) web site.
http://www.rta.nsw.gov.au

Maximum engine size normally allowed is related to the official listed weight of the vehicle (not by your measurement). For a Datsun 1200 in NSW a maximum size is allowed reportedly:
2190cc engine (naturally aspirated)
1825cc forced induction (supercharged or turbocharged)
13B Rotary (20B is too large)
The November 2007 guidelines say this does not require an engineer, but is "owner certified":
Engine changes where the capacity is less than 15% above the maximum engine size available for the vehicle ...
Since the maximum engine size for a Datsun 1200 was 1171cc, you can then owner certify up to 1171cc + 15% = 1346 cc.
Above that will take engineer certification.
What is the maximum size engine for engineer certification?
Maximum engine capacity
Normally aspirated: Original tare mass (kg) x 3.0
Supercharged or turbocharged: Original rate mass (kg) x 2.5

'Original weight' is the original (unmodified) 'tare weight' of the sedan version of the vehicle...

Vehicles with engines of greater capacity than that provided in the table will not be acceptable for registration as a modified production vehicle.
fm1200 said "This weight is 730kg" for sedan/coupe
ISL33P said "RTA ... have the ute at a tare weight of 690kg"

Any engine larger will require Individually Constructed Vehicle certification. This generally involves adding a frame, or widening the chassis, or modifying the engine layout (e.g. mid-engine setback or rear-engine), or "significant" change to the unibody. This is how large engines like the SR20DET are allowed.
Queensland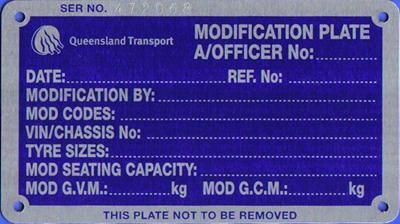 Emission Controls
ADR 27/27A requires the first batch of controls starting in 1973
ADR 37 requires the catalytic convertor
When transplanting engines, refer to vsi06: http://www.shoeys.com/docs/vsi06.pdf
Emission standards for replacement engines
1972 and later model vehicles with substitute engines must meet the intent of the later of the Australian Rules applicable to either:
a) the original vehicle; or
b) the substitute engine <p>To ensure continued compliance with emission standards, any replacement engine should come from which is subject to the same or more stringent emission control requirements. An alternative is for an earlier to be upgraded during reconditioning to more recent engine specifications. All anti-pollution devices should be fitted and functional. Vehicles manufactured prior to noise and/or exhaust emissions related ADRs must meet certain minimum and emission requirements if the engine modification is to such an extent as to require certification by an engineering signatory. Engineering signatories will be able to give you more information about these requirements.