Datsun 1200 axle shafts come in two sizes: H145 for all cars, and H165 units for all 1200 Trucks. Both are 23-spline axles, although the truck axles are a larger diameter and so they do not interchange.

Overview
Sectional view of rear axle

Album click to view
Axle Shaft Removal
Remove the individual axles from the axle housing (main body).
If replacing one side, jack that side up to prevent oil leakage. Otherwise drain the axle housing.
Unscrew the brake line at the rear of the drum backing plate. Plug the line.
Remove the brake drum, then remove the four bolts that are at the end of the axle tube. They are accessible via the hole in the axle. These will have nylock nuts on the ends.
Pull out the axle. This may come out easily or you may have to jiggle the diff where it connects to the tail shaft to loosen the spline. If all else fails the use a slide hammer and connect it to the axle where the wheel lugs are. You can also put the drum on backwards and lightly attach the lugnuts, then use the drum as a slide hammer.
Remove the seal just inside the axle that sits behind the bearing. Install a new seal upon installation
Mark the axle on back to indicate which side it came from
chain hammer may be needed to extract the side shaft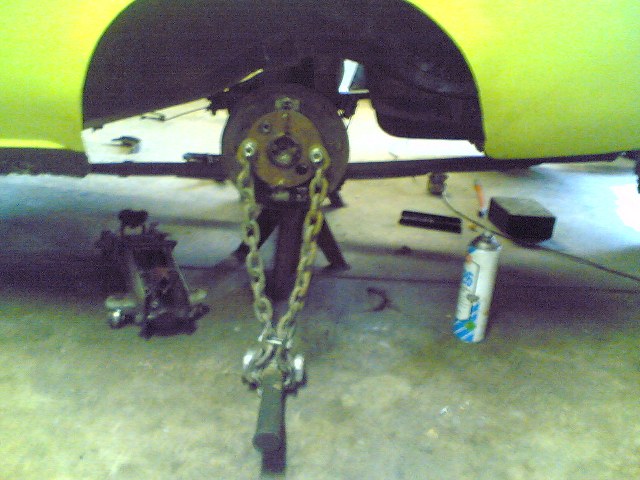 Album click to view
Axle Bearing Removal
To replace the bearing, or to replace the brake backing plates from the axle, you will need a cold chisel, an anvil of some description, and a big hammer.
The bearing retaining collar needs to be removed first
Use the cold chisel and or an angle grinder to cut the retaining collar off – be careful not to damage the axle shaft, unless you plan to replace the shaft.
Use a long bearing puller (or chain of pullers) to remove the bearing.
Alternatively, use a grinder to cut the bearing until it can be knocke d off.
After the collar and bearing are removed there will also be a thin washer to remove, it should just slide off and then the backing plate will slide off
Keep track of the Shims that go between the bearing and the backing plate. They may differ RH axle vs LH axle
Always replace with a new bearing.
Bearing Retainer

Album click to view
Axle Bearing Installation
Once the old axle bearing has been removed:
Slide the 1200 thin washer on the axle the same way it came off
Slide the drum backing plate onto the axle – make sure that it is on the right way (shoe mechanism facing out)
Press the bearing back on to the axle

Either get them done professionally (for the cost of a few dollars it will be done right)
Or get a big pipe/tube of the right diameter of the inner race and bash it on without damaging the wheel lugs or the bearing.
Press the retaining collar on to the axle (as above)

The bearing is held on a by a collar (a plain ring). This has to cut off with a cold chisel, then a new one pressed on.
Bearing is retained on by shaft collar

Album click to view
When replacing a rear axle bearing, check the wheel bearing-to-housing end face clearance and adjust with shims.

Album click to view
Axle Shaft Installation
After fitting the bearing as above, fit a new seal into the axle housing end.
Put the shim in behind the bearing – don't bend it too much
Insert the axle into the main body. You will need to line up the spline into the diff centre and gently persuade the axle into place
Tighten the 4 fastening bolts
Reassemble the hand brake shoes and mechanisms
Fill the differential oil
Replace brake hard line
Bleed the wheel cylinder
Wheel Seal

Album click to view
Wheel Bearing Packing
Re-pack your rear wheel bearings every two years. They are just ball-bearing (not the stronger roller bearings) so need all the help they can get.
Grease needs to be stuffed into the ball bearing.
Album click to view
Axle Seal
Album click to view
Album click to view
Part Numbers
master list

Album click to view

Kit with bearing, non-reusable bearing collar and backing plate gasket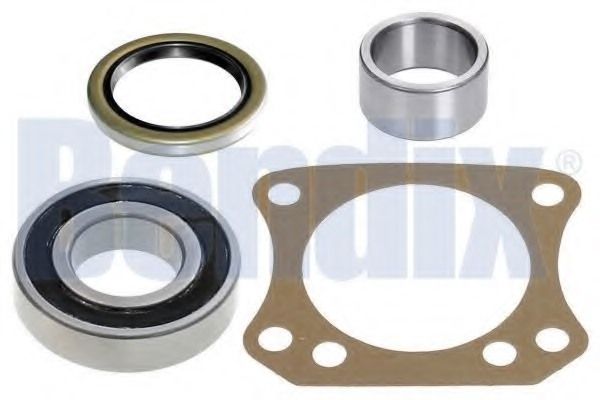 Suppliers - USA 
* Nissan 
* RockAuto differential [drivetrain] parts 
* O'reilly Auto

Kit with bearing, collar, spacer, and oil seal

Post click for topic
Axle
1200 Sedan/Coupe/Wagon
38162-G0300 ASSY-SHAFT REAR AXLE B110, B210
* length approx., 580mm from the backing plate to the end of the shaft

1200 Truck
38162-G1000 SHAFT ASSY-REAR AXLE B120 7510- with H165 diff 
* Also fits PB110 with L14 engine
* Also B210 H165B with L16 engine

B310/210
38162-H8500 SHAFT ASSY-REAR AXLE(L=612) B310

Axle Seal
Datsun 1200 uses the same rear axle/wheel hub seal as Datsun 510. One is required for each side of the car. The same seal is used by H145 (1200 car) and H165 (1200 truck) rear axle assemblies.
Nissan 43252-H1000 SEAL-OIL REAR AXLE SHAFT
* formerly 43252-18000 
* alternate manufacturer: 43252-H1010 

Nissan catalog
 SEAL-GREASE, REAR HUB 43232
  * 1200 sedan/coupe/wagon/truck
  * Datsun B10 Datsun 1000
  * Datsun 210 1978-1982
  * Datsun 510 1968-1973
  * Datsun 610 1974-1976
  * Datsun 710 1974-1977
  * Datsun 810 1977-1881
  * Datsun B210 1974-1978
  * Datsun A10 1978-1981 (Stanza/510/Violet)
  * Nissan/Datsun 810/910 wagon (810/Maxima/Bluebird)
  * Datsun S10 200SX 1977-1979
  * Datsun S110 200SX 1980-1983
  * Nissan S12 200SX 1984 with CA20E engine
  * S12 CA18S
  * C120/C22/C23 Vanette NOK
  * K30/K30S Crew
  * 910 Bluebird SSS
  * C31/C32 Laurel
  * F30 Leopard
  * R30/R31 Skyline
 SEAL-OIL, SIDE SHAFT (4WD front final drive) 38542P
  * Nissan D21,D21U,D22 Hardbody/Datsun pickups 1986-2000
  * Nissan R50 Pathfinder/Terrano/テラン rear outer
  * Nissan JR50 
  * W10 Avenir
  * WD21 テラン
  * Nissan WD21,WD22 "Pathfinder"
  * Nissan E50.4WD/AE50.4WD ElGrand
  * F22.4WD/F23.4WD Atla/Cabstar

Aftermarket
SKF OS550232 
Timkin 1181
BECK/ARNLEY 0521583 (052-1583)
Payen NJ036
Masashi N2125 

Timkin 1181 Specifications
* For 41.00 mm Shaft
* Housing bore: 56.00
* Seal O.D.: 56.25
* Seal width: 7.00 
* Lip material: Nitrile (NBR)

Timkin 1181 cross-reference
* CAUTION: parts listed below may meet lesser specs
* Cam seal, Crank seal, Wheel Hub seal (front), axle seal (rear)
  4WD IRS front final drive side shaft seal
Timkin 1181 41x56x7
Beck/Arnley 052-3605 41x56x8
Beck/Arnley W72173
Beck/Arnley W72231
Nation 1181
GM 12305324/15527580
ITM 1501004
Bap-Geon 1530501/1530505
SKF 16496
SKF 550232
Vera 6501018
Vera 6601000
Victor 66545
Victor 66984
Intlps 775532
Acura 91212P5G-004
Acura 91212PH7-013
Acura 91212PY3-003
Honda 91212PH7-003
Honda 91212PH7-013
Honda 91212PR7-A01
Honda 91212PY2-003
Honda 91212PY3-003
L&S/TROSTL A45556S
Guran/Midas GS1386
Victor JV1054
IAPCO L0020012
Nissan 40232-M0200
Lazorlite L816671
Lazorlite L817376
Payen NJ036 41x56x7 NBR
Payen NJ120 41x56x8 
Payen NK023 41x56x8 ACM
Repco P6374
Repco PR6374
Repco 2116374

Collar
A new retaining collar is required when replacing the bearing. The retainer is cut in two to release the bearing, and the new collar pressed on.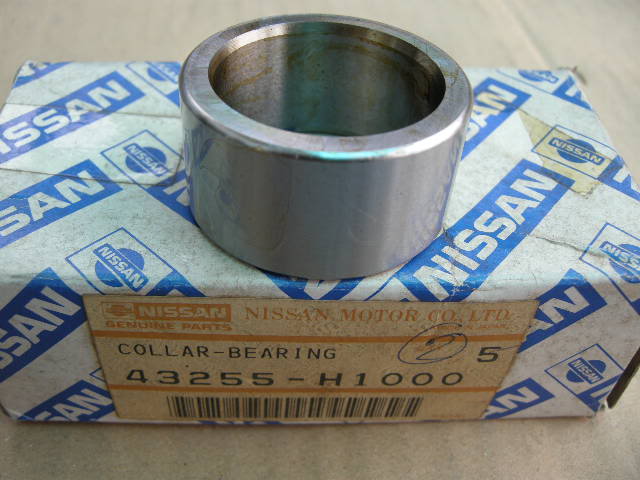 Album click to view
Nissan 43255-H1000 COLLAR-REAR AXLE BEARING
* supercedes 43255-18000
Beck Arnley 0530014 $4 Rockauto
National R114 $2.49 USD RockAuto.com
H145 & H150
* 41.0 x 31.7 x 21.0 wide mm

NOTE: BW axles - see BW60#Wheel Bearings
* 46 x 29.85 x 8 mm

H165 (1200 ute)
* R32J 32mm

bearing kits often come with the collar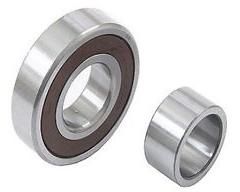 Spacer
A spacer is installed outboard of the bearing.
43070-H5000 SPACER-rear axle bearing
* replaces 43070-04101 (up to '72-11)
For H145 and H150

Dimensions
* ID 32mm
* OD 46mm/41.5mm(stepped section)
* Width 4mm

Interchange
* 1979-1981 S110 H165
* 1980-1981 810
* Caravan
* Vanette

Post click for topic
Post click for topic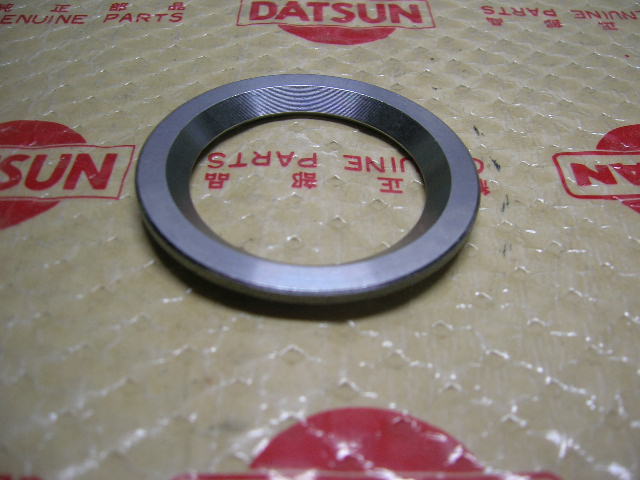 Post click for topic
Post click for topic
Axle Bearing
Suppliers: National, Nachi, NSK, NTN, SKF, Timken, etc

LOCALLY assembled BW Type, see Borg Warner Differential#Wheel Bearings
60 x 30 mm
62 x 30 mm

SMALL TYPE 115
Outer diameter: 62 mm
Inner diameter: 30 mm
width: 16 mm
* B10 Datsun 1000 sedan,coupe
* B110 Datsun 1200 sedan,coupe to Nov 1972

LARGE TYPE 114 
* Nissan 43215-H5000
Outer diameter: 72 mm
Inner diameter: 32 mm
Width: 19 mm (40 mm including spacer)
* VB10 Datsun 1000 Wagon
* B120 Datsun Truck with H165
* 1973 Datsun 1200 (from Dec 1972)
* 1974 Datsun B210 with H145
* 1975-1978 Datsun B210 with H150
* 1979-1982 Datsun B310 with H150

H145
SMALL TYPE: 1967-1972 H145 sedan, coupe
LARGE TYPE: 1967-1974 H145 wagon
             1973 late sedan, coupe

Sedan, Coupe
43215-18000 same as Datsun 410/411 and Datsun Roadster

VENDOR: Bprojects Product: 43215-18000☁ for early 1200 sedan/coupe with H145 axle
NOTE: H145 from December 1972 uses the larger H150-style bearing

1970-1972 B110 Type 6206-special bore size (not 6206 standard)
* 43215-18000 B110 -1172 sedan,coupe
* 43215-H5000 B110 1272- sedan,coupe - see #larger H150 size

Nissan 43215-18000 BEARING-REAR AXLE SEDAN, COUPE NLA
* SKF GRW115Rᴳ
* KOYO 83294C4ᴳ
* KOYO 83294-C4GA2ᴳ
* 83294-C4GA2 NSK+B32-3CC5ᴳ
* NSK B32-3AC5ᴳ
* NTN 6206BC4-B32ᴳ
* NTN 6206BLUX/32C4ᴳ $28 USD

Specs: 
* O.D.: 62 mm
* Bore: 32 mm
* Width: 16 mm

NOTE: Measure bearings before buying replacement. Over the past 40 years, the axle housing may have been swapped. Early and Late 1200s use different size bearing.
NOTE 2: The standard 6206 bearing has a bore size of 30mm. The 6206 bearing with a 32mm bore is called a "special bore size" bearing. For example: one NSK bearing 6206 (id is too small for axle) and 32 mm (correct inner diameter).
Interchange:
* 1967-1970 Datsun B10 (180 is B10 part number)
  NOTE: VB10 (1000 van/wagon) uses larger 72mm bearings
* 1970-1973 Datsun B110

replaces Nissan 43215-08000
* Datsun 410/411 Bluebird
* Datsun SP311/SPL311 Roadster 1600
* Datsun SR311/SRL311 Roadster 2000
62 x 32 x 16 mm
Special Bore Size Type 6206

POST evanp photo
of Federal Mogul Bower|BCA RW 115-R
Box has been marked with "G" to match the
SKFᵂ
part number GRW115R
These eBay specials came with two differing collars (see
POST Wheel bearing data
)
At one time Bower and BCA were both owned by Federal-Mogulᵂ. Since 1996, BCA Bearingsᴳ has been owned by NTN/Toyoᵂ
archive: 6206BLUX/32C4 from Bprojects
Wagon
Nissan 43215-H5000 VB210 wagon
replaced 43215-22500 BEARING-REAR AXLE VAN VB10, VB110 
* same as used in H150, except non-sealed

Sealed
* B210
Non-sealed
* Datsun 1000 wagon
* Datsun 1200 wagon

1973 H145
Late 1973 1200s (but not early 1973) and 1974 B210 are fitted with H145, but use the larger H150-style bearings. Otherwise identical to the early B110 small-bearing axle housing.
H150/H165
RockAuto Axle Shaft Bearing
RockAuto Wheel Bearing
43215-H5000 BEARING-REAR AXLE, OUTER B120, B210 H150
* replaced 43215-22500
* Same as VB10 (43215-22500)

OEM
* SKF GRW114R
* Beck/Arnley 0513202 
* National RW114R
* Timken RW114R
* Bendix WBK02250
* Centric 411.42002

rockauto
Centric 411.42002 - Bearing and #Collar. It incorrectly says "Spacer" but the #Spacer is only 4mm thick

Post click for topic
Specs
* Bore 32mm (1.2598")
* Outer Diameter 72mm (2.8346")
* Width 19mm (0.748")
* Sealed both sides
* Single row ball bearing

Applications:
* VB10 Datsun 1000 Wagon
* 1971- Datsun B120 Truck with H165
* 1973 Datsun 1200 (from Dec 1972)
* 1974 Datsun B210 with H145
* 1975-1978 Datsun B210 with H150
* 1979-1982 Datsun B310 with H150
* Nissan Vannete III 1995-
* Nissan C23 Serena 1993-2001 
* C22 Nomad
* Datsun 710/Nissan Violet
* Nissan LR50 Terrano R200A front drive unit side bearing
* 910 Bluebird
* C230 Laurel
* Z31 300ZX
* S110 Silvia/200SX
* S12 Silvia/Gazelle/200SX
* 43215-45000, 43215-52L60
* Datsun 810/180B 1977-1981

Kit for B120
NTN 6306.BLLUX/32.C4/5AQ5 sealed both sides
400413N Oil seal 41x56x7mm
R32J 32mm Retainer
NTN 6306BLLUX

Album click to view
Size Comparison
Large H190 (620 truck) vs Medium-size H165 (1200 ute) axle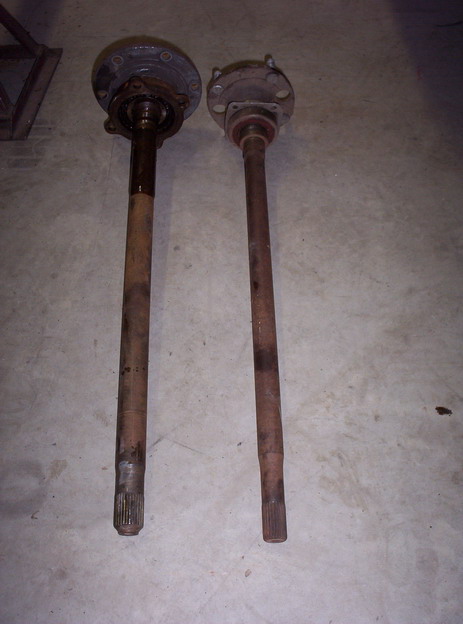 Album click to view
H145 (Datsun 1200 car) axles are smaller diameter yet
Works 240RS axle (H190?)

Album click to view
アクスル
¤