B310 came with many factory and dealer options.
Wheels
Styled steel Wheels became available for the 1980 model year and by 1982 were the only factory wheel.
With export plain 'D' center caps

Styled steel Wheels with export Deluxe center caps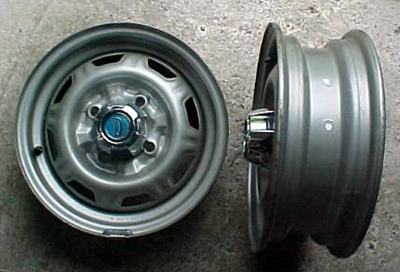 Also see: Wheels#Datsun Option Wheels

OPTION C Wheel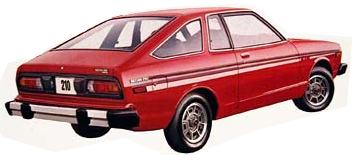 OPTION B & C Wheels (JDM and USDM dealers)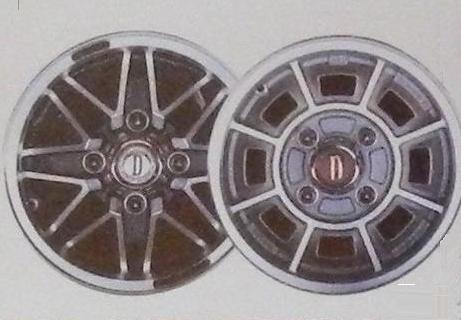 USA
In United States, all body styles except the regular wagon (VB310) were offered. Instead the WB310 (slope-back wagon) with coil rear supension was available.
The MPG model was a special fuel-economy champ model. It was based on the STD 2-door sedan, but with a special low-power A14 engine and 5-speed transmission.
Wood-finish Coupe-type (3-spoke) Steering Wheel was a dealer OPTION.
48400-H9120 WHEEL ASSY-STEERING(BLACK) (WOOD) OP
48400-H9121 WHEEL ASSY-STEERING(BROWN) (WOOD) OP
48400-H9122 WHEEL ASSY-STEERING(BLUE) (WOOD) OP
Automatic Transmission with lock-up torque converter (1982)
Body Side Molding (rub strip)

1982
B310 Trim Levels include STD, MPG, DX and SL
These 1982 dealer options could be applied to any trim level:

Tire and Wheel
No full wheel covers offered
Styled steel wheels: ALL
Bright Trim ring: Coupe SL & Wagon SL
Deluxe models: 175SR13 tires
Wagon SL: 175/70R13 whitewall radials
Coupe SL: 175/70R13 raised white letters
SL: Scallop center caps
DX: 'D' plain caps
Wheel Lip Molding. Surgical-quality stainless steel, no-rivet construction.
Wheel Lip Molding

Mirrors
STD & MPG: Argent-finish Mirrors
Deluxe: Chrome-finish
SL: dual black-finish "Aero" mirrors
SL: passenger vanity mirror on sun visor
Rear View mirror, plain for STD, all others Day/Night Mirror

Audio Accessories
AM/FM: SL standard, optional for all others
SL: 3-spoke wheel, all others 2-spoke
F. AM Radio. Great reception with five station selection buttons.
G. AM/FM Stereo. It'll flood your 210 with waves of stereophonic sound.
H. AM/FM Stereo with Cassette (Manual Tune). Turn your car into a concert hall.
I. Cassette Deck. Adds a new dimension to your existing sound system (requires AM/FM tereo).
AM/FM Monaural Radio. You'll be moved by the clear, full-bodied sound.
Speaker Kits. Custom-designed to look and sound as if they belong in your living room.
Pillar Mount Antenna. Mounted flush on your front window pillar to resist breakage.
Whip Antenna. Bends with the wind and picks up remote stations.

Exterior
Body Side Molding. Helps reduce parking dings and scratches.
Wagon Roof Rack. Gives your wagon loads more carrying capacity.
Sports Accent Stripe. Jazz it up.
Wagon Woodgrain Trim. Hard to believe it isn't wood but rough, durable vinyl.
Rocker Molding. Stainless steel. Unique no-exposed-rive construction.
Car Cover. Protect your investment with a custom-fitted cover to keep away salt air, smog and weather.
Resin Glaze and Touchup Paint. Helps keep your finish looking showroom-new.
2-door: Clear glass
Others: Tinted glass
Sunroof: SL OPTION

Interior Accessories
E. Floor Mats. Carpet or rubber. Easy-to-clean, long-lasting and beautiful.
Air Conditioning. Fully integrated with your 210's heating system.
4-doors: child-safety rear door locks
SL: Glove box light
Trip odometer (Except STD & MPG)
Tachometer: SL only
Highback bucket seats: 2-door STD
Low back bucket with headrests: All except STD
Vinyl: STD
Vinyl: DX with chamois color interior
Cloth: all others
2-door: No warning chimes, no cigarette lighter, no carpet
Console: SL, optional for all others
Coupe SL: cargo cover

Miscellaneous
Electric Engine Block Heater. An easy way to ensure fast starts in cold weather.
2-door, single horn. Others: Dual-tone
SL: Intermittent wipers