Datsun 1200 Chassis codes are marked on an aluminum plate fitted in the engine compartment firewall. More detailed codes are used in factory parts catalogs and other documentation.
Also See
Also see:
* Body Styles
* Chassis numbers Vehicle Number
* Nissan Part Numbers for "H73" style codes

Overview
Nissan parts catalogs use involved chassis codes.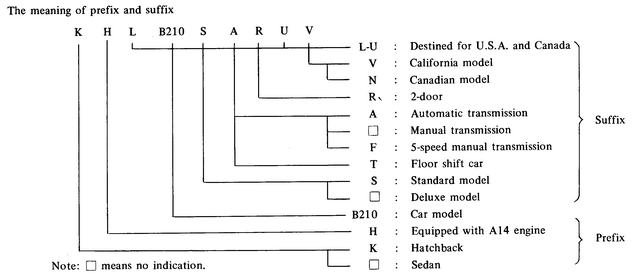 Album click to view
1970 style plate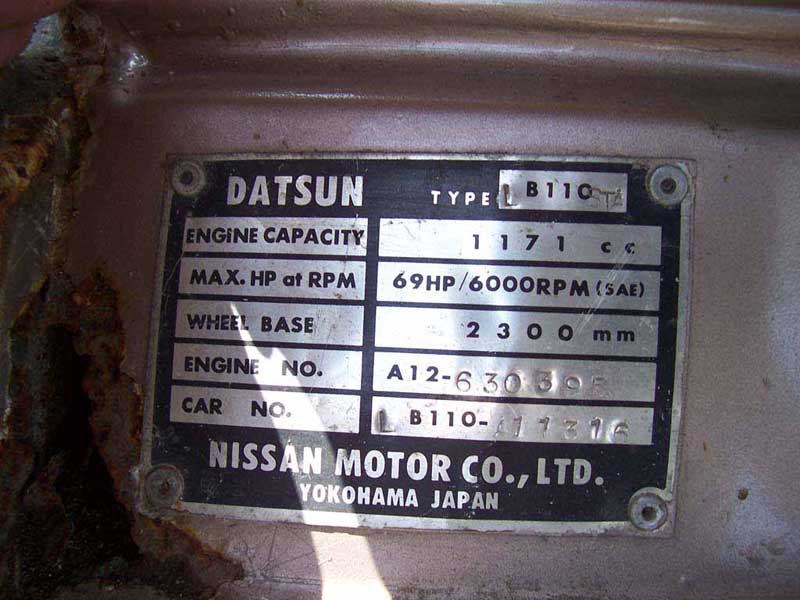 Album click to view
1980 style plate

Album click to view
Datsun 1200 Chassis Codes
1972 Datsun Sunny 1200 (B110) Model codes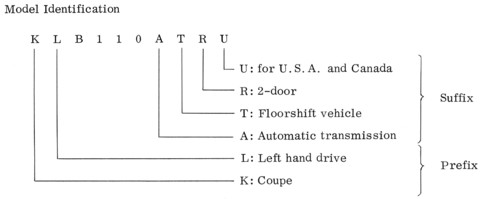 Album click to view
reference: Nissan publication C-231 'Catalog 1972 Datsun Sunny 1200 B110' (parts catalog)
Body styles
| | |
| --- | --- |
| B110 | Sedan (2-dr or 4-dr) |
| KB110 | Coupe (fastback) |
| VB110 | Van (wagon) |
Prefix Codes
| | |
| --- | --- |
| K- | Coupe (Kuupe) |
| V- | Van (light van/wagon) |
| -R | 2-dr sedan or van |
| L- | Left hand drive (LHD) |
| -U | Right hand drive (RHD) |
| W- | Wagon (sport wagon, starting with B310) |
Trim Levels
| | |
| --- | --- |
| -S | Standard |
| | (no suffix) Deluxe (or for van, Super Deluxe) |
| -G | GL (Grand Luxury) |
| -P | Deluxe van |
| -K | Karb (Grand Luxury X Twin Carb) |
| | | |
| --- | --- | --- |
| BODY STYLE | CODE | DESCRIPTION |
| Datsun 1200 P/U (ute/truck) | B120STU | Truck RHD (right hand drive) pickup with manual transmission |
| Datsun 1200 P/U | LB120ST | Truck LHD (left hand drive) |
| Datsun 1200 Sedan | B110(S)(T)U | RHD 4-dr sedan MT (manual transmission) |
| Datsun 1200 Sedan | B110(S)AU | RHD 4-dr sedan AT (automatic transmission) |
| Datsun 1200 Sedan | LB110(S)T | LHD 4-dr sedan MT |
| Datsun 1200 Sedan | LB110A | LHD 4-dr sedan AT |
| Datsun 1200 Sedan | B110(S)(T)RU | RHD 2-dr sedan MT |
| Datsun 1200 Sedan | LB110ARU | RHD 2-dr sedan AT |
| Datsun 1200 Sedan | LB110(S)TR | LHD 2-dr sedan MT |
| Datsun 1200 Sedan | LB110TRN | LHD 2-dr sedan, Canada |
| Datsun 1200 Sedan | LB110AR | LHD 2-dr sedan AT |
| Datsun 1200 Van (wagon) | VB110(S)(T)U | RHD Van 4-dr MT |
| Datsun 1200 Van | VLB110(S)T | LHD Van 4-dr MT |
| Datsun 1200 Van | VB110STRU | RHD Van 2-dr MT |
| Datsun 1200 Van | VLB110(S)TR | LHD Van 2-dr MT |
| Datsun 1200 Coupe | KB110U | RHD Coupe MT |
| Datsun 1200 Coupe | KLB110U | LHD Coupe MT |
reference:
A10/A12 Service Manual page EG-3 (Nissan, Tokyo)
Engine Code Prefixes
B110
| | | |
| --- | --- | --- |
| none | base engine | A12 |
| P- | Premium engine | L14 (PB110) |
B210
| | | |
| --- | --- | --- |
| none | base engine | A12 |
| H- | High-line engine | A14 |
| P- | Premium engine | L14 or L16 (PB210) |
B310
| | | |
| --- | --- | --- |
| none | base engine | A12 or A12A or A13 |
| H- | High-line engine | A14 |
| P- | Premium engine | A15 |
Transmission codes
Suffix
| | |
| --- | --- |
| (no suffix) base transmision | 3-speed, or 4-speed for coupe |
| -T | 4-speed (sedan) |
| -F | 5-speed |
| -A | Automatic |
Later Sunny Codes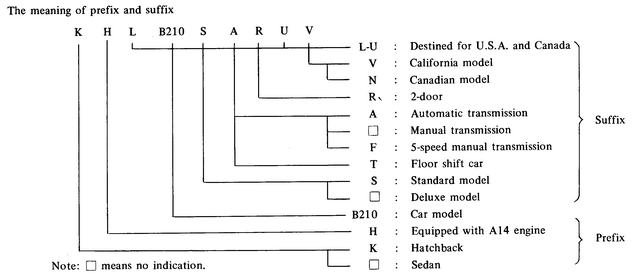 Album click to view
Export Suffixes
Suffix
Location
Note
U
export model
USA & Other Countries
Reference: Introduction of Datsun B210 (1975 Model)
V
California
reference: 1977 B210 shop manual
N
Canada Only
reference: 1977 B210 shop manual
M
Australia
dodgeman
| | | |
| --- | --- | --- |
| | L.H. drive except Europe | N12 Service Manual |
| M | Australia | N12 Service Manual |
| Q | Europe | N12 Service Manual |
| U | R.H. drive except EUR and AUS | N12 Service Manual |
Japan Domestic Market models
| | |
| --- | --- |
| B110R | Sedan 2-dr (Deluxe, 3-speed) |
| B110SR | Sedan Standard 4-speed 2-dr |
| B110STR | Sedan Standard 4-speed 2-dr |
| B110TR | Sedan (Deluxe) 4-speed 2-dr |
| B110AR | Sedan (Deluxe) Automatic 2-dr |
| B110GTR | Sedan GL 4-speed 2-dr |
| B110GAR | Sedan GL Automatic 2-dr |
| B110S | Sedan Standard (3-speed, 4-dr) |
| B110ST | Sedan Standard 4-speed (4-dr) |
| B110 | Sedan (Deluxe, 3-speed, 4-dr) |
| B110T | Sedan (Deluxe) 4-speed (4-dr) |
| B110A | Sedan (Deluxe) Automatic (4-dr) |
| B110GT | Sedan GL 4-speed (4-dr) |
| B110GA | Sedan GL Automatic (4-dr) |
| B110GTK | Sedan [GL] 4-speed GX (4-dr) |
| B110GFK | Sedan [GL] 5-speed GX (4-dr) |
| B110GAK | Sedan [GL] Automatic GX (4-dr) |
| KB110 | Coupe (Deluxe, 4-speed) |
| KB110A | Coupe (Deluxe) Automatic |
| KB110G | Coupe GL (4-speed) |
| KB110GA | Coupe GL Automatic |
| KB110GK | Coupe [GL] (4-speed) GX |
| KB110GAK | Coupe [GL] Automatic GX |
| VB110SR | Van Standard (3-speed) 2-dr |
| VB110STR | Van Standard 4-speed 2-dr |
| VB110PR | Van Deluxe (3-speed) 2-dr |
| VB110PTR | Van Deluxe 4-speed 2-dr |
| VB110S | Van Standard (3-speed, 4-dr) |
| VB110ST | Van Standard 4-speed (4-dr) |
| VB110P | Van Deluxe (3-speed, 4-dr) |
| VB110PT | Van Deluxe 4-speed (4-dr) |
| VB110 | Van (Super Deluxe, 3-speed, 4-dr) |
| VB110T | Van (Super Deluxe) 4-speed (4-dr) |
¤