Datsun 1200 (B110) Body Styles
In Japan, the B110 is called the Sunny.
4-dr Wagon (a.k.a. 5-dr Wagon)



2-dr Utility (aka truck, pickup, 'ute', camioneta or bakkie)



Search the Photo Album for more pictures of all these models.
So what's the difference between a 2-dr 'sedan' and a 2-dr 'coupe'?'
A sedan is a car with a back seat, where the back seats passengers have more of less the same room as the front seat passengers. Also, it has a separate trunk compartment.
A coupe on the other hand has no back seat or a smaller cramped passenger area.
---

coupe [ koop ]

car with two doors: a car with two doors and a hard, fixed roof that seats two people or has a small rear seat.

Also called coupe: Coupe - Encarta World English Dictionary

---
So the 1200 coupe is a 2+2 ('has a small rear seat'), while the sedan is more optimized for both front and rear passengers (the 1200 sedan has more headroom in back seat, you'll notice, even though the seats are the same size).
This is another example of the word evolving over time. Originally coupe meant two passengers inside and a driver outside.
---

Sedan
U.S. type of car: a car with a fully enclosed passenger compartment, a permanent roof, two or four doors, front and rear seats, and a separate trunk

Sedan - Encarta World English Dictionary

---
In the case of the 1200 Coupe, the trunk area is not separate from the passenger compartment (even though it has a 'trunk lid' not a hatchback).
Trim levels
Trim levels and names vary by country, but include basic Standard, better Semi-Deluxe, Deluxe (DX) luxury GL (Grand Luxury) and sporty GX (Grand Luxury Twin-Carb).
Japan-market trim levels for B110 (1200) and PB110 (1400)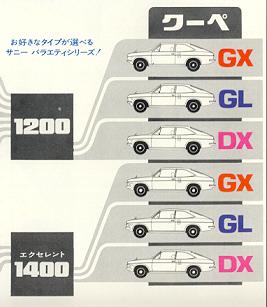 Coupes only came in the higher trim levels
Model Availability By Country
Australia got the Coupe, 4-dr Sedan, Ute, 4-dr Wagon and 2-dr Wagon

United States got only the 2-dr Deluxe Sedan and the standard or Deluxe Coupe in left-hand drive version (LB110). LHD models have hydraulic clutches.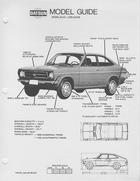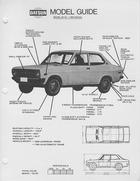 England
The 'Sunny 1200s' in the UK were:
Deluxe 2-Door Saloon
Deluxe 4-Door Saloon (sedan)
Coupe
Estate Car (station wagon)

Japan got everything :-) including the Standard, GL, and Deluxe trims. In late 1971, the GX was added.




That's the 1200 GX (B110) on the left, and the special Excellent 1400 series (PB110) on the right. Excellent models have a different front bonnet (hood), grill and wings (fenders) and tail lights, and different interior from B110s.
lights in grille
pointed bonnet
lights at edges of grill
For more info on the PB110, see the article Datsun PB110 Excellent Series
Ecuador built the 1200 pickup during the 1990s
Sunny Truck
2-dr Utility (aka truck, pickup, 'ute' or bakkie). Technically these are B120 (1200cc) and B140 (1400cc) models.
Nissan South Africa still makes the B140 long-wheelbase ute:

2003 Bakkie B140
The Bakkie is also called the 'Botsotso' after the South African Chief's soccer legend 'Botsotso' Dladla.
Australia produced the B120 until 1985.
New Zealand produced the RoadStar and SportStar utes.

In South America, the 1200 'pick up' was sold until the 90s (?) and is called a camioneta (light truck). You can sometimes find a used one for sale in Costa Rica or Ecuador even today. Production in Ecuador started in 1987
1200 GX

Regular Wagon with GX trim added

The Japan-only GX 4-dr and GX Coupes had:<li>Special A12GX engine with custom intake air box
(1972-73 only) Hood has slight raised center bulge for GX and GL trims
special grille with GX emblem
GX badge on boot
GX taillights
wood steering wheel
high back seats
heated rear window
GX-5 features -- model year 1973 (cars made in 1972 (Year S47) and 1973 (Year S48))
5-speed trans with direct 1:1.00 5th gear
new front grille, lights and hood line
interior door panels
new instrument panel, similar to B210 and Excellent
red GX-5 strip along side of car

reference: Sunny and Cherry site
SSS 1200

B110 SSS was a special version created by Datsun New Zealand. It has:<li>SSS grille badge
sss badge on the glove box
custom deep-dish steering wheel
twin 40mm Dellorto carbs
NZ-made intake manifold
custom air box (similar to the Japan Domestic Model GX airbox)
Coby extractors (headers)
Round gauges as in the coupe
black patches on the bonnet with black down the sills and front and rear skirts
driving lights (optional?)
Datsun Competition rally spec 270 degree camshaft
12' slotted 'mag' wheels by Ward Wheels
12 inch Jellybean mags by Cheviot with radial tyres
center console below heater with tachometer
two flat-black rectangle stripes on bonnet and boot
boot spoiler on some SSS vehicles (not all)
based on the Deluxe body,which provides the Deluxe interior arm rest door handles and high back front seats

discussion: Datsun 1200 sss
S1 1200
Datsun of Portugal created and sold the S1 2-dr Sedan, which included special badges and performance items.
See main article: Datsun 1200 S1


Wheels Covers (hubcaps)
GL wheel covers. In the US, these were fitted to most coupes.


Deluxe Wheel covers. In the US, these were fitted to both 2-dr Sedans and Coupes.

Semi-Deluxe 'dog-dish' style hubcaps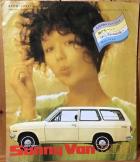 SSS wheels 'jelly bean' aka 'slotted mag' style



Don't mistake these for 1200 wheel covers:
Custom Body Styles
Roadsters & Convertibles
See main article: Convertible
]

Tudor 4-doors
Tudor 4-doors are 2-door sedans created out of 4-door sedans. These are rarely seen, usually in a country where 2-dr sedans are rare.
Stretch Limousines
Limo made from 4-dr sedan:

Limousine
2-dr Sedan-based Limo:


Limousine is also the german word for sedan:


Extra Cab Trucks
For details on custom extra-cab versions of Datsun 1200 trucks, see: Extra cab.
Extra-cab ute
Comparison of B110 to B210 and B310
Some feel that the B110 was the perfection of the B-class (subcompact) rwd Datsun. Consider some facts:

WEIGHT: lighter means faster accelerating with same engine
| | |
| --- | --- |
| B110 | 1640 pounds (700 kg) |
| B210 | 2000 pounds (overweight?) |
| B310 | 2000 pounds (bigger than B210, yet just as light)</tr> |