The Radiator Coolant keeps the engine from overheating while protecting it from rust and corrosion. It also prevents it from freezing, so is sometimes called anti-freeze (antifreeze). Straight water can be used, but is subject to rust and to freezing, and non-distilled water can cause particle build up in the cooling system.
Overview
Fill the radiator with a distilled water in a 50/50 mix of coolant/antifreeze. If you live in freezing areas, check the coolant container for instructions (which may require a 30/70 mix in very cold areas).
Specifications
Water capacity: 4.9 liter (5-3/16 US quart, 4-5/16 imperial qt)
Many of these brands listed below have changed names. Any modern antifreeze/coolant that is compatible with aluminum parts should be acceptable. The Datsun 1200 uses an aluminum head and water pump.
Antifreeze/Coolant for radiator
USA 1972 Owners manual (see page 23 for details):

Antifreeze/Coolant Specifications
Recommended:
Producing: Antifreeze coolant L.L.C. (Nissan "Long Life Coolant")
Shell Shellzone

Acceptable:
Chevron Atlas Perma Guard antifreeze
ESSO Long Life Coolant
ESSO Atlas Long Life Coolant RAD
Mobile Permazone
Sunoco Permanent Type
Texaco Antifreeze Coolant
Texaco Startex Antifreeze Coolant
Part Numbers
USA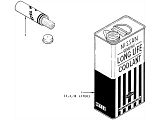 SBNLL-C0001 COOLANT-NISSAN LONG LIFE 2 LITTER(0.4
SBNLL-C0002 COOLANT-NISSAN LONG LIFE 4 LITTER(0.8
SBNLL-C0003 COOLANT-NISSAN LONG LIFE 18LITTER(3.9
10125-62200 N.C.S. SEALER (1 CARTON-96