Datsun1200.com club Finn may have the world's quickest A-series engine. It runs a high 11 second quarter mile, which is about the same as new Corvette 7-liter.
Album click to view
Album click to view
Horsepower
Finn's A14 has an estimated 201 HP:
1/4 mile time: 11.92 seconds
Trap Speed: 109 mph (176 kph)
Weight of vehicle with driver: estimated 1850 lbs (839 kg)
Calculated HP: 201 by Drag Times Horsepower Calculator
Note that the trap speed is a better indicator of horsepower than the time number.
Album click to view
Album click to view
Album click to view
Car History
Finn's red 1973 Datsun 1200 Coupe
2004: stock A12
2005: A14 with Turbo
2007: Upgraded top Big Turbo
Discussion
Main Forum:
1972
new project
Blow-through twin Webers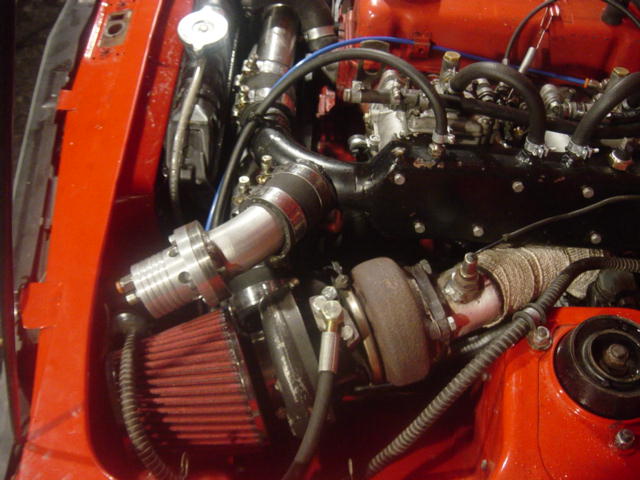 Album click to view
Performance
See 1/4 mile time log for the most current time
60 foot time:2.0
1/4 mile time:11.92
KPH:176
CAR:Datsun 1200 coupe
MOTOR:A14
GEAR BOX:Ford type 9
CLUTCH:190mm
DIFF:Escort rs2000
TURBO/SUPER CHARGER/CARBY:Turbo Master Power, Megasquirt engine controller injection, 2bar boost
EXHAST:2.53"
WHEEL/TYRE package:R15-205 street slicks(dot)
Compression Ratio: 8.8:1.
Full-boost timing: 20-22 degrees
Videos
V I D E O
11.92 second Datsun 1200 with A14 turbo (click to view)
V I D E O
Datsun win s Toyota in Pori 08 (click to view)
V I D E O
Guite fast 1.4ltr Datsun (click to view)
¤