The Fusible Link is a special wire that feeds the main wiring harness, the Fuse Box and the Alternator output "A" terminal. If it blows out, all power will be dead even if the battery is fully charged. This wire has fireproof insulation and is designed to act as a special fuse device to protect all the wiring harnesses.
Overview
The Fusible Link ("Main Fuse") connects to the POS battery terminal about six inches from the battery. The fusible link is a special length of wiring that will melt if its rating is exceeded and is there to stop the electrics if the car is drawing too much power, like an open short circuit. It has a special non-flammable coating, and is typically 4 wire sizes smaller than the main feed wire.
---

WARNING: Do not replace fusible link with a solid wire, or a regular fuse -- you risk burning up the entire wiring system when a short occurs. The Fusible Link protects against short circuits ... see Wiring#Main Wiring

---
The white wire here has been cut from the Positive battery cable: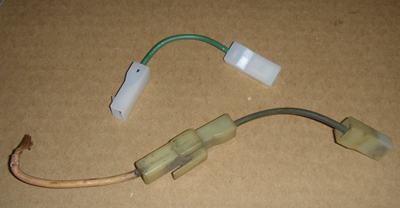 Both green wires are the same. Top: New, Bottom: old and faded
Datsun Fusible Links are color coding (e.g. W, G, R or B). When a replacment is necessary, the color codes must be matched even in an emergency.
This type of circuit protector never produces flame, but but produce considerable heat when it blows. To prevent potential hazard, never bring it into contact with fuel or heater hoses.
---

Fusible links often show no visible signs of having blown, but can be detected safely by touch.

---
25442-H2500
replaces 25442-H1100 LINK-FUSIBLE,TYPE C replaced

part number 25442-H1100 originally for B110
part number 25442-H2500 for B210 and 620

Spec: FUL 0.5mm2 [0.5 square mm]
MAD Fusible Link information - why Fusible Link is better than a Fuse
Datsun Fusible Link Colors
Pink           30 amp
Green  0.50mm˛ 40 amp
Red    0.69mm˛ 50 amp
Yellow         60 amp
Black  1.25mm˛ 80 amp
Blue           100 amp

Aftermarket
Use a "FUL 0.5mm2" fuse-link.
20 gauge: 0.5 square mm
18 gauge: 0.8 square mm *TOO BIG FOR DATSUN 1200*
16 gauge: 1.0 square mm *TOO BIG FOR DATSUN 1200*
14 gauge: 2.0 square mm *TOO BIG FOR DATSUN 1200*
Universal Fusible Link Wire - 20 gauge
You can use Ford, GM or Chrysler style too:

Album click to view
Datsun 510 & 280Z uses 0.5 as well, but the connectors are different:
Discussion: will this Fusible link suit ?
FMX Modern Replacement
JCASE fuses are designed to be used as replacement fuses for fusible links. FMX fuses are the female standard cartridges that provide both increased time delay and low voltage drop protection.
JCASE uses 6mm blade terminals (1/4" blade will fit)
FMX-RP 27mm tall regular profile
FMX-LP 16mm tall low profile

NOTE: MCASE fits 2.8mm male blade connectors
FMM    MCASE 15mm tall micro 10.7 x 7.7mm base

Nissan Triple GREEN
Nissan 24370-C991Bᴳ

Nissan Double GREEN
Bussmann BP-FMX-40LP-Rᴳ

Bussmann BP-FMX-40-RPᴳ slow-blow chassis fuse
* 2000-2013 Nissan
  2013 Nissan Armada/Frontier/2012 Nissan Sentra/NV3500 etc.

Bussmann/Cooper/Eaton BPFMX40RP
ACURA 2000-2007 
BUICK 2002-2011 
CADILLAC 2003-2011 
CHEVROLET 2000-2013 
CHRYSLER 2000-2013 
DODGE 1998-2013 
FORD 1999-2013 
GMC 2002-2012 
HONDA 2000-2013 
HUMMER 2003-2010 
HYUNDAI 2003-2013 
INFINITI 2000-2013 
ISUZU 2000-2008 
JAGUAR 2000-2007 
JEEP 1999-2013 
KIA 2001-2012 
LAND ROVER 2002-2013 
LEXUS 2000-2010 
LINCOLN 1999-2013 
MAZDA 2000-2012 
MERCEDES-BENZ 2005-2007 
MERCURY 2000-2011 
MINI 2008-2013 
MITSUBISHI 2000-2012 
NISSAN 2000-2013 
OLDSMOBILE 2002-2004 
PLYMOUTH 2000-2001 
PONTIAC 2001-2009 
RAM 2011-2013 
SAAB 2008-2009 
SATURN 2003-2010 
SCION 2004-2013 
SUBARU 2013 
SUZUKI 2005-2012 
TOYOTA 2000-2013 
VOLKSWAGEN 2009-2013 
VOLVO 2000-2013

Other Datsun
B210 - same as B110
620 - same as B110

B310 (24161)
24022-W7500 FUSIBLE-LINK WIRE -1179 CAN, FED(EXC KFU)
* one green wire
24022-W5900 FUSIBLE-LINK WIRE -1179 CAL, FED(KFU)
* two green wires
24022-W5000 FUSIBLE-LINK WIRE 1279-
* one red, one green