Nissan GA16 engineᵂ. The Nissan GA16 engine is similar to the A15, but has the distributor in the back. This is a high-output lightweight engine, the GA16DE version has 16V head and variable camshaft technology making 115 hp. RWD transmissions are available in Asia and Europe markets. It is also possible to adapt a 60-series Transmission from a Datsun B210 or B310 as well. There are also GA13 and GA14 engines but it's not really worth all the work for these smaller versions. A GA18 is perenially discussed, but appears to be a global legend, always existing in some other country but never actually seen. The GA engine series was replaced by the QG series in 1999 (the QG18DE has 126 HP).
Overview
The Nissan GA16 engine is similar to the A15, but distributor is in the back and RWD transmissions are available and Asia and Europe markets. The compelling part of this swap is 116 HP from variable cam timing. You could even carburete this engine and still use the VCT with an RPM-activated 12V relay.
GA16E 3-valve head

Album click to view
Sources
GA16 is fitted to FWD Nissans like Sunny/Sentra and Pulsar circa 1989-2000. Also came in Tsubame Y10 (Mexico) through 2004, and in Tsuru B13 through 2007.
Nissan B13 Sentra/Sunny
1991-1994 USA 
110 hp - standard two compression rings on pistons.


Nissan B14 "Sentra"
1995-1999 USA Sentra, all except SE/SE-R
GA16DE 1,597cc DOHC 
7,200 rpm redline 
115 hp (86 kW) @ 6000rpm 
* Low drag single compression ring on each piston 
* micro polished crankshaft journals
110 ft lb @ 4500 rpm


USA - GA engine
B12   1985-1990 Sentra	GA16I (central fuel injection)
B13   1991-1994 Sentra
B14   1995-1999 Sentra
KN13  c. 1987 Sentra SE GA16DE
KN13  c. 1987 Sentra SE GA16

JAPAN GA16DE
B13 Sunny   	GA16DE
B14 Sunny  	GA16DE
C23 Serena  	GA16DE
N14 Pulsar  	GA16DE
N15 Pulsar  	GA16DE

JAPAN - other GA series
B12  Sunny 	GA15E
B12  Sunny	GA15S
B12L Sunny	GA15E
B12L Sunny	GA15S
B13  Sunny 	GA13DS
B13  Sunny 	GA15DS
B14  Sunny 	GA13DE
B14  Sunny 	GA15DE
C23  Serena 	GA16DS
N13  Pulsar 	GA15E
N13  Pulsar 	GA15S
N13P Pulsar 	GA15E
N13P Pulsar 	GA15S
N14  Pulsar 	GA13DS
N14  Pulsar 	GA15DS
N15  Pulsar 	GA15DE
R10  Presea 	GA15DS
R11  Presea 	GA15DE
RB14 Sentra 	GA15DE
U13  Bluebird 	GA16DS
W10  Avenir 	GA16DS

Europe EL
C23M Serena 	GA16DE
N14  Pulsar 	GA14DS
N14  Pulsar 	GA16DS
N14  Pulsar 	GA14DE
N14  Pulsar 	GA16DE
N15  Pulsar 	GA14DE
N15  Pulsar 	GA16DE
P10E Primera 	GA16DS
P10E Primera 	GA16DE
P11E Primera 	GA16DE
W10  Avenir 	GA16DS
W10  Avenir 	GA16DE
WP11E Avenir 	GA16DE
Y10   AD Wagon	GA16DS
Y10   AD Wagon	GA16DE
B12   Sunny	GA16I
B12   Sunny	GA16S
B13   Sunny	GA16DS
B13   Sunny	GA16DE
N13   Pulsar	GA14S
N13   Pulsar	GA16S
N13   Pulsar	GA16I

Look for the Bulge on left side of this photo, which indicates NVCS variable-valve timing (115hp)

WIKI go to Wikipedia
VCT bulge on right front of valve cover
1991-1994 Nissan NX 1600 N14
1991-1994 Nissan Sentra B13
1994-1995 Nissan 100NX B13 (UK)
1991-1994 Nissan Presea R10
1995-1996 Nissan Presea R11
1995-1999 Nissan Sentra B14 
1995-1999 Nissan 200SX B14
1995-1999 Nissan Almera N15
1995-1999 Nissan Pulsar N15
1993-1999 Nissan Primera P10/P11
10/1992-07/1995 Nissan Sunny Y10
1999-2001 Nissan Exalta Philippines

Transmission
A-series Transmission
GA engines may use the E-series bellhousing pattern -- reportedly it shares enough bolt and alignment pin holes with the A-series for the transmissions to line up. Just like the E15, the block dowels line right up.
Use an A-series gearbox. Three block-to-transmission bolts line up. The input shaft may need to be machined as it is a little too long for the GA16DE.
Or, use any 4-speed or 5-speed you want. Use the traditional method of an aluminum adapter plate that bolts to the engine and provides new holes for the transmission and starter.
bolt up 3 bolts
redrill 4th bolt
machine GA flywheel to accept A12/A14/A15 flywheel ring gear
grind GA block corner where A-series starter fits
Cut extra length off the A-series spigot (or drill the GA crank deeper)
GA uses B22 pilot bushing, as fitted to many Datsun engines
       A22/PB21 PB22
I.D.   12.2mm   16mm
O.D.   17mm     20.7mm

GA RWD Transmission
Or in Europe or Asia, source a Serena GA RWD transmission (Nissan Van C23 1992-). They have these in Japan, Malaysia and New Zealand too.

Album click to view
Nissan 32010-G2N69 RS5W71C
* remote shift 5-speed 71-series transmission for GA engine
* Europe 32010-0C061 RS5W71C
* 9106-9701 Japan
* through 2009 Malaysia

This is a large 71-series transmission, so tunnel mods will be required. Possibly could be converted to floor shift using Z-car or Silvia rear housings. However, the shifter will be too far back. Instead, consider the stock Remote Shift version, with a floor shifter from another car adapted (remote shifter).
Was also available in 4WD versions (FF+rear diff)
Nissan Rasheen 1995-2000
AWD - IRS
GA15DE mounted transversely
uses RS5F31A transaxle with transfer case
2-piece propeller shaft
uses R180? differential

Nissan Rasheen

WIKI go to Wikipedia
Swap Notes
Use a manual transmission GA engine flywheel. If using a 60 series B210/B310 transmission: remove the GA starter ring gear [it's facing the wrong way for the FWD starters anyway]. Use the [smaller] A series starter ring gear and machine the back of GA flywheel to fit it [it's an interference fit]. Then heat the A-series ring gear and install it backwards from the original GA gear. You can notch the GA block for clearance and use the stock A-series starter.
Remove EGR and block, since it points backwards.
Remove distributor and fit an inexpensive EDIS crank trigger system (about $200 USD). Or simply cut an access panel in your firewall for clearance and use the original distributor.
Weld up new motor mount brackets -- typical engine swap stuff. This is not a bolt-in swap.
Fit a carburetor (custom manifold) OR use the factory EFI and ECU (convert your 1200 to EFI):
EFI fuel pump
Surge tank
Fuel lines
Return line to fuel tank

On a GA16DE the standard throttle valve will be against the firewall. Either relocate it with a custom intake, cut out the firewall to allow intake piping, or use twin side draft carbs.
Weber DCOE twin-carburetor manifold - http://www.manifolds.co.za

Album click to view
M007: for Nissan GA14S/GA14D/GA16S/GA16D
* Use gasket 14035-74Y00 

Oil Pan needs to be clearanced on the bottom to clear crossmember [on a B310]. The sump is in the correct place, but the bottom of the pan is tapered and needs to be flat.
New exhaust pipe and use 1.75 piping and muffler and tail pipe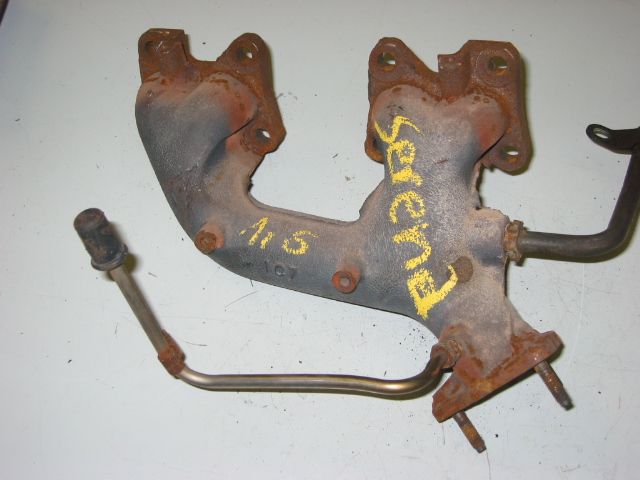 See photos and writeup http://community.ratsun.net/topic/15259-ga16de-rwd-trans/page-2
Variable Cam Timing
The compelling part of this swap is 116 HP from variable cam timing. You could even carburete this engine and still use the VCT with an RPM-activated 12V relay.
23796-57Y00 VALVE ASSY-SOLENOID, VALVE TIMING CONTROL
13025-57Y10 SPROCKET-CAMSHAFT,INTAKE
¤