L-series distributors are nearly the same as A-series but uses a spacer/riser to mount to the engine (the pedestal). J-series is like the L-series in using a slotted tang drive, but uses a thin pedestal. It is more like the A-series in that the shaft has no tang, but the tang is in the drive-end.
Overview
Album click to view
Album click to view
Differences from A-series:
Require a "pedestal" or "base" (Distributor Support) that bolts to the engine, and the distributor is inserted into
Clocked differently (timing plate tab is at a different position on the otherwise-identical distributor body)
Has a tang-drive shaft (A-series has a plain shaft with gear fitted)
Because the L-series uses an offset-slotted drive, it can be fitted in only one position. This makes getting the correct pedestal and timing plate very important. It is possible to remove and "re-index" the driveshaft inside the engine, but not recommened.
Types
L-series early points: D4n small cap
L-series late points: D4A large cap 
L-series early EI: D4F remote ignitor type
L-series late EFI: D4K matchbox type
Z-series 4-plug: D4K matchbox type
Z-series 8-plug: D4N

Support
The distributor support or base is sometimes called the "pedestal".
SUPPORT-DISTRIBUTOR 

L-Series
22178-21000 small cap distributors (4-cyl & 6-cyl)


22178-U6000 large cap D4A/D6A, D4F/D6F , D4K/D6K 
some matchbox
with or without extra tab
 

22178-S6700 
some matchbox 
 


Z-series
Z18/Z20/Z22
22178-W7001 8-plug USA/JDM 4-plug USA 
22178-W3800 4-plug JDM

Z24 uses no pedestal, only a unique timing plate:


Z24I - no support used
* WD21
* GC22
* 720

North America
A10 
22178-U6000 L20B -0678 D4F remote ignitor
22178-S6700 L20B 0778- D4K matchbox
22178-W7001 Z20S fed 4-plug (uses boomerang plate)

510
22178-21000

521
22178-21000 L16

610
22178-21000 1973 L16/L18 [matching timing plate is L16]
22178-U6000 1974- L20B [matching timing plate is like A14]

620
22178-21000 1972 L16
22178-U6000 1974- L18/L20B

710
22178-U6000 L18/L20B

720
22178-S6700 L20B
22178-W7001 Z20/Z22/Z24

810
22178-U6000 L24E

910
22178-S6700 L24E

S10 
22178-U6000 L20B D4A/D4F/D4K

S30
22178-21000 L24
22178-U6000 L26/L28E

S110
22178-W7001 Z20E/Z22E
* 4-plug Z20E FED ell plate
* 8-plug Z20E CAL wiggly plate
* 8-plug Z22E

S130
22178-S6700 L28E 
* L28ET uses no support

Application
22178-U6000 L-series
* A10 L20B -0678 D4F
* 610 L20B
* 620 L18/L20B D4A/D4F/D4K
* 710 L18/L20B
* 810 L24E
* S10 L20B D4A/D4F/D4K
* S30 L26/L28E D6F/D6K

22178-S6700 L-series
* A10 L20B 0778- D4K
* 720 L20B
* 910 L24E
* S130 L28E (L28ET uses no support)

22178-W7001 Z-series
* 720 Z20/Z22/Z24
* S110 Z20E/Z22E
* A10 Z20S fed 4-plug

Japan
NOTE: Some L20 use a no-support type distributor.
JAPAN
720
22178-21000 L18 points 
22178-W3800 Z16/Z18 points 4-plug

C31
22178-S6700 L20S/L20ET D4K matchbox FAT
22178-U6000 L20S/L20E/L28E ?
22178-W7001 Z18S/Z18P/Z20S 8-PLUG

F30
22178-U6000 L20E/L28E (some use Z24I style distributor)
22178-W7001 Z18S 8-PLUG points/EI

R30
22178-W3800 Z18S 4-plug points triangular
22178-W7001 Z20E/Z18S 8-PLUG points

910
22178-21000 L16S D4n
22178-W3800 Z16S
22178-W7001 Z16S/Z18S/Z18P/Z18E/Z18ET/Z20S/Z20E 8-PLUG

Application
22178-21000 L-series points
* 720 L18
* 910 L16S

22178-W3800 4-PLUG 
* E24 Z20
* D21 Z16S/Z18S/Z20S
* TC22 Z20S
* W40 Z22S
* 720 Z16/Z18
* 910 Z16S
* E23 Z18/Z20
* F22 Z16/Z20
* H40 Z20S/Z20D (Atlas cabover)
* R30 Z18S

22178-S6700 matchbox FAT
* C31 L20S/L20ET

22178-U6000 
* C31 L20S/L20E/L28E
* F30 L20E/L28E

22178-W7001 Z-series
* E24/WE24/910/C120/C31/E23/F30/R30/S110

Mismatches
It is tricky to make the wrong plate work.
http://nwde.ratsun.net/nwde/archive/3103.htm
http://community.ratsun.net/topic/44014-wrong-distributor-adjustment-plate/
Fixing Plate
Timing plate
Early L16
22180-21000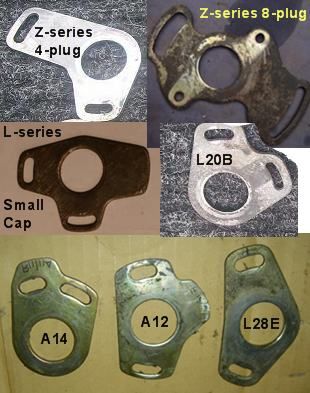 ¤