The Nissan S13 strut assembly has been used on Datsun 1200s, to gain larger brakes and an different assortment of Strut Inserts (shock absorbers). If you only want the good brakes of the S13, consider putting the S13 brakes on 1200/120Y struts.
Overview
S13 is 1989-1993 Nissan Silvia (aka 240SX in USA and 200SX in Europe).
For more information on struts swaps, including other choices, see main article: Strut swaps.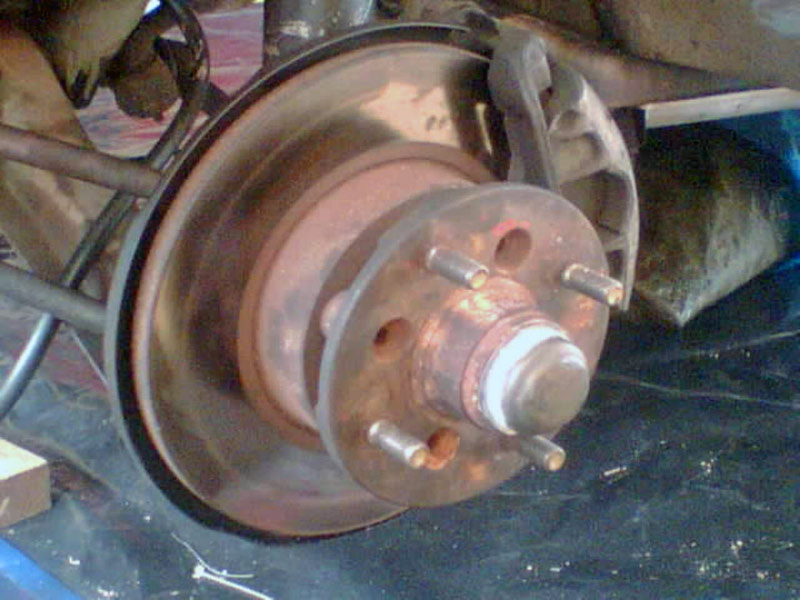 Album click to view
S13 strut set on B310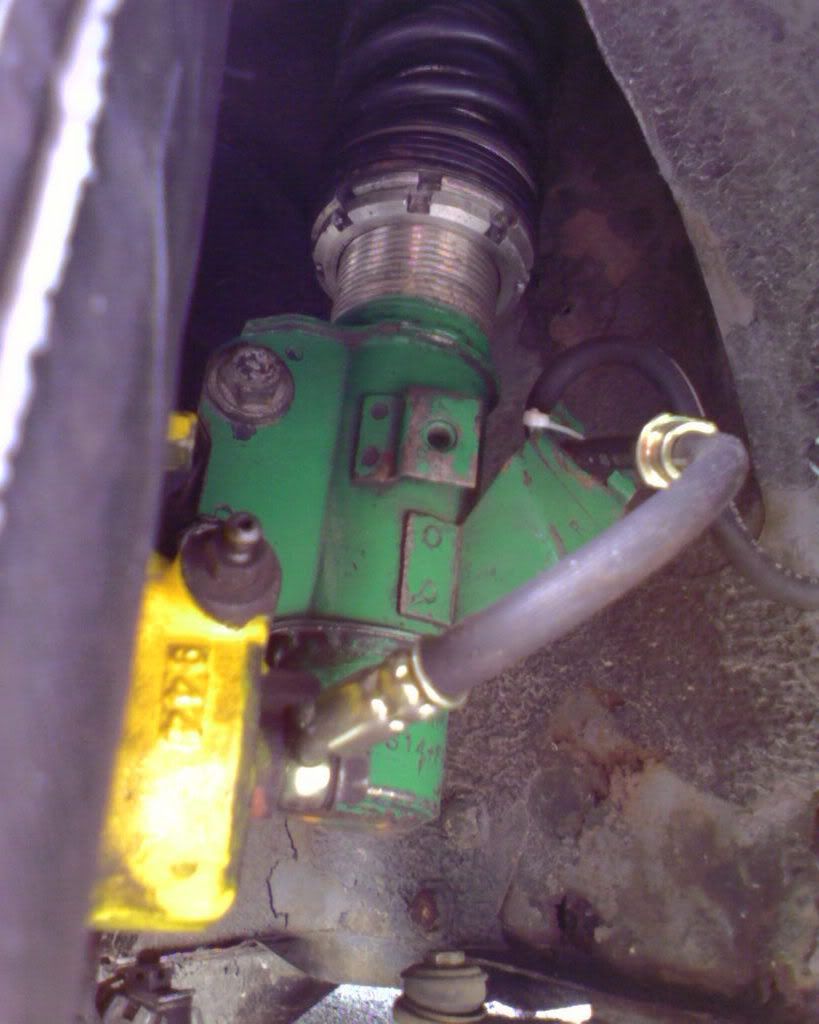 Post click for topic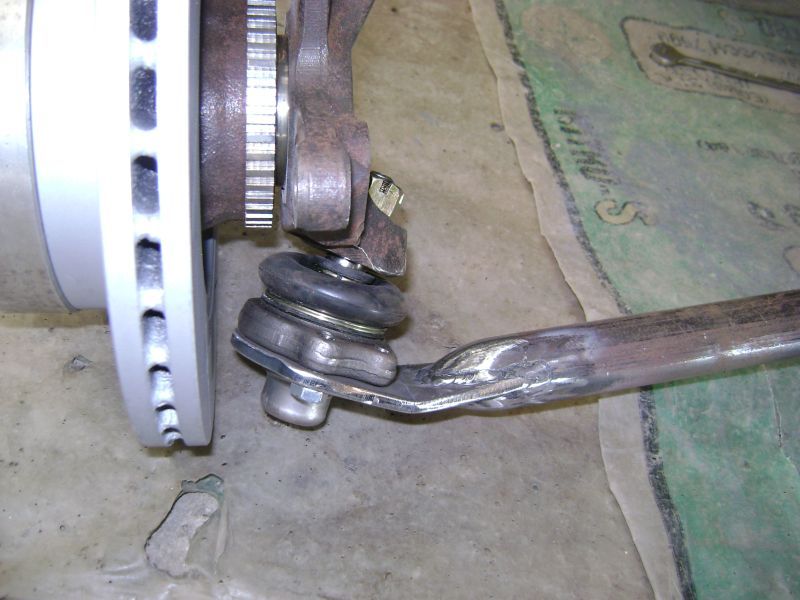 Post click for topic
Bezman#Strut_.26_Brake Bezman's S13 Struts on 1200 swap

Upload click to view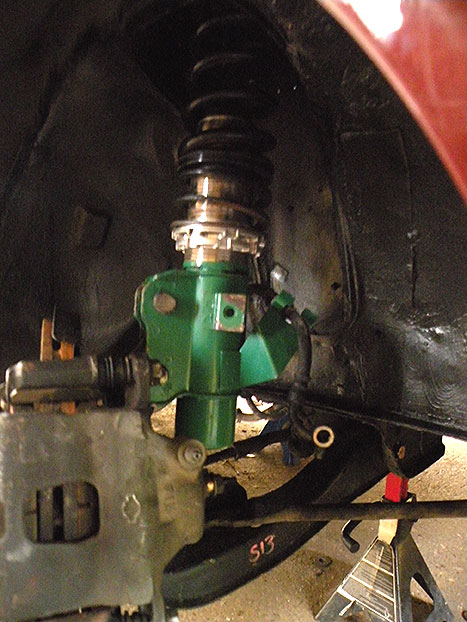 Upload click to view
Upload click to view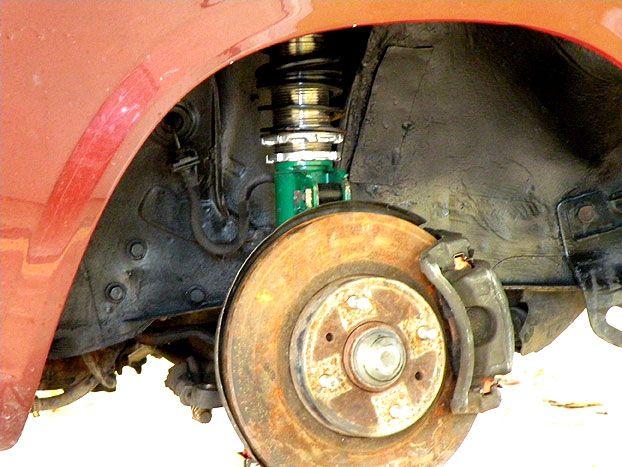 Upload click to view
Bezman: S13 strut bolts directly to late 1200 balljoints (H74 type).

Album click to view
Parts Needed
* S13 lower control arms
* Strut, spindle, hub, rotor and brake caliper assembly
* S13 coilovers (aftermarket parts)
* S13 outer tie rod ends
* Another 1200 driver's side inner tie rod end 
* R31 radius rods

R31: Nissan Skyline
Radius rods: Tension rods/Caster rods/Castor rods


It has extra track and thanks to drilling out the crossmember and moving the control arms out a bit more (optional for this swap...) it is running a deg or two neg camber. This will result in so much extra track that you can run FWD-style (negative offset) rims. Depending on the application you may be able to use wheels as small as 13 inch. S13's used two sizes of rotor during production, CA engined cars use the smaller of the two.
250mm - CA18 <-- this one
280mm - SR20

Album click to view
Be careful about which coilovers you get. Some will fit easilty. With others, you may have to massage/cut away the outer skin that surrounds the rear shock tower to get the upper springs mounts and spring to fit in.
Instructions
Redrill your crossmember to accept the s13 control arm bolts. The hole at the back of the xmember will be bigger than the front one because of the design of the bolts.

When you bolt the arms in you will need to put a small spacer/washer to make them fit as they are slightly slimmer than a 1200 one.

Machine the (M14 x 1.5) 1200 tie rods (adjusting bars) to have the outer thread machined to accept the (M12 x 1.25) S13 outer tie rod ends

S13 outer tie rod end: 100mm (3.94") length
S13 outer stud diameter: 13mm (.511") top, M12 x 1.25 MOOG ES2814RLp

Alternatively, use B310/A10 tie rods (12mm longer) with MOOG ES3413 outer tie rod end: M14, 94mm long

Replace your B110 passenger side inner tie rod end with your extra driver's side tie rod end. This is so that the tie rods turn in the correct direction when used in conjunction with the s13 outer ends.
The shox will need the 1200 upper spring platform on them so that they can bolt into the top of the strut tower. So just change them with the s13 ones. Easy. The bottom of the shock will go onto your s13 spindle which is already in place.
Fit the R31 radius rods. The two bolts that come with the rods are 8mm from memory and are too small for the S13 control arm. So the holes on the radius rod will need to be drilled to accept 10mm bolts and obviously after doing this you will need to exchange the 8mm bolts for 10mm ones.
Reference: POST Dropped my 1200 onto its new S13 front suspension
LCA Tension Rods
The custom B110/S13 Tension rods used with S13 Lower Control Arm allows for lots of castor adjustment.
Album click to view
Album click to view
Album click to view
Album click to view
S13 brakes on 1200/120Y Struts
Rather than swapping the complete strut/brake assembly, consider just using the brakes.
See main article: S13 Brakes 

¤