The Datsun 1200 uses a tradition recirculating-ball Steering Gearbox with behind-the axle linkage.
Also see Steering Gearbox

Terminology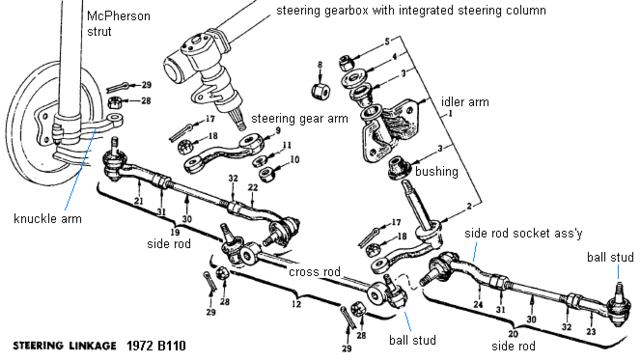 1. Idler Arm. This bolts to the subframe rail on opposite side from the steering gearbox
9. Steering Gear Arm, a.k.a. "Pitman arm"
19,20. Side Rod, a.k.a. "tie rod". Left and right hand differ
12. Cross Rod, a.k.a. "drag link" or "center link"
21, 22, 23, 24. Side Rod Socket Ass'y a.k.a. "tie rod ends". There are four separate parts with left and right-hand threads. Each "socket" has a "ball stud", which is similar to a Ball Joint.
The six ball studs have a Filler Plug on the bottom of each. Replace it with a grease fitting and fill it during each periodic "lube, oil and filter".
Inspection
You cannot tell by looking if the rod-ends or ball joints are worn.
Of course you'll want to confirm that the steering linkage is tight, because that's usually where the play is. The tie-rod (side rod) ends, ends of the drag link (cross rod), and particularly the idler arm should be inspected.
Easiest way to check for play in the linkage is with the car over the ground/over pit, get some one to wobble the steering wheel left to right and hold each tie rod joint in between your fingers, you should feel no play in these joints...
You can check the steering linkage as follows:
lie on the ground near the driver's side door, looking at the underside of the car
reach up and wiggle the steering wheel back and forth (with the door open)
watch to see if any of the rods move independent of each other. If they do, the rod ends need replacement.
the steering knuckle, and thus tires, should move with the tie-rods
the idler arm should NOT move up and down
This can be easier if a mate handles the wheel, leaving you free to inspect the underside, but it can be done without an assistant.
To double check any of the rod ends and idler arm, jack up the wheels and securely block the car, then wiggle the rod end ends forcefully by hand. There should be no play; they are supposed to rotate, but not move end-to-end.
Finally, if in doubt, disconnect the rod-ends, they should move with a firm but smooth drag as you rotate them. If they flop around, they are worn out.
Power Steering
Separating Ball-stud from Linkage
Separating the Steering Linkage for tie-rods, cross-rod, steering arm, knuckle arms or ball joints. To separate a rod-end/balljoint/ballstud, use one of these methods:
Pickle fork and hammer
Tierod-end joint puller
Two-hammer method
Prybar and hammer
CAUTION
Never hammer on the threaded portion!

Datsun recommended the two-hammer method. Pickle fork is perhaps easiest but may damage the joint boot. Puller method is very nice.
WARNING
Heating forged steering components is a VERY large no-no

Steering Gearbox Arm
Use the hammer methods or a gear puller.
Do not place a piece of pipe or wood on the steering rod and smack it hard with a big hammer. This can bruise/dent the worm in the steering box and compromise the box's smooth operation.
Two Hammer Method
Remove the cotter pin & loosen the castle nut as far as the end of the ball-stud. This will hold the part from dropping all the way when the joint is popped apart.
Hold a large hammer (e.g. 8# sledge) against one side of the part with the hole, and smack the other side with a 2nd hammer. The joint will pop out of the hole.
The first hammer is to absorb the blow so the part doesn't move.
NOTE: You have to smack it very hard while holding the stationary hammer at the same time AND not hit any other body or suspension parts. To make it easier, have an assistant hold the stationary hammer.
Sometimes people are not successful, usually because the hammer blow is not square to the stud axis and the energy is lost. But it will come out, regardless of condition, age, what-have-you, when done correctly. This is the method master mechanics use.
Pickle Fork
NOTE: Pickle fork may damage the joint boot. Great way to remove old bad parts, but the other methods are suggested for reusing the parts.
Pickle fork (wedge) fits many sizes of joints. For a Datsun, a medium size pickle fork is about right.
Remove the cotter pin & castle nut
Insert the fork between the two parts
Whack the hammer very hard with big hammer. Use at least an 8# sledge. Better is a 12# or 16# hammer.
TIP: If possible, insert the hammer inline with the steering linkage, so that your hammer blow doesn't deflect the linkage sideways. Moving the steering wheel first will help line up the linkage to where you can hit it straight on.
Ball Stud Puller
You can use any small gear puller. A puller fits only certain sizes, but doesn't damage the grease covers. If using a generic puller, make sure the shaft when turned does not damage the ballstud threads.
Purpose-made ballstud puller:

Remove the cotter pin & loosen the castle nut as far as the end of the ball-stud.
Insert puller into correct position
Turn puller nut with wrench or socket until the joint pops apart
Remove castle nut fully
Lever and Hammer
remove the split pin and nut
Insert the lever (prybar, crowbar, etc.) to apply a medium pressure on the two pieces, as if prying them apart. But the leverage is only to apply pressure, NOT to actually separate them.
While keeping pressure on the parts, using two hammers, hit opposite sides of the hole simultaneously. You don't need to use Big Hammers.
What you are doing is deforming the hole out of round for just a second which breaks the tapers bond from being jammed together, this will spit the ball stud off. You dont need to pound very hard, just keep tapping away.
Idler Arm
See main article: Idler Arm

Cross Rod
The Cross Rod is also known as center link or drag link.
RHD
RHD measurements


548 mm & 479 mm
B10
48545-18001 BUSHING-idler shaft

PB110
48560-H2500 ROD ASS'Y-CROSS PB110, PB210

B210
48560-H5025 ROD ASS'Y cross steering RHD JDM
 RHD B210 bottom, B110 top:

 B210 has a kink for clearance

B310 (and A10)
48560-W5025 ROD ASSY-CROSS JDM B310, A10

LHD
B110
48560-H1600 ASSY-CROSS ROD STEERING USA B110

ACDelco 45B1035 or 88911087 $99.97

B210
48560-H6200 ASSY-CROSS ROD LHD USA

B310
Side Rods
Side Rod also known as Tie Rod, consists of a threaded shaft and two ball-socket "ends".


Side Rod Ends also known as Tie Rod Ends


Inspect, and replace if bent or if ball-joint is loose



B110, B120 [NOTE: B210 differs]
48510-H1025 ROD ASSY-SIDE RH 7210- $134.33 USD

supercedes 48510-H1002 ROD KIT-side (R.H.) (from '72-10)

48630-H1025 ROD ASSY-SIDE LH 7210- $134.33 USD

supercedes 48630-H1002 ROD KIT-side (L.H.) (from '72-10)

48510-H1001 ROD ASS'Y-side (R.H.) (up to '72-9) $80.28 USD
01227-00011 NUT (4) -8503 [also B210]
01227-00091 NUT (4) 8504-
08921-32010 PIN-cotter (4) [also B210]

PB110
48510-A0600 ROD ASS'Y-side (R.H.) (up to '72-10)
48630-A0600 ROD ASS'Y-side (L.H.) (up to '72-10)
48510-U0100 ROD ASS'Y-side (R.H.) (from '72-11)
48630-U0100 ROD ASS'Y-side (L.H.) (from '72-11)
01272-00031 NUT (4) PB110 or 89-11042-1
08901-32510 PIN-cotter (4) PB110, PB210

PB210
48510-H5800 ROD ASS'Y-side (R.H.)
48630-H5800 ROD ASS'Y-side (L.H.)
01227-00061 NUT (4) PB210
08901-32510 PIN-cotter (4) PB110, PB210

NOTE: Cotter pin & Nut are same as used with Steering Gear Arm & Idler Arm (total 6 per car)
Side Rod Bar
Aka Tie Rod End Adjusting Sleeve, Tie Rod Adjuster, or Steering Linkage Adjuster. The flat in the middle is for a wrench to turn it while in place. The ends are left- and right-threaded, so that turning the rod adjusts toe-in.
Nissan 
48512-A0600 BAR-SIDE ROD (2) PB110 $8.33 USD
48512-H5800 BAR-SIDE ROD (2) PB210 $6.27 USD

B110/B120 - RHT M14 x 1.5 by LHT M14 x 1.5
48512-H1001 BAR-SIDE ROD (up to '72-9) (2)
* ACDELCO 45A6021  
* GM 88910767
* Raybestos 4251021
* 012-1100011 / 01211-00011 NUT-lock, side rod (R.H.) (2) $1.10 USD [08911-3441A]
* 012-1100021 / 01211-00021 NUT-lock, side rod (L.H.) (2) $1.60 USD

Interchange:
B110 1971-1973
B210 1974-1978
200SX 1977-1979
510 1968-1973
610 1973-1976
710 1974-1977

TRW/MOOG ES458S
* 48512-H1001
* 48512-H5800
* 48512-A0600
6.625" Length
510/610/710/S110/HB210.USA
Raybestos 4251021
DEEZA NIJ604

NOTE: Bar is not listed as a separate part in later catalogs (after 1975)
Side Rods 
Stud thread: M10, with 17mm hex castle nut
Inner thread: M14
cone: 1/10
Hole in the cross rod goes from 11m to 13mm and is 11.5mm thick

Inner Ends
Inner ends are curved
67 mm high
180 mm long
M14 inner thread
M10 stud thread


Inner RIGHT
48521-H1001 ASSY-SOCKET SIDE ROD RH INNER
McQuay-Noriss ES2620X
Raybestos 4011324
ACDELCO 45A0324 or 88910158
Inner LEFT
48641-H1001 ASSY-SOCKET SIDE ROD LH INNER
Raybestos 4011327
ACDELCO 45A0327 or 88910161
Outer Ends
Outer ends are straight, and have LH and RH threads.
67 mm high
79 mm long
M14 inner thread
M10 stud thread


Outer RIGHT - FEMALE RHT M12 x 1.5 x 79mm long
48520-H1001 ASSY-SOCKET SIDE ROD RH OUTER $59.80 USD
555 SE-4091R
TRW ES488L -0772
Raybestos 4011167
ACDelco 45A0167 or 88910001 $18.94

Outer LEFT - FEMALE LHT M12 x 1.5 x 79mm long
48640-H1001 ASSY-SOCKET SIDE ROD LH OUTER $59.80 USD
555 SE-4091L
TRW ES488R -0772
Raybestos 4011168
ACDelco 45A0168 or 88910002 $18.95

PB110/PB210/LB210/510/610/710/S10/C120 - M14 x 1.5 x 110mm long
48520-U0100 SOCKET ASS'Y-side rod outer (R.H.) (from '72-11) PB110, PB210 $57.33 USD

superceded 48520-A0600 SOCKET ASS'Y-side rod outer (R.H.) (up to '72-10) PB110

48640-U0100 SOCKET ASS'Y-side rod outer (L.H.) PB210 $57.33 USD
NOTE: PB110 L.H. not listed.