Nissan A.I.S. (Air Injection System) with air pump system -- a.k.a. "smog pump" -- was first fitted to some 1960s Datsuns. The first B-series models to have an Air Pump was the 1975 B210 series for North America.
NOTE: No Datsun 1200 was fitted with an air pump.

Overview
An engine driven pump, about the size of the alternator, forces air into the exhaust passages. This allows any unburnt gasoline to burn up in the exhaust system, thus reducing pollution.
Components:
Air pump
Air pump air cleaner. This is large disk mounted down by the Charcoal Canister
Check valve before going into head. Prevents exhaust from backflowing into pump or air filter
A.B. Valve (anti-backfire valve) between Air Cleaner and intake port (port on intake manifold). This valve has a single vacuum hose to control it. It prevents backfires in the exhaust system when during acceleration the richer naturally becomes richer, a condition the Throttle Opener also works on. However unlike the throttle opener, it dumps air into directly the intake manifold, causing it to lean out. This only occurs during decceleration so does not lean out the mixture when accelerating or cruising.
California models had these additions to prevent overheating of catalytic convertor:
Air control valve
E.A.R.V. (Emergency air relief valve)
or (later models):
C.A.C. valve. One hose tees into the pump output, the other hose dumps to the air (apparently not connected to anything). This valve has a single vacuum hose to control it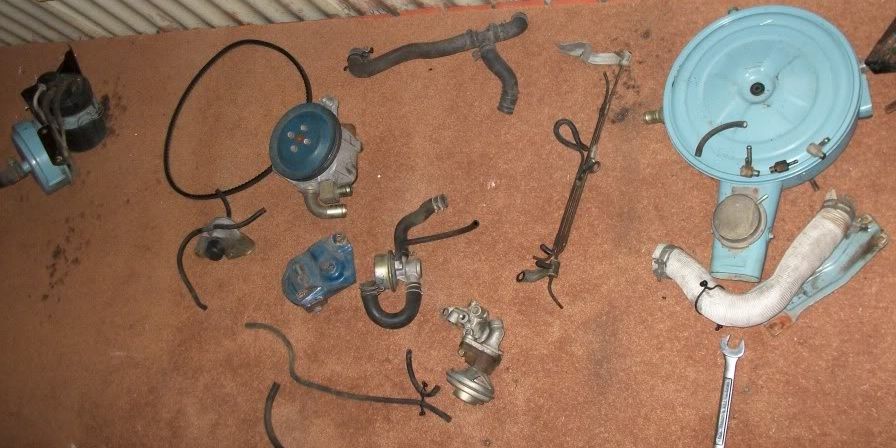 Narrow Bracket Layout
B210 NARROW bracket contains tensioner and supports the pump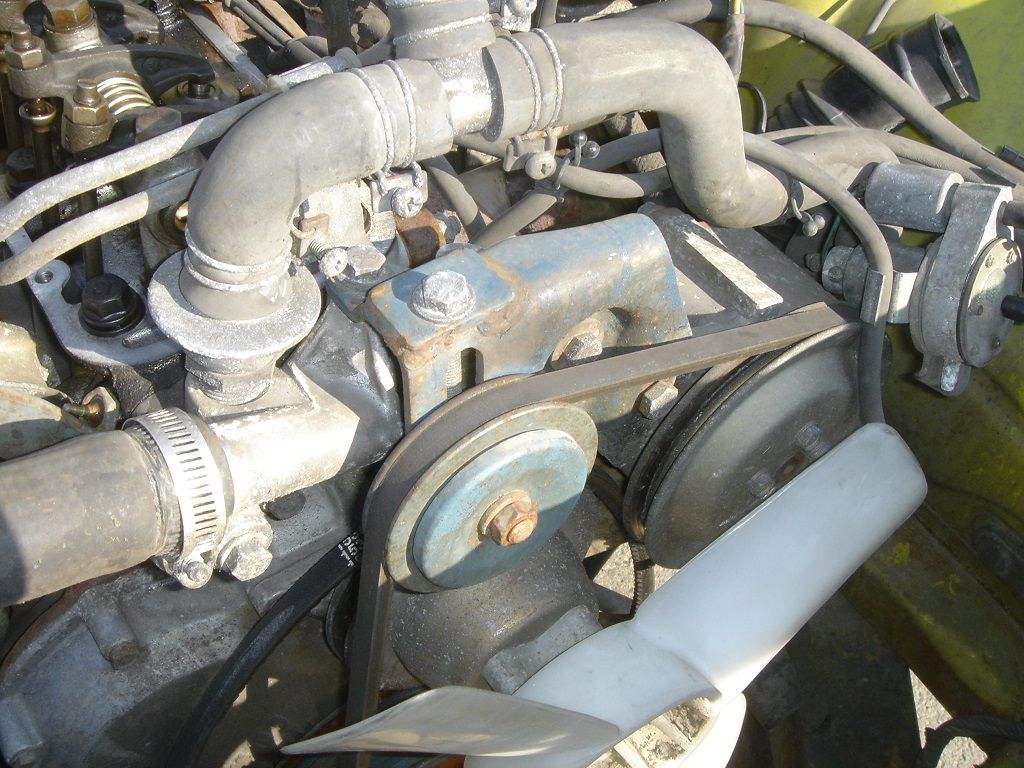 Crankshaft#Pulley. Outer groove is for the air pump V-belt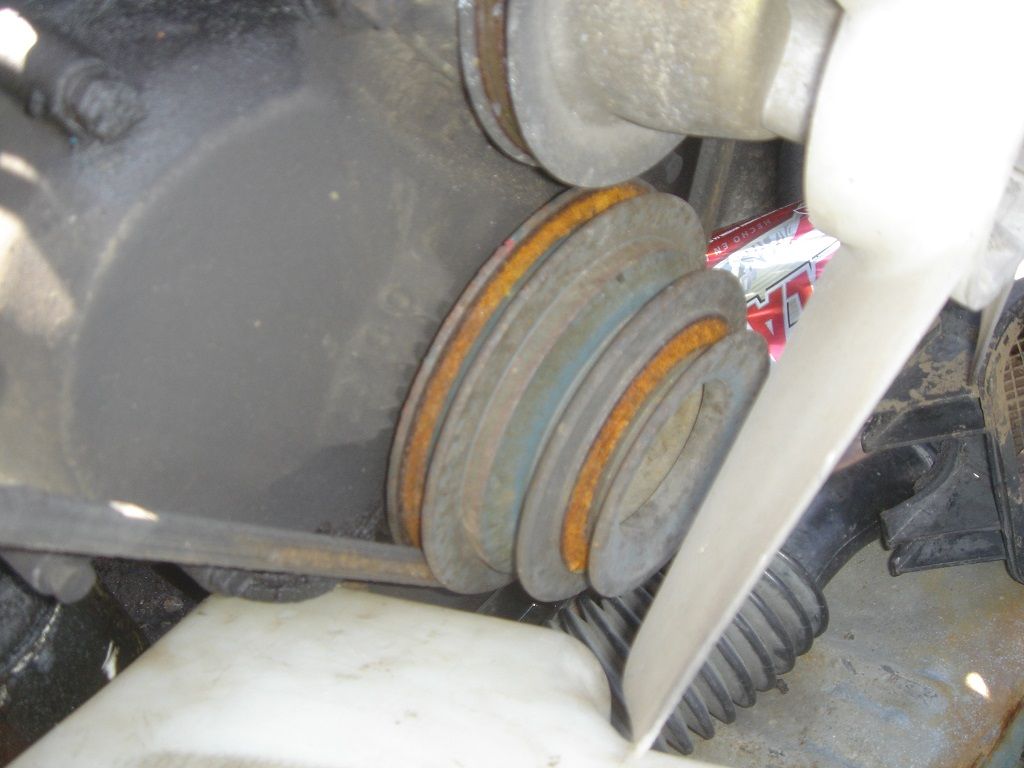 B210 after removal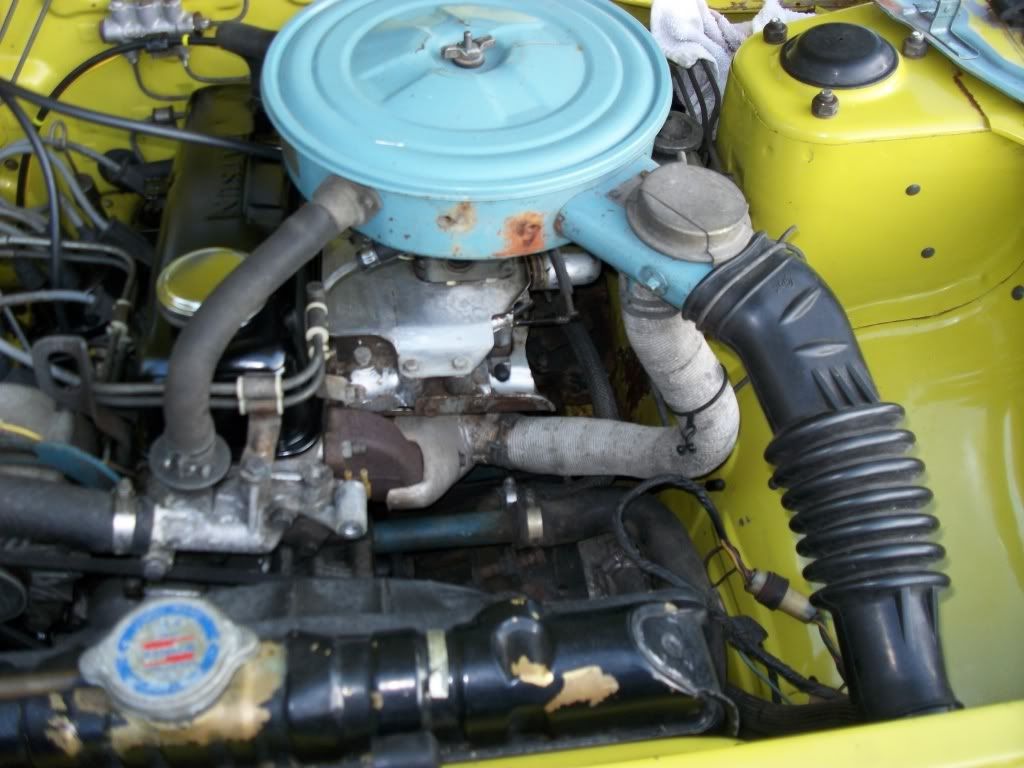 B210 after removal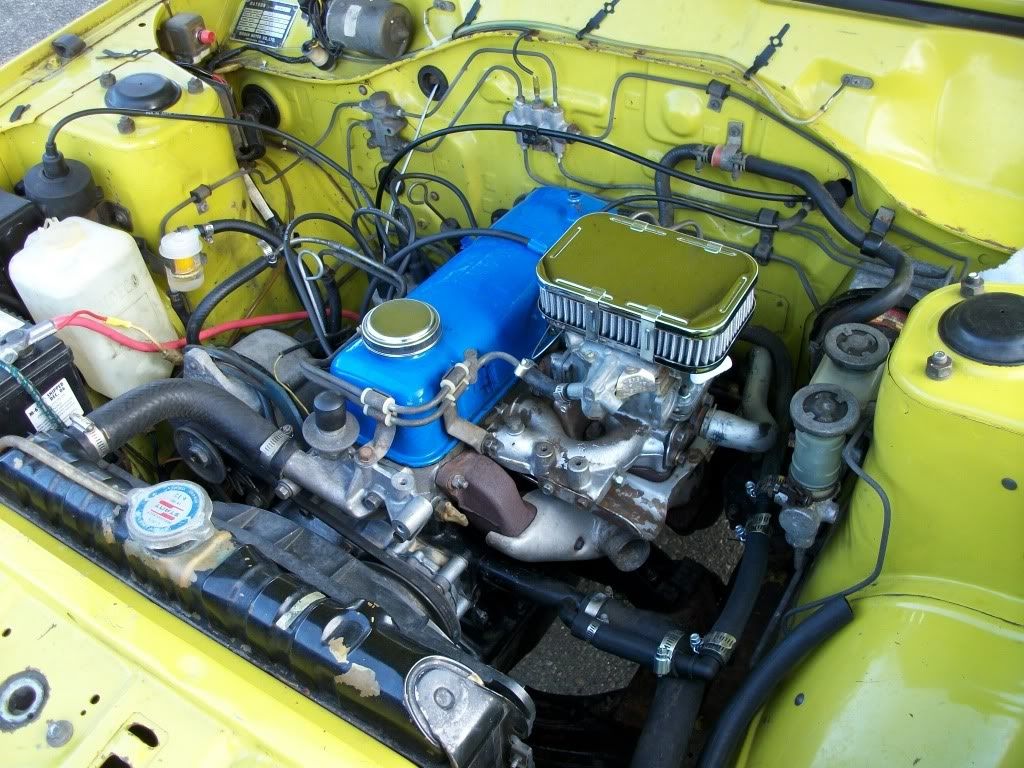 Wide Bracket Layout
B310 WIDE bracket contains tensioner and supports the pump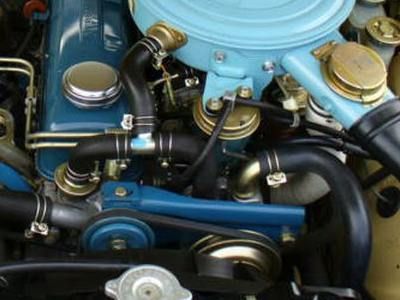 Check Valve screws into thermostat housing

A.B. Valve at rear of air cleaner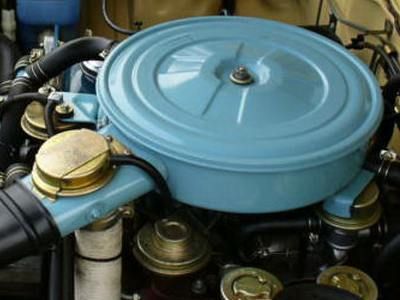 air filter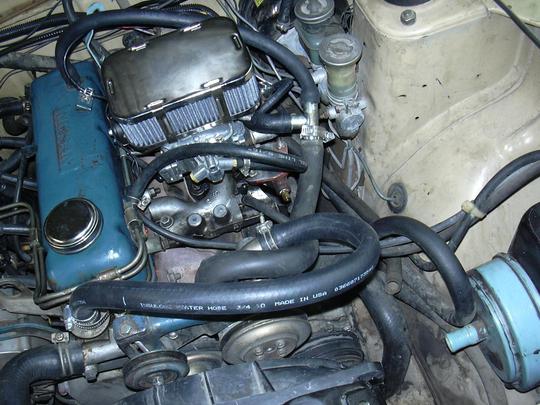 Album click to view
Thermostat Housing
All engines with Air passage in the cylinder head require a 4-bolt housing and gasket.
See main article: Thermostat Housing

4-bolt Thermostat Housing

Album click to view
B210 Parts
B210 USA 1975-1978
* 1975 model year started September 1974
* 1974 did not use a smog pump
* 5-speed cars (FU) did not use a smog-pump, but used a passive Air Induction System

COMMON PARTS
14800-H7206 ASSY-AIR PUMP WITH PULLEY <> 14800-H7205
 * pulley differs slightly between H7205 & H7206
14815-H7200 ASSY-IDLER PULLEY AIR PUMP
14816-H7202 BRACKET-IDLER PULLEY AIR PUMP
14853-H7201 BELT-AIR PUMP (1006 M/M)

FEDERAL 
14842-U6004 Air Pump bracket
lower bracket


CALIFORNIA
14840-H7205 BRAKET-AIR PUMP [lower bracket]
14832-H7360 COMBINED AIR CONTROL VALVE (CAC VALVE) 0876-0777 [1977 model year]
14832-H7361 COMBINED AIR CONTROL VALVE (CAC VALVE) 0877-     [1978 model year]

B210 pump


B310 Parts
USA Datsun 210 1979-1982
Passive Air Induction System
* CANADA 
* A12 FEDERAL
* A15/A15
* 5-speed cars (FU)
Air Pump A.I.S.
* A14/A15 FEDERAL & CALIFORNIA
* A12 CALIFORNIA

COMMON PARTS
14800-H9100 PUMP ASSY-AIR W/PULLEY
14840-H9101 BRACKET-AIR PUMP [lower bracket]

A12
14853-H9910 BELT-AIR PUMP A12 [1000 to 1010 mm]
* aftermarket: Gates 6220MC, Dayco 10A1000C 
14816-H9970 BRACKET-IDLER PULLEY A12 NLA
14815-H9100 PULLEY ASSY-IDLER A12 NLA

A14/A15
14853-H7201 BELT-AIR PUMP A14/A15
14816-H9100 BRACKET-IDLER PULLEY A14/A15 -0179 $13 USD
* 14815-M4900 PULLEY ASSY-IDLER A14/A15 -0179 <> 14815-M4901 $77 USD
14816-H9101 BRACKET-IDLER PULLEY A14/A15 0279- $15 USD
* 14815-M9100 PULLEY ASSY-IDLER A14/A15 0279- NLA
NOTE: bracket/pulley interchanges as a set

CALIFORNIA
14832-H9910 VALVE ASSY-C.A.C. A12 CAL
14832-H7361 VALVE ASSY-COMBINED AIR CONTROL A14/A15 CAL 

¤