The spare tyre fits in the trunk/boot (for sedans & coupes) or under the rear chassis for van & truck.
Also see: 
* Jack
* Changing tire

Overview
The 1200 uses a full-size spare, the same as used by the other four wheels.
Sedan
Album click to view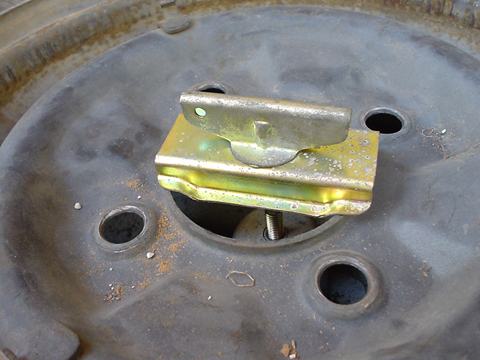 Album click to view
57210-18000 HANDLE-SPARE WHEEL CLAMP B10.S,K, B110.S,K -1270
74630-21002 HANDLE-SPARE WHEEL CLAMP B110.S,K 510, 0171-

older style

Album click to view
Coupe
Truck
Datsun 1200 Truck (ute) carries the spare tire under the cargo floor, aft of the rear axle.
Album click to view
Album click to view
The back of the carrier frame hinges off a bracket on the 2nd Crossember (the one over the rear axle):

Album click to view
¤