The standard equipment tires for Datsun 1200 were 12-inch diameter 6.00 width 4-ply (bias) tire. Whitewall tires were standard for the USA. Optional tires were 155SR12 radial tiresᵂ. Stock wheels today will use 155/80R12 (155 mm tread width) on a 4" wide wheel. These are best for fuel economy as they have low friction, and are guaranteed to fit with full suspension travel and clearance with no rubbing of the tire on the body.
Overview
USA Sales Window Sticker (w/w tires -- no charge)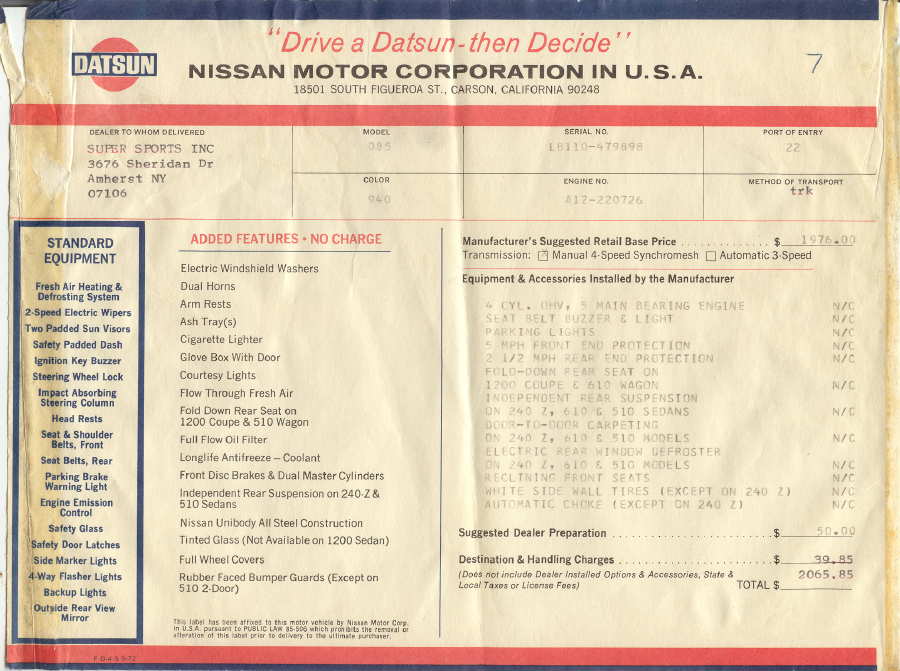 Album click to view
The largest width tire that fits a stock 1200 body are:
NOTE: You will appropriate offset wheels to fit this rubber into a 1200 and keep it within the bodywork.
Anything from 12-inch diameter to 18-inch diameter tires can fit a 1200. The important factor is the tire height. A low-profile 16" will fit better than a regular-profile 13" tire. Yes, a 205/40R16 is smaller in height than a 155/80R13.
USA 1200 whitewall tire - Bridgestone Skyway-II 6.00-12

Album click to view
UK 1200 Dunlop SP3 radial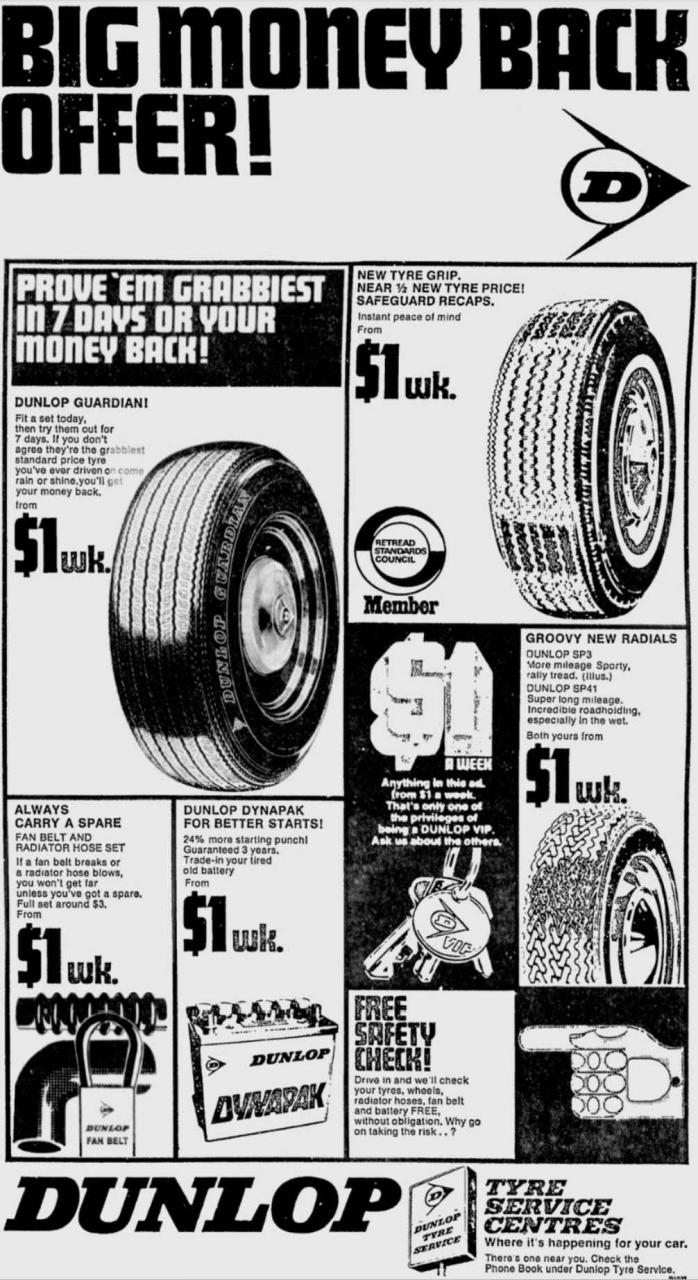 Rally-bred tread:Dunlop SP3. Some enthusiasts call it beautiful. We call it functional. In wet and dry, that tough, chunky tread came out of thousands of miles of near-limit driving in the world's greatest rallies. D659
—1969 Dunlop Australia
EUR Optional Radial - Bridgestone Super Speed Radial-80 155SR12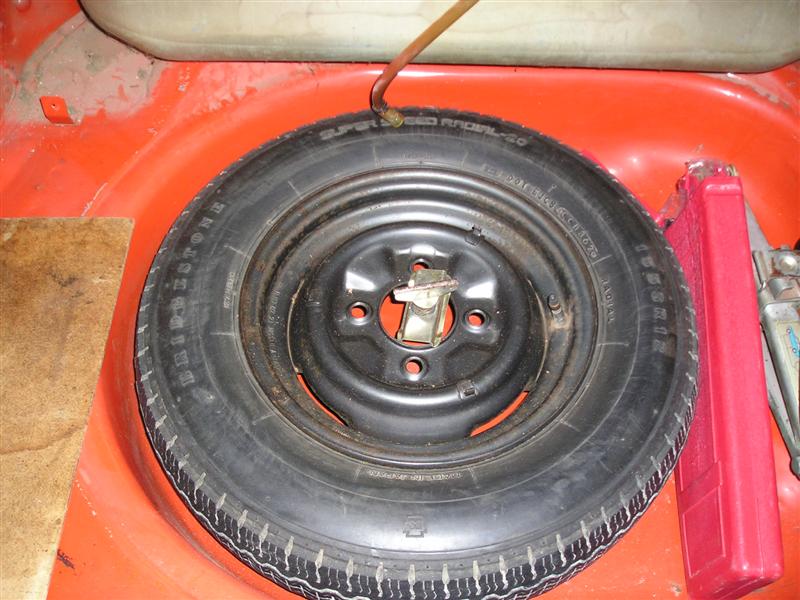 Album click to view
Daily Care
See Also:
* Change Wheel
* Spare Tire and Tools (including Jack)
* Towing#Operation

Wheel and Tire is a section in the Owners manual.
Tire Care (including inflation and rotation)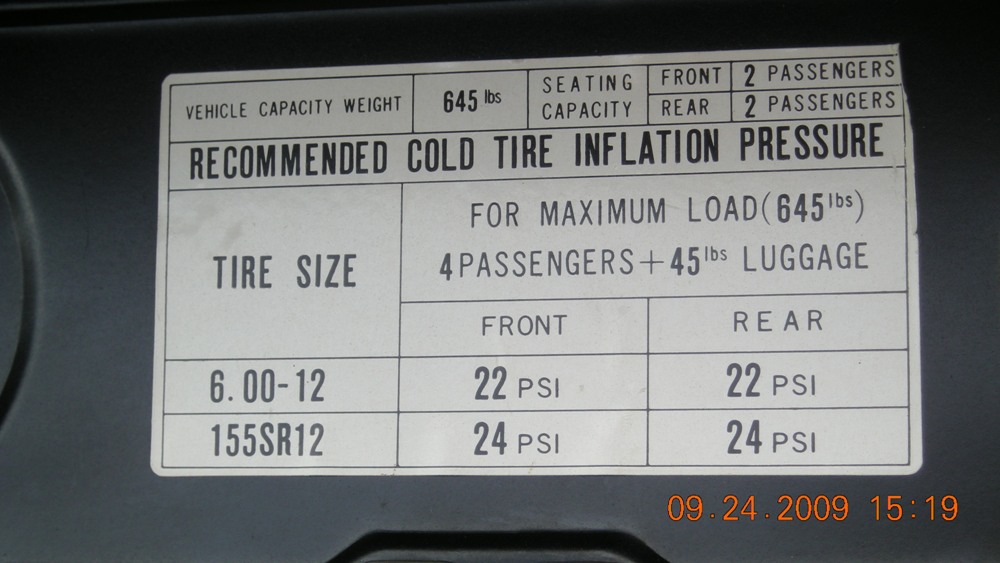 Album click to view
Inspect tread of tire. Delaminated tread causes wobbling at low speed, vibrations at high speed.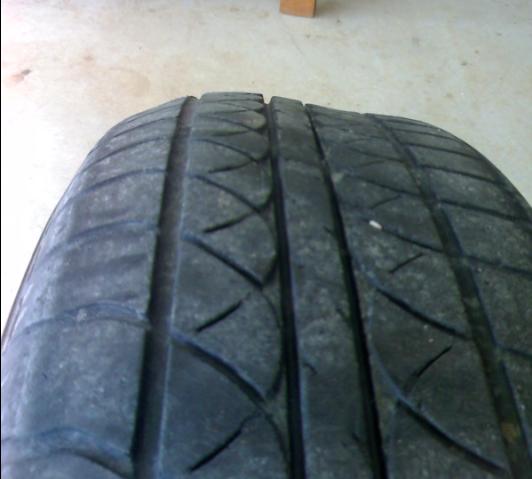 Album click to view
Run you palm around the face of the tire. Bulges indicate broken cords, causing low-speed wobble.
Ute
From the 1978 Factory Service Manual for B120 (English RHD/LHD):
Front Tire size: 5.00-12-4PRULT (tubed)
Rear Tire size: 5.00-12-8PRULT (tubed)
Pressure
Front: 22 psi
Rear, Partial Load: 28 psi
Rear, Maximum Load: 47 psi
Pressure, High Speed (above 100kph/60mph)
Front: 26 psi
Rear, Partial Load: 31 psi
Rear, Maximum Load: 51 psi
NOTE: Inflation pressure should be measured when tires are cold.
Spare Tyre
See main article: Spare tyre

Front Tires
With appropriate offset wheel, 175-wide tire will fit nicely. And a or 185-wide will fit with Rolling the Guard.
A 175/60R13 tyre usually takes a 5-inch wide rim. At 540mm in diameter, they are smaller than a stock 1200 tyre [574mm], and even smaller than the stock Datsun 1000 tyre [552mm].
Rear Tires
The 205/60R13 measures 576mm in diameter, virutually the same diameter as the stock Datsun 1200 12" tires, so this retains the original gearing & speedometer reading and they were designed around a 5" to 7" rim (5-1/2" wheel recommended). Although if you are going to run these tyres on a 13" rim it leaves a lot less room to lower the car without extensive guard work.
185/60R13 tyres measure 552mm in diameter, the same as the 1000's 5.50x12's which is smaller than the 1200's stock size [574mm]. I too have found that slightly larger diameter rear tyres usually brings the odometer much closer into line with true distance traveled, & if the odometer is right, then the speedo is usually closer to the mark too.
1200 had a 155SR12 standard fitment = 155/80R12, which is almost identical to a 185/60R13 give or take 0.6mm.
Low-profile Tyres
Low-profile tires have better handling qualities, turn-in, etc. But ride rougher. 60-series tires are harsher than 80-series tires, but most people will find they feel better when cornering hard.
Rule of Thumb
Comfort: Choose 80-series tires
Economy: Choose 80-series tires
Sporty: Choose 70-series tires
Performance: Choose 60-series tires
Competition: Choose 55 or 40-series tires

Discussion: availability of wide tires
Easy swaps to larger tires
These keep your speedometer reading close, and fit under the stock fenders and over the stock brakes:
165/70R12
175/70R13
185/60R13
speedo and tire size discussion
Maximum Diameter
Any tire over 24" tall will tuck up under the rear fender (it will have to go inside the fender well arch). That is the height of a stock 1200 sedan rear fender opening.
205/60R15 24.7
205/40R18 24.5

rear wheel opening (sedan)

Album click to view
Modifying Wheel Well
With a bad offset, a deep dish, or just plain large tyres, when you turn the wheel the tyre may hit the inner guard. In the straight and with gentle turning there is no scrub at all, but there can be scrub against the footwell in a heavy turn near full lock.
See Main article: Modifying Foot Well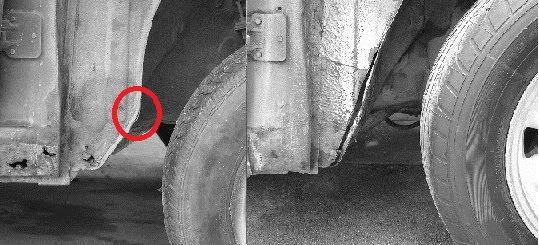 15", 16" or 17" wheels
Sure, 15", 16", 17" even 18" wheels can fit a 1200. It's the width and overall tire height that is important, not the diameter of the wheel.
Specific offset wheels are required for tires up to 175-wide. See Offset for more details.
Discussion: my new wheels (15")
If the tires are too wide or if the offset is wrong, the tires can the front strut spring cups. To mitigate this problem:
Change struts to Stanza struts to space the wheel out further
Use more negative offset (e.g. Zero) to space the wheel out further
Use a slightly narrower tire. 185 front and 205 rear fit with appropriate offset wheels
Use a lower profile tire. Smaller diameter tires may not hit the coil spring perch
Change the stock 110mm coilover springs to racing-style small diametercoilovers

If the tire hits the fender:
Wide Tires
Yes, stay with the wider tires, you'll be happier I think. The 155s are a bit weak for cornering (I currently have 155s). The advantage of 155/12 is that they are inexpensive, give the best fuel economy and the best riding comfort.
Maximum tire width without fender flares: Rear: 205, Front: 185 For example, 205/50R15 with 15x6 offset 30 wheels. Bluebird TRX (Maxima/910) wheels (with spacers?)
---

I'd go with 7" rims, simply because if you use 6" rims you're really limiting yourself to a 185/60 tyre. Anything wider and you loose a bit of crispness and steering response.

You could get 13s over your brakes with a 205/60 tyre. Or run 14*7" with a 195/60 tyre. Difference in gearing is about 5%.

reference: LB18_110 on 1200 coupe race car

---
Rolling the Guard will help you get that little bit of room for wheels that are almost right. Use a baseball bat.
8-inch wide tyres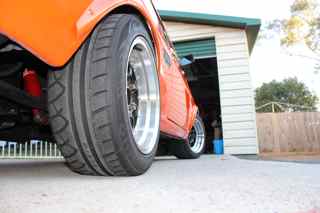 Post click for topic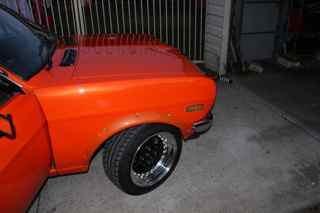 Post click for topic
Narrow Tires, wide wheels (stretched tyres)
Album click to view
Album click to view
Where to buy 12" Tires
Stock size is 155R12. Do not get the narrower 145R12 which were used by the Subaru Justy 3-cylinder car.
But can you still get wide 12" tires? Sure:
165/60R12 are available in Britain and USA as of November 2011 -- they are used on Minis
165/55R12 is available in USA
175/70R12 is available in Australia as of November 2011
Donor Cars
Cars that used 12" tires:
1987-1990 Chevrolet Sprint (145SR12)
Datsun B10
Datsun B210 with/A12
Datsun B310 with/A12 (except USA)
Toyota Corolla 1200
Honda Civic
1978-1981 Ford Fiesta (155-12)
1986-1993 Ford Festiva (4 on 4.5 wheels)
1989-1994 Geo Metro (12x4, 4 on 4.5 wheels) (145SR12)
BMC Mini Cooper
1991 Nissan Figaro
1988-1995 Subaru Justy (145/80R12)
Summit Racing
No Longer Available
165/70 SR12 Yokohama Y372 $56 SummitRacing.com NLA
TalonTire.com
November 2011
165/60R12 Falken FK06G $99
165/60R12 Falken Ziex ZE-912 $109
165/60R12 Yokohama A539 $126
7ent.com
November 2011
165/55R12 165/12 Yokohama A048R Track Tire $179
165/12 Falken ZE912 $106
165/60R12 Yokohama A539 $120
Wrecking Yards
It used to be the best place to buy 12" tires, but alas no longer as new cars stopped using them about 15 years ago.
Here's an outdated report from the year 2000:
Best place to find 12 inch tires is a wrecking yard. They came on 1996 Geo Metro, 1994 Ford Festiva, 1990 Subaru Justy, older Honda Civics, Ford Fiesta and many other small cars. Expect to pay $10 each for like-new tires, mounted in western USA yard... They were still being produced massively for cars such as Suzuki Swift (Geo Metro), Honda Civic, etc, though in the late '2000s production is cut back and fewer models are available. Sometimes the discount new tire stores sell them $80/four mounted & balanced. Check the Sports section of the newspaper for the occasional tire ad.
Delticom
Delticom USA http://tires-easy.com
November 2011 low profile
Nankang CX688 165/70R12 $57
Yokohama Y372 165/70R12 $66

November 2011 - snow tire
Hankook Zovac HP W401 155 R12 studdable $46

November 2001 - standard
Nankang CX688 155/80R12 $44
Falken SN-807 155/80R12 $55
Hercules G2000T 155/80R12 $52 A-A rated
Westlake H120 155/R12 6PR Load Range C $52
Camac NC80 155/80R12 $52
Classic All Season 155/80R12 $57
Vanderbilt Classic 155/80R12 $60
Federal SS-657 155/80R12 $63 AA rating

November 2011 - heavy duty tires
Westlake H200 155/R12 6PR Load Range C $50
Goodride H120 155/R12 6PR Load Range C $51
Double King DK207 155/R12C 8PR Load Range D $54
Falken R-51 155/R12C 8PR Load Range D $61

No Longer Available
Delta National Performance 155/80 R12
Delta National Metric 155/80 R12
VeeRubber VTR 307 Trailmate 307 155/70 R12
TireRack
Limited availability -- check the web site
http://www.tirerack.com/tires/sizes/results.jsp?diameter=12
MiniMania
November 2011
Yokohama A048R 165/55-R12 $220
Yokohama A539 165/60-R12 $130
Falken 165/70-R12 $120

Album click to view

Album click to view
165/55-R12 -- the lowest, baddest small tires on the planet
Tire size comparison
155/80-12 21.7 inch diameter
165/70-12 21.4"
155SR-13  22.8"
175/70-13 22.6"

NOTE: 165-width tires want a 4-1/2" to 6" wide wheel.
Tyre Size Calculations
Here are tire heights taken from manufacturer's specifications. The listed height is for a very specific rim width (narrower rims increase the diameter a bit, wider rims lower the diameter).
Stock tire:
155/80R12 21.8"

165/70R12 21.1 (+ 3% speedometer reading)
205/40R14 20.5
185/50R13 20.3
175/50R13 19.9
165/60R12 19.8 (+ 9%)
165/50R13 19.5
205/40R13 19.5
165/55R12 19.1 (+12%)
175/70R13 22.6
185/60R14 22.7" 577mm
175/55R15 22.7" 577mm
195/50R15 22.7" 577mm
195/60R14 23.3
205/45R17 23.5

205/40R18 24.4
http://www.discountpartcenter.com/tirecalc.html
or
http://www.1010tires.com/tiresizecalculator.asp
So that's the disadvantage of low-profile tires: your speedometer will read too fast and the effective gearing will increase, making it rev even higher on the freeway ...What about tires for 13" or larger wheels?
Example
Lowering Tires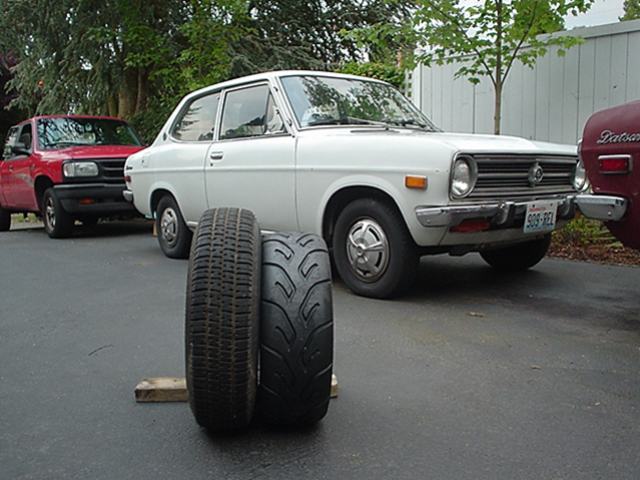 Album click to view
Stock (option) tires: 155/80R12 21.8"
sidewall: 4.9"
radius: 10.9
dia: 21.8
cir: 68.4
revs/mi:927.0
Replaced by lower-profile tires: 165/55R12 Yokohama A048R
sidewall: 3.6
radius: 9.6
dia:19.1
cir:60.1
revs/mi:1053.0
Results: Speedometer reading 12% too fast. When your speedo reads 60mph -- if it was accurate with the stock tires -- with the new tires you are actually traveling 52.8 mph.
It is also similar to going from the 3.9 diff to a 4.368 ratio. You will feel more torque, but the engine revs higher for each actual road speed.
Suppliers
Wreckers are your best bargain here ... lots of 13" tyres.
Mail order
Sunny Tyres
Sunny SN3606 tyreᴳ RWL

Album click to view
Examples
13x8 wheels with 215/50R13 tires on 1976 B210

Album click to view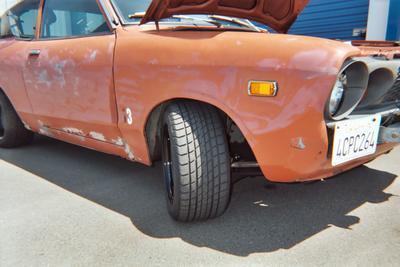 Album click to view
See Also
* Offset
* Wheels

Discussions:
¤