Synchronizers let you shift gears using the clutch.
Overview
Synchro is two cones pressed together until the two shafts run the same speed: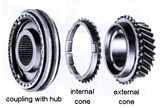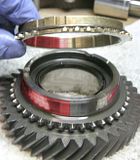 Each gear has a syncho face (external cone) machined with it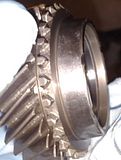 The hub is spring loaded so when you move the shifter partway, it presses the baulk ring (internal cone part) against the gear.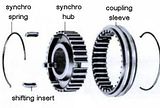 When they have slow down to the same speed, the shifter will move all the way in. It happens very quickly, unless the synchros are worn and not working well.
Synchro is basically:
Coupling with hub
Baulk rings and gear faces

Coupling with hub. Left: assembled. Right: not assembled
photo

Each synchro set services two gears (arrows). Center arrow points to the Coupling Sleeve
photo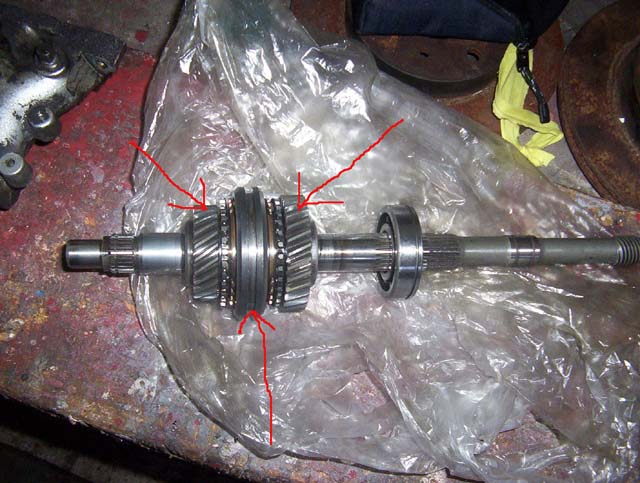 The Coupling Sleeve is what the shifter moves.
The hub is keyed to the mainshaft, so the sleeve rotates constantly in the Shift ForK while the car is moving.

The spring lets the hub move side-to-side inside the Coupling Sleeve, but not move too far. On this one there is a total of about 1/4" (5mm) total movement possible.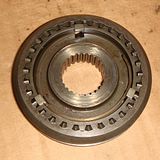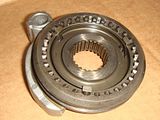 56-Series Transmission
FS5C56A 5-speed has very different synchros from other A-series transmissions. It has "C" type synchros (the "C" in FS5C56A) which are very different
4-speed
32604-H1000 RING-BAULK (4) <> 32604-H1010 < 32604-H9000
32609-18000 INSERT-SHIFTING (6)
32603-18000 SPRING-SYNCHRONIZER (4)
32601-18000 HUB-SYNCHRONIZER (2)
32606-18000 SLEEVE-COUPLING (2)

5-SPEED
32601-H7200 HUB-SYNCHRONIZER (2)
32606-H7200 SLEEVE-coupling (2)

Also see 56-Series_Transmission_Parts#Synchros.
60-Series Transmission
B310 with FS5W60L 5-Speed shows this:
Synchro Hub - 1st & Rev
Synchro Hub - 2nd & 3rd
Synchro Hub - 4th & 5th

For the 4th-5th gear, or 2nd-3rd the coupling is the same part number:
32606-18000 SLEEVE-COUPLING

For the Synchro Hub inside the coupling:
32258-H9001 HUB-SYNCHRONIZER 1ST & REVERSE $133.92 USD
32601-H9001 HUB-SYNCHRONIZER 2ND & 3RD
32601-H9000 HUB-SYNCHRONIZER 4TH & 5TH

4-speed and 5-speed synchronizers

FS5W60L
32604-H9000 RING-BAULK 4 
32603-18000 RING-SYNCHRONIZER 4 
32601-H9001 HUB SYNCHRONIZER-2ND & 3RD 1
32609-18000 INSERT-SHIFTING 6

32602-32200 SPRING-SHIFTING INSERT (SYNCHRONIZER INSERT) 3
*  unique to F5W60L 
32608-H9000 INSERT-SHIFTING 9 
32258-H9001 HUB SYNCHRONIZER-1ST & REVERSE 1