The H95 engine was created to comply with 1981 USA emission standards, improve fuel economy and increase driveability, the A-series engines for USA and Canada have undergone several modifications. All engines now use the same head design, cam & valves. All 1981 engines use a 248 degree camshaft, whereas previous A14/A15 used a 256 degree cam. 1981 is the origin of H95 engine parts, including the H95 camshaft used by worldwide A15 engines after 1982.
Datsun 210
For the B310 chassis, an A15 engine has replaced the A14 engine model formerly used with the manual transmission. The A14 engine has also replaced the A15 engine in MPG models, providing a new addition to the current selection of models available for non-California and Canada destinations.
FU models for 1981-1982 did not have a special engine, but instead ALL 1981-1982 US models, including A12A, A14 and A15 used the same high-efficiency engine design with small oval ports and smaller intake valve.
Datsun 310
An A15 engine has also replaced the A14 engine formerly used in the N10 (Pulsar) front wheel drive chassis.
Engine Mechanical System
To meet emission control standards and to improve combustion properties, the following modifications have been made:
In order to increase the "skish" effect, the combustion chamber design has been modified and the lower surface area of the combustion chamber has been reduced. In conjunction with these change the valve seat has been installed in a slightly higher position.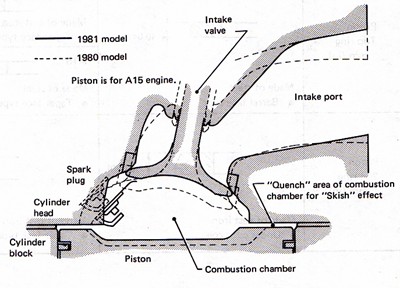 Album click to view
The spark plug has been moved 6 mm (0.24 in) closer to the center of the combustion chamber for increased ignition performance.
Weirs have been added inside the intake port to increase the "swirl" effect. Additionally, the cross-sectional area of the port has been increased in relation to the reduction of the intake valve diameter at the bevel.
Swirl-port head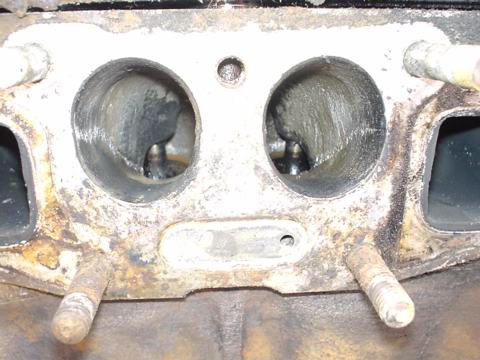 Album click to view
Small oval ports replaced the round ports of previous FU heads, and also replaced the large oval of previous A14/A15 standard heads.
quench head
smaller dish in piston
35 mm intake valve (previously 37 mm)
shrouded intake valves
change from Round ports to Small Oval
Valves
To accomodate the new combustion chamber design, the intake and exhaust valves have been shortened by 4 mm (0.16 in) and the diameter of the intake valve at the bevel portion reduce from 37 mm dia. to 35 mm dia.
* 1981 length: 100 mm
* 1980 length: 104 mm

* Exhaust valve head: 30 mm
* Intake valve head 1980: 37 mm
* Intake valve head 1981: 35 mm

Part Numbers (100 mm)
13202-H9500 VALVE-EXHAUST 0880- [30 mm] A12A, A14, A15
13201-H9500 VALVE-INTAKE 0880- [35 mm] A12A, A14, A15

Valve Length
* Intake: 37mm, 100.0 mm
* Exhaust: 30mm,  100.0 mm
NOTE: All other A-series valves are 103.8 mm long

Piston
The crest of the piston has been redesigned to accomodate the new combustion chamber design. The piston ring groove has also been modified to match the new top ring design.
Offset-dish pistons borrowed from the H89 design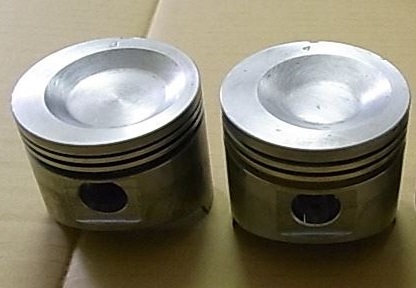 Post click for topic
The specifications for the piston rings used in the A14 and A15 engines have been revised for lower oil consumption.
Top Ring
* 1980: Barrel type face 1.2 mm steel
* 1981 A14: Taper type face 2.0 mm cast iron
* 1981 A15: Taper type face 1.2 mm steel

2nd Ring
* 1980: Taper type 2.0 mm cast iron
* 1981: Under-cut type 2.0 mm cast iron

Part Numbers
12010-H9502 USA A12 0880- <> 12010-H9512
12010-H8702 FED A14 0880- 4mm dish
12010-H9802 CAL A15 0880- 6.5mm offset dish

Camshaft
The camshaft profile and its operating angle have been modified for increased stability during idle and increase torque at low speed.
1981 Duration: 248 
* 1980: 256 for A14/A14, 248 A12A
1981 Valve lift: 5.60 mm
* 1980: 5.33 intake, 5.60 exhaust
1981 Overlap: 32 degrees
* 1980 A14/A14: 34 degrees, A12A: 26 degrees

Part Number
13001-H9800 CAMSHAFT 0880- A12A, A14, A15


Intake Manifold
The intake Manifold has been re-designed to match the cross-sectional contour of the oblong intake port. In addition, the riser has been installed in a slightly higher position and a groove has been added to the intake ports for easier starting when the engine is cold. The manifold gasket has also been modified.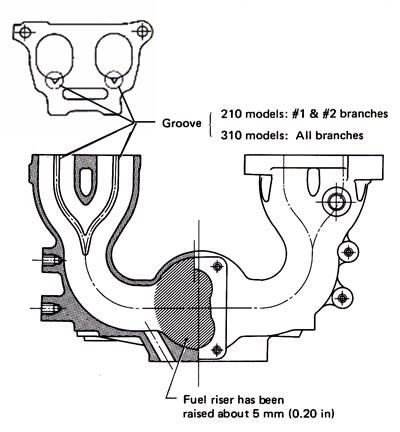 Groove at bottom of runners
* Datsun 210: #1 and #2 branches
* Datsun 310: All branches

The Datsun 310 being FWD, the engine sits at a different slant, which may be why the runner differs from the Datsun 210.
14003-H9500 MANIFOLD-INTAKE FED 0880-


Fuel riser:
* Raised about 5 mm (0.20 in)

wet intake, Small oval ports
14035-H8901 manifold gasket (same as Large Size ports)

Exhaust Manifold
The 1981 exhaust Manifold is based on the 1980 FED (USA, non-California) model with the following modifications:
To increase the flow of secondary air, the diameter of the secondary air passage hole has been increased from 11 mm dia. to 18 mm dia.
The diameter of the E.G.R. tube mounting screw has been changed from M20 x 1.5 to M22 x 1.5 for increase EGR flow
On California models, the same exhaust manifold as described here is utilized due to the adoption of an air induction system.
H95 with Air Induction System tubes

Album click to view
14004-H9501 MANIFOLD-EXHAUST A12A,A14,A15 USA 0880-

Cylinder Head
H95 were the ONLY heads for 1981 and 1982 in USA. So they are very common. Most guys want the high-power heads, so these high-torque ones are very available.
Small oval with swirl obstruction. These are good for emissions and fuel economy (H95 head, 1981-1982 USA all engines). They make excellent power at midrange RPMs.
Album click to view
This head does not have the air ports in the exhaust valve pockets like previous JDM and USA heads. The air induction was done via the exhaust manifold using the pulsing of the exhaust to draw air through stainless steel pipes that were connected to reed valves in the air cleaner can (see #Exhaust Manifold).
Has an H95 cast into it, under the valve cover area (H95 over #4 spark plug)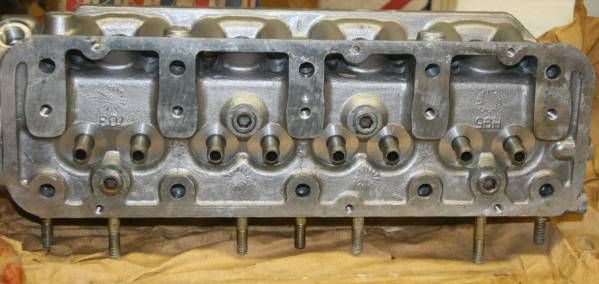 Part Numbers:
11041-H9500 CYLINDER HEAD ASSY A15 0880-
11041-H8700 CYLINDER HEAD ASSY A12+FED/CAL 0880-
11041-H8700 CYLINDER HEAD ASSY A14+FED 0880-

Ports
H95 Oval: 28x30 mm
H89 Oval: 28x34 - typical A14/A15
A12 GX Oval: 30x36

Small-oval ports, guide is shrouded
Has what some call a "swirl" port has an obstruction cast into the port to cause the flow to swirl although it reduces peak flow. If you look into the port, from the manifold side, you'll see a heavily shrouded port, and looks much smaller than it would normally be on an A14 head.
Post click for topic
Some say it can be ported very well, to very high flow rates.
Others have said if you try to grind out this obstruction, you will hit a water jacket and render the head useless. It too, has the coolant holes in it.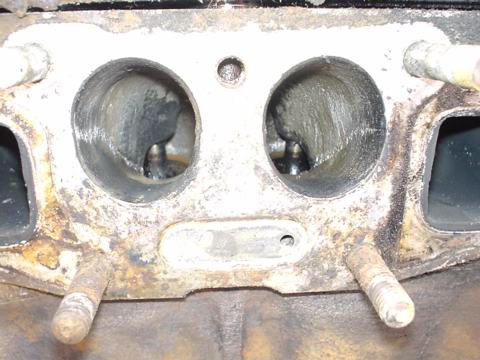 Album click to view
Combustion Chamber
They also have a small but deep combustion chamber, hence a different dish in the piston.
peanut-shaped combustion chambers
H95: 35cc (A15 dish: 6mm)
D: heavily shrouded late-model design (H95)

Album click to view
EGR
Like any late-model engine, H95 had EGR.
Album click to view
¤