Coil on Plug for your Datsun. Can be used with carburetor. Most newer ECUs, including MegaSquirt II or MegaSquirt III can be used as a spark controller without EFI.
Overview
Multi-coil Lead type is not COP

Album click to view
Coil-on-Plug type on A12 engine

Album click to view
Cleaner wiring. Looks cool.
C.O.P. - $25 each @ Jegs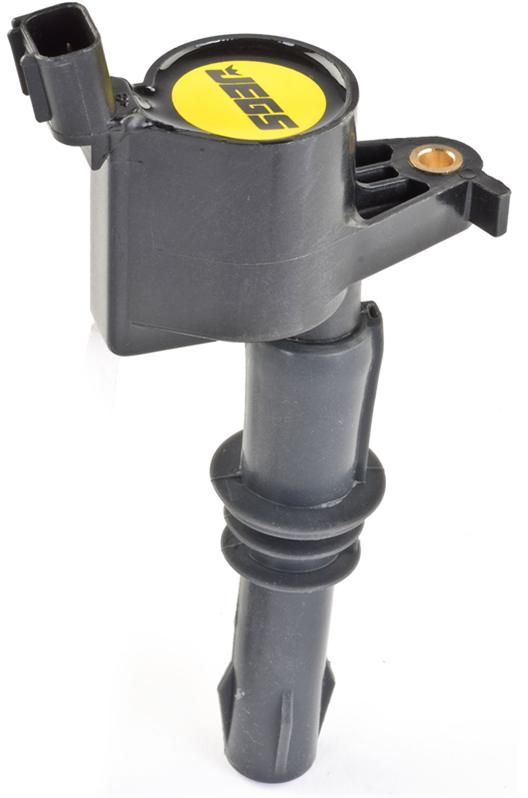 Create a simple bracket (like a fuel rail kindof) that the coils will bolt to, and which bolts to the engine or valve cover. This supports the top of the COP units.
Bracket on Datsun L28 engine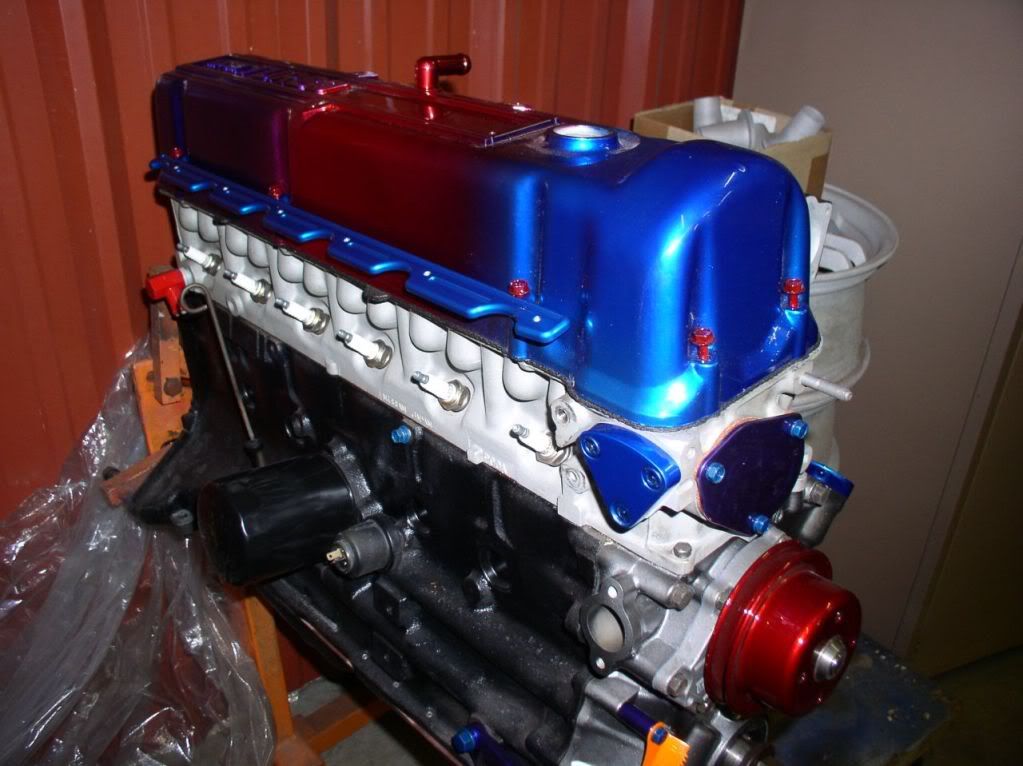 Can be used with MegaJolt Lite Jr. (EDIS), just wire coils 1&4 together and coils 2&3 together. Wire them in series. 12V -> Coil 1+ -> Coil 1- -> Coil 4+ -> Coil 4- -> to EDIS trigger.
Or can be used with other ECUs in spark-only mode.
If your controller doesn't support firing the plugs directly, use an Ignitor box.
Input Trigger
For the simplest easiest setup use the standard distributor.
Which type you use depends on your ECU. MegaSquirt can do all types.
Standard Distributor
Input trigger: negative terminal of normal points distributor.
Electronic Distributor
Input trigger: negative terminal of electronic distributor
Nissan Optical CAS
CAS is not necessary for COP. Use your ECU in wasted spark mode to fire two plugs at once. Non-wasted doesn't make more HP.
See main article: Nissan Optical CAS

With Nissan 360° CAS, use MegaSquirt 3 with 1.3.3 software. This includes SR20, CA18DE/DET CAS or the D4P distributor but modified to fit in A-series engine. See MS3 pre-1.3.3 beta 5 released (urgent for Nissan CAS).
MegaSquirt 2 will work if you swap the trigger wheel for a 22-1 wheel from DIYautoTune.
Crank Trigger
Crank trigger is not necessary. You can run COP off a standard distributor.
If you want crank trigger use:
* Magnetic Sensor
* Magnetic Sensor (Hall Effect type)

See main article: Crank Trigger

The difference is that the Hall Effect type has a built in amplifier the sensor, to create a standard voltage signal before it is sent to the ECU. A plain magnetic sensor sends the raw signal to the ECU which has the amplifier built in.
POST http://datsun1200.com/uploads/photos/17128.jpg
Magnetic Sensor is very reliable, it is used in millions of production vehicles. However, older/cheaper ECUs may not have good amplifier so require a Hall Effect sensor.
* Rotating magnets. Drill pulley and insert with expoxy
or
* trigger wheel as low as $8 bolts to the standard pulley. No welding required.

Ignitor Module
If you run COP plugs which include a built-in ignitor, a separate Ignitor module is not necessary. However, many (most?) setups require an external Ignitor module -- for example, CA18DET and SR20DET used coil-on-plug ignition which require an ignitor module. Also, while many newer ECUs can fire coils directly, older models like MegaSquirt I & II require an external Ignitor.
Common COP ignitors include:
* CA18 ignitor
* SR20DET ignitor
* Bosch 211 ignitor

CA18DE Ignitor
Use MegaSquirt 2.0 to control the CA ignitor. MegsSquirt 3 can directly drive COP, but by using the ignitor it will work with MegaSquirt 2.
Transistor Ignition Unit S13 JDM
22020-50F00 SR20DET <> 22020-50F01
22020-53J20 SR20DE
22020-85W00 CA18DE, CA18DET <> 22020-85W10 <> 22020-85M10
22020-85M10
* JHG50/G50 VH45DE
* RS13 CA18DET
* G50 VH45DE
* T12/T12Y CA18DET
* KN13 CA18DE/CA16DE USA

22020-85M10 TRANSISTOR IGNITION UNIT Mitsubishi
* KN13 USA 1987-1988 "Sentra XE" CA16DE/CA18DE
* N13 1987-1988 Pulsar NX CA16DE/CA18DE
* 1989-1991 S13 CA18DE/CA18DET
* 1990-1994 G50 (Q45) with VH45D V8
* 1988-1989 U12 CA18D/CA18DET
* 1988- T12 CA18DE
22020-60U00 TRANSISTOR IGNITION UNIT Hitachi

One plug has 5-wires -- 4 inputs low current triggers. The odd pin is for ground/earth. Connect two to Megasquirt:IGN1 and two to Megasquirt:IGN2.
The other plug has 4 high current outputs to the four coils.
CA ignitor used on L20B engine

Album click to view
AFTERMARKET Ignition Control Module (ICM)
* Nissan 22020-85M10
* STANDARD MOTOR PRODUCTS LX645
* BECK/ARNLEY 1800180
* ACDELCO E1985A
* AIRTEX/WELLS 6H1129

MegaSquirt TunerStudio settings
Trigger on rising edge?
Trigger on falling edge?
Output: logic level
Type: wasted spark

Album click to view
SR20DET Ignitor
The SR unit is smaller, newer but works the same way as the CA ignitor and is wired the same way.
22020-50F00 'DIS4 04'


Bosch 211 Ignitor
VW/Audi
http://www.microsquirt.info/Bosch_211.htm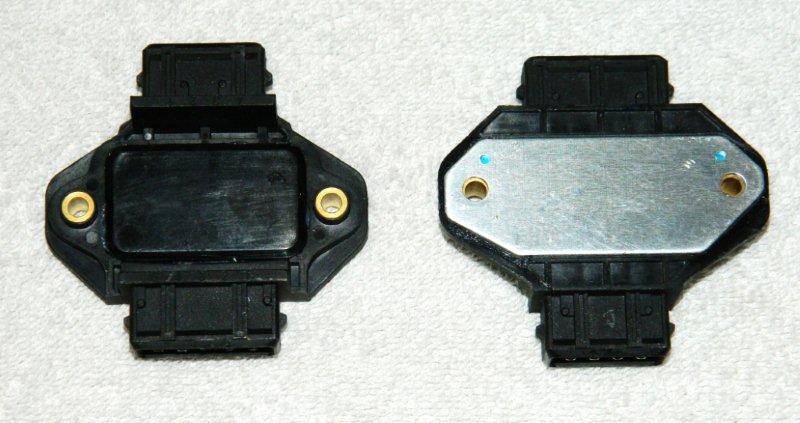 MicroTech
MicroTech X4 Ignition Module

Album click to view
Subaru J142
1990-1998 Subaru Hitachi/Mitsubishi J142 ignitor. Common at the scrapyards. RockAuto. $20 on eBay
1990-1996 SUBARU LEGACY
Diamond IGNITOR DIS4-03 22438-AA030
Hitachi IGNITER MODULE J142