Hitachi DCx
carburetors have different specifications depending on market, year, state and other factors. All A-series engines used Hitachi DCx-306 carburetors 26/30 bores, except for the A10 engine which used a smaller DCG-286 model with 26/28 bores. A12 carburetors have 20/26 primary/secondary venturis, and other engines used bigger venturis up to A15s which have bigger 21/27 or 23/27 venturis.
Overview
DCG - manual choke
DCH - electric automatic choke from 1972 USA

DCx-306: 26/30 Datsun B110
DCx-286: 26/28 Datsun B10
DCx-340: Datsun 510/620

Also See: Carburetor Repair, Instruction Sheet section
Hitachi DCH306 ID boss

Album click to view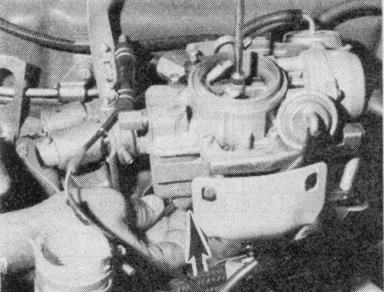 Album click to view
Flange
Hitachi DCG306/DCH306 flange - 61x37mm bolt pattern

Post click for topic
Jet Locations
jet locations

Album click to view
Main jets are accessible without removing the carburetor

Album click to view
You will need to remove the carburetor top to identify the other jets which are installed. This can be done with the carburetor on the engine.
See Carburetor Top Removal

Upload click to view
Upload click to view
If the fuel bowl has dirty fuel like this, remove the main jet plugs (bottom of carb) to drain the fuel and rinse with clean gasoline or ether spray or carb cleaner. For more details, see Multiple Symptoms:Drain the fuel bowl.
North American Models
Carburator Models

| | | |
| --- | --- | --- |
| Year | Engine | Hitachi Model |
| 1971 | A12 | Hitachi DCG306 |
| 72-73 | A12 | Hitachi DCH306 |
| 74 | A13 | Hitachi DCH306 |
| 75-76 | A14 | Hitachi DCH306 |
Primary Main Jet - North American Models

| | |
| --- | --- |
| Year | Jet Size |
| 1971 | No. 98 |
| 1972 | No. 97 |
| 1973 | No. 95 |
| 1974 | No. 104 |
| 1975-76 California | No. 104 |
| 1975-76 | No. 102 |
| 1977-78 California Manual Trans. | No. 105 |
| 1977 | No. 104 |
| 1978 California Manual Trans. | No. 105 |
| 1978 | No. 104 |
| 1978 Federal | 5-speed No. 107 |
Main Air Bleed

| | |
| --- | --- |
| 71-73 | No. 80 |
| 74 | No. 65 |
| 75-77 | No. 95 |
| 1978 All California | No. 95 |
| 1978 Four-speed | No. 110 |
| 1978 Five-speed | No. 65 |
| 1978 Automatic | No. 95 |
Secondary Main Jet

| | |
| --- | --- |
| Year | Jet Size |
| 1971 | No. 135 |
| 1972-73 | No. 140 |
| 1974 | No. 145 |
| 1975 | No. 150 |
| 1976 | No. 145 |
| 1977-78 | No. 145 |
Secondary Air Bleed

| | |
| --- | --- |
| Year | Jet Size |
| 71-78 | No. 80 |
| 1977 California 5-speed | No. 60 |
Primary Slow Jet

| | |
| --- | --- |
| Year | Jet Size |
| 1971-74 | No. 43 |
| 1975-78 | No. 45 |
| 1978 non-California 5-speed | No. 46 |
Secondary Slow Jet

| | |
| --- | --- |
| Year | Hitachi Model |
| 71-76 | No. 50 |
1980 
FED 106 original 108 countermeasure [non-GFU]
CAL 107 original 109 countermeasure

Australia Model Specifications
Hitachi DCG-306 (G indicated manual choke)
NOTE: B310 A15 uses DCF-306, which differs from DCG as follows:
* vacuum secondaries, instead of counterweighted secondaries
* replaceable sight glass with O-ring
* modified choke fast idle system

Datsun B310
source: Gregory's
Controls
 Idle Cut Off Solenoid (anti-diesel valve)
 Servo Diaphragm
 Dashpot
Venturi
  primary, A12: 20 mm
  primary, A14: 22 mm
  primary, A15: 21 mm
  secondary, A12: 26 mm
  secondary, A14/A15: 27 mm
Main jet,
 primary, A12: 96
 primary, A14: 104
 primary, A15: 100
 secondary, A12: 150
 secondary, A14: 150
 secondary, A15: 145
Main air bleed
 primary, A12: 80
 primary, A14: 65
 primary, A15: 70
 secondary, A12: 80
 secondary, A14: 60
 secondary, A15: 80
Slow Jet
 primary, A12: 43
 primary, A14: 46
 primary, A15: 43
 secondary, A12: 50
 secondary, A14: 50
 secondary, A15: 70
Slow air bleed
 primary, A12: 220
 primary, A14: 170
 primary, A15: 100
 secondary, A12: 100
 secondary, A14: 100
 secondary, A15: 100
Power jet
 A12: 60
 A14: 60
 A15: 40

Japan Market Specfications
B110
16010-H1000 DCG306-1
16010-H1001 DCG306-1A (from '70-Sept.)
16010-H1002 DCG306-1B (from '70-Nov.)
16010-H1003 DCG306-1C (from '71-Jul.)
16010-H1004 DCG306-1D (from '71-Sept.)

Controls
* manual choke (DCG)
* idle adjust CAP (from '70-Sept.)

Main jet,
 primary, A12: 98 
 primary, A12: 97 (from '71-Jul.)
 secondary, A12: 135
Main air bleed
 primary, A12: 80
 secondary, A12: 80
Slow Jet
 primary, A12: 43
 secondary, A12: 50
Slow air bleed
 primary, A12: 220
 secondary, A12: 100
Power jet (Power Valve)
 A12: 60

B120
16010-H7802 -7803
16010-G1660 7804-7907
16010-G1615 7908-8109
16010-G2600 8110-8503
16010-G1900 8504-8910
16010-95W00 8910-

B210
16010-H5001 DCG306-2 
16010-H5003 DCG306-2A (from '73-8) with anti-diesel valve
            DCG306-5D with Anti-diesel valve
16010-H7802 A12S.V 7510-
16010-H7860 A14S.V
16010-H8200 A12.S,K 

¤