Hitachi D4R series Electronic Ignition distributors are used by E-series Datsun/Nissan, such as the E15 Pulsar. This can be modified for use in a Datsun 1200. It has a much-improved advance bearing plate, which was the bane of the 1974-1982 D4A points distributor, as well D4F and D4K EI distributors. This new D4R type uses a screw-on cap and improved rotor.
Overview
Also see: E-Series Distributor
E-series shares basic distributor features with A/J/E/L distributor (shaft diameter & length) but uses an L-series style tang drive instead of A-series gear drive. The hold-downs vary, otherwise the cast body is the same.
One-piece Ignitor & Pickup



Hitachi D4R type dizzy e.g. from N12 Pulsar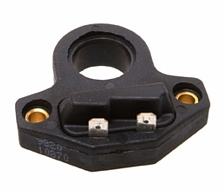 * Hitachi E12-61
* Nissan 22020-15M00, 22020-15M20
* NOTE: Hitachi D4N module looks similar 
  but has more than two connectors
* BWD CBE507 $110 O'Reilly Auto
* SMP LX515
** Nissan 22020-15M00 
** Honda 30120-PA0661, 30120-PH4005
* 12336248
* 30120PA0661
* 30120PH4005
* 491467401
* 8942433440
* 94243344
* E1922

Stator has only two poles (compared to the previous "teethed" stator with 4 poles) but the magnet appears to be stronger.
22163-15W00 STATOR
22136-D4700 PLATE ASSY-BREAKER
22162-15M01 CAP ASSY-DISTRIBUTOR
* 22162-15M02, 22162-15M03, 22162-15M04
22157-H9560 ROTOR-HEAD

Source Vehicles
Chevrolet S10/Blazer 1982-1985 1.9/2.0
GMC S15/Jimmy 1982-1985 1.9/2.0
Honda 1980-1990
Isuzu 1986-1995
Nissan 1983-1987 E-series, CA16DE
Subaru 1981-1989
22100-24B01 JDM Nissan March K10 with MA10S.AT (PK10) 8901-

Looks similar to E-series dizzy and engine. PLASMA is 1.0 liter range
D4R83
D4R83-30 Shaft

D4R83-36 Shaft
D4R83-36 Unit
Unknown
This looks like D4R electronic distributor. It was found in Australia:
This has the one-piece ignitor & pickup (Nissan 22020-15M00/22020-15M20)
Advance Bearing Plate
It has a simplified design compared to the earlier D4 distributors. The plastic bearing race contains 4 ball-bearings (up from 3) and slightly beefier design.
The bottom race is similar to the older Hitachi, but slightly smaller.

Photo Index