The Fédération Internationale de l'Automobile (FIA) is a governing body for racing rules. Datsun 1200 Group 1 FIA recognition includes twin-carb engine, rear spoiler, and overfender flares. Covers 2-door Sedan, 4-door Sedan and Coupe, but not van nor pickup.
History
日本自動車連盟 (Japan Automobile Federation) is the National Sporting Authority of Japan for F.I.A. recognition.
JAF T-139 V1 Recognition: Datsun Sunny 1200 B110
JAF T-139 V2 Added Variant: GX engine
JAF T-139 V3 Added Variant: Wheel Spacer
JAF T-139 V4 Added Variant: [coupe] Air Spoiler
JAF T-139 V5? Added Variant: Over Fender
JAF T-139 E-1 Evolution: 1972 model 

B110
PDF Pages 1-14
FIA listing: July 1970 (14 pages)
F.I.A. Recognition No. 5356
Group 1
Manufacturing started Nov 1969
5000 identical cars was reached on Feb. 1970.

* Car with no interior heating
* Wheelbase  2300 mm 90.55 in
* f track    1240 mm 48.82 in
* r track    1245 mm 49.02 in
* length     383 cm
* width      149.5 cm
* height     139.0 cm
* fuel tank  10.6 Gallon US
* Weight     635 kg (1399 lbs) with normal equipment, water, oil 
             and spare wheel but without fuel no repair tools.
* Jack point ground clearance 160 mm
* f seat weight 10 kg each
* f bumper   3.0 kg
* r bumper   3.7 kg
* wheels     12 in x 4 in weight: 4.2 kg
* steering   3.3 turns

Engine
* hp             68ps JIS @ 6,000 rpm
* max rpm        6,400 rpm (64 ps)
* max torque     9.7 kg-m at 3,600 rpm
* max speed car  150 km/hour
* comb chamber   36.6 cm3
* flywheel weight 9.5 kg
* Flywheel with all turning parts 13.1 kg

Camshaft
* valves      29 mm 1.14 in
* max lift    9 mm 0.35 in
* opens       BBDC 56 degrees +- 7 degrees
* closes      ATDC 12 degrees +- 7 degrees
* exhaust ports 26w x 28h with 3 mm radius +- 1.5 mm
* center ex port 69w x 28h
* intake ports 28/27 mm circle

Carburetion
* Carb Hitachi DCG306-1 down-draft
* Primary: 26 mm, Secondary: 30mm

PDF page 10
Added Coupe and 4-dr sedan
* weight    640 kg 1411 lbs

A12GX engine
PDF pages 21-24
Amendment March 1970 (4 pages)
JAF T139V-2
F.I.A. Rec. No. 5356/2/2V

Engine
* compression ration   10.0
* combustion chamber   29.1 cm3
* cooling fan diameter 33 cm
* valve opens       BTDC 20 degrees +- 7 degrees
* valve closes      ABDC 56 degrees +- 7 degrees
* valve opens       BBDC 58 degrees +- 7 degrees
* valve closes      ATDC 18 degrees +- 7 degrees
* Carb Hitachi HJE38W side-draft (two carbs), 38 mm bore, 29mm restriction (su)
* exhaust ports 27w x 29h ±1.5 mm tolerance
  
* intake ports 30mm x 39mm oval ±1.5 mm tolerance
  
* hp             83ps @ 6,400 rpm
* max rpm        6,800 rpm at that figure 80
* max torque     10.0 kg-m at 4,400 rpm
* max speed car  160 km/hour
* piston crown [flat]
* Exhaust Manifold outlets: 39 mm (±1 mm) X 2
* Inlet & Exhaust cams
  S = 20.9 mm (0.82")
  T = 15.0 mm (0.59")
  U = 30.1 mm (1.18")
* Silencer: Muffler and Resonator
* Combustion Chamber [peanut-shaped]

Album click to view
Album click to view
Album click to view
Album click to view
Overfender Flares
PDF pages 15-16
OVER FENDER Added for Group 2 (Not valid for Group 1)
Amendment June 1970 (2 pages)

Album click to view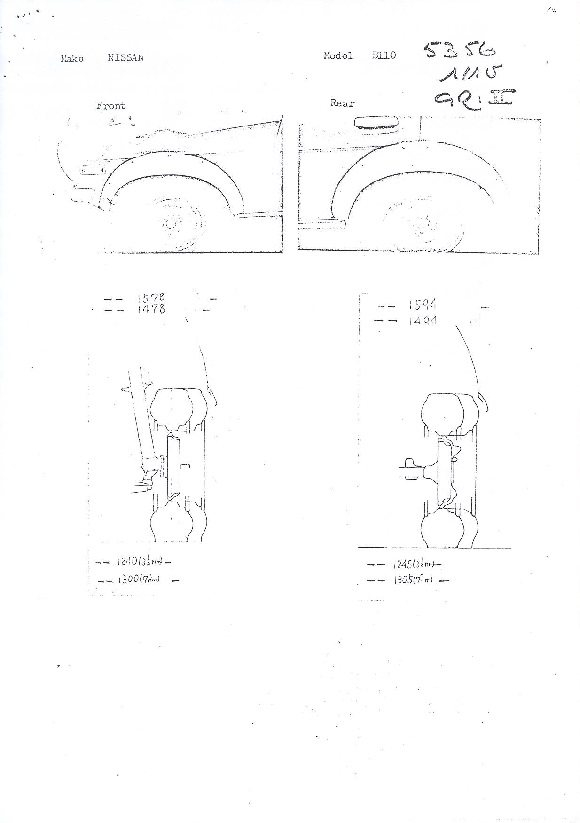 Album click to view
Wheel Spacer
PDF page 17
February 1971 Amendment (1 page)
JAF T-139 V3
F.I.A. Homol. No. 5356
Optional Part
Variant Wheel spacer (5 mm) [alloy]
Part Number 40209-A0220 [also homologated for KPGC10 Skyline and available in Nismo N10 Catalog]


Album click to view
Coupe Spoiler
PDF page 18
February 1971 Amendment (1 page)
JAF T-139 V4
F.I.A. Homol. No. 5356
Variant Air Spoiler Part Number 02070-00101
Not Valid For Group 1 Only

Album click to view
1972 Facelift
PDF pages 19-20
Extension 3/1E 02/07/1972 BODYWORK,INTERIOR (2 pages)
JAF T-139 E-1 - 31 March 1972
F.I.A. Homol. No. 5356 - amendment application started DEC. 1971
modifications: normal evolution [Covers the 1972 Facelift minor changes]
* from chassis B110-341001, engine A12-000001
Stamp and signature of the JAF: Hiroshi Niwayama

Album click to view
Album click to view
[2-door sedan]
Photograph
A, 3/4 view of car from front [standard version]

B, 3/4 view of car from rear

C, Interior view



4 DOOR SEDAN
Photograph A, 3/4 view, front [GL with no hubcaps]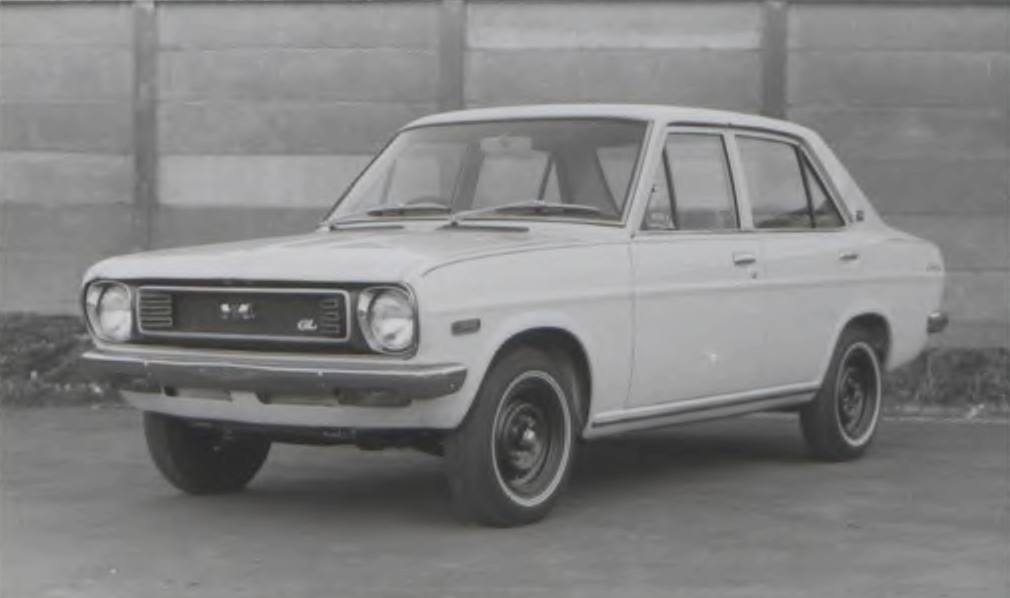 Album click to view
B, 3/4 view, rear [GL with Sports badge]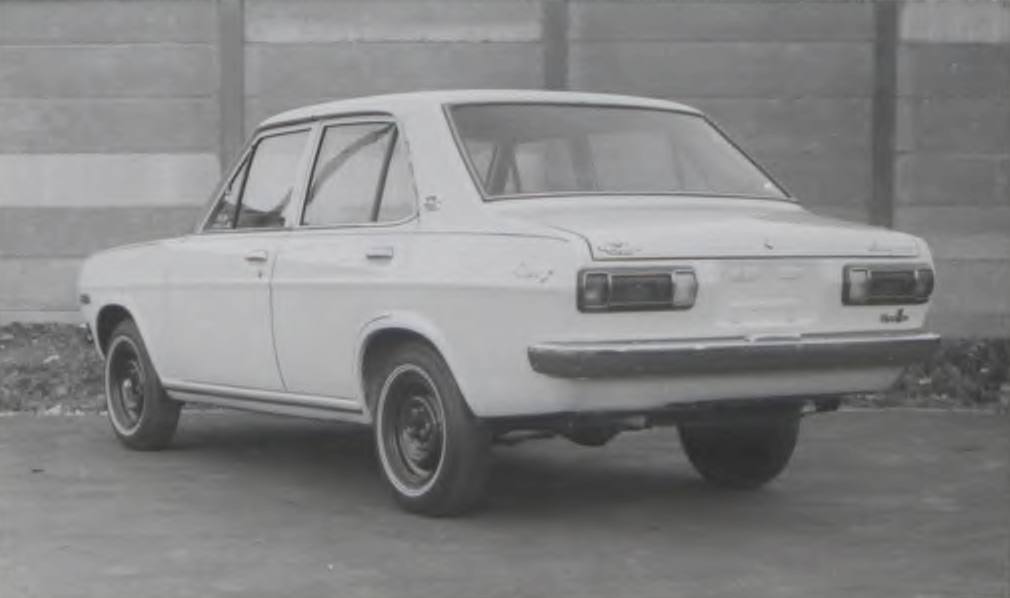 Album click to view
COUPE MODEL (KB110)
Photograph
A, 3/4 view, front [GX with no hubcaps]

B, 3/4 view, rear [GX]


1200 Truck Group B
B120 Sunny Truck homologation for Group B racing (1984-1990)

B-256
¤