Datsun 1200 uses a traditional V-belt to drive the engine accessories. This is commonly called the "fan belt" because it drives the radiator fan on the water pump.
Minor Maintenance
Check the belt slack between the alternator and the fan pulley and adjust it. Grab with finger and thumb (in-between the pulleys) and see how far it moves with moderate effort. It should move about 1/2 inch.
Fan belt slackness: 0.394 to 0.591 in (10 to 15 mm)

To adjust the fan belt tension, loosen the Alternator adjusting link bolt and adjust the tension by moving the alternator. Use a pry bar such as a large screwdriver to move the alternator, and while applying pressure, tighten the adjusting bolt. Be sure to apply pressure on the first section of the case (next to the pulley). Do not pry against the iron portion of the alternator.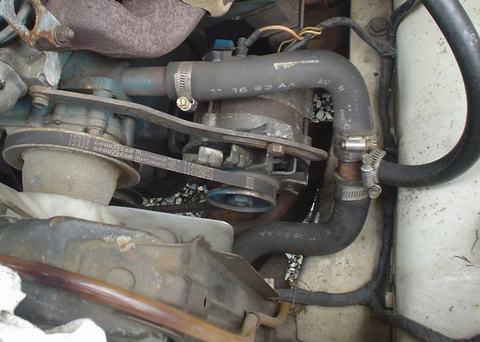 Album click to view
To loosen the alternator means loosening three bolts: The adjustment bar bolt, and the two on the bottom of the alternator bracket.
1970-1973 engines (with left-side alternator)

Album click to view
1974-up engines (with right-side alternator)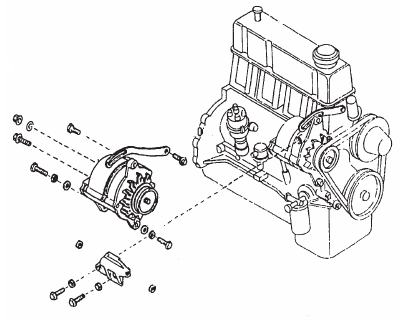 Album click to view
Part Numbers
1970-1973 Datsun 1200 used a fan belt of 838 mm.
B110 (1970-1973) FAN BELT buy at Rockauto.com
* V-belt, 29/64 inch by 33.5 inch length (838mm). About $6
  * Nissan 11720-18002ᴳ BELT-FAN L=838 (838 mm length, 33.0 inches)
  * AC Delco 15335ᴳ 33.5" x 0.41" (851 x 10 mm)
  * FVP 15330ᴳ 33.5" x 0.469"
  * Dayco 15335ᴳ 33.5" x 0.44"
  * Drive-Rite $5.99 USD partsamerica.com
  * Gates 7335ᴳ 33.5" x 0.41"
  * Gates 9330ᴳ XL or Green Stripe Belt 1-3 (177S) (12mm x 848mm/33.4 inch)
  * Goodyear Gatorback 15335ᴳ 11AVO840 0535 97 (7/16 x 33.0 inch)

B110 USA Air conditioning Compressor Belt 45"
* V-belt (USA AC models) 45 inches ~$10 
  * Dayco 17450DRᴳ replaces 11720-E4610ᴳ/11720-E4615ᴳ
  * Continental 17455MKᴳ 45.6" x 0.53" 
    replaces Nissan 11720-06J01ᴳ/11720-06J02ᴳ, 11720-43G01ᴳ/11720-43G02ᴳ/11720-43G03ᴳ
  * FVP 17455ᴳ 45.6" x 0.531"
  * Roadmax 17450APᴳ 45.6" x 0.5" (1160 x 13mm) replaces Nissan 11720-47600ᴳ

33.5"/838mm

Album click to view
NOTE: B210 and B310 models are different. See Water_pump#Pulleys for a comparison of various fans, pulleys and belts.
B120 Datsun 1200 1976-1994 FAN BELT (970-980 mm)
11720-77701ᴳ BELT-FAN&ALTERNATOR (L=980 BANDO) 7510-8503
11721-H7200ᴳ BELT-FAN&ALTERNATOR (COOLER USE L=970 BANDO) 7804-8109
11721-H7201ᴳ BELT-FAN&ALTERNATOR (COOLER USE L=980 BANDO) 8110-
11720-77702ᴳ BELT-FAN&ALTERNATOR (L=980 BANDO) 8504- $15.52
11721-H7210ᴳ BELT-FAN&ALTERNATOR (COOLER USE L=975 ミサボシ) 8504-

B120 Compressor Belt
* 11920-H1000ᴳ 7804-7807 L=810
* 11920-G1615ᴳ 7808-     L=814

1978-1979 Datsun 1200
* Fan Belt
* A/C Belt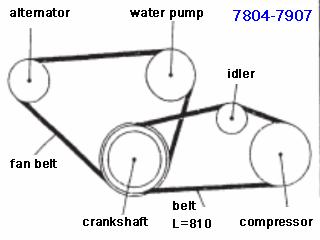 Album click to view
980mm 1720-77701

Album click to view
Album click to view
1979-up Datsun 1200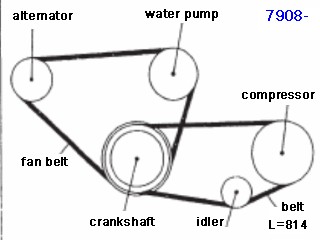 Album click to view
Interchange
USA interchange
* 1971-1973 Datsun 1200
* 1962-1967 AMC six w/manual steering
* 1967-1969 Chevrolet w/o brake booster
* 1999-2002 Daewoo 1.6 a/c belt
* 1985-1988 Dodge Colt A/C
* 1990-1993 Hyundai Excel A/C
* 1982 Mazda 626 A/C w/o power steering
* 1977 Mazda 8080 air pump
* 1985-1988 Mitsubishi Mirage A/C
* 1980-1985 Nissan 720 A/C [some]
* 1982-1983 Nissan Maxima 2.8 power steering pump
* 1985-1988 Plymouth Colt 1.5 A/C
* 1976-1979 Renault 
* 1986 Camry 2.0 
* 1980 Toyota Pickup air pump
* 1969-1975 Volvo 164 power steering pump

Upgrades
You can fit a high-tech cogged-tooth belt:
Or, a shoelace can be used in a pinch:

Album click to view
¤