The Japanese Classic Car Show held annually in Southern California since 2005 is the Premier Japanese Car show in the United States. It occurs every October. Count on a half-dozen 1200s and 300 or more cars of all Japanese makes.

Album click to view
Official Web Site: http://www.japaneseclassiccarshow.com
See old-school Skylines!
See Toyota GT2000 and other rarest of the rare cars
See Datsun 1200 Trucks!
Discussion: JCCS 2009 Oct 3 Irvine, California USA

2009 Recap
5th ANNUAL JCCS October, 2009 dawned early Saturday morning. By 7 am there was a line of cars waiting. It was 83 degrees blue-sky clear. If that's too hot for you (it felt hotter to me), JCCS was held on the grounds of Wild Kingdom water park with water slides and all.
Speed Historix Vol. 01 (スピード ヒストリクス) - JCCS 2009 report
Ten Datsun Sunnii showed, including 1200 Coupes & 2-dr Sedans, a 1200 Pickup, a B210 Coupe and a Datsun 1000 2-dr sedan.
7:25 AM

KA-powered 1200 Coupe

Chino's 1200 Coupe

ddgonzal's 1200 Pickup

Duncan's 1200 GTR
> G = GL
> T = 4-speed
> R = 2-dr sedan

SR20DE Powered Datsun 1200 Coupe

Bernie's 1200 Sedan

Moises' 1200 Sedan

Ang94541's 1200 Sedan

Photo Galleries
2008 Recap
Saturday October 12, 2008: JCCS moved to Hidden Valley Park, Irvine because more cars, cars, cars! Seven Datsun 1200s showed up among the hundreds of vintage Japanese steel.
Discussion

Angelo's dark green 2-dr sedan
SR20 powered Green Coupe
White/Green BRE-style 1200 sedan
Moises' Bright Green sedan
Duncan's white coupe
primer black Coupe
The mighty Datsun 1200 GTR showed up!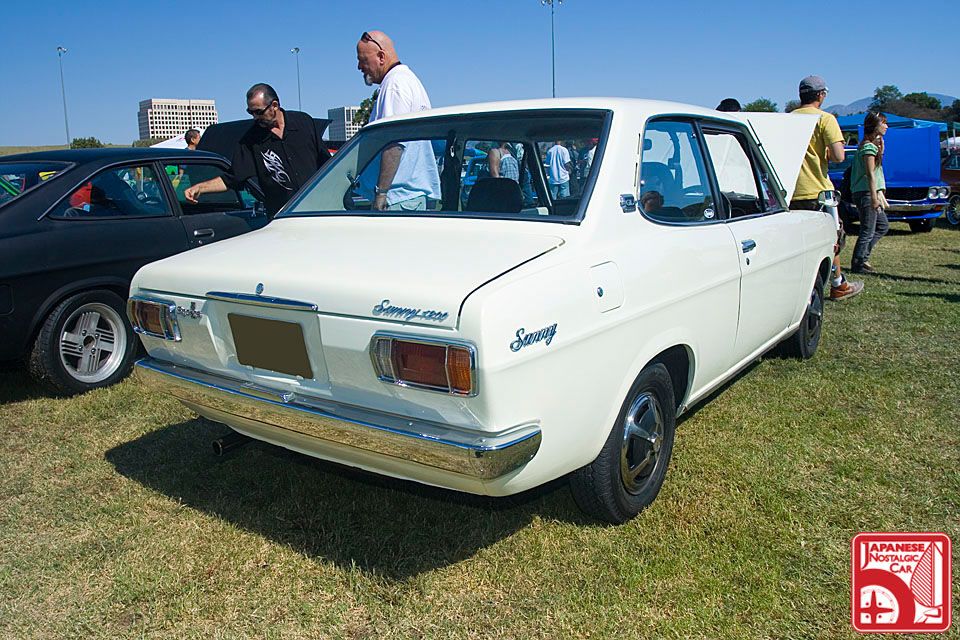 Galleries
2007 Recap
Saturday, October 6, 2007: Long Beach California (Queen Mary Park)
Eight 1200s showed (3 2-dr Sedans, 4 Coupes, 1 Truck)

Best 1200: Duncan
works1200's 2-dr Sedan: America's only CA18DET Datsun 1200
Discussions
Discussion in Main Forum:
Other sites:
Photo Galleries
[1] Jose Santos' Datsun 1200 Truck
Sunny pickup of Masa from G Speed - Modify Open-Class 3RD place

Videos
JCCS 2007 Official DVD:
Japanese Classic Car Show 2007
Japanese Classic Car Show '07
2006 Recap
See JCCS 2006 2nd Annual
2005 Recap
See JCCS 2005 1st Annual
¤