There are currently many Datsun 1200s in the United States of America. However, being such a large country -- third largest by area and population -- 1200 owners are relatively few and far between. A total of 133,302 new Datsun 1200s were sold in the USA during the years 1971-1974. Only coupes and sedans were sold in this country.
Last Wrecker Sitings
Mar 8, 2009: Coupe at LKQ on Columbia Dr, Portland, Oregon USA
Hawaii
Vintage cars are rare on the islands probably due to salt air corrosion problems. However, there are these Datsun 1200s in Hawaiiᵂ:
Ron Freita's 1200 coupe drag race car on Maui, a KA24(?) turbo running at 11.9 seconds, now with SR engine
Datsun1200.com user search for Hawaii club members: hawaii Datsun1200.comᴳ
Pacific Northwest
The Pacific Northwest region also includes British Columbia, Canada.
Alaska
Alaska currently has one known Datsun 1200. See B110 in Alaska.
Idaho
Idaho is infamous for the fire that consumed Dan's Auto Farm lot, destroying two Datsun 1200s in the year 2003.
See Idaho Search: Datsun1200.com
Oregon
Oregon, oddly enough, is one of the most active areas in the United States for Datsun 1200s. There is a vibrant racing community including rally, road racing and drag racing.
Plasma Boy Racing Electric 1200's White Zombie - Electric 1200 Best ET 12.151 @ 106.25 mph Blue Meanie - Another electric 1200
The Portland metro area, which includes Vancouver, Washington, is the center of activity. It annually hosts the largest Datsun meeting in the United States: Blue Lake and Canby Datsun Meets, with over 200 cars on occasion.
See: See Portland Search: Datsun1200.com
Montana
There are no known Datsun 1200s in Montana at this time.
Washington
Washington State, not to be confused with [wikipedia:Washington_D.C.|Washington D.C.], is on the Pacific ocean north of Oregon and south of Canada. Washington is a hotbed of Datsun 1200 talk. Most of it coming from club member [1]. He is an expert at bench racing Datsun 1200s.
There are at least a half-dozen 1200s in the Seattle metropolitan area, including daily drivers from [2] and [3].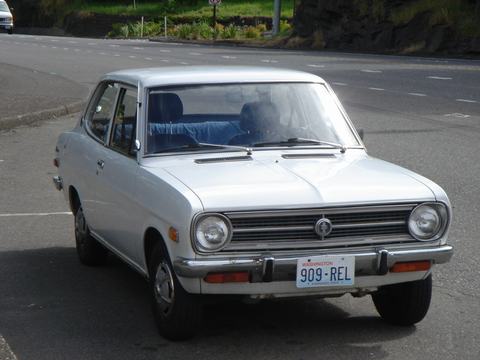 ddgonzal's two-door sedan
A notorious Seattle-area 1200 is Ernie's Twin-Weber Downdraft 2-door sedan.
See: See Seattle Search: Datsun1200.com
Western Washington, aka "the wet side" (land west of the Cascade mountain range) is close to salt water and prone to rust. Consequently most of the original 1200s have rusted away and have been sent to the crushers.
Eastern Washington, the two-thirds of the state is mostly desert. Some primo rust-free 1200s may be hidden in barns out there somewhere.
The most B110 activity in Washington is centered in the Vancouver USA area, part of the Portland Oregon metropolitan area.
Southwest
The famous "rust free" climate in most parts of the Southwest has helped preserve many vintage automobiles. Likely there are more Datsun 1200s in California than in all other states. It is the most populuous state, also historically the most friendly to import cars, so Datsun 1200s sold well there.
Texas
There are a few guys in Texas who have 1200s, between them at least 10 of them.
California
New Mexico
Nevada
Puerto Rico
The US island territory of Puerto Rico is rich in Datsun 1200s. They are highly esteemed as lightweight drag racing vehicles.
Also See:
Events
See Events
B120s in USA
There are some eight or nine Sunny Trucks in USA. See B120s in USA
Searches

Alabama
Alaska
Arizona
Arkansas
California
Colorado
Connecticut
Delaware
Florida
Georgia
Hawaii
Idaho
Illinois
Indiana
Iowa
Kansas
Kentucky
Louisiana
Maine
Maryland
Massachusetts
Michigan
Minnesota
Mississippi
Missouri
Montana
Nebraska
Nevada
New Hampshire
New Jersey
New Mexico
New York
North Carolina
North Dakota
Ohio
Oklahoma
Oregon
Pennsylvania
Rhode Island
South Carolina
South Dakota
Tennessee
Texas
Utah
Vermont
Virginia
Washington
West Virginia
Wisconsin
Wyoming
Washington, D.C.
American Samoa
Guam
Northern Mariana Islands
Puerto Rico
U.S. Virgin Islands