The Timing Chain drives the Camshaft.
Also see: Timing Cover
Overview
We have seen a couple of single link timing chains on A12, which is the original A10 single row chain. Insist on the factory specified double-chain, like Nissan did for later A10s.
NOT GOOD

A rattle can be the trait of a stretched timing chain. Pinging/pinking has also often been mistaken for timing chain rattle

A-series engine has a short timing chain -- and with an automatic adjuster -- it rarely stretches or goes bad.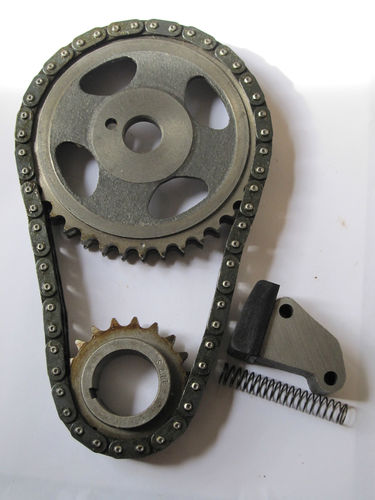 Compare to the loooooong chaing used in the Nissan KA24E engine:
click

KA24 often has timing chain problems
Replacement
Alignment
Check the cam gear alignment. It should be exactly like this: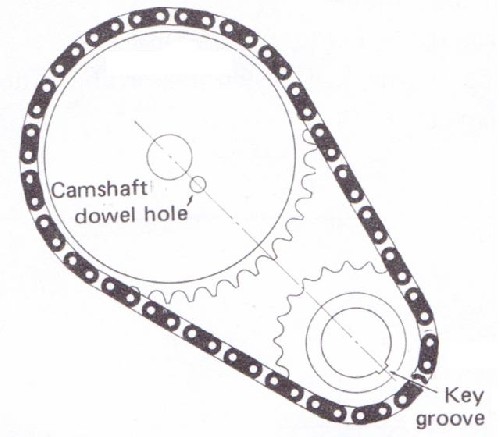 If it is not, see Camshaft#Timing.

http://datsun1200.com/modules/myalbum/photos/thumbs/3640jpg
Part Numbers
The timing chain kit (timing set) includes: Cam, Crank, Chain, Tensioner
Cam Sprocket
(38 teeth)

Chain
Same as SRL311 with U20 engine (for Jackshaft)
Tensioner
Crank Sprocket
19 teeth
USA
B110 RAW LIST
13024-H8500 SPROCKET-CAMSHAFT
13024-18001 SPROCKET-CAMSHAFT
13082-18000 BOLT-CAMSHAFT SPROCKET
13030-18000 WASHER-CAMSHAFT
08915-2401A WASHER-LOCK
08915-14010 WASHER-LOCK
13028-18001 CHAIN-CAMSHAFT
13070-18001 ASSY-TENSIONER CHAIN
08120-63510 BOLT-FIXING CHAIN TENSIONER
08915-13610 WASHER-LOCK FIXING CHAIN TENSIONER

Adjustable Cam Gear
Fitting an adjustable Camshaft gear lets you fine tune the timing. The cam vendor's recommendations are usually best, but retarding the cam a degree or two will generall shift the torque curve higher up in the RPM range. Advancing the cam will (usually) lower the power curve a few RPM.
Adjustable gears come in a few basic kinds:
Multi-key. Rollmaster had one with nine adjustible keys in the crank sprocket
Multi-hole. Using different holes
Variable: Slotted holes allow a continuously variable range

Rollermaster