The A15 is a 1488cc) engine produced from 1979 through 2209 (it is for sale in the 2009 Nissan C22 Vanette in Malaysia). The stroke was increased by 5 mm from the A14 engine's 77 mm to measure 82 mm. It produces 85hp. It used a different block casting but the same 'tall-block' deck height as the A14. In the Roadstar it is capable of 49 mpg (17,3 km/L). A fuel injected version of the A15 (A15E) was offered in Asian markets.
Identification
Notice how the block extends above the timing cover by about 1 inch
Horsepower
From 67 to 80 HP
USA A15 lo-power fuel economy version with Automatic
Engine Family A140F
67 HP @ 5200 RPM (SAE)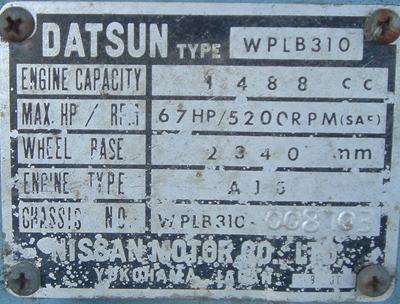 Plates after 1980 do not list the Horsepower.


A14 vs A15
A15 uses the second A14 block casting (same block as A14):
11010-H9700 A14/A15 BARE BLOCK 76mm/2.99' bore size

Bore: 76 mm
Stroke A15: 82mm
Stroke A14: 77mm
Pin Height: The A15 piston has a 30mm pin to crown height, while the A14 has a 32.5mm height
Earlier A14 blocks were slightly different. The A15 oil pan has slight bumps in the side to allow the larger crank to swing without touch the pan sides.
Comparo: Early A14 block with Late A14/A15 block
Applications
1974-1978 Nissan (commercial) forklift (Asian markets)
Datsun B310
1979-1982 Datsun B310 (rear-wheel drive) a.k.a. 210, Sunny or 150Y
1980-1982 Datsun N10 (front wheel drive) a.k.a. 310, Pulsar or Cherry

Japan
Nissan Vanette C120 June 1980- November 1988
Nissan Vanette C22 September 1985- June 1991
Nissan Vanette SS van & SE truck (S20) April 1994- 1999
Malaysia
New Zealand
Sportstar and Roadstar utes (B120) from Nissan New Zealand 1980-1985
Pistons
North America
B310
PISTON SET-WITH PIN

STANDARD
12010-H9714 A15 CAL	-0780
12010-H9802 A15 CAL	0880-
12010-H9704 A15 FED	-0779
12010-H9714 A15 FED	0879-0780
12010-H9802 A15 FED	0880-
12010-H9714 A15 CAN	0879-    	  	

+0.5 mm oversize
12010-H9804 (0.50 O.S.) A15 USA	0880-
12010-H9716 (0.50 O.S.) A15 CAL	-0780	
12010-H9706 (0.50 O.S.) A15 FED	-0780	
12010-H9716 (0.50 O.S.) A15 CAN	0879-0378

+1.0 mm oversize 
12010-H9806 (1.00 O.S.) A15 USA	0880-
12010-H9718 (1.00 O.S.) A15 CAL	-0780
12010-H9708 (1.00 O.S.) A15 FED	-0780
12010-H9920 (1.00 O.S.) A15 FED(MAN)	-0780
12010-H9718 (1.00 O.S.) A15 CAN	0879-    	

N10
12010-H9802 A15 STD
12010-H9804 A15 +0.5
12010-H9806 A15 +1.0

Nissan Malaysia
Brand new 2010 C22 Nissan Vanette.
Vanette Specs
C120 JDM - H89 Type A15
11041-H8904 HEAD ASSY-CYLINDER A14 Non-Emission Type
* 13201-H6200 VALVE-INTAKE 37mm
* 13202-H6200 VALVE-EXHAUST 30mm
11044-H7202 GASKET-HEAD 76mm
14035-05H01 GASKET-MANIFOLD <> 14035-H8901
* Wet Type
* New Bolt Pattern
13001-H6200 CAMSHAFT A15.K -8209 [248/256 typical use: A14/A15]
13001-H9800 CAMSHAFT A15.(V,T) -8209 [244/248 typical use:emission]
13001-H9800 CAMSHAFT 8209-

C22 JDM - 
11041-G5100, 11041-G5101 CYLINDER HEAD 
* Intake valves: 37mm 13201-H6200 
* Exhaust valves: 30mm 13202-H6200 
14035-05H01
* Wet Type
* New Bolt Pattern
13001-H9800 CAMSHAFT 
* 244/248 Duration

Photo Index
Nissan A Engines: Overview | A10 | A12 | A12A | A13, old | A13, new | A14 | A15