Timeline
1980 Model B120 is fitted with A14 engine
1982 introduction of B140 replaced B120
1985 introduction of raised roof about 75 cm
1985 November introduction of front disc brakes
1990 facelift, rectangular headlights & grey interior
2002 February facelift
2005 January facelift with Nissan Oval grille emblem
2007 November production ends
2009 September sales end
Champ vs Standard
Standard 1400 Bakkie has the no frills, hard working muscle you need, it gets the job done.
Standard 1400

Champ gives you that little extra without compromising its under-the-skin durability. Rugged, sporty styling is emphasised by spotlamps, decals, blackouts and tinted windscreen. Inside you'll feel the comfort of individual bucket seats, cloth upholstery, a rev counter and a soft grip steering wheel.
Champ 1400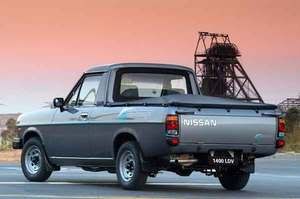 Roof
Low-roof 1400 next to High-roof 1400

1982-1985: Low roof B140
1986-2007: High roof B140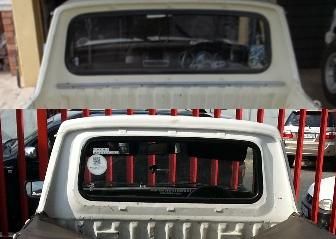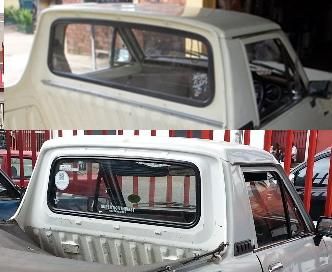 Badges
'Nissan 1400' fender sticker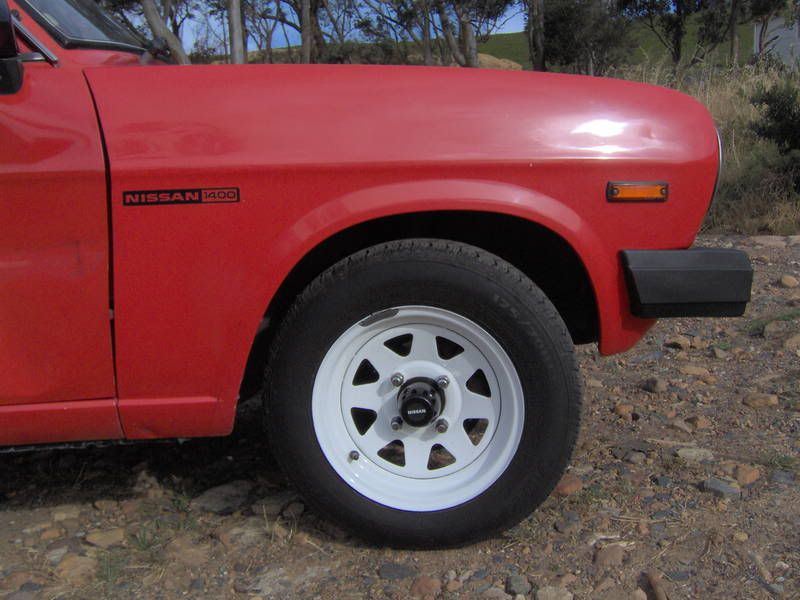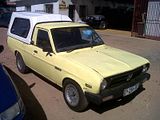 'Datsun 120Y'

'DATSUN'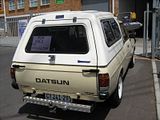 Extra-large

Grille
1980~1983 'Datsun' and 'D' badges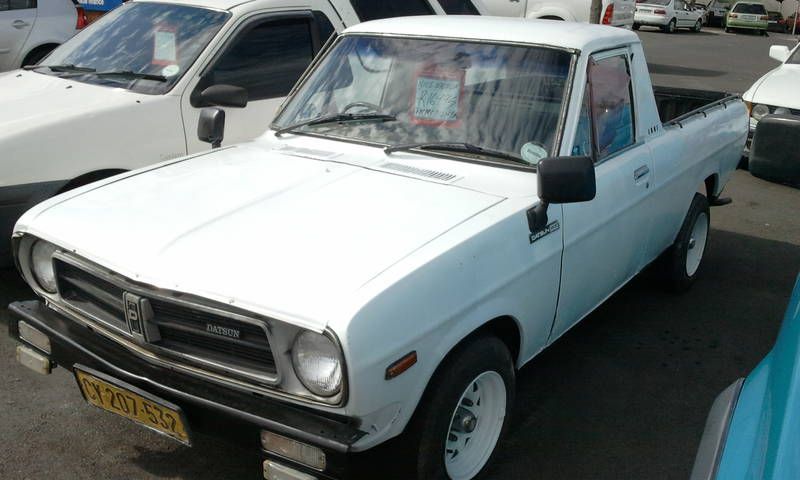 1989 Square Headlight Grille introduction
Center 'NISSAN' Grille (2000-2003?)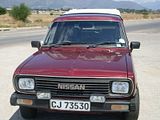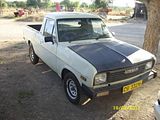 Indicator
Small

Bench Seat
B140 carried over the bench seat from the previous 120Y bakkie.
Wheels
Champ wheels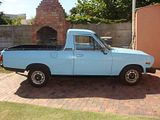 Standard wheels

Comparison
2004

2005 model


Large vs small indicators
Different Champ decals

2002 Model
2004
From Nissan web sites, 2004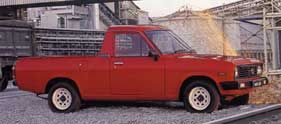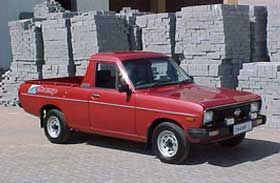 NISSAN 1400
STANDARD Price R 70,490
CHAMP Price R 75,490
Release Date 200202
Discontinued Date 200412

Dimensions and Weight 
STANDARD Load 591 
CHAMP Load 588 
Length 3845 
Ground Clearance 160 
Height 1425 
STANDARD Licencing Mass 758 
CHAMP Licencing Mass 772
Width 1495 

Engine and Gearbox 
Engine Layout longitudinal inline 4 
Cylinders 4 
Aspiration natural 
Valves ohv 2 valves per cylinder 
Bore / Stroke 76.0x77.0 
Capacity 1397 
Compression Ratio 9.4:1 
Ignition Type electronic 
Gearbox Details 5 speed manual 
Number of Gears 5 
Automatic no

Maintenance and Warranty 
Oil Change Intervals 15000 km 
Service Intervals 30000 km 
Warranty Period (Months) 12 
* Warranty 1 year unlimited km
* optional maintenance plans from 3 year/50000km to 3 year/150000km 

Performance 
Fuel Capacity 50 
Fuel Consumpsion - Highway 7.13 
Fuel Consumpsion - Urban 12.26 
Consumption Annual Average 9.9 
Fuel Type leaded/unleaded 
Fuel Supply carb. dual-barrel downdraught hitachi 
Acceleration 0-100 Final 13.7 
Top Speed Final 152 
Power Output 47kw@6000 
Torque 97nm@2500 
Limited Slip Diff no 
Towing Capacity (KG) 758 STANDARD
Towing Capacity (KG) 772 CHAMP
Turning Circle (Meters) 8.2 

Peripherals and Accesories
Fog Lamps - Front yes, CHAMP
Air conditioner no 
Radio no 
Metallic Paint option 
Options Group nis140001 
Rim Size - Front 4j 
Rim Size - Rear 4j 
Drive Wheels rear 
Wheel Base 2300 
Number of Wheels Driven 2 
Tyre Size - Front 155 sr12 
Tyre Size - Rear 155 sr12 

Front Suspension 
independent struts, coils, stabiliser bar, dual acting telescopic shocks 
Rear Suspension live axle, semi-elliptical leaf springs, telescopic dual acting shocks 
Steering Type recirculating ball 

2005 Model
NISSAN 1400
STANDARD Price R 70,490
CHAMP Price R 75,490
Release Date 200501
Discontinued Date 200909
small indicators

Exterior Colours
2007
CHAMP Base Price R 75,490.00 (incl VAT)  
Maximum Power 47 @ 6000 kW at r/min 
Maximum Torque 97 @ 2500 Nm at r/min 
Power To Mass Ratio 60.88 W/kg 
Acceleration 16.22 sec (0-100 km/h) 
Max Speed 146 (km/h) 
Tank Capacity 45 litre 
Fuel Range 476 km 
GCM 1750 kg 
GVM 1360 kg 
Ground Clearance 160 mm 
LoadBox 1518x1285x415  
Metallic Paint Option Optional  
Metallic Paint Option Price R 1050 (incl VAT) 
Net Load Capacity 591 kg