As in the United States, only Datsun 1200 coupes and 2-dr sedans were sold in Canada. In the west, Vancouver Island has a few Datsun 1200 trundling around. The center of activity is in Victoria (capital of BC) home of the Vancouver Isle Datsun Enthusisasts club. On the mainland across from Vancouver Island is the metropolition area of Vancouver, BC, where a few more Datsun 1200s are to be found. In other provinces there are a few Datsun 1200s.
See also: 
* Datsuns For Sale
* Americas

Events
Northwest Nissans annual meet: September
Vancouver Island Meet: May
Click here for current NW events: Bleach Garage
Notable Datsun 1200s
In the great plains, Lethbridge Aberta has one Datsun 1200 2-dr sedan.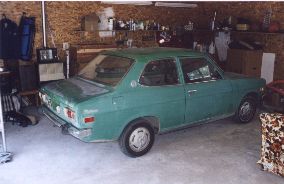 In Victoria there is a fantastic 4AGE-powered 2-door sedan:

In Ontario, a nice 2-dr sedan is being restored.


"Alice" - 1972 Datsun 1200 coupe in Quebec
Search for Canada on Datsun1200.com.
Club Members
Search for Canadian Datsun1200.om club members
Alberta (AB)
British Columbia (BC)

Manitoba (MB)
Northwest Territories (NT)
Nova Scotia
Ontario (ON)
Saskatchewan (SK)
Quebec (QC)
Datsun 1200s for Sale
See 1200s For Sale
Parts
Some parts are available at your local Nissan dealer. For others, e-Bay is your friend. Take a look at the Parts Sources article.
Datsun 1000
Unlike the United States, Datsun 1000s (B10) were [sold in Canada]. The Datsun 1000 /Sunny was not marketed in the US in any form, although it was sold in Canada.
Subwoffers in the Vancouver metro area has a fine condition Datsun 1000 (B10) 2-dr sedan:

quote:

---

I live in canada and me and my mechanics teacher both have 1970 datsun 1000's with a15's.

---