The Datsun 1200 car was made by Nissan Motor Co., Ltd.. Why "1200"? Because it had an engine size of approximately 1200cc. In Japan it was known as "Datsun Sunny 1200". The car was Nissan chassis code B110. It was sold in Japan 1970-1973, North America in Model years 1971-1973, New Zealand to 1974, and South Africa to 1976.
Overview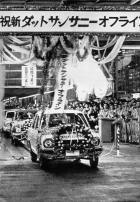 First B110 off the line, 1970
Datsun 1200 was produced in these body styles:
2-Door Sedan


2-Door Wagon


Truck (pickup)


Market Names: Sunny, B110, 1200
The Sunny name was chosen by a contest in 1966. 8 million entries were received and the name was announced 19 February 1966 at the Sendagaya Tokyo Metropolitan Gymnasium.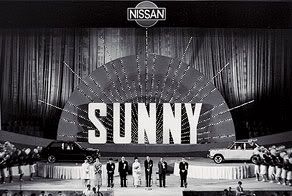 1st-Generation Sunny (Datsun 1000)
B110 is the 2nd-generation Sunny and has different names in different markets:
Japan & Aisa markets: Datsun Sunny 1200
Australia: Datsun 1200
USA: Datsun 1200
Finland: Datsun Finn
"Sunny" is the name used in Japan and some other countries for all B-series (sub-compact) vehicles, including:
1967-70 B10 (Datsun 1000)
1971-73 B110: Datsun 1200
1974-78 B210: Datsun B-210 (USA) or 120Y (many markets)
1971-up Datsun B120 and its derivatives B121/B122/GB122/Nissan B140 (Sunny trucks)
1979-1982 Datsun B310: Datsun 210 (USA) or Sunny (ANZ) or 120Y/130Y/140Y/150Y (various markets)
1983-present front-wheel drive [Sunny/Sentras] (B11-B15)
Nissan's Sunny was the perennial rival for Toyota Corolla. In some years Sunny sold more, other years Corolla. Sunny was generally always a bit lighter, but Corolla had more engine options.
For a more detailed history of the Sunny family, see the History section at http://RatDat.com or Nissan_Sunny at wikipedia.org.
For a more detailed history of Nissan/Datsun, see the History section at http://www.nissanfanseite.de or Nissan at wikipedia.org.
Model Years Produced
The "Datsun 1200" line has been produced from Model Years 1971 to 2006 (so far ...). 1971-1973 was the regular run for the Coupe, Sedan and Wagon production.
NOTE: Model Years (MY) generally runs from October to September. So the 1972 MY was from Oct 1971 to Sep 1972
| | |
| --- | --- |
| Datsun 1200 type | Model Years |
| Sedans, Coupes and Wagons (B110) | 1971, 1972, 1973 |
| Datsun 1200 Ute/Truck (B120) | 1971-1986 |
| Datsun Sunny Truck/ute (B122) | 1987-1994 |
| Datsun Bakkie ute (Nissan B140) | 1987-present |