A gasoline engine only needs the choke (strangler) while warming up. When the engine is fully warmed, the choke must be fully off for correct operation.
Usage
Manual Choke
Automatic Choke
Automatic choke was first fitted to 1972 Datsun 1200 for North America market (Canada & USA). Fitted to Japan market Datsun 1200 for 1976.
Starting Procedure with Automatic Choke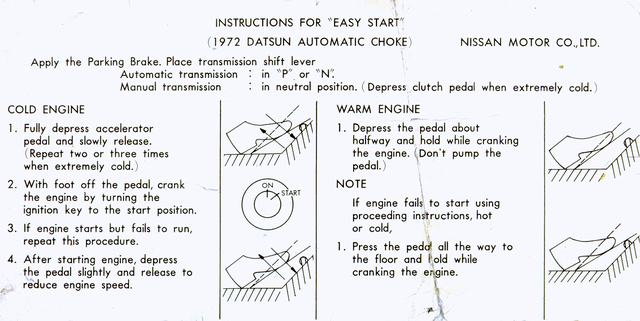 Album click to view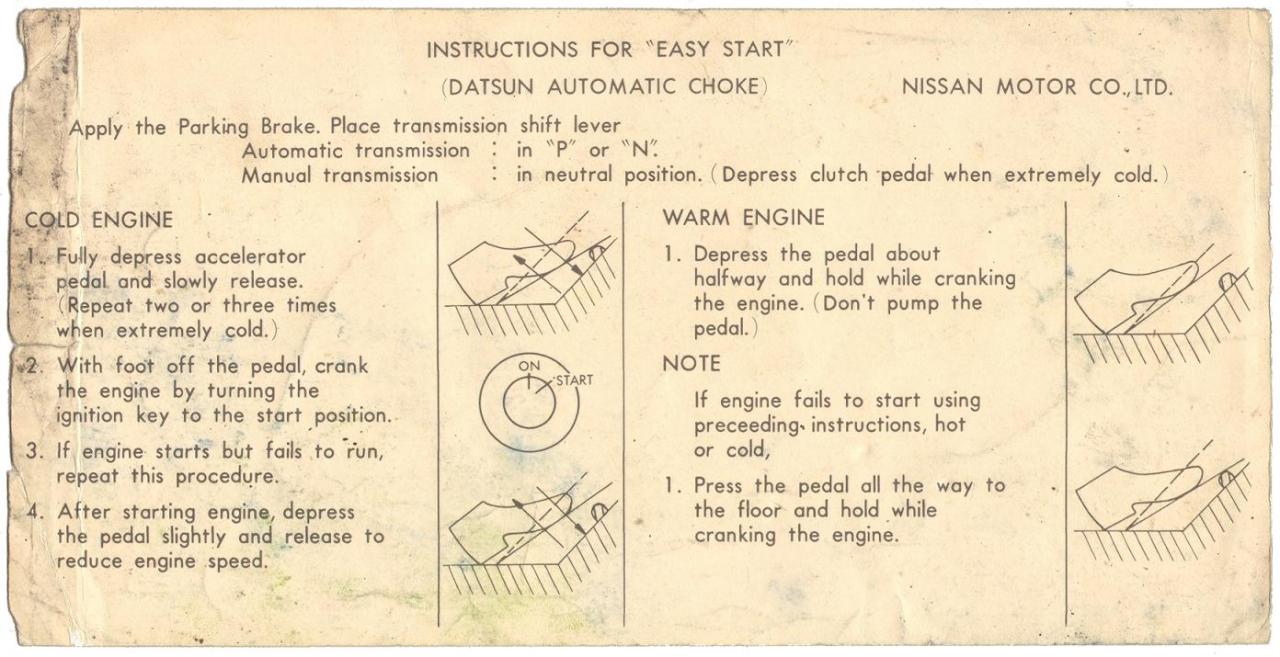 Album click to view
Operation
Here is what to expect from a choke:
Choked fully closed When Engine is Cold
Manual
With the dashboard Choke knob pulled all the way out, the choke butterfly on the carburetor should be fully closed.
In normal operation, only when the engine is cold should the choke be partially closed (knob pulled out)

Automatic
With engine cold, moderate temperatures, the butterfly should close 100% (open throttle slightly to 'set' it)
Choke fully open when Engine is Warmed Up
For a manual choke (cold or hot engine), with the dashboard knob pushed all the way in, the choke butterfly should be fully open
For an automatic choke (engine fully warmed up), the choke butterfly (looking down into the carb) should be fully open, as in the bottom part of this photo:

Album click to view
bottom: choke fully open
After warming up fully, if you manually close the choke butterfly, then the engine shouldn't idle correctly.
It should idle nicely with the choke open
It it works fairly good partly closed, you have a vacuum leak somewhere
Choke Gradually Opens While Engine Warming Up
Manual Choke: Gradually push the knob in to open the choke butterfly. If you push it in too far, the engine may stall. If out too far, the engine "chugs" (runs rich). Experiment a little. Your goal is to make it run it's best. You will need to push the knob gradually in every 30 seconds or so until it runs well fully close (knob pushed to dash)
Automatic choke: as soon as the engine starts vacuum should pull the choke open about 1/8 inch, by the Choke pull-off diaphragm. Otherwise, the engine "loads up" (runs rich) immediately after starting and might even die again.
Specifications
Original 1972 automatic choke
8.6 - 9.0 ohms @ 21C (70F) degrees temperature
[measure with high-impedance gauge or Wheatstone bridge]

This implies the choke will draw about 1.2 amps maximum.
I = V/R
Current = Voltage/Resistance
1.7 amps = 15 volts/9 ohms

Note that Lead-acid battery voltage is regulated at about 15 volts.
PTC Choke
In 1975 the Positive Temperature Coefficient (P.T.C.) type Automatic choke type was introduced for North America engines.
A new positive temperature coefficient (P.T.C. heater) has replaced the previous coil heater. ELECTRIC AUTOMATIC CHOKE
... by changing the previous nichrome wire type into the P.T.C. heater. The temperature characteristic of the P.T.C. heater
Basically it has a better opening curve to suit the engine without loading up in spots as did the early auto chokes. You can read more about choke technology in Patent US 3699937. Patent applied 1971. First application 1972.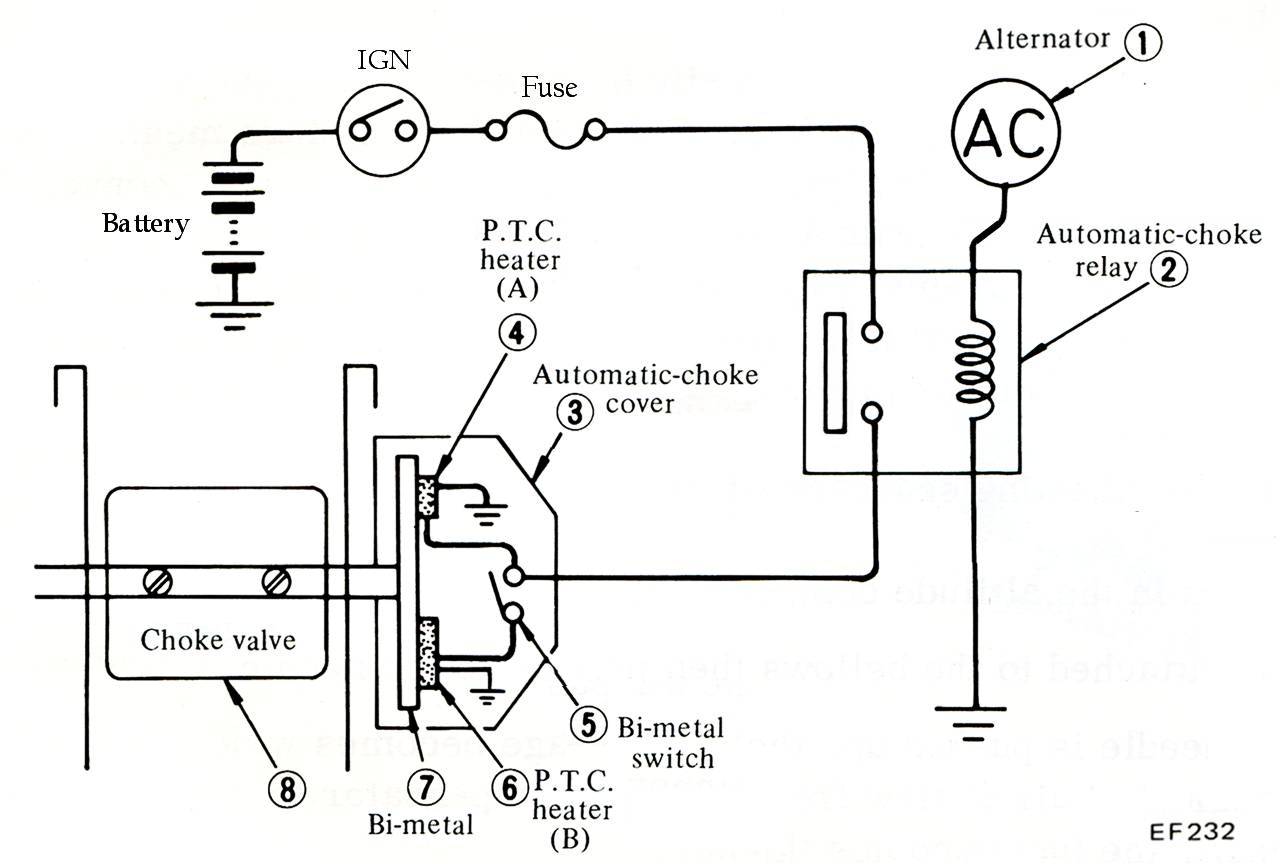 Album click to view
Adjustment
See main article: Choke Adjustment
Wiring
1200 models starting with 1972 USA & 1976 Japan models were fitted with an automatic choke setup.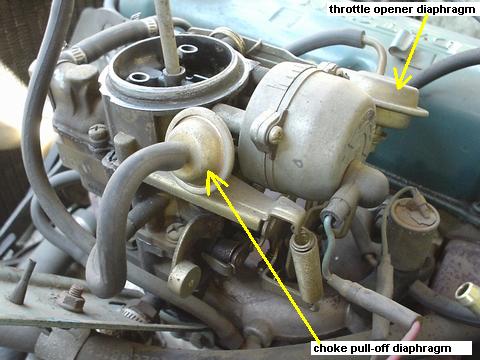 Album click to view
Choke harness wire = Red, seen at lower right of photo
This also uses a relay -- so wiring is complicated. However, you can simply connect the choke to 12V switch ignition (e.g. the ballast resistor). Using a relay that cuts power when the engine isn't running (alternator stops) is the preferred solution.
Part Numbers
RELAY - see Electric Choke Wiring#Part Numbers
B110 USA 
14806-N2200 LABEL-AUTO CHOKE CONTROL

Electric Choke can use Holley 5200 or Weber DGV choke $10 to $15
Also See: DCH Carburetor Part Numbers

1974 A13 choke thermostat cover (fits 1200)


Album click to view
Album click to view
Album click to view
Also See
Choke Cable
Carburetor Parts
Choke Linkage 

¤