Blocks may be used for lowering leaf-spring cars like the Datsun 1200. This is the traditional easy, time-tested and inexpensive method for lowering the rear. See Lowering for other methods.
Overview
Datsun 1200 use a straight axle mounted on top of the leaf springs, so by fitting blocks between it and the spring, the rear of the car is lowered.
Upload click to view
3.5" lowered, combination of reset springs (2") and 1.5" lowering blocks (see post)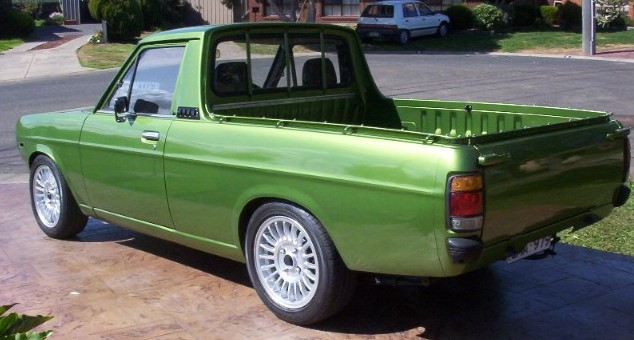 Album click to view
Block are available in different heights such a 1.5", 2" , 3" for differing amounts of lowering.
Buy a 1200-specific block, or a "universal" 2.0 inch wide block. "Kits" come with block and U-bolts, so make sure the u-bolt fits a 1200 (M10 bolts, ute needs wider u-bolts than sedan/coupe/wagon). Ute may use 66mm internal width u-bolts (approx. 2.6").
Width: 2.0" (narrower 46mm may be used)
Height: whatever you want
Pin: 12.75 mm
Hole: 12.75 mm
U-bolts: M10 diameter (approx. 3/8" -- will the common but larger 7/16" work?)
* M10 x ?2-1/4" ??? (1200 sedan/coupe + 1974 B210) 
* M10 x 2.5"??? or 2.6"??? (1200 ute)

Larger Datsuns use 2.5" wide blocks, so they will not fit the 1200. B10/B110/B210 all use 2.0" wide leaf springs, although the block specifications vary.
Sources:
Bprojects
South Yokohama
Dellow
Lovells 50mm LBNIS5065 1000/1200/120Y
Lovells 75mm LBNIS7565 
Universal:
* JC Whitney
* any race shop such as 
  * Jegs
  * Summit

U-bolts
* local truck spring shop custom made (about $40 per set of 4 in USA) 

Bprojects sells long u-bolts which can be used with blocks or without blocks (cut to fit length needed).
Post click for topic
Using B210 isoclamp might lower your car 1/4" but results in quieter ride

Upload click to view
NOTE: As with any lowering, the suspension travel becomes restricted compared to the factory ride height.
Album click to view
Plain block with screw in pins

Album click to view
custom-made blocks

Album click to view
Album click to view
Post click for topic
SCCA racer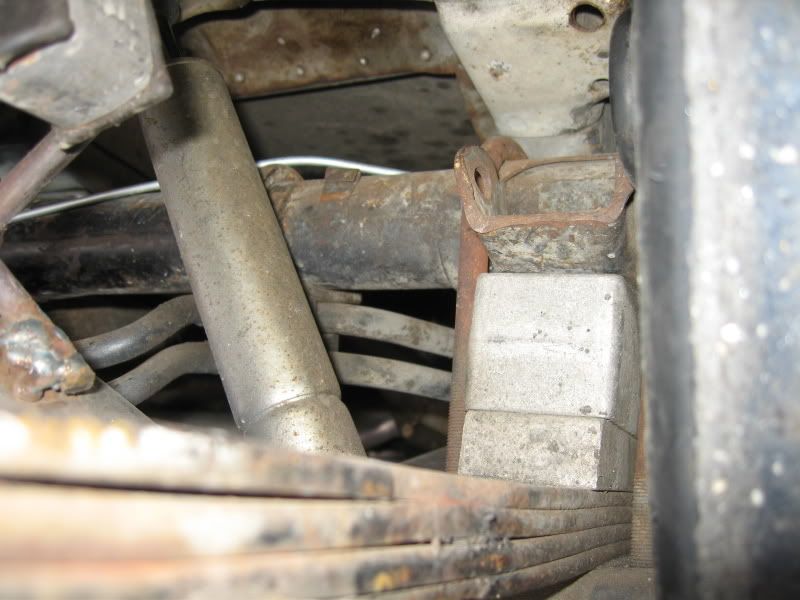 Post click for topic
V I D E O
(click to view)
Legality
See discussion: POST Lowering blocks...... Legal???
* NSW Yes
* VIC Yes
* SA  Yes
* QLD Yes

In Australia, the main requirements are:
keep a minimum of 100 mm ground clearance
keep 2/3 of original travel (so no lowering onto the bump stops)
Lowering blocks must be steel or aluminium (not wood or cast iron)
Dimensions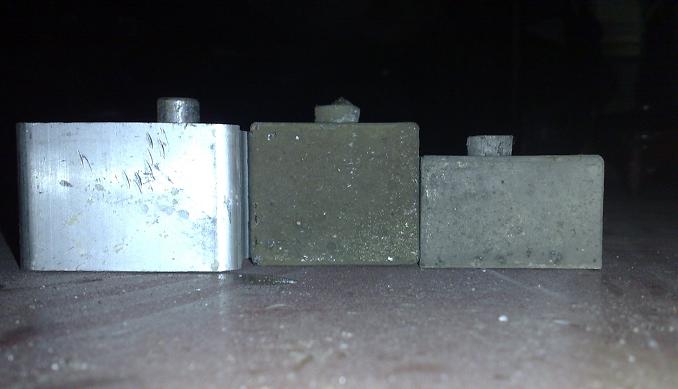 Post click for topic
width: 50mm
a: 12mm
b: ~15mm
c: 110mm
d: 8mm
e: 13mm

Ute needs wider bolts for larger axle housing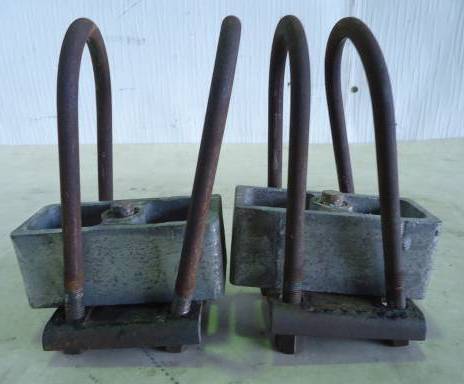 Album click to view
50mm wide


Post click for topic
Datsun 1000
Datsun 1000 dimensions
50mm wide (same as 1200)
locating nubbins: 1"/25mm (1200 uses small 1/2" nubbins)

Album click to view
Regular Datsun blocks can be used on 1000 by creating a larger sleeve to fit the locator on top and boring out underneath.
Truck Lowering Blocks
Sunny Truck/ute lowering blocks are the same as coupe/sedan/wagon but the u-bolts are a wider U — to go around the larger axle housing.
Album click to view
Moon lowering blocks in 1", 2", 3" sizes - buy at Bprojects
2" Moon DST 9067TB
Width: 45mm
Length: 120mm
Height: 50mm/2"
Pin Size: 12mm

U-bolts Stainless Steel
Internal width: 66mm
Length: 245mm

Suspension Travel
Trim the bump stop rubber by 1" to gain more travel
Fit more compressible shocks
Stiffen the effective spring constant to make bottoming out less likely, e.g. add leafs or add an overtravel leaf from a ute
Pinion Angle
Correct and Incorrect Angles

Album click to view
From top to bottom:
OK
 1 stock
 2 lowered with straight blocks
 3 angled diff. Transmission must be angled to match
 4 lowered with angled blocks
   NOTE: transmission must be angled to match
NOT OK
 5 only diff angled
 6 only gearbox angled

NOTE that lowering the car properly will not change the alignment angle. Although the driveshaft angle changes, the pinion-to-transmission angle does not change. Hence, no angle blocks are necessary. Howerver, if you choose to use angle-blocks then the transmission must also be angled the same amount.
stock alignment angle (black lines)

lowered - alignment angle does not change

Even if the lowering is done unevenly, the important angles do not change.
lowered unevenly - alignment angle does not change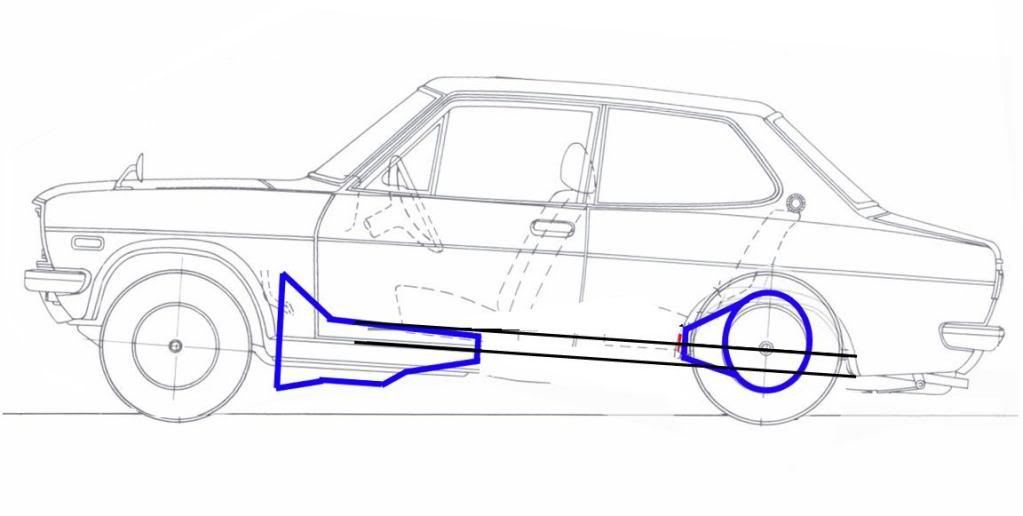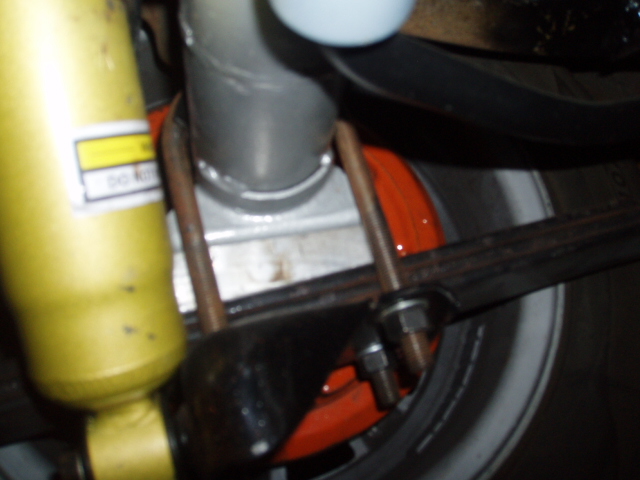 Post click for topic
Notes
Lowering blocks are legal in most countries, including most Australian states (where usually 100 mm of ground clearance is required)
New Zealand reportedly allows max of 50mm lowering blocks
Square blocks will lift the diff squarely and will not change pinion angle
Angle-ground blocks will change pinion angle so are NOT recommended. These are normally used with extreme lowering and require the diff angle to be modified or the transmission angle modified
Handbrake cable will need to be re-adjusted after lowering
On a BW68-equipped sedan, the blocks make for less access to the brake adjuster and brake bleeder. This is because the BW axle has in bottom-mounted brake cylinders
ローダウン リーフ ブロック
Limits
2mm suspension travel left. The bump stops can be cut about 1" to increase the travel, but after that the shock will bottom out (see Lowering Shocks).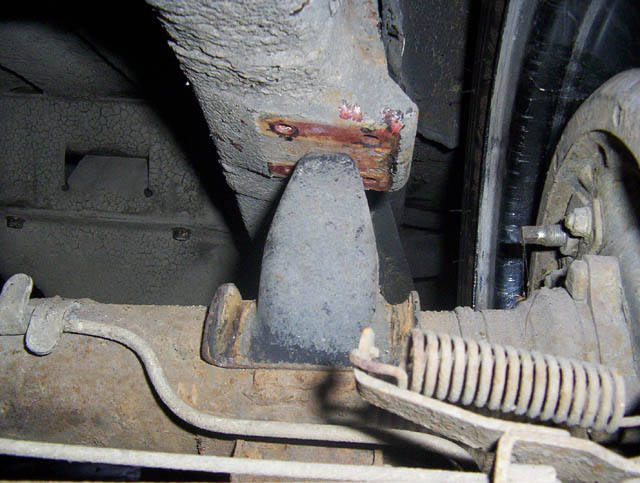 Album click to view
The limit for lowering, using any means is when the axle is against the chassis rail. To get the car lower than this, you can use 1) smaller diameter tires or 2) modify the chassis (tubbed, etc). In this photo the bump stop has already been shortened.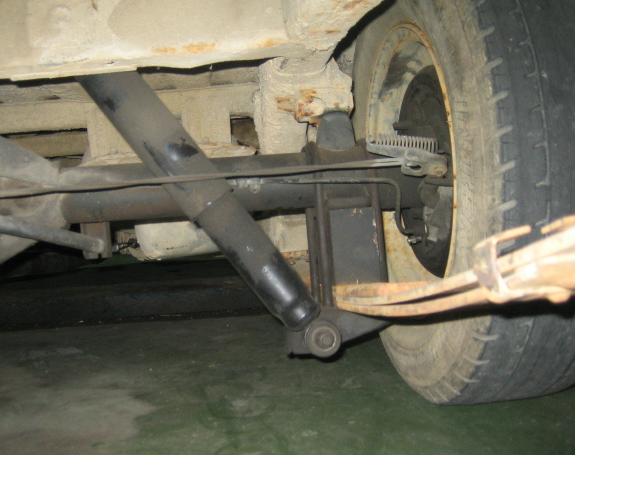 Album click to view
Lowering tires (lowers 1.5" from stock)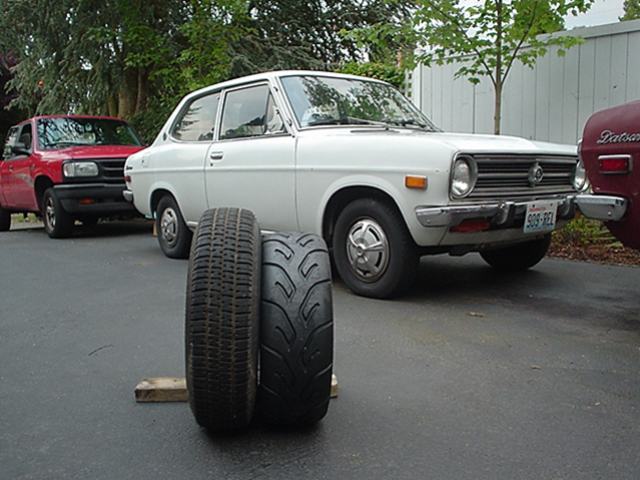 Album click to view
¤