An oil cooler can keep the oil from overheating thus extending the life of your engine. This is called for in racing, or in extended high-speed driving. Normal driving does not benefit from an oil cooler, as oil is designed to work at a temperature of around 200 degrees Farenheit. Cold oil is is also bad. In a stock engine, the oil is cooled internally by the engine coolant, hence the importance of keeping the water temperature below 200 degrees, for example by using a 180 degree Thermostat.
Nissan Competition sells oil coolers, which utilize a sandwhich plate bolted between the Oil pump and the Oil filter.
Overview
The oil temperature is controlled by the engine coolant temperature. As long as the engine coolant ("water") does not overheat, neither will the oil. At this temperature, the good quality regular oil (inexpensive) will perform as good as the expensive synthetics in a street car. It is high temps that ruin regular oil whereas the synthetic oil can take high temps OK.
Now if you are racing or towing the oil may heat up. Fortunately oil cooler parts are not rare.
The sandwich plates are also available from racing supply companies like Earle's, Summit Racing, etc -- Ford type fits the Datsun. The the oil coolers are available from Jeff Taylor and others.
Transdapt Oil Sandwich Adapter #1313 for Fords and others with 3/4x16 thread.
https://www.google.com/search?q=Transdapt+1313
A12 oil filter C20 Vanette are nice and short and clear winged sumps.
Album click to view
Album click to view
Album click to view
Thermostat
Summit Racing: Cold oil does not flow and does not lubricate correctly. Plus, moving cold oil robs power. These thermostats are designed to bypass the cooler until the oil reaches 215 [F] degrees.

ang94541: I keep my oil cooler covered most of the year because the oil temp doesn't get hot enough. It never gets above 180 F [in California].
MOCAL oil cooler thermostat is factory set for 180F (82 c) degrees.

Spruce: it has always been recommended to get the oil temperature just over 100°C during each flight to burn off the water which can contaminate the engine oil
Mounting
One possible place to mount the cooler is in front of the radiator.
A better location may be next to the radiator, where the A/C panel is.

Nissan Competition Parts
From
1984 Nissan Competition Catalog
* 21305-H2310 OIL COOLER ASSY Easily adapted to 1200, B210 and 210 models with minor modifications. Designed for use with the competition Oil pump. Dimensions are 8.5"(w)x11"(h)x1.5"(d)

21355-H2310 HOSE FOR OIL COOLER
21356-H2310 HOSE FOR OIL COOLER
Album click to view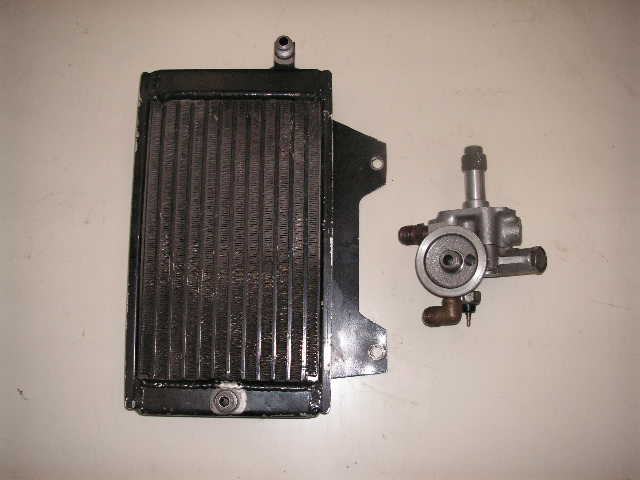 Album click to view
オイルクーラー