The Datsun 1200's A12 engine uses a standard gerotor type oil pump. It is self-priming. The oil should be changed every 3,000 to 5,000 miles.
Overview
Oil Temperature
The oil temperature is controlled by the engine coolant temperature. As long as the engine coolant ("water") does not overheat, neither will the oil. Only a very few high performance cars have a separate oil cooler. So this means:
keep your coolant temp low, and your oil temp will be happy.

Count on the oil temp to be about 20 F degrees hotter. So here is a good street performance equation:
* Thermostat: 180 F degrees
* Oil temperature: will run about 200 F degrees

At this temperature, the good quality regular oil (inexpensive) will perform as good as the expensive synthetics in a street car. It is high temps that ruin regular oil whereas the synthetic oil can take high temps OK.
Now if you are racing or towing there is more to talk about. See: Oil Pump Coolers.
Engine Oil Capacity
See Oil Capacity 

Oil Pressure
From the 1973 factory service manual:
* Oil pressure at idle (650 RPM ): 13-17 psi
* Regulator valve spring
  Free Length: 43.49 mm (1.71 inch) 
  Pressured Length: 30.3 mm (1.19 inch)
* Regulator opening pressure: 54-60 psi

Oil Usage
It is normal to add some oil between the oil changes. Usually a quart every 1,500 miles is OK. A quart every 500 miles indicates either a serious leak, or "oil burning" (bad rings) in the engine.
Oil Pressure Sender
Oil Guages
Oil Temperature or Oil Pressure gauge can be added.
See Main Article: Oil Gauge

Oil Specifications
See Engine Oil Specifications

Oil Usage
See Engine Oil Specifications

Interchangeability
All A-series oil pumps are interchangeable in any A12/A12A/A13/A14/A15 engine, except the early A10 Engine oil pump. New pumps will clear the early A10 Connecting Rods.
connecting rod cap strengthened with 1mm longer bolt boss starting with A10-728641
Therfore, Oil pump driveshaft decreased 1.5 mm to clear the new cap design
Part Numbers
For a comprehensive lists of Oil Pump parts for the 1200, see Oil Pump Part Numbers.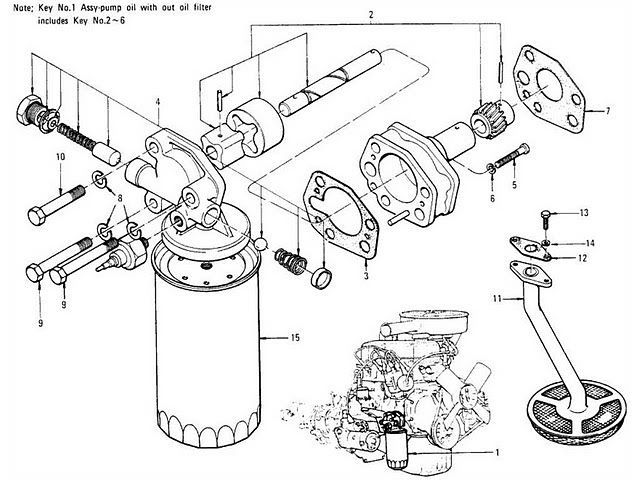 Nissan
15010-H9701 ASSY-PUMP OIL WITH OUT OIL FILTER <> 15010-H6200 <> 15010-H1000 $114 USD
* Fits A10/A12/A12A/A13/A14/A15 
* Fits B10/B110/B120/B210/B310/C120 and F10/N10
* Filter points down
  

15010-M3001 PUMP ASSY-OIL <> 15010-M3000 $145 USD
* FWD N10 "Datsun 310" "Datsun Pulsar"
* RWD 1200 1989-
* RWD B120, C22, C120

Aftermarket RockAuto
Sealed Power 22441908 $39 USD
ITM 057140 $52 USD

Cherry
15010-M0100 <> 15010-M
* For FWD E10 "Nissan Cherry" "Datsun Cherry"
* Filter points up

Strainer
The oil pump pickup tube has an integrated strainer.
See main article: Oil pan#Pickup Tube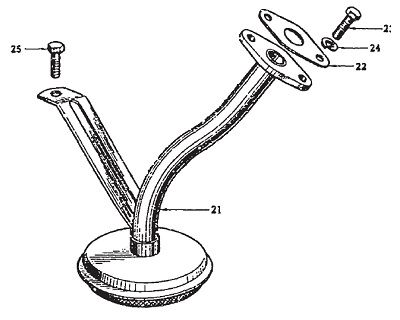 Nissan Competition Parts
See main article: Competition Oil Pump

Hybrid High Volume Pump
See main article: High Capacity Oil Pump 

¤