<-- back to Japan Brochures
Datsun PB110 Sunny Excellent 1400 sales documents.
Sunny Excellent 1400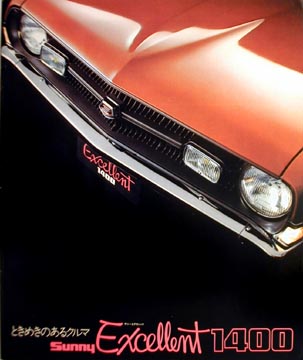 1971
1972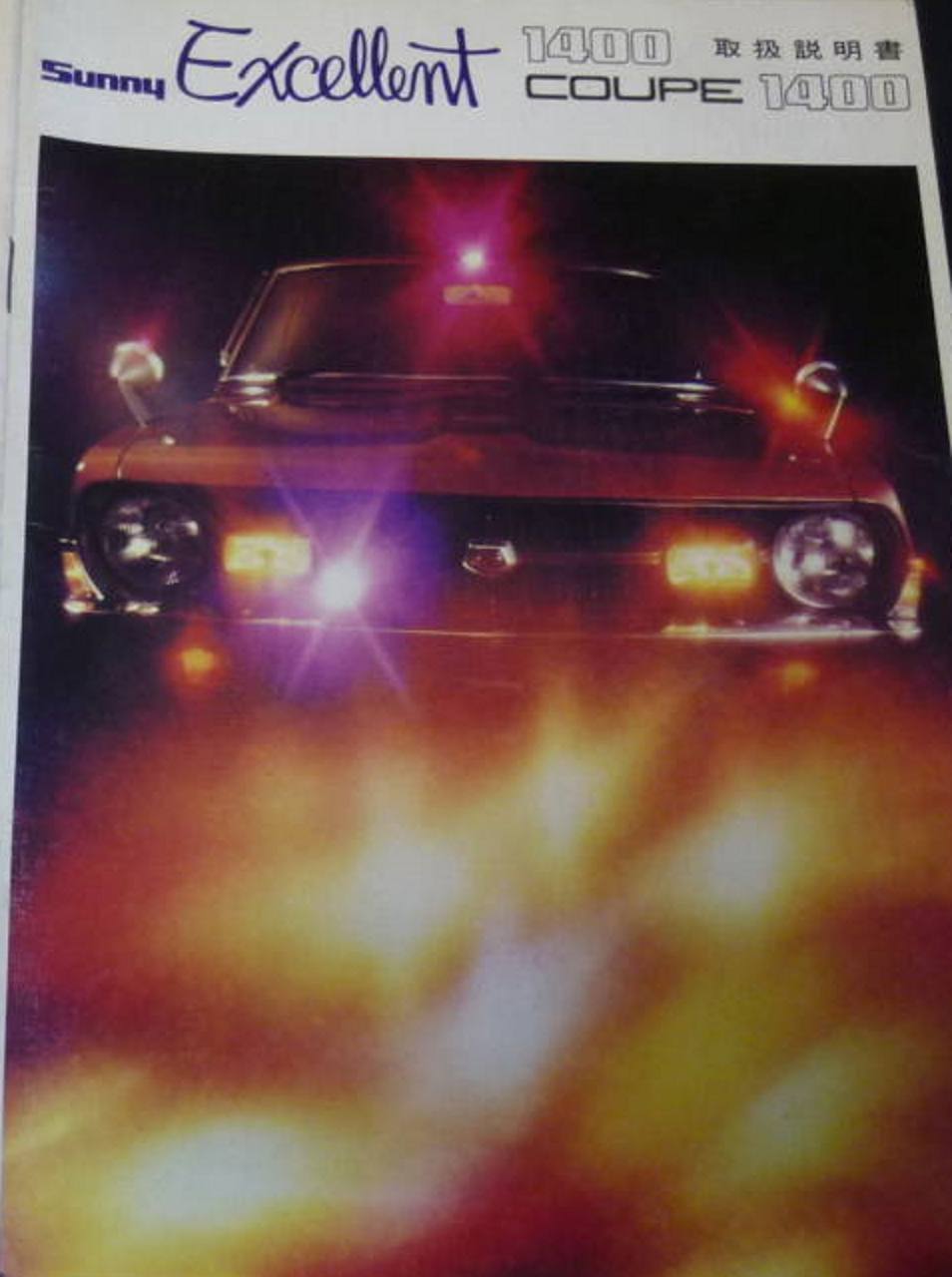 Instruction Manual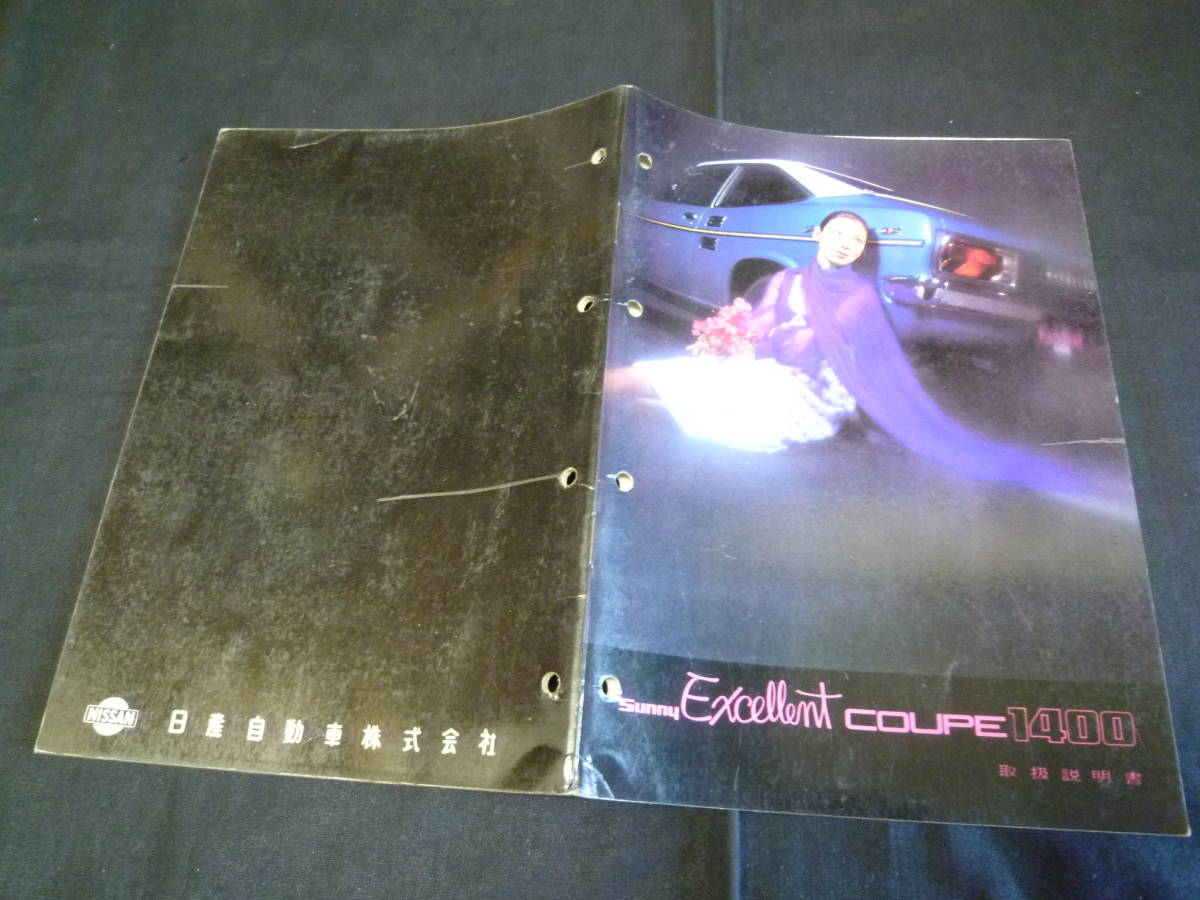 Instruction Manual
1972 1200/1400 Combo
1200 Brochures | 1400 Brochures

Nissan Full Auto Matic
2-page leaflet (single sheet printed on both sides)
サニーGXに ニッサン マチック がついた!
テクニックが冴える1.2.Dの ニッサン フルオート マチック Sunny GX has the Nissan Matic!
See the technique of Nissan Full Automatic's 1.2. D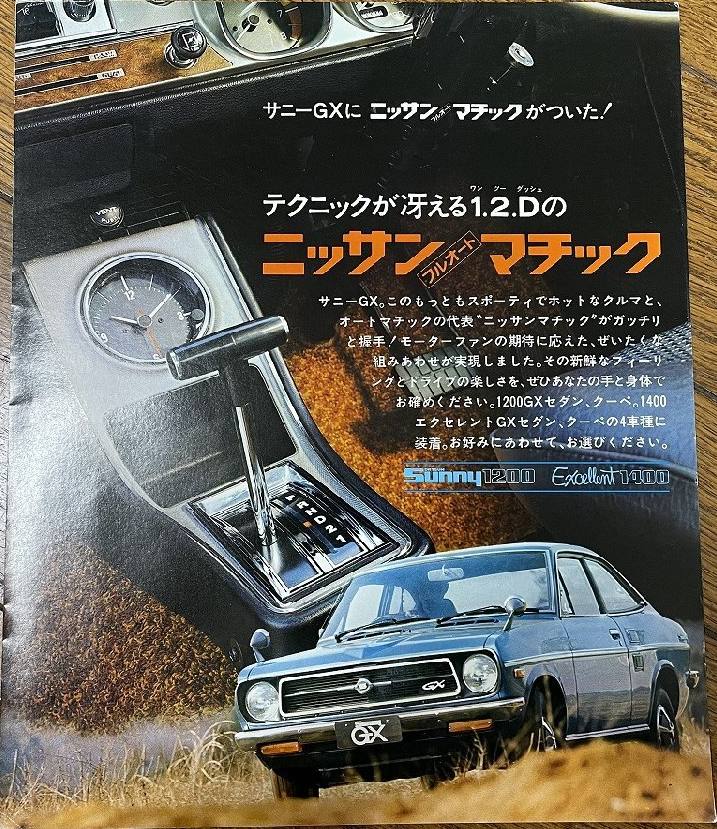 Album click to view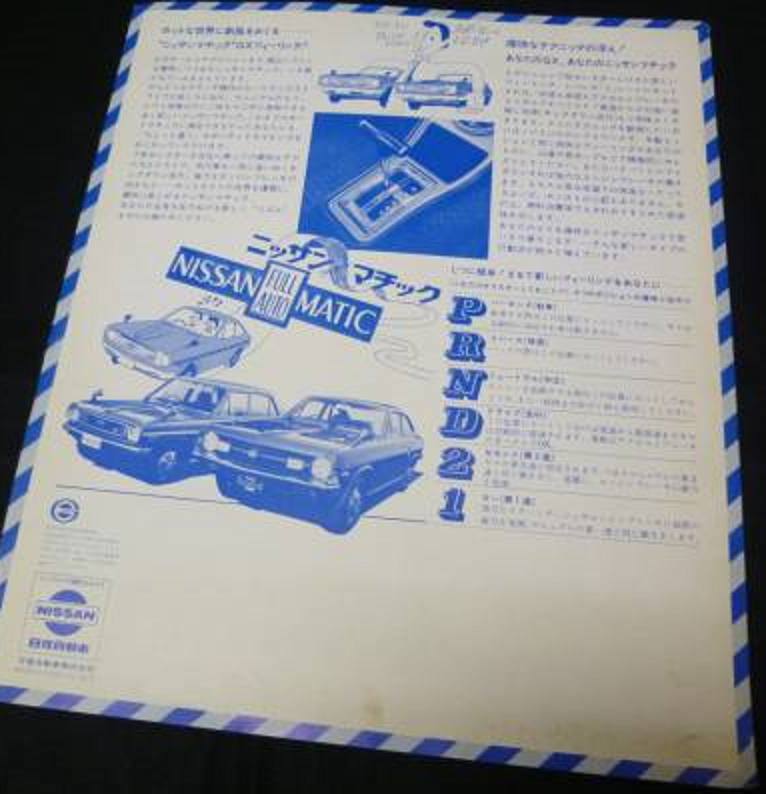 Album click to view
Explaining PRND21

Album click to view
Sunny Day Envelope
Sunny-chan — It's Always a Sunny Day featuring 1200 sedan/coupe/van/truck & 1400 Excellent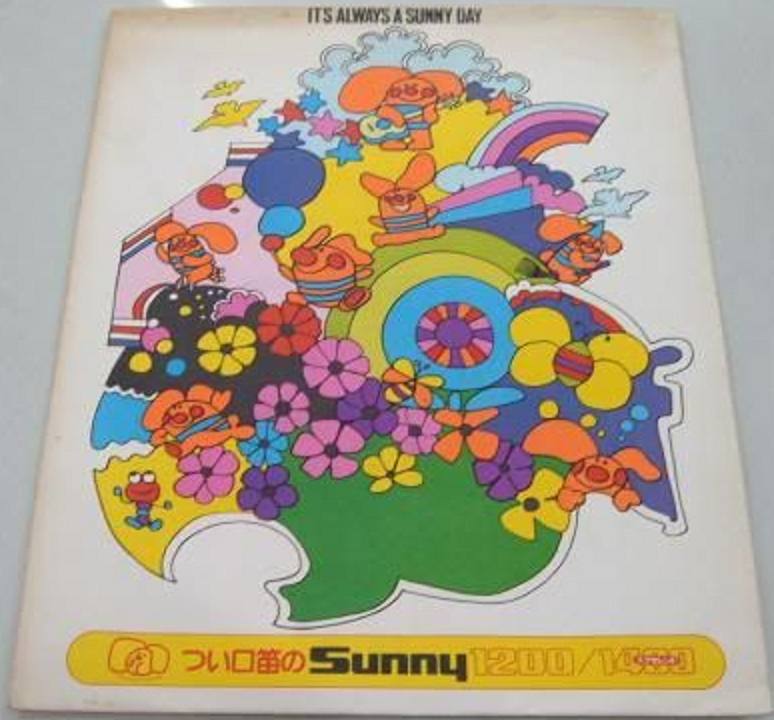 Album click to view
Album click to view
つい口笛のSunny 1200/1400
Hello Hello
1970/1971 Hello! Hello! Present Sunny ハロー!ハロー!プレセント 26cm x 36.5cm 4pp foldout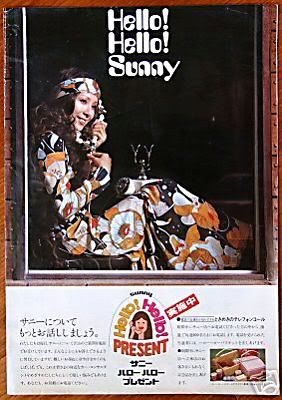 1972 Sunny Lineup
1972 August Sunny Line 1200/1400 Excellent sedan/coupe/pickup (昭和47年8月, 367mm x 268mm 4pp)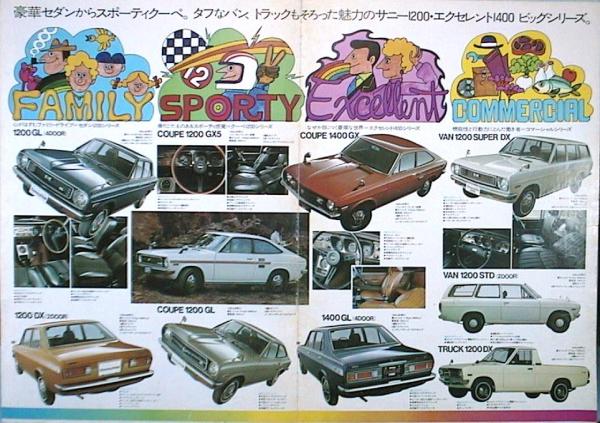 Album click to view
1200/1400
1972 January Sunny 1200 Excellent 1400 A4 size single sheet, 16-panels folded
1972 Blue Sedan
Alan Merrill
Innovate marketing? Sunny Excellent 1400 Featuring Alan Merrillᵂ, a rock star in Japan (he wrote the song "I love rock and roll"). Photographed 3 March 1971, the Sunny television commercial was filmed at Toho studios.
newspaper advert 1971

ハナがたかーい1400を加えてサニーは30車種。
心ときめくワイドセレタションですーYes!SUNNY
--ときめきのあるカルマ--

Fragrant Blue Coupe
香りがする
ときめをのあるクルマ Fragant
A car with Crush


Album click to view
???クーペGX ??? Coupe GX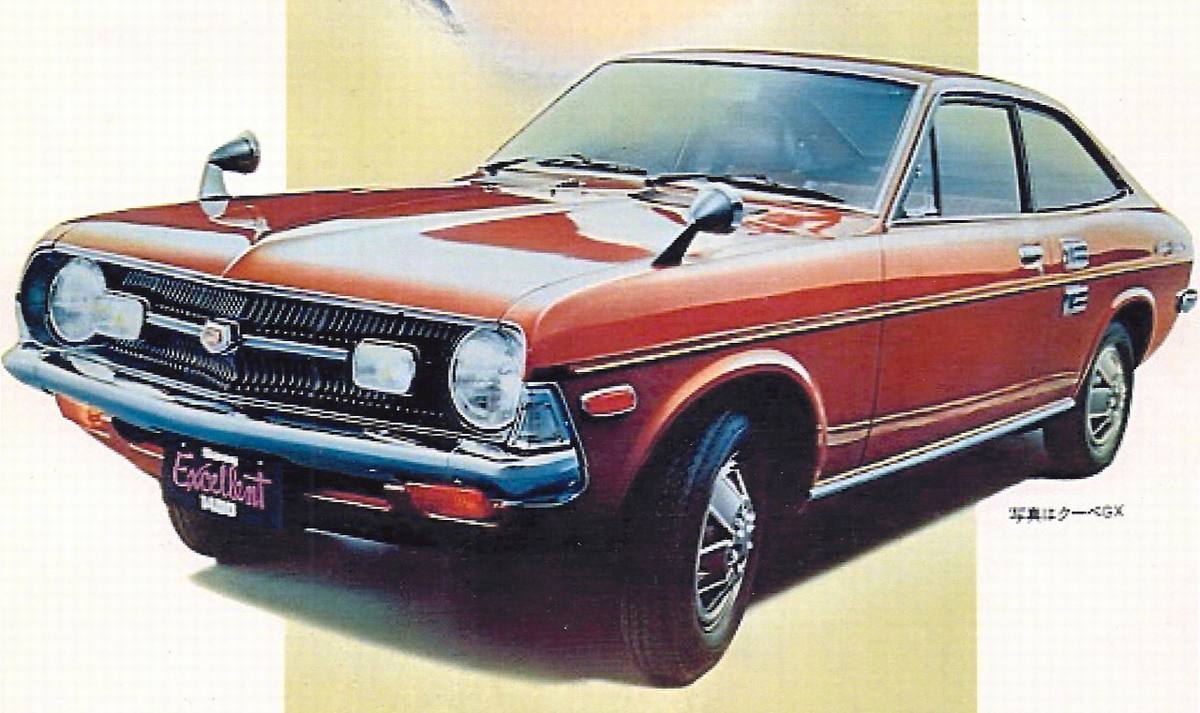 Album click to view ハナがたかーい 「ロングノーズ」1400 Hard Flower [long nose] 1400

O.H.C. 1400cc - 55?car(GX) 85?car(GL-DX)
スピアーッェープ(?の??)のロングノーズ
???て?-「たトータルカフーの?内
?りめ?い??マスタのフロントグリル
新発売 サニー エクセレント 1400 Now On Sale Sunny Excellent 1400
NISSAN 日産自動車 NISSAN Nissan Motor

Post click for topic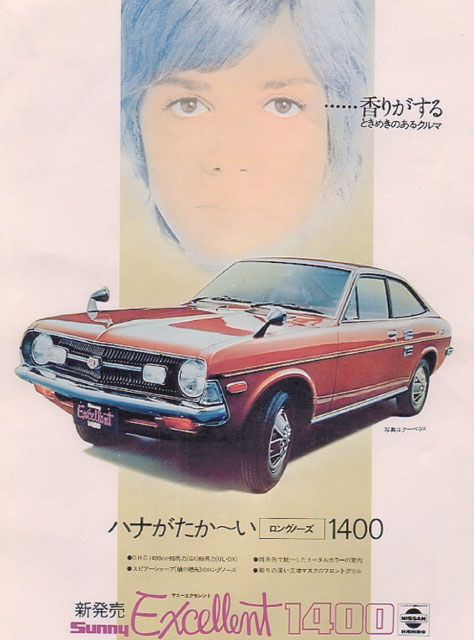 Album click to view
Blue Coupe
Post click for topic
V I D E O
Song
: サニー エクセレント 1400
2-sided leaflet advert

Album click to view
Album click to view
Yes Sunny! advertisement with red Excellent coupe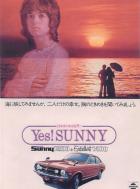 Album click to view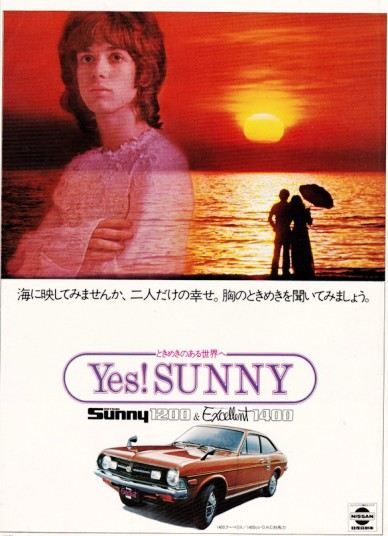 Crush Blue Coupe
ひと足先に秋に会いに行きませんか。空の青さにも、ふと感じる新鮮なときまき。
ーー ときめきのある世界 ーー
Datsun Sunny 1200 & サニーエクセレント Excellent 1400
NISSAN
日産自動車 Why don't you go see us in the fall? A fresh time that you can feel the blueness of the sky
--- A world with a crush ---
Datsun Sunny 1200 & Sunny Excellent 1400.
NISSAN
Nissan Motor Company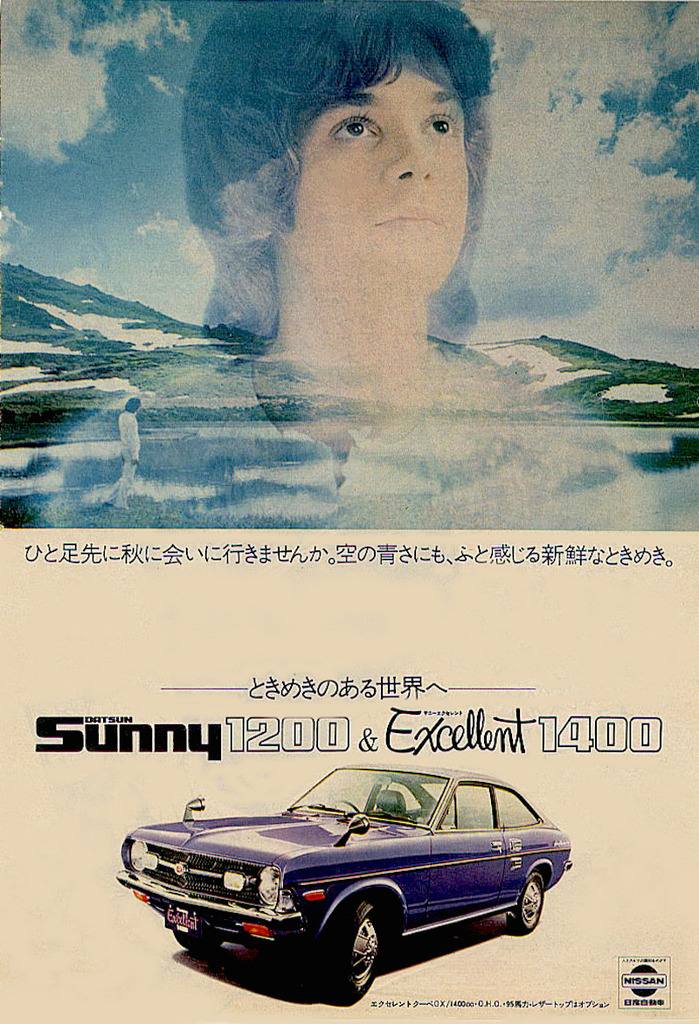 Album click to view
blue Excellent GX Coupe (KPB110G) エクセレントクーペGX/1400cc・O.H.C.・??カ・レサートップ?オプション Excellent GX/1400cc * O.H.C * ?? Car * Leather Top option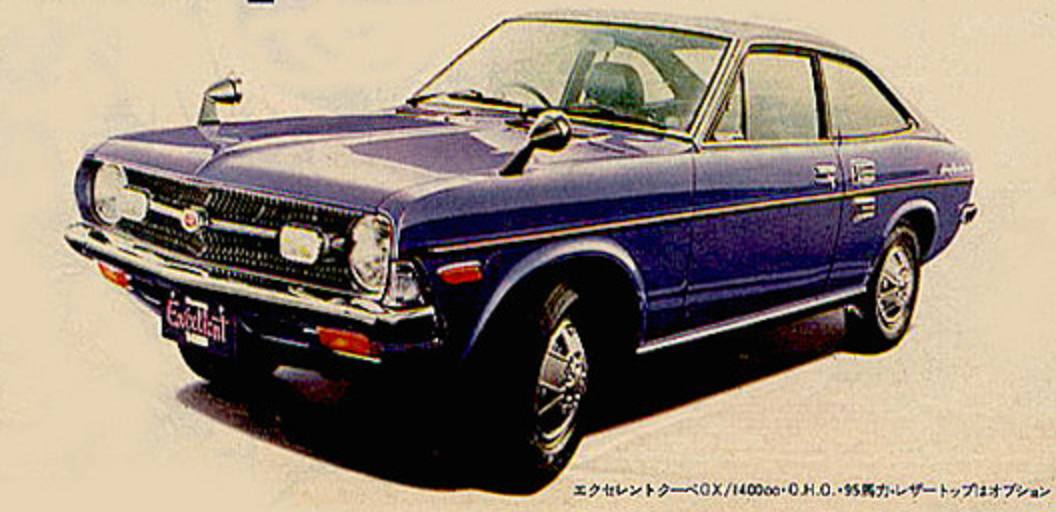 Album click to view
News Flash
News Flash - Nissan Information

Nissan Graph
May 1971 Nissan Graph company newsletter
Song
From the flexi-disc Tokimeki
Unknown
Album click to view
Album click to view
¤