See Also
NISSAN-DATSUN Motor Topics
In-house dealer newsletter
1971.12 number 99 - emporer visits Nissan exhibit at 18th Tokyo Motor Show, Christmas/New Years article, Letters from Datsun Users, Societe Richard, Okinawa, Denmark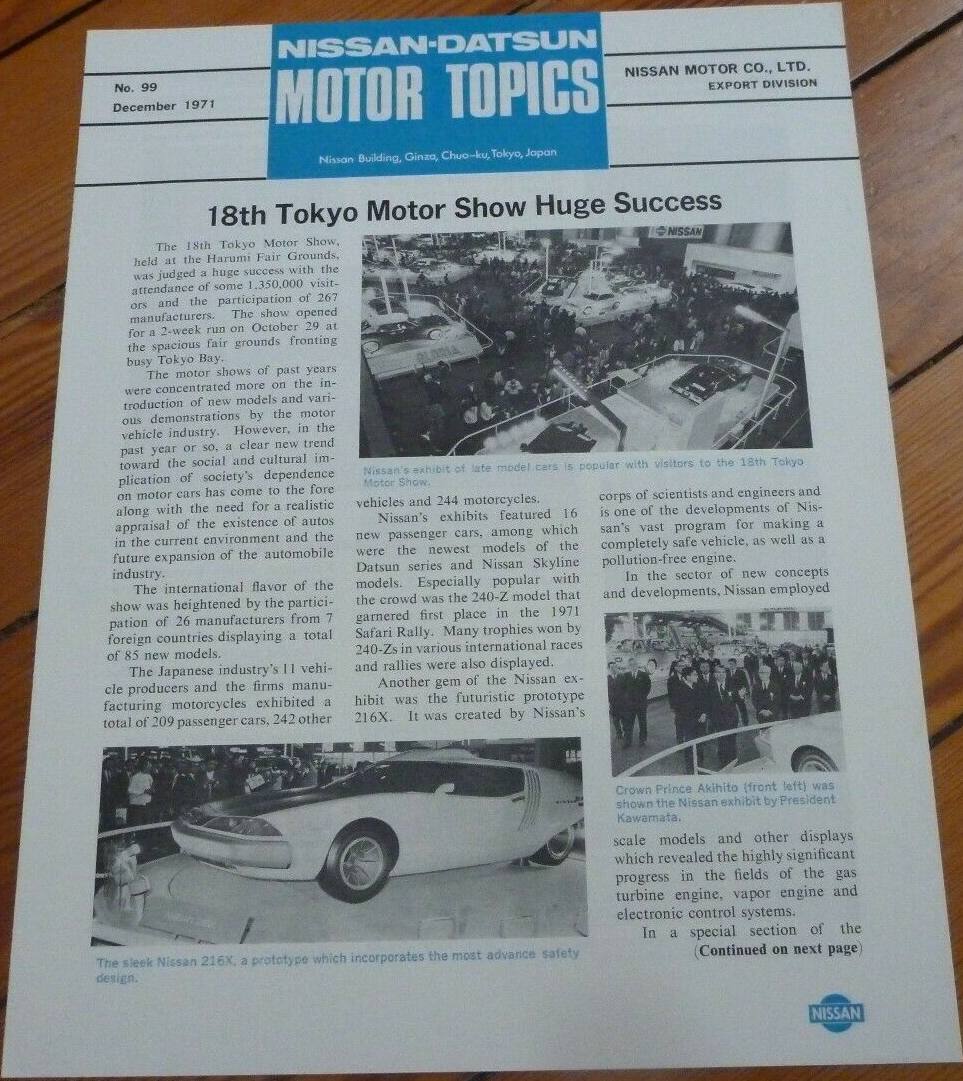 Album click to view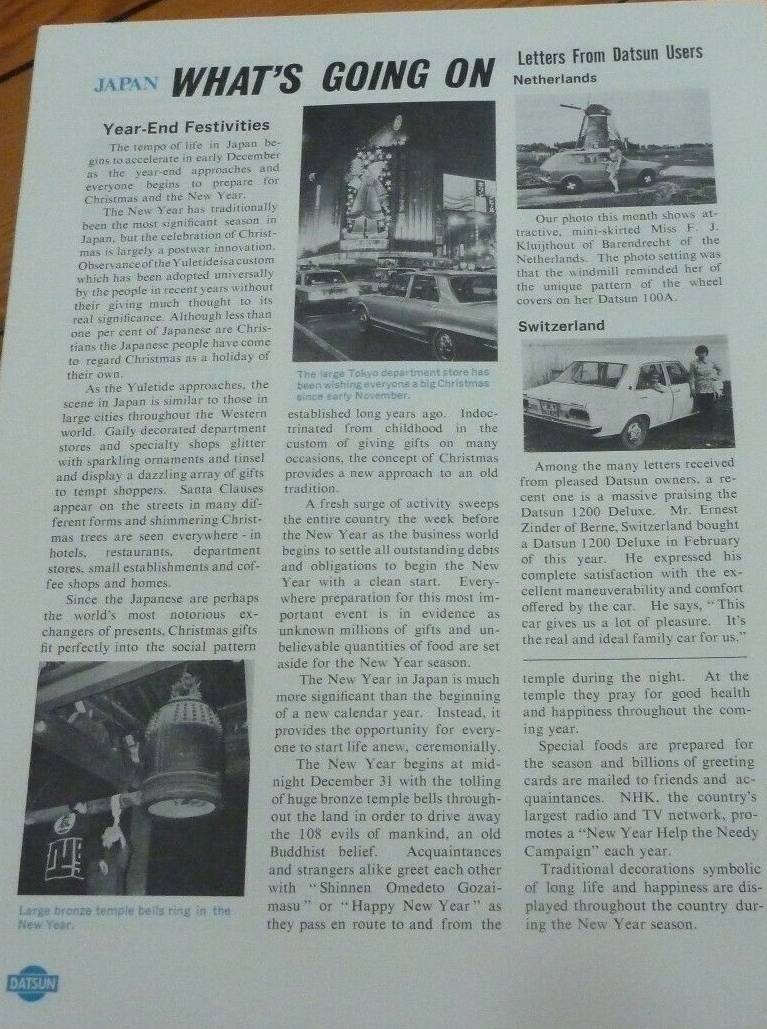 Album click to view
Album click to view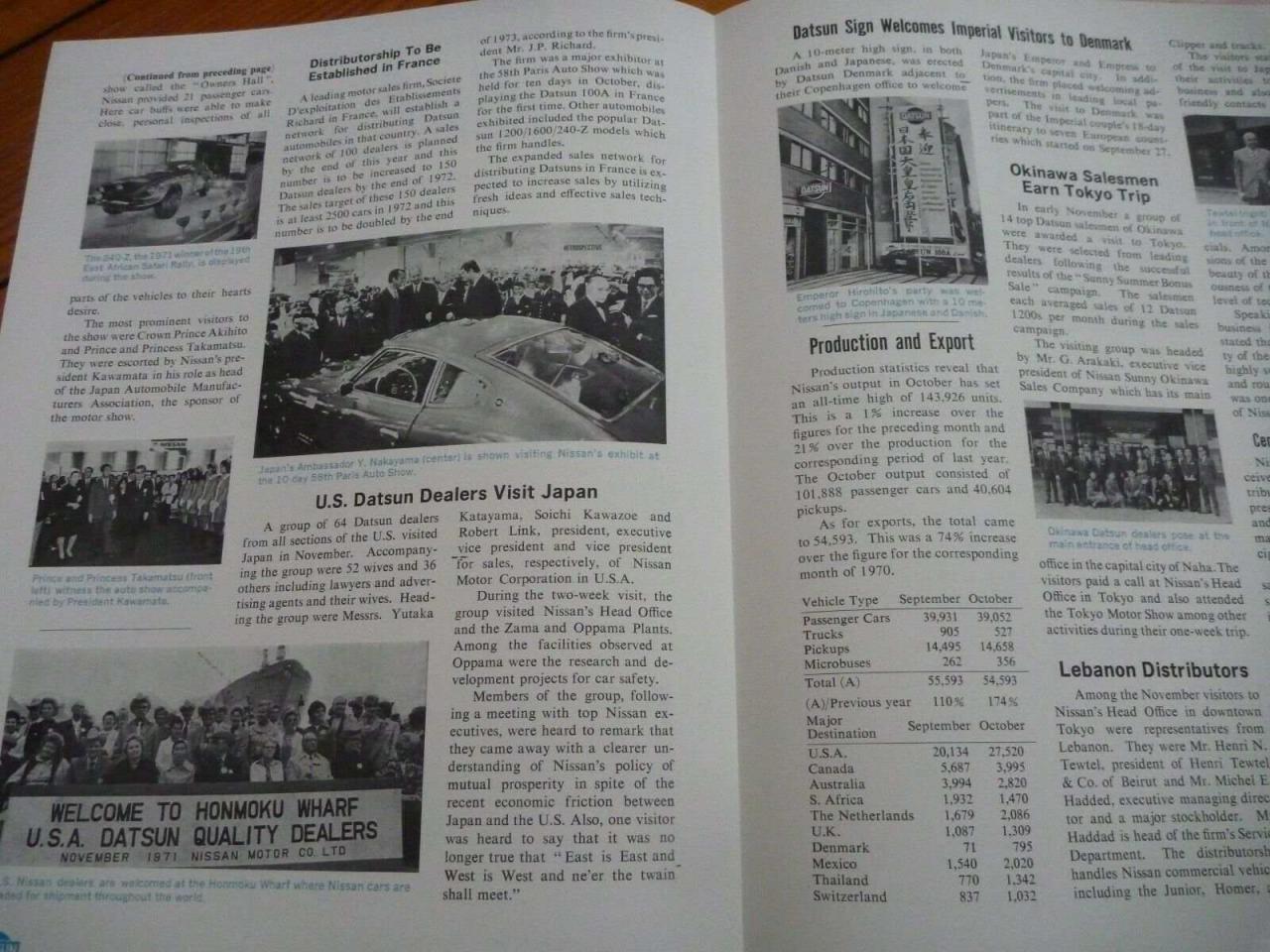 Okinawa Salesmen Earn Tokyo Trip

In early November a group of 14 top Datsun salesmen if Okinawa were awarded a visit to Tokyo. They were selected from leading dealers following the successful results of the "Sunny Summer Bonus Sale" campaign. The salesmen each average sales of 12 Datsun 1200s per month during the sales campaign.

The visiting group was headed by Mr. G. Arakaki, executive vice president of Nissan Sunny Okinawa Sales Company [日産サニー沖縄販売株式会社] which has its main

[photo caption: Okinawa Datsun Dealers pose at the main entrance of head office]

office in the capital city of Nahaᵂ. The visitors paid a call at Nissan's Head Office in Tokyo and also attended the Tokyo Motor Show among other activities during their one-week trip.
1972 Tokyo Motor Show
19回東京モーターショー
Nissan's Rotary engine!!
1972 October: 19th Tokyo Motor Show, Sunny Excellents were fitted with the Nissan rotary.
1973 Tokyo Motor Show
20回東京モーターショー
V I D E O
showing Gloria,
610
,
260Z
,
KB210
(click to view)
Nissan's 1973 Motor Show brochure (16 pages)

2-3 Fairlady Z 2600 2+2
4-5 Nissan Technology
人とクルマの明日を
日産がいま捉えようとしています Capturing the future of people and cars

NVCC, catalytic converter/EGR/AIS system (first look at NAPS), Rotary Engine, Nissan ESV

Album click to view
6-7 Nissan Store: G610 Bluebird 2000 GTX, 710 Violet, President, Bluebird, Bluebird sedan, Violet Hardtop, Violet sedan, Fairlady Z, Datsun Truck, Commercial vehicles (wagons, trucks, Patrol)
8-9 Motor Store: Cedric, Laurel + commercials (Homy, Cedric van, Cabstar truck, Junior truck, bus)
10-11 Sunny Store: 1200 sedan, 1200 Coupe, 1400 sedan, 1400 Coupe, Van 1200, Truck 1200
12-13 Cherry Store: Cherry Coupe, Cherry sedan, Cherry van, Violet Hardtop, Violet sedan, Cherry Cab
14-15 Prince Store vehicles: Gloria 2600, C210 Skyline, Skyline Hardtop, Skyline sedan, Skyline van, Homer Clipper,
16 back cover
1973 Motor Show

Post click for topic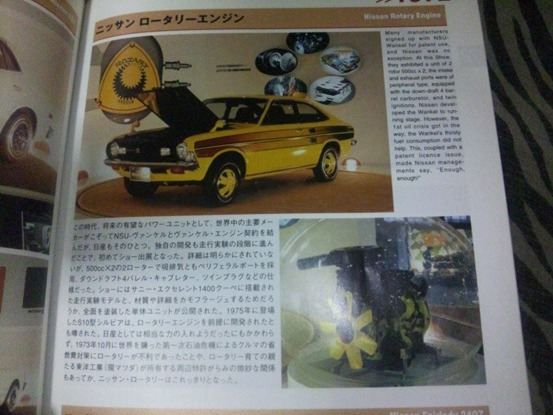 1973 Brochure Closeup | display photos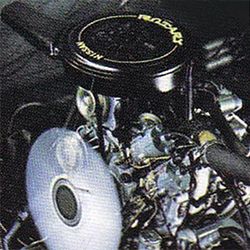 Album click to view
Album click to view
1975 Tokyo Motor Show
21回東京モーターショー

Brochure
Nissan World
71 Nissan
1971 Guide
A Guide To Nissan, 44pp 8.5x11
Nissan '72/3
Brochure