David
Hi I'm David Gonzales, Datsun 1200 owner out of Seattle, USA. Occupation: Support Engineer.
Washington State Datsun 1200 Community
My 1200s
Datsun 1200 2-Door Sedan
Here's my 1200: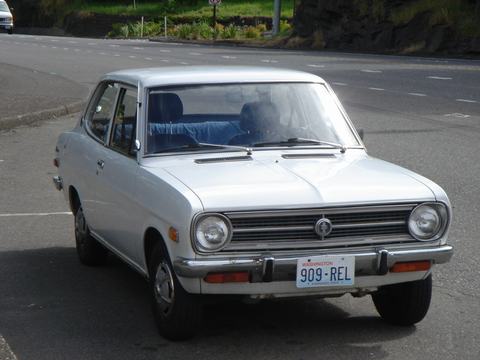 See: ddgonzal's 1200 Sedan

Datsun 1200 Pickup
I also have a 1200 Pickup, a RHD Sunny Truck ex-Japan
Contacts
Links
Specialties: Ask Me a Question
Things I know enough to give answers on
---
Things i can't give answers on:
Anything front-wheel-drive
Datsun 1000 (they were not sold in USA)
Music for Driving
My favorite music for driving in a Datsun:
Parts Needed
Stock muffler
Floor-attaching gas pedal
master cylinder reservior caps
Wiper nozzle for hood/bonnet
glovebox door: very good condition
original tunnel carpet, even a scrap
factory tacho, will trade for factory clock
factory radio
Choro-Q toy cars (Datsun 1200)
Seat recliner cover
40315-H1100 Cover-wheel DX $61.93
20100-H1000 Muffler Sedan $94.67 USD NLA
17229-H1900 Tube-filler, fuel tank $39.50 USD NLA
17230-H1901 Tube-filler, Inner $8.50 USD NLA

Need Australian parts:
1200 Clutch cable (new) "small" size (fits early Datsun 1200)
1200 Console, good condition no cracks
1200 accelerator pedal, new (mine is separated at the seam)
MPH speedometer with trip meter (early 1200)
1200 Coupe Front seat covers (black), good used with no rips, tears or stains. Or they could be recovers if done to the original style and material. They can be removed from the seats and put in a box.

Heater
27022-H1000 Hose Heater [to head] $11.13
X2160-30503 HOSE HEATR [inside]
X2160-30600 X2161-30600 ASSY-VALVE WATER CONTROL $18.17
26552-H1001 ASS'Y-RIM (2) $38.82 USD
80234-H1000 WASHER-BRACKET PIVOT $5.83 USD (2)
76828-H1200 Cover Rear Window Hinge (4)
76870-H1200 Handle-window RR $39.17
76871-H1200 Handle-window RL $40.62
74951-H3600 PLATE-KICKING FRONT RH SEDAN 2DR, COUPE $27.67 USD
74952-H3600 PLATE-KICKING FRONT LH SEDAN 2DR, COUPE $25.17 USD
80234-H1000 WASHER-BRACKET PIVOT $5.83 USD 
80284-H1000 WASHER-RUBBER A $0.62 USD 
80285-H1000 WASHER-RUBBER B $0.62 USD 
08330-41020 SCREW-MACHINE M4 $0.80 USD 
80292-73000 RIVET-SPECIAL [CLIP-TUBULAR] NLA 

80605-H1901 exterior door handle
80606-H1901 exterior door handle
80316-H1200 (2)
46531-M3000 Pedal Pads $2.52
A8200-G1300 Cable-accel $9.73
54476-W5000 Tension rod bushing $2.73
28876-H1000 SEAL-PIVOT WINDSHIELD WIPER $2.43
66822-H1000 RUBBER-SEALING HOOD REAR NLA
80690-E6000 Case Key Assy $8.03
65806-H1000 BUMPER-HOOD
62845-78500 RUBBER-RADIATOR CORE SUPPORTSIDE
65514-H1000 65514-55W00 CLAMP-ROD,HOOD
32855-H1010 BUSH-CONTROL LEVER $3.45
32865-H1000 KNOB-CONTROL LEVER
88700-H1000 ASSY-HEAD REST REAR SEAT
27440-H1001 NOZZLE ASSY-WASHER NO. 1 $12.95
28930-G1900 NOZZLE ASSY-WASHER NO. 1
65433-H1000 Seal-hood Hinge $0.89
68820-J6210 Finisher Defrst $1.80
76828-H1200 Cover-hinge $1.02
80260-H1000 Handle-vent R $19.67
80261-H1000 Handle-vent L $19.67
80760-H1000 Handle-regulatr $24.00
86982-A0600 Eyelet 'A' Seat Back $1.12
86983-A0600 Eyelet 'B' Seat Back $0.85
80282-H1001 WEATHERSTRIP-FRONT DOOR VENTILATOR, RH $13.69
80283-H1001 WEATHERSTRIP-FRONT DOOR VENTILATOR, LH $13.69

I'm interested in:
Datsun tech bulletins
B110 "intro" books
round Shifter boots (both large and small sizes)
"Deluxe" badge

"Datsun" script badge
See 1200 badges
curved Fuel filler hose

(curved one, not the straight one)

Tunnel carpet

shifter bushings
five stock wheels
tunnel Carpet (original)
new Badges (Deluxe round, Deluxe rectangular, 'D' grille)
stock tachometer
Nice chrome front bumper
good rear seat (sedan), original material

Parts to get in Japan Wreckers
parcel tray
Sunny Truck emblems
lenses
21503-95W00 lower radiator hose 8910-
Clutch cable
JAF badge
Nissan badge
Seat belts
Sunny Truck parts
battery tray & hold down
18110-H1000 PEDAL-ACCELERATOR [foot rest]

Wrecking Yard
Clutch cable
Battery tray for JDM battery

Height: 20.4 mm (7-7/8 inch)
Width: 18.8 mm (7-3/8 inch)
Depth: 12.8 mm (4-7/8 inch)

NX type brake pads
23100-B9810 Mitsubishi A1T22971 $90 Hitachi LR135

1978-1979 Datsun 620 Pickup
1980 Datsun 720 Pickup

Fuel Pump 720
Right-angle jack crank
Sell or Trade
Trading? I have the following items for Sale or trade:
Datsuns:
1972 1200 2-dr sedan, white, daily driver: $4500
1974 1200 pickup long bed, blue, show condition: $15000
Rare
Brand new fuel filler hose (sedan) from Nissan Japan $55
Brakes
Brand New rear brake adjusters $25 each
Books
Gregory's service manual $7
Brand new Chilton's manual $9
Factory Service manual $15
1974 Datsun Specifications reference book (includes all models) $10 in Spanish
Engine
Intake manifold, round port for single Weber sidedraft $75
A14T factory twin-carb manifold + carbs and air cleaner $400
Used new dome light assembly (body, lens) $10
A12 exhaust manifold $10
A12A exhaust manifold $10
A12A cylinder head, good used $30
Starter $15
A12 flywheel $10
Datsun 1200 distributor, good condition: $35
T-Shirts
Classic Datsun logo (medium gray) $15
Tune-up
Oil filter: $4
Air filter: $6
My Former Datsuns
1972 1200 2-dr sedan, daily driver, used my 1200 to deliver newspapers for several years
two 1200 coupe parts cars
1969 510 wagon, daily driver (newspaper deliver car)
1980 B310 wagon (driver, took A15 & 5-speed for my 1200)
1979 B310 sedan, daily driver & (newspaper deliver car
1976 B210 coupe automatic, daily driver
1980 B310 sedan (driver, parted out for A14 & 5-speed)
71 1200 2-dr sedan, sold to BiggC2
None have been featured in a magazine...
Been driving since 1981, Datsuns since 1982.
My favorite brand is Ford...but my favorite Model is Datsun 1200.
My Dream Cars