Got rims with too much positive offset? Using wheel spacers may fix it. Or have rims with a different bolt pattern? Conversion spacers can fit 5-lug or other rims to the Datsun 1200.
Overview
Hub-centric means they center on the hub. Datsun 1200 uses 71mm hub registration diameter - so 66 mm hubcentric for S13 won't fit, unless the center hole of the spacer is drilled out larger.
Have them machined to 71mm center hole

Post click for topic
For example, +30 wide wheels fit the rear fine, but need a +15 spacer on the front.





Sources
http://ebay.com - search for:
 4x114.3 M12x1.25 wheel spacers
or
 4-on-4.5 4-lug wheel spacers

Autobarn
GKTech 

Simple Spacers
Thin spacers do not have studs, they simply fit between the hub and the wheel -- the the stock studs go through them.

Except for the thinnest 1/4" (6 mm ) spacers, longer studs are needed. Stock are M12 x 1.25 32mm long. Knurl Diameter: 13.00mm
Longer 55 mm versions (which are really long)
* NISMO 40222-A0220 [2" long/51mm] 
* For B110 front, 510 front
* Knurl Diameter: 12.90mm

These match the NISMO but are shorter: length 45.5mm
* 40222-15C01 GC22 Van $2.12 USD each

For more choices, see Wheel Studs.


caution
Bolt-On
Bolt on spacers need to have M12 x 1.25 studs.
Album click to view

Album click to view

Album click to view
PCD Conversions
Pitch Circle Diameter (also known as Bolt Circle) for Datsun 1200 is 4.5 inch (metric equivalent: 114.3 mm). Bolt-on spacers with a different external PCD allow you to bolt on different wheels.
4/114.3 to 5/114.3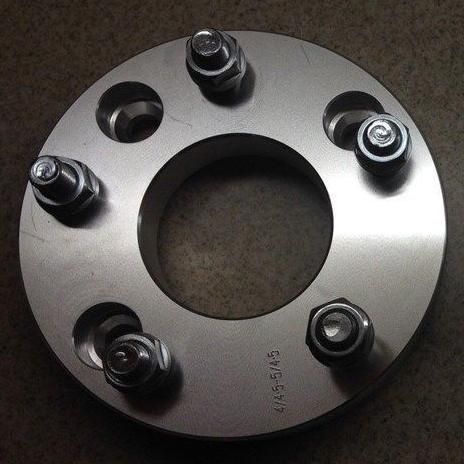 100 PCD rims on 1200

4x100 to 4x114.3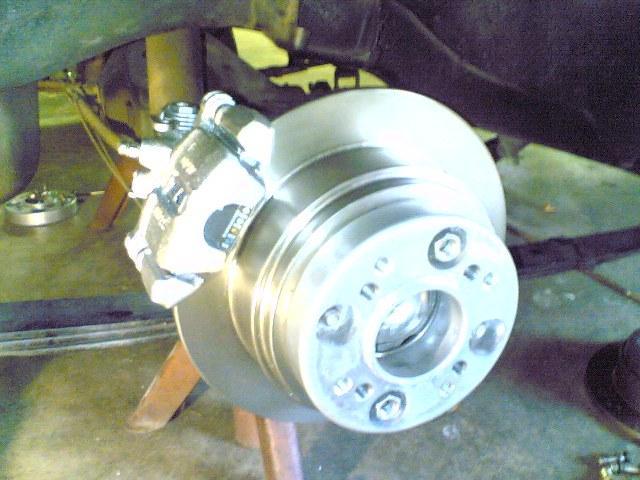 Album click to view
Discussions
Fitting TRX rims to my Datsun 1200
fitting r31 steelies fitment help
Need Advice on Spacers for +38 offset

Specifications
4-lug
Bolt pattern: 4.5 inch circle (114.3 mm PCD)
Hub hole: 71mm

Nissan Competition
Sports Options Catalog

3 40209-A0220 SPACER-Road Wheel (4) for aluminum, t=5