The 280ZX strut swap into a B110 is very popular. What you gain is large, vented rotors that won't overheat while racing, and a short strut with minimal track change. The 280ZX is model years 1979-1983 (Nissan chassis code S130, not to be confused with the earlier 280Z).
Overview
You'll be happy with the 280ZX brakes I'm sure, if they stop a heavy turbo 2.8L 6cyl they will stop the 1200!
For more overview, see main article: Strut swaps

280ZX struts are already shortened, have bigger brakes than the normal S13 brakes, and need less modifications to use in a 1200 than the typical strut swap.
If you are not interested in extreme lowering we recommend the S13 Brakes swap or the 258mm Brake Upgrade, both of which use the original Datsun 1200 struts.
Needed:
Cut the spring perch off the 280ZX strut, and fit the 1200 spring perch

These are NOT required:
Camber plates (minimal camber change results from the ZX swap)
Strut housing shortening (ZX strut is already short)
Aftermarket coilover springs
Custom top hats
Changed master cylinder
Custom/modified castor rods
Bling: Cusco Top Hat on S130 strut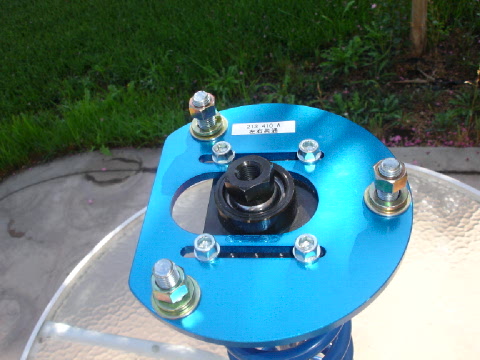 Album click to view
Album click to view
Features:
9.92" (252 mm) diameter vented rotors
single-piston fist-type caliper
shorter strut height
will clear certain 13" wheels. Note that Z-car (240Z, 260Z, 280Z) struts/brakes require 14" wheels, as will 300ZX struts.

CAUTION: With some 13" wheels the 280ZX calipers won't fit

Compared to other 2" struts, ZX only adds 1mm each side, so it allows wider wheels/tires than say Stanza or B310.large strut swaps (which add 15 mm each side)
Wheels tuck in better than with B310 struts (requiring less offset wheels, and allowing more dish)
have a very short stroke that a lowered car needs to handle properly (which is not important if you don't plan on lowering the 1200)
Can't you just put the big brakes on the B110 or B310 strut? Converted said: "need to swap the struts as the B310 stub axles are too short for a brake swap."
Why not 240Z? Feral says: "240Z Struts for 1200 sedan...240/260Z struts stub angles are wrong for this conversion. You will have heaps of positive camber...[you need the] stock 7 degree angle used by most Datto struts". Nzdatman added: "Z struts won't bolt to [B310] arms. ZX strut will. Z struts brakes are way too big for 13s but 14s fit."
Kingpin Inclination Axis
B110: 7°55' (7°45' for Van)
S30: 11° 14' to 12° 44'

280ZX hubs and struts bring the wheel in closer to the strut than the B310 setup, so wheel spacers are not usually needed. Some claim it will actually narrow your track by 8mm or so. Others say it increases track 2 mm.
Whitesedan is looking into Toyota Hilux 4-piston calipers for this swap. Hilux 4-piston calipers have greater clamping force than the ZX calipers, but are considerably heavier cast iron units. Most say stick with the ZX calipers or upgrade to the MK63 FIA brakes.
B110 strut housing is 45 mm diameter. 280ZX is 2.0" (50.8 mm), same as B310 and late B210 and most other Datsuns.
Parts & Specifications
Front Hubs
The hubs are same all years 280ZX.
40202-P6526 HUB ASSY-ROAD WHEEL,FRONT RH
* includes bearings and inner seal, but not cap or nut

40232-A0101 SEAL-GREASE,FRONT HUB
Timkin 1188S 
National 1188
SKF 18864 
* also used by S110
* Shaft Size=1.89", Housing Bore=2.441, Outer Diameter=2.451,Width=0.236in


40210-A0100 BEARING ASSY-FRONT WHEEL [inner]
* also used by S110, S12, 910, Z31
* SKD BR6 
* Cup length=.4650"; Width=.625"; Standout=.1600"; 
* Outside diameter=2.3280"; Inside diameter=1.2500"; 
* Cup radius=.0500"; Cone length=.6600IN
40222-22001 BOLT-HUB (8)
* also used by D21/D21U, R50, WD21/WD22, 720, 910, S12, Z31
40215-A0100 BEARING ASSY-FRONT WHEEL [outer]
* also used by 910,B11,M10,N10,N12,S110,S12,T11,T12,U11,Z31
* SKF BR2 
* Cup radius=.0500"; Width=.610"; Standout=.1350"; Outside diameter=1.7810"; 
* Inside diameter=.7500"; Cup length=.4750"; Cone radius=.0500";
* Cone length=.6550IN  
40262-S0400 NUT
* 720,D21/D21U,D22U,910,B11,M10,N10,N12,S110,S12,T11,T12,U11,Z31
40265-68200 CAP-ADJUSTING [castellated nut cover]
00921-43510 COTTER PIN
40234-S0400 CAP-HUB,FRONT WHEEL
* 910,N10,S110,S12,T11,Z31
* 40290-S0400 SEAL-O RING,HUB

Rotor
Front
Rotor 252 mm
40206-P6510 > 40206-P7210
40206-P7200 <> 40206-P7210
01125-00131 BOLT-ROTOR (4 per side)
01321-00071 WASHER-LOCK,ROTOR (4 per side)
* Diameter: 252 mm (9.92 inch)
* Height: 29 mm
* Thickness (nominal): 20 mm
* Thickness (minimum): 18 mm
* Hub Reg: 81 mm
* Bolt size: M12x1.25 (10.75 mm diameter)
* Bolt circle: 4 on 4.5" (114.3 mm)
* Weight: 10.5 pounds

Rear
Rear rotors:
* 268 mm (1979-1981 Model year) 
* 258 mm (1982-1983 Model year) -- see 280ZX Brake Upgrade
* 290 mm (Europe 1983 Turbo)

Caliper
Front - All interchange as a set with some other parts
41000-P7201 0778-0780 
41000-P7210 0880-0881
41000-P9100 0981-
41001-P9190

Be sure to get the caliper bracket with the caliper. The bracket is what bolts to the strut.
Coil Springs & Strut Top
Now the spring of the ZX strut is too large diameter for the B110 strut tower bodywork. So you need do one of the following:
Use the B110 coil spring (110 mm diameter), spring cup and strut top hat, and fit it to the ZX strut. If you lower the car more than an inch or two you will need to flair the fenders.
Remove the spring perch and use a Coilover Springs kit. It allows lowering the car more in conjunction with camber tops, by getting the tires in closer to these small-diameter coils (using different offset wheels)

SPRING RATE
Remember that that the stock 1200 spring rate is 90 lb/in. If you wish stiffer springs, use 280ZX rear coil springs in the front of the B110, cut to suitable length. Or use Lowering Springs.
Also drilling may be necessary for the insert to fit into the strut top. Whitesedan used noltec camber/castor adjustable strut tops.
Many types of strut inserts are available for the 280ZX struts. If using TRD inserts, use the TRD strut top.
Balljoints and Lower Suspension
The spacing where the 280ZX strut bolts to the steering arm is the same as A10 (Stanza/510), 610 (180B), 810 (Maxima, 200B), etc. This is different from the B110/B210 spacing. So, use A10 or B310 (Sunny, 210) parts.
See main article: Strut Acceptance Package
Parts Needed
1. Grab the whole front strut/brake assembly as well as the brake hoses and the brake bias controller unless you plan on using an adjustable unit. There's no difference in the front suspension/brakes on any of the 1979-1983 280ZX (although rear brakes vary).
2. If using an early 1200 (1970-1975), you will also need the Strut Acceptance Package parts.
3. Late 1200s (1976-1994) have the right LCA with castor rod, but still need the W50 Steering Arm and the W50 balljoint of the Strut Acceptance Package.
You can use the stock 1200 disc brake master cylinder. The 280ZX master cylinder will NOT change the brake bias. It is a different diameter and so will change the pedal effort.
HB210 Instructions
For H (A14) B210 or any B210 with 2" struts here is the low budget approach:
Remove struts/brakes from B210
Remove the 280ZX spring and upper bits, remove the same bits from the B210 struts
Cut the top half of the B210 spring cup off (the bit welded to the strut tube)
Put it inside the 280ZX spring cup (weld it on if you like, but don't have to)
Cut the B210 spring down to 5.5 coils (for low ride height)
Install cut spring and B210 upper bits onto 280ZX struts
Bolt back into car, preferably using the 280ZX rubber brake line
Bleed brakes
Optional:
Fit quick-ratio 280ZX steering knuckle