The Datsun 1200 ignition switch is also known as an "Ignition Starter Switch". For STD models, it is integrated into the Key lock switch. For Super DX and higher grades, it bolts to the back of the key cylinder.
Also see: Keys

Usage
How To Use: see Instruments and Controls#Ignition Switch


Variations
3-position Export switch vs OPTION 5-position switch:

5-position switch vs 4-position switch:


Note addition of ACC position.
Portugal market:

Interruptor de ignićāo [Ignition switch]
Desligado [OFF]
Ligado    [ON]
Arranque  [START]

Standard Type
STD and some DX models use a non-locking steering column. The ignition switch is mounted via bracket on the dash.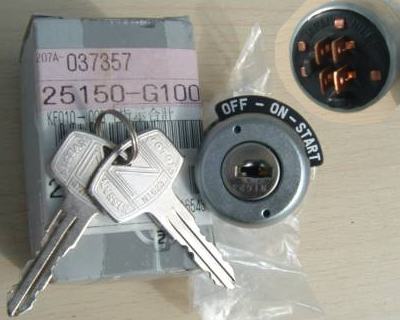 The key lock cylinder and ignition switch are integrated in one unit.




Early units had a 3-connector ignition switch. Later units had four connectors.
STD 1200s and DX built for Japan market have a dash-mounted switch (instead of steering column-mounted). The keylock & ignition switch are integrated with only three or four spade terminals on the switch.
B210 Van NILES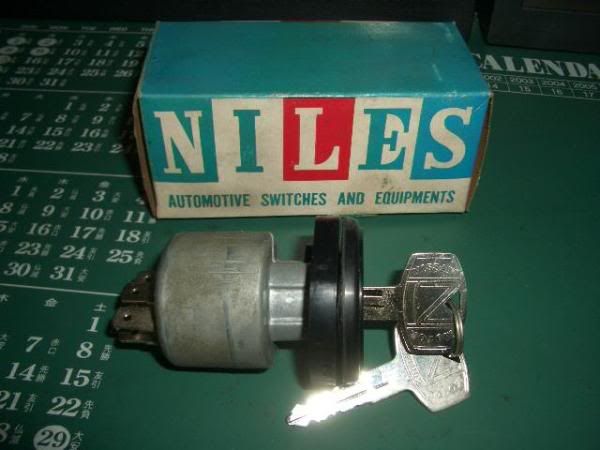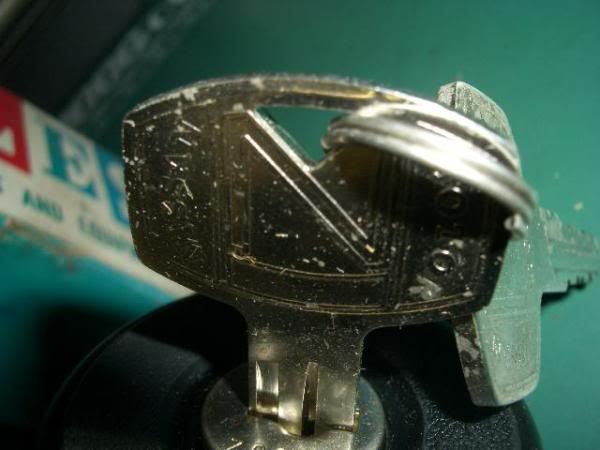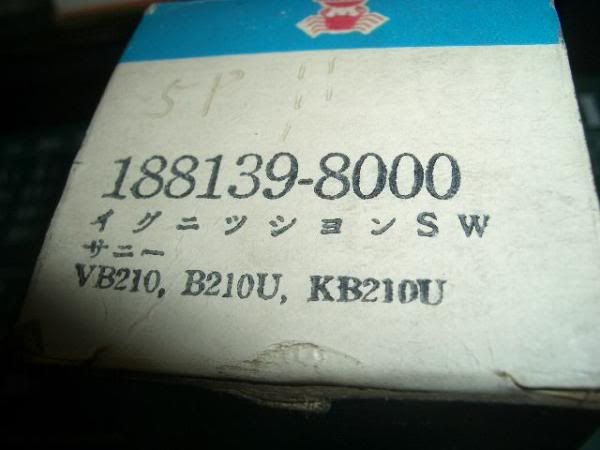 Part Numbers
SWITCH-IGNITION for NON-STEERING LOCK
25150-H2500 SWITCH COMP.-ignition PB110 DX
25150-H1000 SWITCH COMP.-ignition & starter (up to '71-3)
25150-H1010 SWITCH COMP.-ignition & starter (from '73-8)
25150-G1001 SWITCH COMP.-ignition & starter (up to '78-3)

Wiring
4-terminal type
BW IGN
BR COIL (for start position)
BY STARTER
W  POWER (12V in from Fusible Link)

3-terminal type
POWER
START
ON

4-terminal Wiring

Steering Lock Type
A locking steering column was a Datsun 1200 OPTION for early STD and DX models. It was standard equipment for USA 1200s, JDM GL and GX, and newer JDM 1200 pickups
See main article: Steering Lock

The actual electrical Ignition Switch for this type is removable, and bolts to the back of the key cylinder. In other words, the Ignition Switch is not strictly part of the Lock Cylinder, but connects to it. A rectangular wire connector from the dash harness attaches to the ignition switch.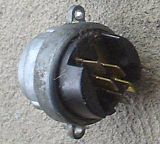 or

Fitment of ignition switch into ASSY-LOCK STEERING
Late (large) vs 1970/1971 (small)

Post click for topic
Post click for topic
Post click for topic
Switch Part Numbers
ELECTRICAL IGNITION SWITCH
48750-H1900 for STEERING LOCK -7803
48750-E7705 ASSY-SWITCH IGNITION (5 POINT) 0471- USA 0 48750-H1900
48750-E4700 for STEERING LOCK 7804- 
* Small type, same as 1980-1982 USA 720

1972-1973 USA
* ACDelco E1406 $38 O'Reillys
* Beck/Arnley 2011174 Rockauto $24

48750-E7705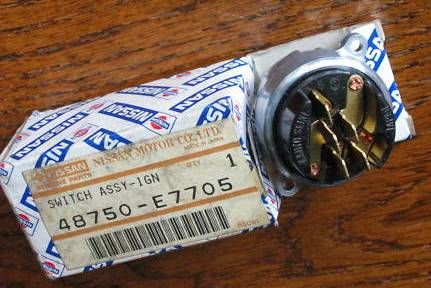 Interchange
Later 1200 switches interchange with Datsun B310 and several other Datsun models, but not B210.
Ignition Switch Comparison

* B110 Small size ~28mm diameter
* B110 Large size ~34mm diameter

TIP: On the back of the switch, each contact is marked ('S', 'IG', etc. molded into the plastic). Double-check before replacing to ensure they are the same.
The larger-diameter switch has two mounting lugs and is used with Keylocks that have an ACC position. 1972 and 1973 1200s use this, all the way up to 1982 B310.

Album click to view
Album click to view
The small-diameter switch has one bolting lug. And has only four spade terminals without ACC position. It was used on Japan 1200s (USA only for 1971).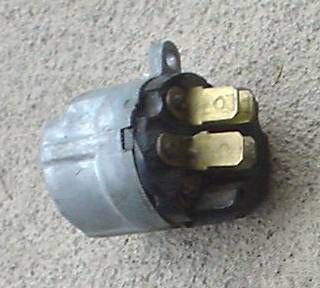 Beck/Arnley 2011174 Fits:
Subaru (USA models listed)
* 1982-1987 Brat 
* 1986-1987 GL 
* 1980-1984 DL 
* 1980 GLF 
* 1980 GL 
* 1980-1987 Standard 
Datsun
* 1968-1973 510
* 1970-1978 240Z, 260Z, 280Z
* 1979-1983 280ZX
* 1972-1973 1200 (B110)
* 1979-1982 210 (B310)
* 1978-1981 510 (A10)
* 1977-1981 810 (Bluebird)
* 1982-1983 Maxima (910 Bluebird)
* 1979-1982 310 (N10)
* 1977-1983 200SX (S10)

ACDelco E1406 ignition switch also fits:
* Same as Beck/Arnley 2011174 except B110, except Subaru
* 1979 Datsun 620
* 1980-1982 Datsun 720

B210
B210 ignition switch does not interchange with B110 per the parts catalogs.

Top: early B110. Bottom: B210
It looks like it would plug into the Small B110 harness, but is wired differently. Beware!
AIRTEX 1S6174
ACDelco E1478A Rockauto

Datsun

1974-1978 B210
1973-1976 610
1975-1977 710
1976-1978 F10

Subaru

1985-1989 DL, GL
1985-1987 GL-10
1987 Standard
Lock
* Standard Motor Products 1200 US-168L

1200 US-168L

Album click to view
Wiring
The 1971 switch has four spade terminals. The 1972 and newer adds the "Accessory" position and so has five spade terminals.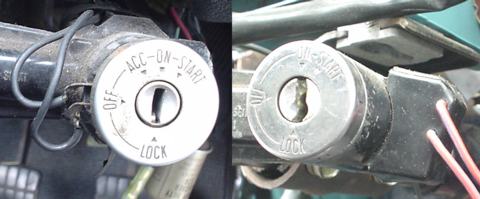 Album click to view
NOTE: The two wires at the front of the Lock Cylinder are for the Key Warning Buzzer system.
ACC on the
Ignition Switch
feeds only the
Radio
and the
Rear Defroster
.
Album click to view
Since 1971 didn't get ACC position, 1971 radios connect to Fuse Box 'L' wire (meaning radio can be operated with key OFF)
Switch internal connections
Position
Internal Connection
Off/Garage
no connections
Lock
no connections, column locked
Accessory
Battery to ACC
Run
Battery to ACC + IG
Start
Battery to IG + Resistor + Start*
*Starting with 1974 automatic models and all newer, ACC is also hot while in the Start position.
Wiring Table
Switch Wire Color
Connection
W
B (Battery)
BW
IG (ignition/Run)
BW (LW for B210)
ACC (Accessory, not present on 1971 switch)
BY (YB for B210)
S (starter)
BR
R (resistor)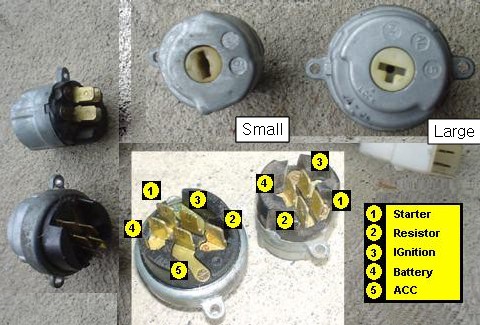 Ignition Switch Wiring

Where do the wires go on a stock B110?
Terminal
Connects to ...
IG (ignition/run)

To Ballast Resistor (non-coil side)
To IG circuit of fuse box

S (starter)

To Solenoid on the starter. On automatic 1200s*, this goes through the Inhibitor Switch

B (battery/hot)

From fusible link connected to Battery

R (resistor)

To Ballast resistor (coil side)

ACC (accessory)

To Radio (through inline fuse)
To heated rear window glass (through inline fuse)
*Automatics became available in 1973 in North America.
Common Problems
Start Problems
Ever had the "sometime it doesn't operate the Starter until I turn the key back and forth a few times" problem?
This occurs because the relatively high current loads of the starter solenoid tend to burn the ignition switch Start contacts after some years. This only gets worse. You might think you could prevent this problem by using a relay. The S wire could go to to a relay, and the relay could go from the Main Fuse to the starter. The problem is if the relay sticks, you won't be able to turn it off with the key. To prevent this, you could use two relays, with the main power fed through a relay connected to the IG terminal of the switch. Then if the starter relay sticks, you could turn key to ACC or OFF to stop it.
It is easiest just to replace the switch.
Another common issue is when the key is turned to the 'start' position, and it does not spring back to the 'on' position when the key is released. The switch needs to be replaced in this situation also.
Starts but does not Run
"It will crank and catch fire when key turned to Start, but dies as soon as I release the key to the ON position"
The coil is getting Start current, but not Run current. Causes may include:
Ballast Resistor is burned open. It is only use to Run, but not to Start
Wiring is loose or bad on ballast resistor
Ignition Switch is bad. START position works, but ON does not
Testing
You can test the ignition switch with an ohmmter, which is the most direct way. A test light will work too but needs a voltage feed.
Pull the wiring connector off the back of the ignition switch
Unscrew the ignition switch from bracket (early/STD 1200s) or rear of the key lock cylinder (Steering Lock 1200s)
Check ohms between S and B terminals. Should be infinite ohms (no reading)
Turn switch with screwdriver to Start and hold it there. Ohms between S and B should be 0 ohms. If it does not test out correctly, get another ignition switch.

イグニション キー