For all the details, pictures, procedures and accurate information it is a must to get a Repair manual (service or maintenance book). It will pay for itself. The recommend book is a two volume set of Nissan factory service manuals (FSM). Also recommended is to get an original Owners manual. These contains wiring diagrams and specifications for fluids and lubricants. The repair manuals also include detailed troubleshooting guides and pictures or drawings of all repair procedures.
Overview
Public Library
The genuine Nissan factory publications are usually in the reference section of the main library, local branches don't usually have them.
Your local branch is more likely to have one of the following non-factory manuals:
Chilton Import Cars 1980-1987
Clymer Datsun 210
Clymer Nissan 210/Sentra
Chilton Nissan 210/1200/B210
Chilton Datsun B210
Haynes Datsun B210
Album click to view
All of these explain how to rebuild an A14 and have specifications. There are tons more, but these are the most common in libraries.
If you are in Australia, look for these:
Datsun 1200, Scientific Publications
Datsun 120Y, Gregory's
Datsun Sunny, Autobooks
Datsun 1200, Haynes
Sources/Shops
Places to get a service manual:
Local library. Smaller city libraries can often order the book from the central branch. Larger cities usually have a good selection, perhaps even the factory manauls. For example, the King County Library in WA USA has both the factory manuals, and almost every other brand for the Datsun 1200. They can also order books from the Seattle Public Library, which is even bigger and has Mitchell Emission Diagram books.
Local booksellers
Amazon (used or new): Datsun 1200 repair manuals on Amazon.com
eBay: eBay Datsun 1200 search. These are *not rare* in USA or Australia, so you should be able to get a new or good used one for $5-$10 or less if you are patient and wait for one to become available at that starting price.
Online: Nissan A12 Engine Manual (in Spanish)
Factory Service Manual
A factory service manual can be purchased for as little as $10 on eBay, though $20-$75 is a more typical price — they are not rare. The factory service manual (FSM) is in two parts:
* A12 Engine Service Manual (1971: A10 and A12 Engine)
* Chassis And Body
 

For 1973, these were combined into one book.

Manual
They were published in various editions and revisions by:
Nissan Motor Co., Ltd. Tokyo [for JDM and USA markets]
Nissan Automobile Company (Canada) Ltd.
Nissan Motor Co. (Australia) Pty. Ltd.
Not only is the FSM from the designers of the Datsun 1200, but they generally have the most and best photos and diagrams. The other brand of repair manuals usually have reproductions of the Nissan photos, or just drawings, sometimes of poor quality.
Model B120 Series Chassis and Body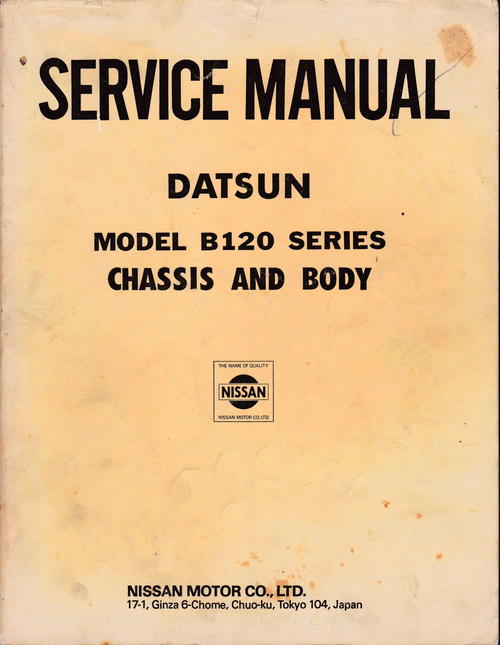 Album click to view
Nissan Australia B120

Album click to view
Album click to view
Nissan Model B120 Series Chassis & Body

Publication Number: SM8E-B120G0 Printed March 1984 (06)
Printed in Australia
German: wartungsanleitung modellreihe B110 Fahrgestell und Karosserie

Album click to view
PDF Spanish
Nissan A10 and A12 Engine Supplement SERVICE MANUAL


A14 Engine factory service manual

Album click to view
Datsun B210 Service Manual 1978 [USA] SM8E-B210U0 September 1977
includes A14 and 63-series 5-speed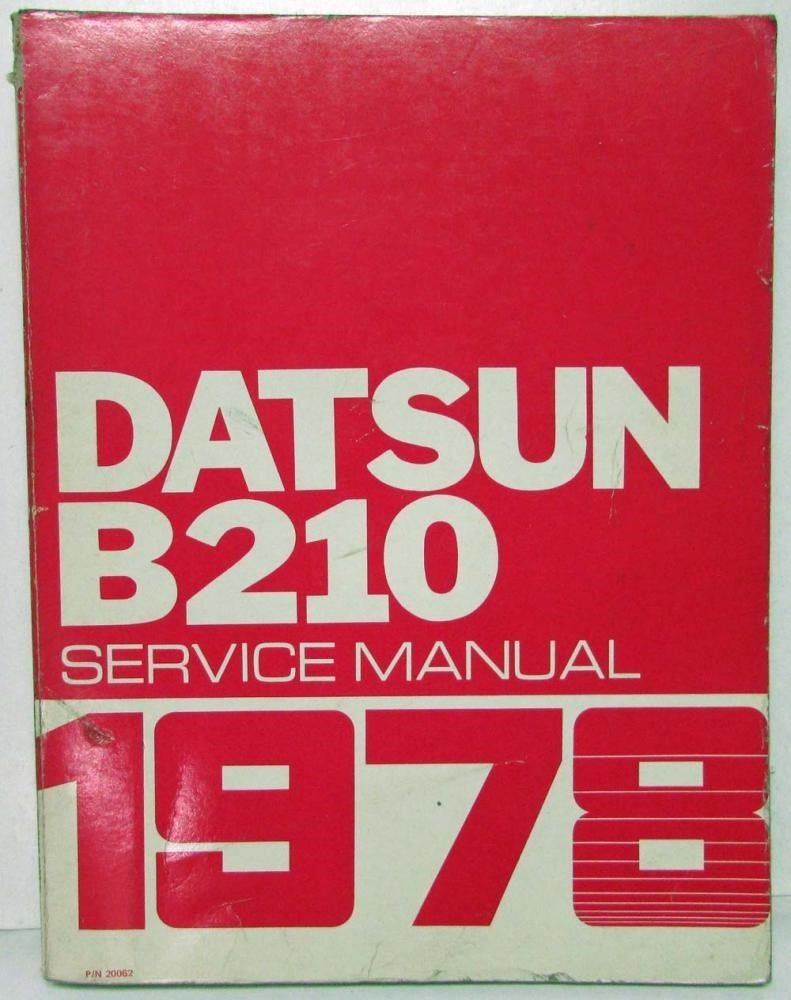 Post click for topic
PDF/Online Download - Service manuals
NOTE: now requires logging in to see the Download section
For near all Datsun's build we are lucky enough to have the datsun510 website, this website has been kind enough to scan and upload our needed workshop/service manuals online for download and saving. Please visit the below link are obsolete and out of print manuals and parts books. Purchase and scanning was expensive (and destructive). Donations are gladly accepted. Click to open manual. Right-click to save
http://datsun510.com, click Downloads
Choose the manual you want it will open as a PDF and save the file to your computer for future reference. Utilize the workshop manuals for your A12 through to your A15 (b310 - 210 or f10) or even your L series engines
Quick link to the 1200 workshop manuals:
Datsun_1000_and_1200_A10_A12_Station_Wagon_Sedan_Pickup
Workshop_Manual_Datsun_1200_1969-73
USA Publication Numbers
B110
1973 Combined: 20033
1971/1972 Engine: 20020
1971/1972 Chassis: 20019
1971/1972 Emission: 20027
1972 Automatic Transmission: 20026
1973: 30039
1972: 30035
1971: 30025
These were orderable by Datsun Dealers from
Pendant Industries
P.O. Box 387
Harbor City, Ca. 90710
The dealer was "free to sell, at whatever prices, markups or margins or profit he may choose".
Japanese
整備要領書 Service Manual B110/KB110/VB110 1969 (pre-release)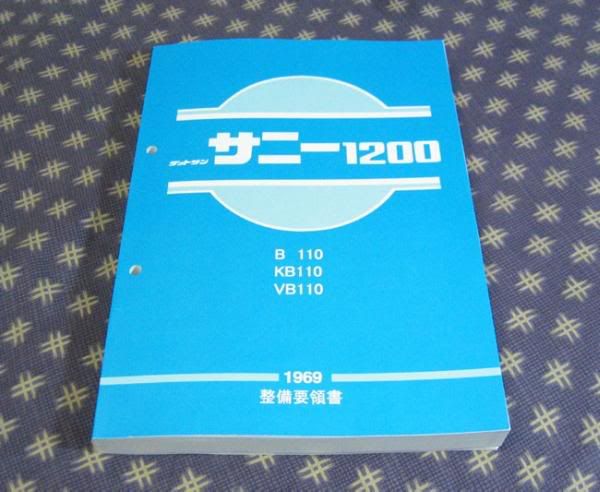 サニーの日曜整備 ???? 技術書院, 昭和45年4月15日 初版発行

A14E Service Manual

Album click to view
整備要領書 Service Manual Nissan Sunny Truck 1989 October R-B122 type, R-GB122 type 1989

取扱説明書 Nissan Sunny Truck Instruction Manual

整備手帳 保証書 Service History, Warranty Card

Datsun Sunny Truck 1978 Option 取付要領書 Installation Procedures Buy at Bprojects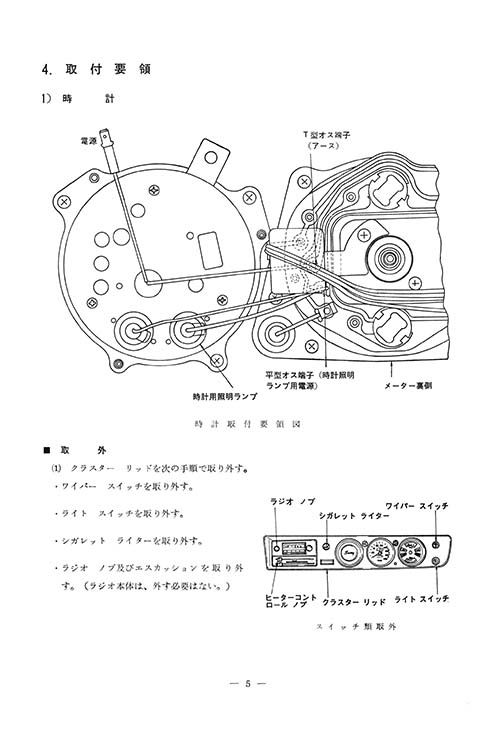 B120 (7501-7712)
30 pages
1. Clock
2. Seat belt
3. Package Tray
4. Guard frame
5. Cooler

Maintenance of DATSUN Sunny 1000 - Nissan Motor Co., Ltd. Service Department
ダットサンサニー1000の整備

Post click for topic
Owner's Manual
Also recommended is to get an original Owner's manual. These list general maintenence schedules, capacities, specifications for oils, etc. Owners manuals come up for sale on eBay from time to time.
Online 1972 USA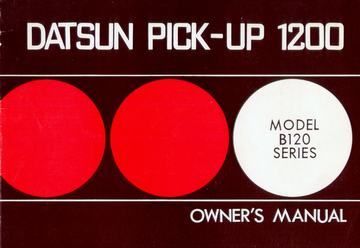 Online 1974 Ute
Owner's manual includes among other things:
Gas station information
Daily Care
Operational guide (e.g. when to shift, towing information, etc)
Wiring diagram (some owner's manuals, other's don't)
Maintenance schedule
Non-factory Repair Manual
Brands: The following publishers make repair manuals specific to the Datsun 1200:
Know of others? Please click 'edit' and add it to this list
Autopress (by Kenneth Ball)

Same contents as Autobook?
Datsun 1200 1970-73 Autobook [includes pick-up (B120)] (by Kenneth Ball, Autopress, LTD)

Comments: Quirky British text
Chilton's (many various editions)

Comments: OK book. Chilton's is the mass-market leader in USA, and their product is a sort of "corporate" repair manual for the mechanic trade. That means there a zillion differing editions, and a good used book trade. On the plus side, they are superior in the general mechanic's information -- very useful for beginners -- i.e. safety, tools explanation (nice photos of tools), tire and spark plug troubleshooting photos. They even have thir own photos of actual parts, supplemented with Nissan drawings. Also instead of a regular (confusing) wiring diagram, they have schematics for invidual circuits -- a nice thing. But it seems they don't love the cars they cover. For example, the 1997 printing covers 1973-1981 (but mysteriously, not 1971 and 1972 models), and sometimes their step-by-steps seem to be missing something. Note that the 1997 edition is printed on low-grade paper.
Clymer (many various editions)

By Alan Ahlstrand
Comments: Covers 1200 & B210. Early editions have many wiring diagram (e.g. 1978 edition), later editions have none. A fairly good book which looks like it is a repackage of the FSM data (and photos) into a more concise edition, focusing on the repair aspects. Has very good tune-up information.
Haynes (many various editions)

By J.H. Haynes, out of UK
Comments: 1986 printing has export wiring diagrams (three total). The main advantage over the FSM is that Haynes has organized all procedures into clear step-by-steps. Plus a few charts (including American-UK English word chart) make this a decent book. And of course the famous Terry Davey 'cutaway' drawing on the cover is priceless (NOTE: not all editions have this).
Paul Davies - 'Tuning Datsuns'

not a full repair manaul, it may be a racing guide?
Petersen's Datsun Tune-up & Repair

Comments:
Petersen's "Tuning the Datsun"

Specs, Carb, tips etc. for 1200, 510 and 240-Z
Roy Newton - Datsun 1200 Workshop Manual
Scientific Publications (SP) Nos. 81 & 87 (aka Gregory's)

by Murrary Book Distributors Pty Ltd, Sydney
Comments: A nice book, with unique large photos. Includes reprints of three Wheels magazine "Road Test", two for B10 and one for B110 (four pages total), but no wiring diagram (fourth reprint, 1977). Covers both Datsun 1000 and Datsun 1200 in one book.
Technibooks, Nissan 1400 Pick-up Owners Workshop Manual (South Africa)
Japanese
Maintenance Handbook by Natsume http://natsume.co.jp/genre/car-bike

Album click to view
車種別マイカー整備シリーズ
ダットサン サニー 1000; 1200; 1200GX; 1400 の
整備ハンドブック
日産自動車株サービス??? 国岡福一編著
ナツメ社 Private car maintenance series by vehicle type
Datsun Sunny 1000 1200 1200GX 1400 Maintenance handbook
Nissan Motor Co., Ltd. Service? ?? ??
Written by Fukuichi Kunioka
Natsume Auto

1971 268 pages
1973 131 pages
オーナーズ・メンテナンス・シレーズ
山海堂 Owner's, Maintenance, Service
[by] sankai-do
sankaido
ダットサンサニーの整備310ページ昭和54年初版本
ダットサンサニーの整備310ページ以上
ダットサンサニー310型
昭和54年初版本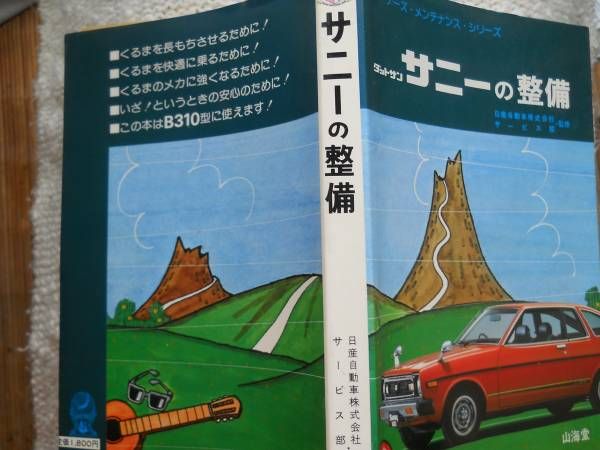 B310
1977-1982 Datsun Sunny B310 (Datsun 210/120Y/130Y/140Y/150Y)
Autobooks Datsun New Sunny & 1400 Pick-up 977 (South Africa)
Nissan Datsun Sunny model B310 Service Manual
Haynes Datsun Sunny Owner's Workshop Manual
Gregory's 195 Datsun Sunny Service And Repair Manual (does not cover A15 engine)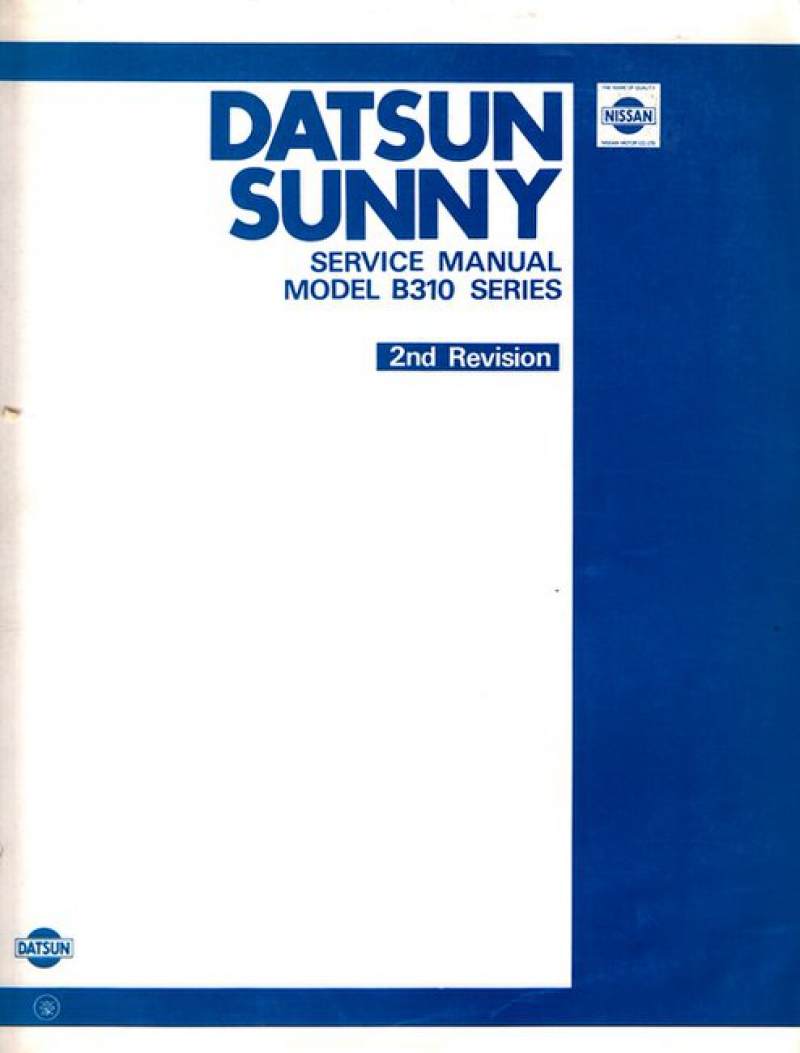 Post click for topic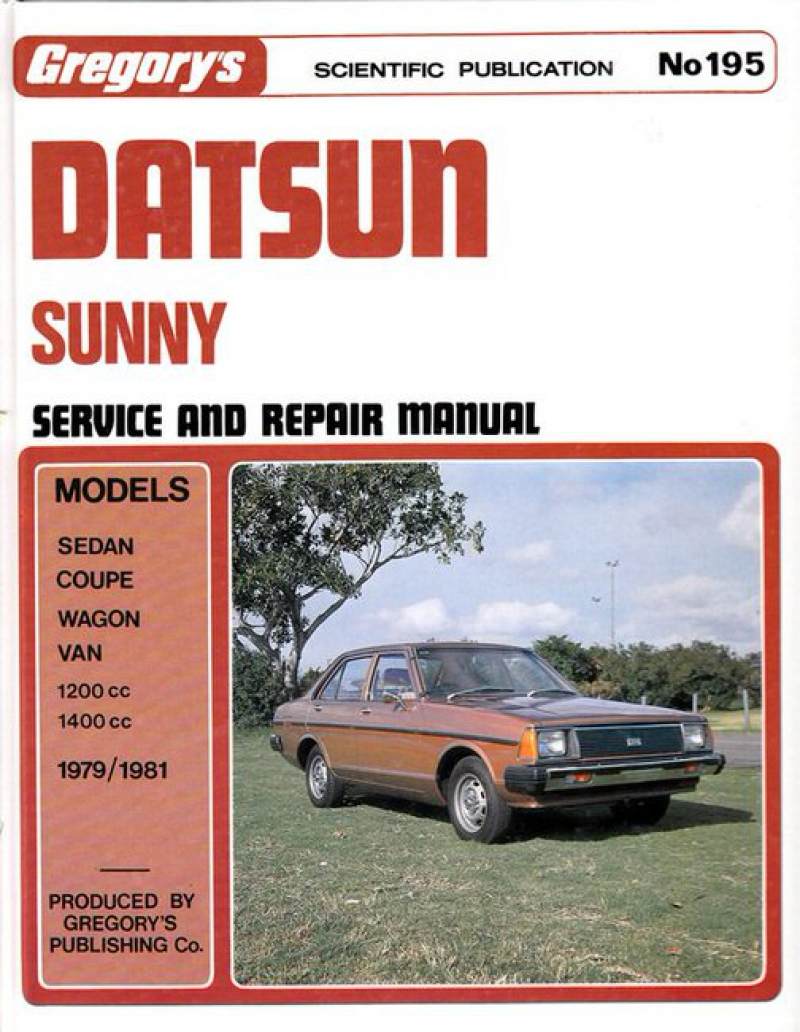 Post click for topic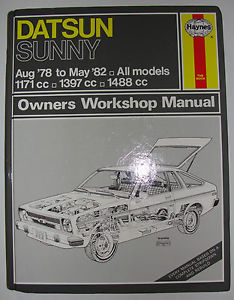 Post click for topic
Autobooks 977ᴳ - Datsun New Sunny, 210 (UK)
with 1400 Pick-up (South Africa)
covers all engines (A12, A12A, A14, A15)
Original: blue cover ISBN 0851478875 0-85-147887-5 1st edition 1982 harcover 208 pages
Revised: teal cover with red 'Owners Workshop Manual' ISBN 0 86? 47 887 5
Revised: teal cover includes '1400 Pick-up' sticker (South Africa)

Album click to view
Autobooks
Datsun New Sunny, 210
Datsun New Sunny 1171cc, 1397cc, 1488cc
Datsun 210 1237cc, 1397cc, 1488cc.
All models 1978-82
1400 Pick-up
OWM 977
Owners Workshop Manual
Round images
* fan belt and smog pump
* Temperature Controlled Air Cleaner
* Hitachi carburettor
Rectangular image
* B310R
Introduction Books
Datsun introduction Service Bulletins contain a wealth of details about the Datsun 1200 including photos, facts, figures, design decisions, etc.
For example: Vol. 141 Introduction of Nissan Automatic Transmission Model 3N71B

SB 141
Example: Vol. 126 Introduction of Datsun 1200 2-door Sedan Model

SB 126
Example: Vol. 169 Introduction of Datsun 1200 1973 Model Year

SB 169
Specialty Nissan Manuals
Following are some FACTORY specialty manuals (these are rare).
"A look inside the 3N71B Automatic Transmission"
"3N71B Automatic Transmission Service Guide"
"Collision Estimating Guide, 1971" (National Parts Department, Nissan Motor Co. in U.S.A.)
"Datsun Electrical Service Guide" - Service Department, Nissan Motor Corporation in U.S.A.
"Differential Service Guide"
"Service Manual B210 Series Rear Axle Borg-Warner Model 68" - Nissan Motor Co. (Aust.) Pty. Ltd.
"Service Manual Datsun 1200 Model B110 Series Engine Emission Control"
Technical Bulletins
service changes: Technical Bulletins by Service Technical Training Department, Nissan Motor Corporation in U.S.A.

Album click to view
Album click to view
Also See
Also see:
* Nismo Catalog
* Parts Catalog 

¤